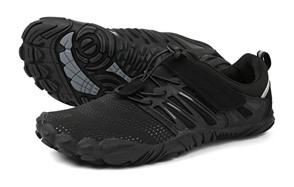 WHITIN Men's Minimalist Barefoot Running Shoes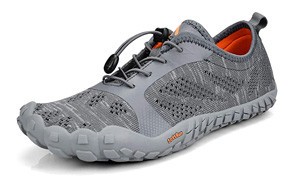 Troadlop Hiking Quick Drying Trail Running Shoes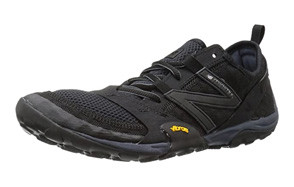 New Balance Men's Minimus 10 V1 Trail Running Shoe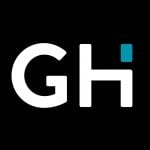 All around the world exists different types of runners. While many people love the freedom gained when running barefoot, others prefer the use of regular running shoes. Whether you are a barefoot runner, or one who can't do without a good pair of running shoes but will still like some added comfort, consider the use of barefoot shoes. These types of shoes put the fun back into your regular morning runs when discovering new trails. Not only are they designed for all types of runners, they come in handy for better alignment of the feet and are also great for activating your feet muscles; which can weaken over time with the regular use of pumps. So, why not make use of the list below of the best barefoot running shoes that help with balance and a better connection with your terrain?
The Best Barefoot Running Shoe
Barefoot Running Shoes Buying Guide
As evident from the above reviews, there are a number of barefoot running shoes in the market, but just like every other product out there, it may be hard to sift out the essential qualities needed for your comfort and style. Hence the need for our buying guide, which will no doubt, point you in the right direction.

Why Use Barefoot Running Shoes
Increased Oxygen Consumption - Running barefoot has been proven to increase oxygen consumption in humans by 2.0%. This percentage firmly proceeds running on natural surfaces, which increases our VO2 max by 5.7%. Since motion is synchronized with our ability to breathe, an increase in our oxygen consumption from running barefoot allows us to breathe deeply. Depending on your efforts, your energy consumption can also be directed to your muscles to enable you to run faster.
Strengthens Foot Muscles & Ligaments - Muscles within our feet are strengthened when we run in barefoot shoes, according to some minimalist shoe enthusiasts. According to research, the possibility of Achilles tendonitis or calf strains is reduced when barefoot shoes are used. This is because the heel lift in these shoes is removed. The intrinsic muscles are responsible for foot support in the arches; thus, their development is exceptionally essential.
Also, regular shoes are known to shorten the ligaments and tendons in our feet which weakens all feet muscles, resulting in higher injury risks. They also limit your feet from growing into their original shape and size.
Improves Balance - Muscles in various parts of our bodies are activated whenever we run, especially in our ankles, hips, feet, and legs, and these muscles are responsible for both coordination and balance. Since barefoot shoes keep your feet closer to the terrain, they're the best option to help you stay grounded and more connected with the trail you're running on, ultimately improving your proprioception. In this manner, your balance is affected positively, and it starts with you being more aware of their position and body movements.
Improves Memory - The ability of humans to recall information within short periods is known as working memory, and this is often used to mentally determine the solution to any mathematical equation, regardless of difficulty. Running barefoot helps stimulate our short-term or working memory by up to 16%.
Improves Overall Health - Research has discovered that we can keep ourselves protected from unflavoured weather by allowing our skin heat up from grounding. Grounding improves glucose regulation, moderates heart rate, boosts immunity and also reduces stress. You can use your barefoot running shoes to take frequent walks in nature for at least 30 minutes every day. Regular steps help improve cardiovascular health, reduce the risk of cancer, prevent diabetes and ultimately maintain moderate weight.
How We Chose Our Selection Of The Best Barefoot Running Shoes
Design  - A primary consideration was placed on the many models offered by different manufacturers. Our team of experts selected a vast range of barefoot running shoes, to provide adequate options to readers in terms of colors, sizes, and patterns.
Breathability - Running shoes must be extremely comfortable to enable athletes to enjoy their races. For this reason, all items recommended feature breathable material that allows air circulation around your feet. This dries up any moisture and also keeps your feet fresh always and free from foot rot or any other moisture-related disorder.
Comfort - The barefoot shoes we recommend feature durable construction with materials that ensure stability and comfort. The use of leather uppers and mesh fabrics provide that your feet feel incredibly comfortable.
Variety - Customers love brands that offer them countless options concerning their products. That being said, all recommended barefoot running shoes come in different color combinations to adequately fir your personality and your desired look.
Features To Look For In Top Rated Barefoot Running Shoes
Water Resistance - When selecting a barefoot shoe, the type of terrain you tread often must be considered. If you're an athlete who loves running on the wet or muddy ground, it is advised that you opt for models made with water-resistant material, to ensure their durability and also keep your feet well protected from any moisture.
Upper Material - The material used in making the upper of running shoes is essential, as this can make or break its functionality. The best top materials are often leather, rubber or synthetic textiles.
Fit - Having the right size of running shoes is essential to prevent you from slipping or having an uncomfortable running experience. There are several brands with models of different sizes. Most often the dimensions are created by the manufacturer and will differ from your regular shoe size. It is advised that you fit shoes on for size in the shops before making a selection.

Versatility - To make a more economical choice, opt for barefoot shoes that can be used for other activities apart from trail running, such as hiking, sailing and taking a regular walk. This will be a better investment and also will reduce the number of shoes you need to keep active.
Sources:
TPU - Wikipedia
Split leather - Wikipedia
Achilles tendonitis; Causes and Symptoms - Wikipedia