GearHungry may earn a small commission from affiliate links in this article.
Learn more
Coffee Tasting For Beginners
Ah, coffee. A good cup of freshly brewed coffee is what fuels our minds, helps us unwind, and gives us that good kick that we often need to get through a day. But while some of us simply rely on the caffeine fix, others appreciate coffee for its taste and unique blends, making them coffee connoisseurs who are continuously on the hunt for beans and grounds that offer an original and interesting tasting experience.
If you enjoy a good brew and find yourself wondering where the coffee beans came from, how the beans were roasted and what was used to make the cup of coffee you're drinking, then perhaps you're a connoisseur in waiting?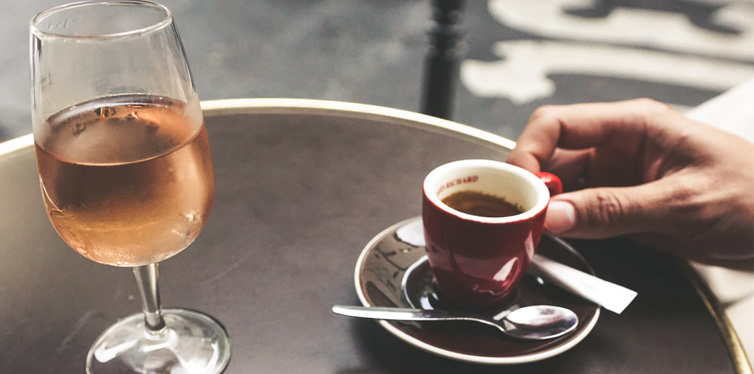 "Our culture runs on coffee and gasoline, the first often tasting like the second."
– Edward Abbey
To treat ourselves to the finest blends and enjoy a luxury cup of coffee instead of defaulting to, well, gasoline, we first need to know how to define what it is that makes a good cuppa. To assist you with your journey into becoming a coffee aficionado, we've put together a few "must knows" to set you in the right direction.
Know Your Beans
It starts with a tree. Coffee trees bear cherry-like fruit and the seeds found inside are what we use to make coffee. When the fruit is ready for harvesting it turns bright red. The bean is then separated from the flesh of the fruit and is fermented, dried and milled.
While there are more than 25 species of coffee, only about three of them are grown commercially for beverage purposes. They are: Arabian, Robusta, and Liberica.
Arabian– Also known as Coffea Aribica, this bean originates from Yemen and Ethiopia and in most instances, the beans are hand-picked, which helps to ensure that only the finest of the lot are chosen for roasting to make a superior blend. Arabian coffee is the most popular species and can be found easily anywhere in the world. Examples include: Java, Sumatran and, Blue Mountain.
Robusta – Also known as CoffeaCanephora, this species hails from Ethiopia but has more recently been grown in and exported from Vietnam. This type of coffee is usually harvested using machines, which means it is more affordable and on high-supply. For this reason, it is more commonly used in instant coffee brands or as an added ingredient to lower-quality blends. Robusta has almost double the amount of caffeine than other species and is commonly appreciated for its smoothness and chocolatey notes.
Liberica – Also known as Coffeaarnoldiana De Wild, this species of bean is mostly cultivated in Liberia and the Philippines and because it is easily susceptible to disease, it's harder to grow. This makes this coffee bean a rare commodity which with its woody taste, will only appeal to a few palates.
Once these beans have been harvested and prepared for use, they remain green in colour and are pretty much tasteless. It's only when the beans are roasted that the flavour opens up and they turn a rich dark brown.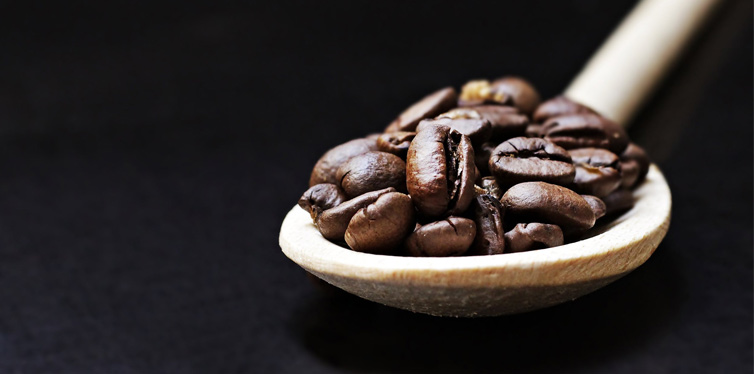 Types of Roast
How you roast coffee beans and how long you roast them for plays a huge role in the final coffee blend. Lighter roasts tend to have a more natural flavour while darker roasts have a distinguished "roasted" taste. Roasts are divided into light, medium and dark.
Light Roasts – Lighter roasts are roasted at lower temperatures and just long enough to open up the flavour of the beans. This means that they often have a sweet and grassy taste and are slightly more acid than stronger roasts.  Light roasts are sometimes referred to as Half City, Light City, New England, or Cinnamon roasts and are mostly used for specialty and higher-quality blends.
Medium Roasts – Medium roasts are roasted at higher temperatures until they are much darker and colour. While roasting, the beans balance out their acidity and natural flavour for a smoother blend of coffee. Medium roasts also retain a sweetness and are perfect to use for a cold brew in lieu of hot beverages come summer time.
Dark Roasts –Heated at high temperatures for quite some time, these beans are cooked until they are almost black in colour. Darker roasts tend to have more of a "roasted" taste since the heat removes almost all of the natural and raw flavours. These roasts usually end up caramelised, leaving a smoky taste on one's palate. Darker roasts are more popularly used for Espressos.
And then, of course, coffee is not coffee until you've brewed your blend to perfection. The type of coffee maker you use will either enhance or degrade the taste of your blend. Let's explore your options.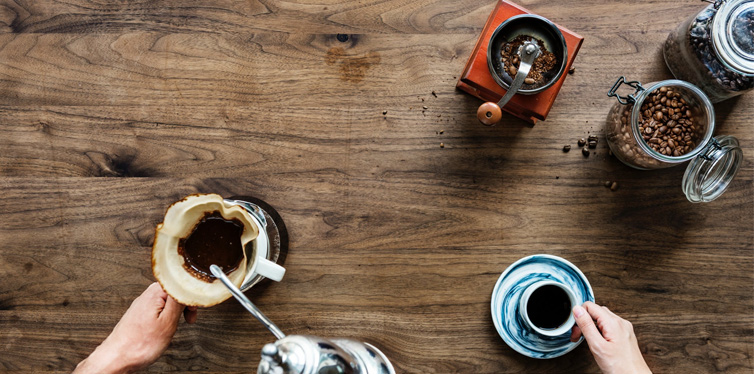 Brewing Methods
Countries around the world have developed a number of ways to infuse coffee grounds with water. Some of these techniques were invented for convenience while others were orchestrated so that you can get the ultimate taste from your coffee. While there are numerous ways to make a hot cup of coffee, we'll take a look at the few more popular options.
Instant coffee – This is the least favourite go-to option for coffee experts who take their coffee seriously. Instant coffee is designed more for a "quick fix" and simply requires you to mix hot water with the granules as preparation. While you do get instant makes that are palatable, usually the coffee is stale and not very rich in flavour.
Filter coffee – During this process, ground coffee beans are infused with hot water. The infused water is then poured through a filter to separate the left-over grounds from the coffee. This is the best way to brew a cup of coffee that's not too heavy while keeping some acidity.
French Press– When using a French Press, you will need to prepare your beans by grinding them first. The coffee and hot water are then blended by using a plunger/press to push the coffee grounds to the bottom while encouraging the infused water to seep up through tiny holes. Because the grounds are encouraged to move through the mixture more actively, the coffee tends to be stronger with a more distinct taste.
Pod Filtration–One of the more modern and common ways to make coffee, pod coffee machines work by forcing hot water through a capsule of coffee grounds, allowing the water to be infused with the blend before being squirted out through a spout. While these machines and quality coffee pods tend to make an excellent cup of java, like instant coffees, the pods do tend to go stale, so make sure you do check for sell-by dates.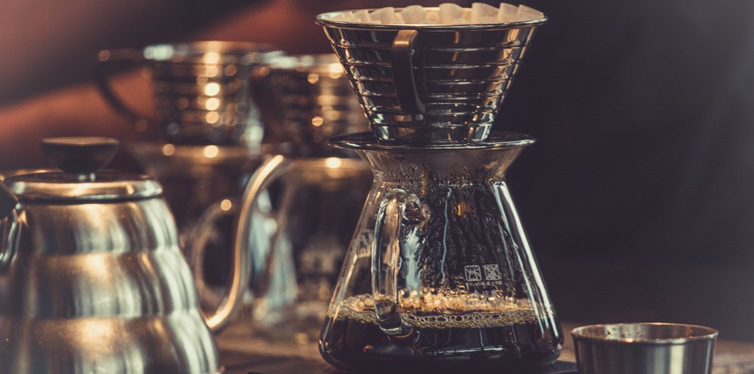 What To Look For In A Blend
To better appreciate and describe a cup of coffee, experts or hobbyists evaluate their coffee by taking several aspects into consideration. We'll briefly mention the four key aspects: Aroma, Acidity, Body and Flavour.
Aroma – How something smells impacts how we taste it, so something with a pleasant aroma is likely to be more pleasing to the palate, and vice versa. Aromas can be sweet, smoky, fruity, nutty and even spicy.
Acidity – Coffee can contain acids from different sources, some are good while other's not so much. Some acids give coffee a fruity taste while others make it a dryer blend.
Body – This has more to do with how the coffee feels in your mouth. That is, does it feel heavy (thick) or light (smoother).
Flavour – It all comes down to taste. When you sip on a cup of coffee, what do you taste? Perhaps a hint of vanilla? Is it sweet or is it bitter? The acidity and body of a blend will influence the flavour you experience.
The next time you enjoy a cup of coffee or try out a new blend/brand, consider the key factors that went into making the coffee: bean origin (species), type of roast, and the brewing method used. This will determine your overall impression on the coffee you drinking and will make you an instant connoisseur!
Sources:
The Beginner's Guide to Coffee – Medium