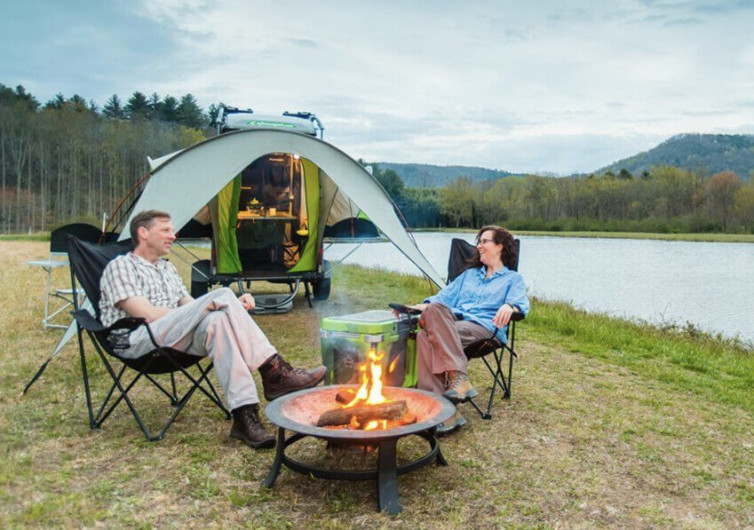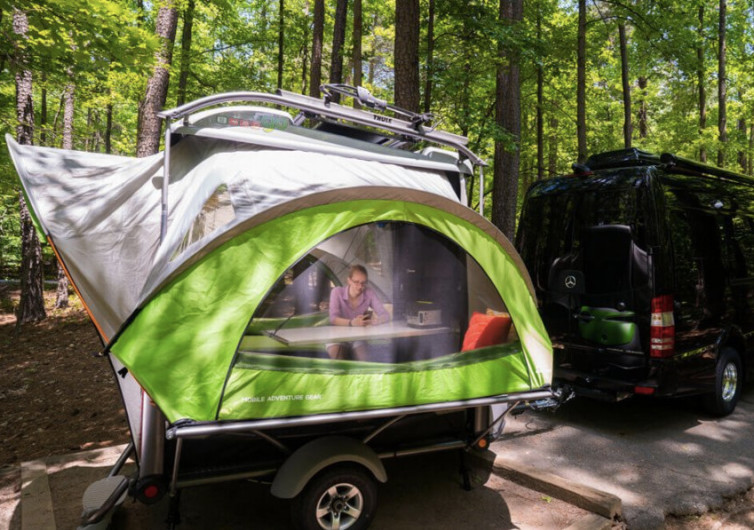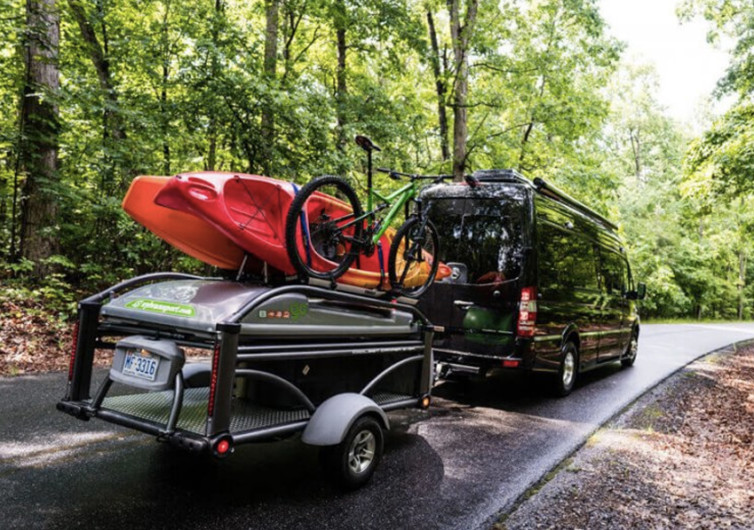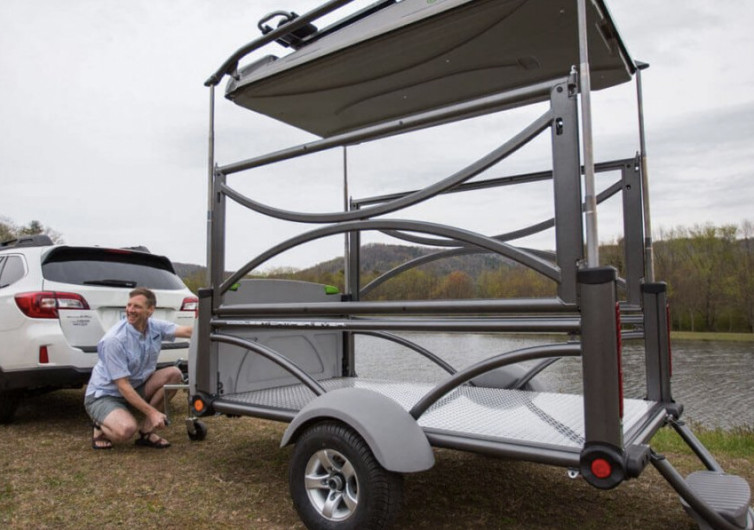 GearHungry may earn a small commission from affiliate links in this article.
Learn more
SylvanSport Go Camping Trailer – The Multi-Tool Of Camping Trailers
Is the SylvanSport Go a pop-up-style large camping tent? Yes. Is it a gear-hauling trailer with racks for your bicycles and boats? Also yes. Is it a utility trailer with space for large items like washing machines, lumber, or firewood? Again – yes. The SylvanSport Go is all of these things, a camping trailer with the versatility of a multi-tool and a tow weight that can be pulled by a Subaru Outback. It's waterproof, durable, spacious, and American made, and it might be the glamping trailer you've been looking for all along.
Multi-Use for Multi-Day Adventures
The Go is spacious on the inside, with room for two bunks, plenty of headroom, and a fold-out table held in place with a strap. You can increase your living space with one of the many accessories available. We like the awning, which provides shade on hot days and a rain-free dining area when the weather turns nasty.
This trailer is easy to set up, and you can tow it with almost any car (assuming you have a tow-hitch, of course).
But the Go's standout feature is its pure versatility.
Camper Mode is pretty self-explanatory – simply park your trailer in a beautiful spot and unfold your large camping tent. Toss in your sleeping bags and camping gear, and you've got an adventure-ready base-camp to keep you snug.
Fold everything down for Gear Hauler Mode, where built-in racks hold your bikes, canoes, fishing kayaks, and anything else you can squeeze up there.
In utility trailer mode, the Go folds down into an open compartment that is perfect for hauling supplies for home improvement projects, or just bulky gear that won't fit into a rack.
Para-gliders? Kiteboard setups? E-bikes? Sure, why not? The incredible versatility is our favorite thing about the Go. If you are going to have a camping trailer sitting in your driveway, you might as well be able to use it for more than just camping!
American Made, Built to Last 
Durability is a crucial factor in choosing a camping trailer – especially one like the SylvanSport Go that is ready to haul your gear around!
The Go uses proprietary aluminum extrusions in the frame. Using aluminum instead of steel allows the Go to be lightweight (read: helping out with your fuel costs) while remaining strong and sturdy. Don't believe us? Remember, Ford is now making F-150s out of aluminum for the same reasons.
The aluminum is TIG welded for solid construction and powder-coated for a clean, attractive, scratch-proof finish. The diamond-patterned aluminum decking is sturdy and corrosion resistant, and of course, that diamond pattern provides a slip-proof surface for your hiking boots.
To round out the feature set, SylvanSport includes Dexter Torsion Axles and cast aluminum wheels on this trailer. This kind of attention to detail ensures a smooth, less-bouncy ride, meaning you are in better control of your Go when navigating rough terrain and curvy mountain highways.
Finally, the Go's tent is 220-denier ripstop nylon. We know a thing or two about outdoor fabrics, and we can tell you that this stuff will hold up to some pretty severe abrasion. On top of that, the material is seam-sealed and waterproof. All the windows come with both mesh and solid fabric for ventilation and privacy, depending on your needs.
The Buy 
The basic Go comes with all the functionality we've mentioned, but not many accessories (you get four of SylvanSport's standard air mattresses). That will cost you $8,995. The Go Big package is $9,995 and snags you some more accessories like the handy Mr. Stow It All compartment and camper cover. Finally, the Go All Out package costs $11,995 and includes the Go Big package's accessories plus a bunch more, like a solar charger, a camp kitchen, upgraded mattresses, and a spacious gazebo-style tent addition.
The Go has completely sold out for September, so if you want one for fall, we recommend heading over to their website now to make your order. SylvanSport is currently offering 0% interest financing for a limited time.