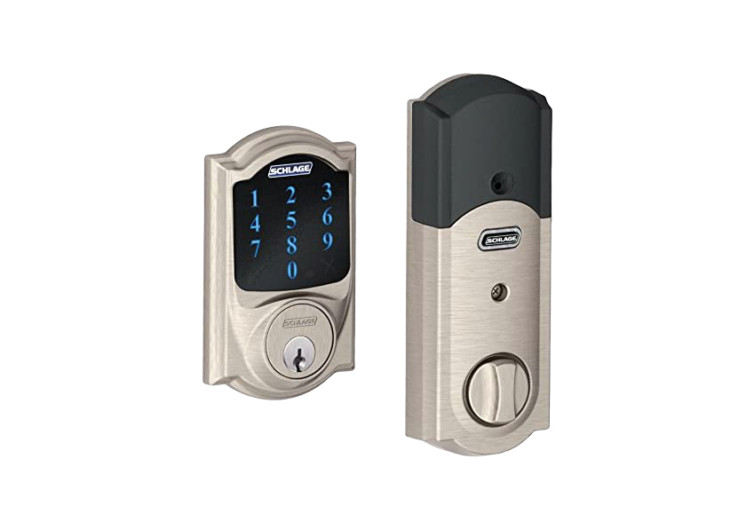 GearHungry may earn a small commission from affiliate links in this article.
Learn more
Schlage Z-Wave Connect Camelot Touchscreen Deadbolt
Rated highly for its guaranteed security features, the Schlage Z-Wave Connect Touchscreen Deadbolt allows users to connect the physical lock to a smart home device, even to be connected to Alexa, and manage the features remotely. This spells convenience for both busy professionals and hardworking owners who have to safe-keep valuables and properties in the most technologically advanced way possible.
The price for a security investment such as the Schlage touchscreen deadbolt with an automatic alarm setting is only about $200 and it already gives property owners peace of mind and keyless control of a physical lock. Apart from convenience, customers ultimately appreciate the effectiveness of the Schlage's deadbolt's locking mechanism. It leaves little room for unauthorized access because the codes can be customized and entries are heavily dependent on biometrics information (e.g., fingerprints).
You are guaranteed with a tight security with the Schlage lock. In fact, it is so tight that there are lock-out incidences that potential customers must be aware of. The common causes for such lock-outs are short battery hours and poor installation or maintenance.
The battery is the typical alkaline battery, designed to fit standard door prep. It runs for approximately 8,700 hours. While this generally appears quite a long period of battery life, instances happen when the battery runs short. It isn't difficult to find a replacement because the lock simply uses the regular 4 A batteries. But you have to be mindful when the lock shows early signs of battery weakness such as faded onscreen texts or delayed responses.
Installation is easy as the product comes with a manual. The touchscreen pad and lock cylinder are about 1.37 to 1.75 inches, pretty much the regular thickness for most locks. There shouldn't be any problem with the fitting. You may, however, request for assistance in installing. The warranty service also runs for a year in case the problems qualify for replacements.
A smart lock that is affordable, easy to install and maintain, and guarantees secure locking mechanism spells great value for money. The touch screen pad has a matte finish that protects against smudges and prints. So you need not worry about constantly cleaning the tool.