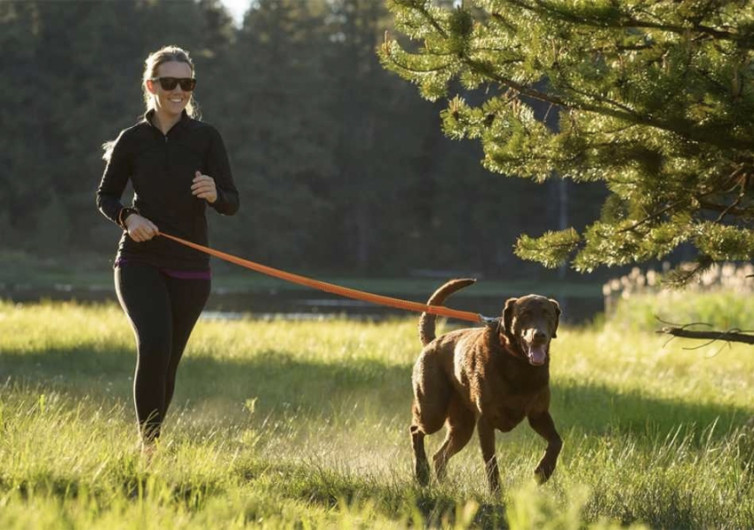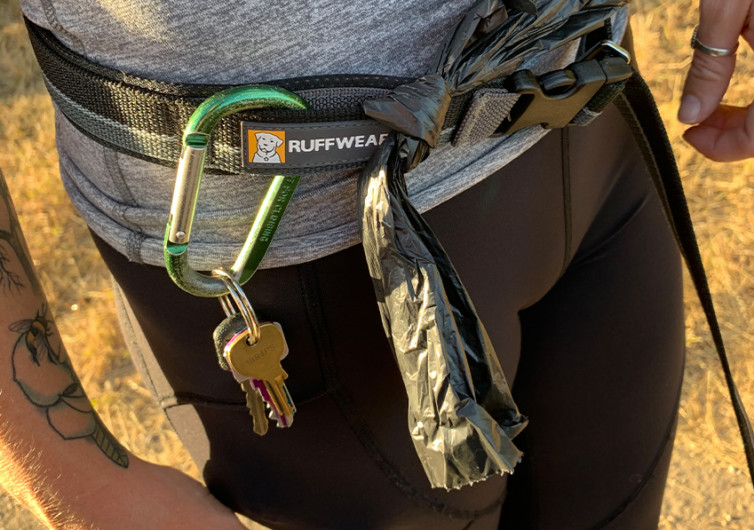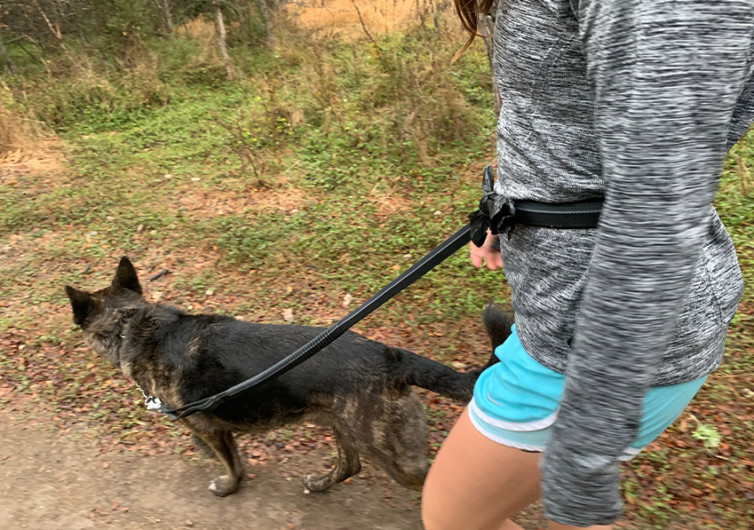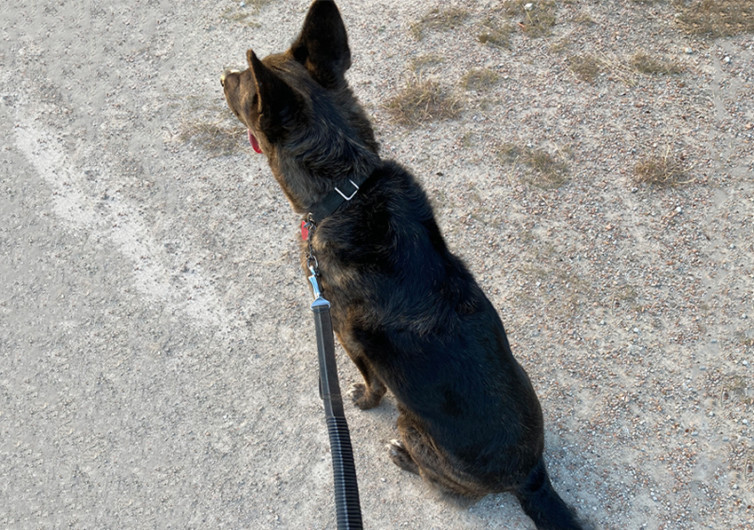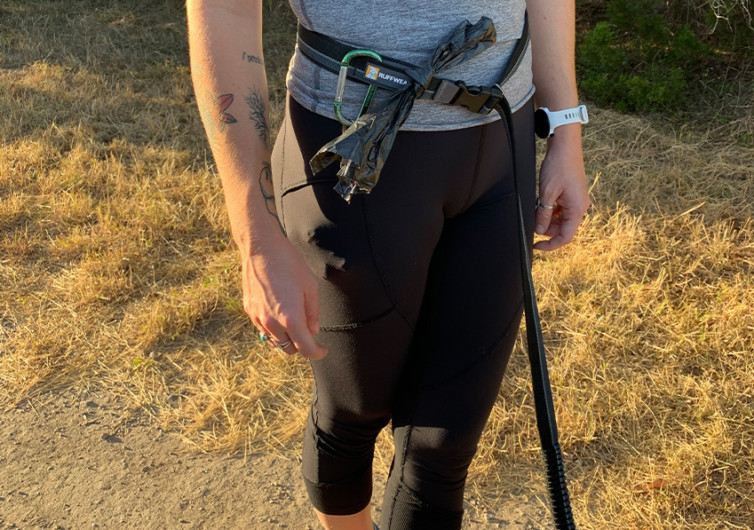 GearHungry may earn a small commission from affiliate links in this article.
Learn more
Ruffwear Roamer™ Hands-Free Dog Leash – Cut Loose!
My dog, Guts, and I started running regularly once quarantine settled in; we've got a routine down, and we're working on not chasing squirrels or cutting me off to smell other furry friends. I used to girth-hitch his leash around my waist for our runs, but any time he'd stop abruptly, it would chop me in half like Darth Maul in The Phantom Menace.  The hot Texas summer was coming up, which would require lighter running clothes, which meant that I needed a solution to this leash issue, or else I would end up with rope burn around my waist. I'm happy to report that I think I found that solution in the Ruffwear Roamer™ Bungee hands-free dog leash. Let's take a closer look.
Ruffwear Roamer™ Hands-Free Dog Leash
The leash's construction is a Ruffwear patented Wavelength Webbing to absorb the shock of your dog's unexpected pitstop. The leash secures to your dog's collar with a Ruffwear secure Talon Clip; a secure and ergonomically designed clip to make attaching and detaching to the collar a one-handed ordeal.
An adjustable padded handle protects the skin on your hands and waist. The handle has an accessory loop to attach extra doggie bags or stache keys while walking. It fastens together with a side release buckle and snaps. The traffic handle is ideal; keep your dog close as you pass others on the trail or to keep them out of the path of runners or bikers. The Bungee leash is available in two lengths, 5.5 feet extending to 7 feet or 7.3 feet extending up to 11 feet. You can choose between four colorways: purple dusk, red current, obsidian black, or orange sunset.
The Ruffwear Roamer hands-free dog leash heeded my call for more comfort and a little wiggle room with Guts while we ran and threw in a few extra features I never knew I needed. With the leash's length and the bungee portion, Guts and I were running more like partners rather than a couple of bumper cars in a three-legged race.
The handler loop is a pleasant and surprising addition. I found Guts to be protective once we hit the gravel, and the handler loop allows me to keep a firm grasp on him while I chant "stay with me … good boy" as we pass other dogs and runners.
As I continually test the trustworthiness of Guts' character, the talon grip makes reaching down to let him off leash easy — without dropping pace. The one-handed ergonomic clip is a tad heavy; it weighs down Guts' lighter, slide-action Martingale dog collar, and it may be a little cumbersome on smaller dogs. But with any standard dog collar on a medium to large dog, you probably won't notice.
My only grievance is visibility, but there are easy remedies to the issue. Daylight savings has shed light on the fact that night time runs and walks are more frequent.  There's no reflective material in the webbing, so even if I'm wearing reflective clothing, I want drivers' to be able to spot my dog as well.
I was looking for a way out of the girth hitch attachment I was using, and the Romer's padded handle, accessory loop, and easy buckle and snap are nice touches.
Why the Ruffwear Roamer™
Other organizations produce hand-free dog leashes, and with the Roamer ringing up at $40, I could find one for cheaper and with additional attributes. But Ruffwear's story drew me in and kept me coming back for more. They choose a practical approach to meet the demands of the relationship between human and dog; years later, it was the same approach I took when choosing the Roamer leash — practical with no extra frills.
Ruffwear Gives Back
Since making the dog bag in 1972 and Ruffwear's debut at Outdoor Retailer in 1994, Ruffwear has continued to support dogs and outdoor spaces through non-profit organizations and producing products to meet challenges placed upon K9s. After 9/11, Ruffwear made dog booties for search and rescue dogs and is a uniform supplier for avalanche rescue dogs, continually working with backcountry search and rescue to adapt to the needs of the K9 units. In 2007, Ruffwear partners with Conservation Alliance to contribute proceeds towards protecting public lands. The list of Ruffwear's partners continues to grow, even today.
The Roamer™ – A No Frills, Hands-Free Dog Leash
The Roamer hands-free dog leash surpassed my needs and expectations. Ruffwear approached an issue and not only created a solution but made leash to keep you hands-free without sacrificing general dog leash amenities. If you're looking for the hands-off approach, the Roamer keeps you and your pup attached without your hands involved.