GearHungry may earn a small commission from affiliate links in this article.
Learn more
Stopping Mosquitos From Biting You
Mosquitoes don't transmit HIV, it's a complete rubbish. But, the fact that this myth isn't true does not mean that they're not dangerous. On the contrary! Apart from the annoying mosquito bites, they can cause all kinds of serious health issues in humans. We're talking about things like malaria, yellow fever, West Nile virus, Zika, and so on.
Although people rarely get infected via mosquito bites, it doesn't mean that you should let them be. The best way to prevent serious health problems caused by mosquitos is to stop them from biting you. The bad news is that preventing mosquito bites is a pretty difficult task. But, this doesn't mean that it's impossible.
The more learn about mosquitos, the easier it will be for you to deal with them. And we're now going to help you out with that. The first thing we got to tell you is that body odor is what's telling mosquitos that humans are near. The solution hence is to make sure you're not sweating too much. And how are you supposed to do that if you're camping during hot summer months? By using mosquito nets!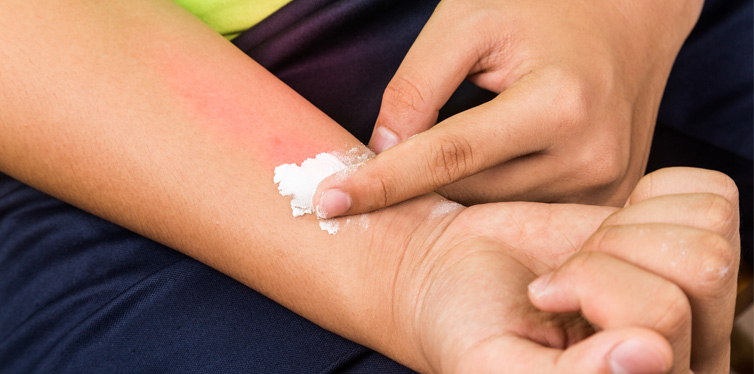 Get Yourself Some Mosquito Nets
If you're staying in a log cabin or some other place that doesn't have AC, you will probably want to cool the place down by opening the windows. The problem is that doing it will ensure free entry to mosquitos, flies, and all kinds of other annoying insects. The fact that they're annoying means that their buzzing will prevent you from getting a good night's sleep.
A way to prevent such a scenario from happening is to get yourself a mosquito net. A great thing about mosquito nets is that they're pretty cheap these days, so our advice is to get as many different types as possible. You never know when you're going to need them, which is why we believe you should get at least one of each of the following mosquito net types:
Ceiling hung mosquito netting– Basically, all you got to do is hung it on the ceiling right above your bed (or a chair, table, etc.) and the netting will create a mosquito-free area.
Frame hung mosquito netting– It might not be as easy to install, but this type of mosquito netting is much more convenient as it covers a larger area.
Window mosquito netting– To ensure mosquitos stay outside, while fresh air gets in, you just need to install mosquito netting on your windows.
Because they're lightweight, you can carry mosquito nets with you every time you're going to sleep in a wood cabin or go camping.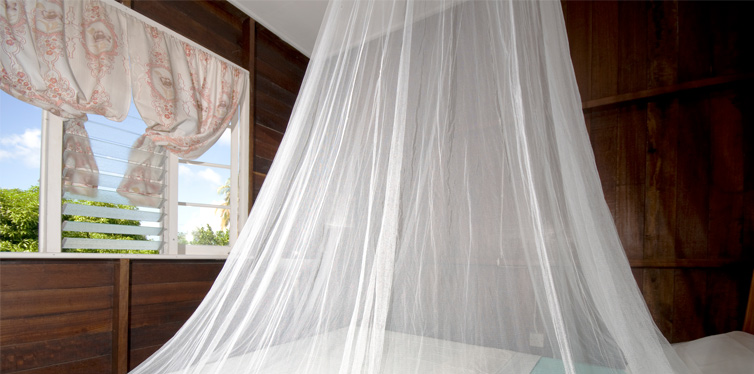 Get Quality Camping Tents
A good tent is the most important item of your camping gear. It needs to be spacious, but also very strong and durable. It also needs to provide you with safe refuge from bad weather, particularly heavy rain, which happens from time to time during summer months. It also needs to keep you safe from boring insects, such as mosquitos.
Speaking of which, you can find some camping tents which are made of mosquito netting rather than canvas or some other commonly used material. These kinds of tents are great for use in scorching-hot summer months, but be aware that they won't keep your protected from cool nor from the rain. That's why it's wise to use this kind of a tent as a backup. After all, mosquito netting is pretty lightweight, so you will be able to pack the tent together with your other camping gear.
Buy Proper Sleeping Bags
A sleeping bag might be your solution to stay safe from mosquito bites, yet to have plenty of fresh air and remain warm overnight. All you need is to look for a sleeping bag with a mosquito head protect. What this basically means is that rather than keeping your head uncovered during the night, the bag will enable you to cover it with a mosquito net.
These kinds of sleeping bags are pretty common these days and can be found in many shops that sell camping equipment. Still, if you have troubles finding such a sleeping bag, our advice is to look for one on Amazon.
Eliminate Standing Water (Or Get Away from It)
If there's some standing water near your home, you got to do everything in your power in order to eliminate it. Otherwise, mosquitos will always be a problem for you, especially during the hot summer months.
Of course, you can't drain every swamp in the world, so what are you supposed to do if there's some standing water near your camping spot? Well, the easiest solution is to move away from it. The thing is that mosquitos always live near standing water, so it's best not to set up your camp right next to their home.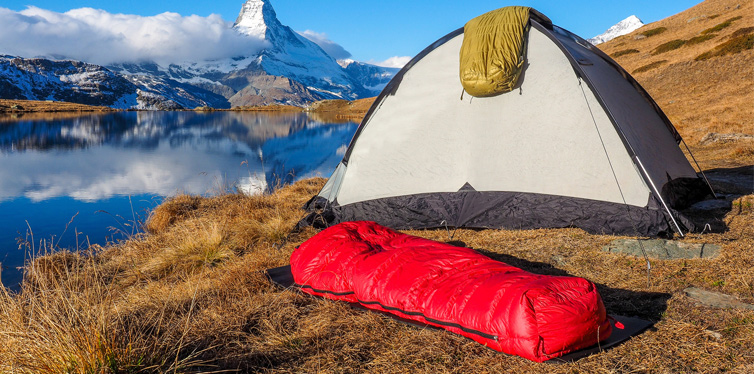 Use Mosquito Repellants
When you got out camping, it's inevitable to get in contact with mosquitos or some other insects. You can't always wear a mosquito netting around you, which is why you ought to make sure you're not an attractive target for them. To do that, you need to use some mosquito repellants.
The truth is that there are all kinds of products you can find in the market that are claimed to repel mosquitos. However, they can be too fierce sometimes and cause you some unpleasantness. For example, such products may contain certain substances that would irritate your skin or make you sneeze or cough.
Because of that, our advice is to play it safe. Instead of buying a product that's packed with all kinds of chemicals, our advice is to stick to natural mosquito repellants. Here are some that are proved to work:
Lemon eucalyptus oil– The fact that this is one of the most common natural ingredients found in mosquito repelling products means that you definitely ought to get it. Plus, the Center for Disease Control and Prevention has placed lemon eucalyptus oil on the list of insect repellants.
Catnip oil– DEET or N, N-Diethyl-m-toluamide is the most common chemical used for mosquito repellants, but experiments have shown that catnip oil is 10 times more powerful. So, if you want to keep mosquitos and other insects away, buy catnip oil, not a mosquito repellent spray.
Peppermint oil– A great thing about peppermint is not just that it's a natural insect repellant but it also smells lovely. It seems that everyone loves the smell of peppermint, so you won't have any problems covering your entire tent in peppermint oil. Or, add a little bit of it in the washing machine when doing the laundry.
Lavender– If you have problems with mosquitos in your house, our advice is to plant lavender in your garden. This plant is easy to grow and smells wonderful. And is a great mosquito repellant. That said, you can use it on your skin in the form of oil, or just rub the lavender leaves on your skin.
Citronella– Here's another plant that mosquitos just hate. Grow citronella in your garden and mosquitos will stay away from your property. And if you're going to a camping trip, grab some citronella leaves and place them inside your tent. It's guaranteed that the leaves will make the mosquitos keep a distance.
Anise– A great thing about anise is that it can be sued for cooking. You can use it as a spice for all kinds of different dishes. By eating anise, you may be able to keep annoying insects away from you. But, if you really want to make your house or tent a mosquito-no zone, our advice is to sprinkle anise essential oil all over the place.

What to Do If You Get Bitten?
The chances that one bite of a mosquito will result in you catching a serious disease are very low. Still, this doesn't mean that you should let them bite you. Mosquito bites can be very irritating and can cause allergic reactions in some people. And if you keep on scratching them, you can make a wound that would later turn into a scar. So, whatever you do, just don't scratch it!
But, what are you supposed to do when a mosquito bites you? Well, here are a couple of methods to deal with mosquito bites:
Use oatmeal to relieve itching– If the mosquito bites are itching you like crazy, it's time to take a little bit of oatmeal and place it on the itchy spot. Just pour water over oats and leave it there for a few minutes, before applying it onto your skin. And if there are many bites on your skin, a good solution is to add oatmeal into your bath and lay there for 10-15 minutes.
Use ice to reduce inflammation– As soon as you spot that you've been bitten, it's time to take an ice cube and press it onto the bite mark. It will give you an instant relieve and prevent the itchy spot from getting even more inflamed.
Use honey to accelerate the healing process– If you've been scratching the itchy spot, putting a bit on honey on it might help. First of all, honey has anti-inflammatory properties, plus it's sticky, so you will refrain yourself from touching the spot in order not to get all sticky.
There you have it – our tips and tricks on how to prevent and deal with mosquito bites. Follow our pieces of advice and you're going to have a good time on your camping trip, without any annoying insects to ruin your good night's sleep. Of course, these tips can also come in very handy for keeping your home free of mosquitos during the hot summer months.