GearHungry may earn a small commission from affiliate links in this article.
Learn more
Best Ways To Have Fun With Your Girlfriend
Now, we know what you're thinking, you naughty little devil! But, you surely can't do "those things" all the time. You need to have some fun in the meantime. By fun, we think of the activities that will stick in your memories forever. To help you out with picking the activities to do with your girlfriend, we've decided to give you a couple of ideas. So, here they are – 20 super-fun things to do with your girlfriend!
1. Play Video Games
Video games are fun and they can be even more exciting if you play them with someone you like. Sure, your girlfriend might not be too eager to play a first-person shooter with you that's packed with blood and violence like GTA for example. But, the two of you can play some games that are gonna make both of you happy. We're talking about the games like the legendary Super Mario series of games.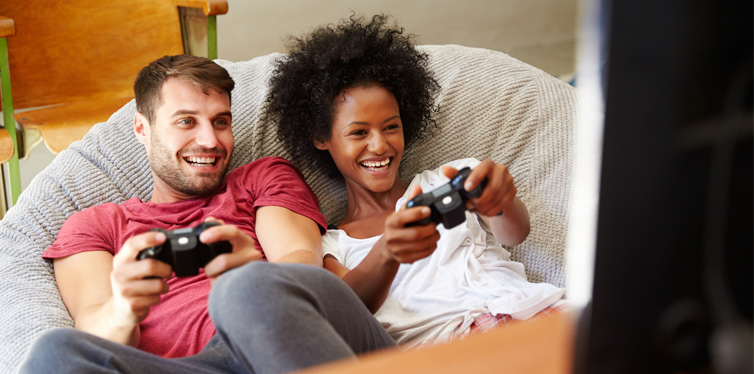 2. Play Sports
Play tennis in doubles to show everyone that you two are a perfect match, both on and off the court. Think of Steffi Graf and Andre Agassi for inspiration. The couple has two Olympic gold medals between them, as well as two children from their marriage that's been lasting for more than 17 years.
Apart from tennis, there are many other sports that you can play in doubles. Some that come to mind are volleyball, badminton, and so on. You can also have fun with activities like playing darts, table tennis, board games or bowling.
3. Start a Musical Duo
Sonny and Cher, Ike and Tina, you and your GF. Starting a band together is a great way to strengthen your relationship. It will help the two of you learn more about one another, but also to practice how to work as a team. And on top of everything, starting a musical duo is guaranteed to bring the two of you a lot of fun.
But, what are you two supposed to do if neither can play any musical instrument? Well, you can take a course together, which is another interesting activity for couples. Or, you can forget about playing instruments and focus only on singing. These days, computers can take care of that part.
4. Try Karaoke
To see whether you and your girlfriend actually have any future in singing, you can test out your talents by trying out karaoke. The best thing about this is that even if you sound awful, it does not matter. Karaoke is all about fun.
You can have a karaoke night out, either just the two of you or together with your friends. But, if you don't feel like going around pubs, you can do the same at home. All you need is a computer, a mic, and a good set of Bluetooth speakers.
5. Take a Dance Class Together
If you want to sweep your girlfriend off her feet with your amazing dance moves, first you will need to learn how to do them. And she can help you out with that. Or the two of you can help each other in improving your dance moves. In every case, our advice is to take a dance class together. This is a really good opportunity to bond with each other, while also have hours of fun.
6. Go to a Dance Club
If you're confident that your dancing skills don't require any polishing, then, by all means, forget about dance classes and hit the disco. If you and your GF believe you're the dancing king and queen it's time to show your moves to the world.
And feel free to mix it up a bit. Your preferred dance might be salsa, but why not try yourselves at other dances and explore other music genres. Try dancing at a 70s-style disco or go to an all-night techno party. Who knows, you might discover that the two of you are born for something more unconventional.
7. Go for a Bar Crawl
Going out to party does not necessarily mean that your girlfriend and you are supposed to dance all night. Actually, you two can have a lot of fun dance-free. We're talking about doing a pub crawl. What this means is that the two of you are supposed to visit every pub in a certain area, drinking only one drink in each one of them.
This way, you will constantly be on the move, which means you're not gonna get bored. On top of that, you're gonna meet much more people and have a chance to try out all kinds of different drinks. Speaking of which some pubs and bars have their own signature brew or make cocktails invented by their barmen.
8. Get Out from an Escape Room Together
Another fun activity to have with your girlfriend is going to an escape room. How this works is that the two of you get locked in a room full of clues, which you need to solve in order to get out. The trick is that the clues are not that easy to figure out and you will need to work together in order to find the solution.
9. Binge on Netflix Together
We live in the golden age of series and if you got nothing else to do, you can always binge on some of them. The best thing is that you can watch them whenever you want, rather than waiting for an episode to come up on TV, which was the case in the past. Now, with Netflix and other video-on-demand services, you can binge-watch any series whenever you feel like it.
10. Movie Marathon with Your Favorite Movies
If you're looking for things to do with your girlfriend at home, here' a good idea. A great way to learn more about each other is if you watch your favorite movies together. We're talking about a movie marathon in which each of you would pick an equal number of movies which have a special place in your hearts.
This is a great way to make your weekend interesting. And it's actually very wise to do it over the weekend as movie marathons can be pretty long, so better avoid doing them on work days.
11. Recreate a Famous Movie Scene
"I'm the king of the woooooorld" – Remember the famous scene for Titanic? Well, you can be Leo and she can be Kate by recreating one of the famous scenes from the movie! Of course, Titanic is just an example, there are plenty of iconic movies that you two can recreate.
This can be one of the most romantic things to do for your girlfriend if you choose an appropriate movie scene. But, the movie doesn't have to be a romantic one. It would be real fun if you did a scene from an ultimate movie like Godfather. The best bit is that she can play Don Vito, not you.
12. Come Up with Your Own Dish
You two might not have a favorite dish, but that doesn't mean you can't invent one. Actually, this is a great way to have fun and if you create a tasty dish, you will be able to brag about it to your friends forever. And each time you eat it, you're gonna have a flashback of the good times you two had while coming up with the dish.
13. Go Hitchhiking Together
Here's a kind of adventure that's guaranteed to stick in your memories for a long time. Of course, it all depends on how far you go, but even a small hitchhiking adventure can mean a lot to a couple. The ones that are the most interesting are hitchhiking adventures in which you have absolutely no plan. Just put your finger up and go wherever the road takes you.
Of course, you surely don't want to end up hundreds of miles away from your home, which is why it's important to have some cash with you all the time. This way, you could pay for a bus, train, or a taxi and get back home safely.
14. Make Some Selfies
You may think that the selfies are cheesy, but one of the best ways to create memories is to capture them with your smartphone. The thing about making selfies is that it's not the goal, that is, the perfect photo, what's interesting. What's really exciting is the preparation – putting on the right clothes, doing the makeup, picking the right stance, choosing the background, and so on.
15. Volunteer
Helping people makes you feel good. And when you that together with your girlfriend, both of you are going to feel great. On top of that, volunteering can also strengthen the bond between the two of you, as well as help you gain some valuable life experience. And finally, volunteered can also be one of the fun things to do with a girlfriend, especially if you pick an interesting cause. Our advice is to focus on the outdoor activities such as cleaning up a park or forest, planting trees, or helping sick animals.
16. Adopt a Rescue Dog Together
Another way to do a good deed together is to adopt a rescue dog. This is especially a good idea if you live together. This way, caring for a puppy will be a good training for the future when the time comes to start a family. Of course, a dog isn't the only kind of animal you can get. For example, if you're more of cat persons, go with a kitten. As long as it's a little creature that you two will need to nurture together, you can't make a bad choice.
17. A Trip to the Zoo
Everyone likes animals and going to the zoo is a great opportunity to learn more about some species that aren't native to your country. Apart from learning, a trip to the zoo is great for a number of other things. First of all, zoos are large, so you two will have to walk over miles in order to check out all the animals. This means that you will have time to talk and learn more about one another along the way.
18. Go to a Theme Park
One of the most exciting things to do with a girlfriend is to go to a theme park together. If you're scared of rollercoaster rides, she'll be there to give you the support. An afternoon in a theme park is guaranteed to stay in your memory for a really long time.
19. Have a Cheesy Rom-Com Date
You may feel you two are above that. But, everyone needs a little romance every now and then. And if you need inspiration, feel free to steal ideas for romantic comedies. And if your friends start poking fun at the two of you for reviving a cheesy rom-com date, you can always say you did it sarcastically.
20. Recreate the Day You Two Met
Speaking of romance, what's more romantic than recreating the day when you two met. We say do exactly the same things that you did on that fateful day, following exactly the same paths that brought the two of you together.
Final Piece of Advice
There you have it – our suggestions for 20 fun things to do with your girlfriend. We're sure that these ideas will help you come up with an activity both of you will love. But, there's one thing you need to remember. The best memories are created when there's no plan involved.
You may wish to let it go and focus on the spontaneous things to do with your girlfriend. What this means is that you got to do the thing that feels the best at the right moment. Planning ahead can only make the things dull. You two need excitement instead.
A way to make it more exciting is to pick a random activity and go with it. Let her pick a random number from 1 to 20 and which activity it matches, you do it!