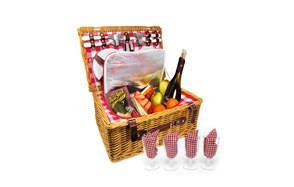 Natures Gear Insulated 4 Person Picnic Basket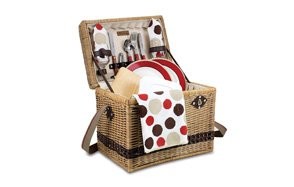 Picnic Time Deluxe 2 Person Picnic Basket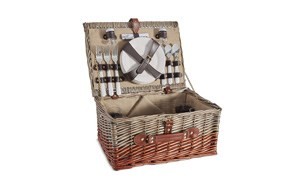 Von Shef 4 Person Wicker Picnic Basket Set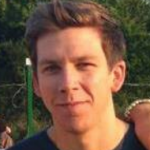 There's nothing better when the sun is shining than dining al fresco. Choose to combine this with a love of exploring the great outdoors then you effectively have a picnic. Whether you want to enjoy a romantic and intimate tete a tete with your bae, accompanied by some chilled champagne, or you prefer to grab all your nearest and dearest and head to the beach with a well-packed hamper, nothing quite beats eating outdoors. You can enjoy a picnic at the beach, by a lake, in a park or basically anywhere that takes your fancy. You could choose to just stay at home and recreate the experience in your own back garden. Food seems to taste fresher eaten outside. With some good company, a chilled bottle of your favorite wine and a picnic blanket to comfortably sit on, you are sorted! So let's take a look at some of the best and most popular picnic baskets around that will have you dining in style and comfort.
The Best Picnic Basket
The Origins Of Picnic
Today we associate the word picnic with enjoying an al fresco meal, normally in scenic surroundings with friends and family on a glorious summer day. Picnics are particularly popular in parks, at open-air theatres or concerts, enjoying a day at the horse racing or a regatta or even at the beach (although no-one likes sand in their cucumber sandwiches!). They're either family orientated days out or can be an altogether more romantic occasion, enjoyed by just two people and frequently associated with strawberries and cream, chilled champagne and an assortment of delicious finger food! To enjoy a picnic, besides good company, food, and drink, a picnic basket, as well as a picnic blanket, are worthwhile investments although many parks and recreation ground may have purpose-built picnic areas with tables.

The word itself can be traced back to 1692 and has its origins in the French language where it was referred to as a pique-nique. Initially, it was associated not so much with dining al fresco but rather with eating in a restaurant and taking your own wine along. Picnicking as we know it today being the act of eating outside was especially prevalent in France following the French revolution when it became more acceptable for ordinary folk to visit royal parks and enjoy a day out with their families. Picnics were fairly grand and elaborate affairs back in the day that took days of preparation and were much loved social occasions.
The term picnic first appeared in the English language in 1748 and is credited with being derived from the French pique-nique. In the early 19th century in London, a group was formed called the Picnic Society, which was a social gathering where all the participants were expected to contribute towards the entertainment and the refreshments. While the official meet-ups petered out, the concept of the picnic lived in and is popular today in various places around the world.