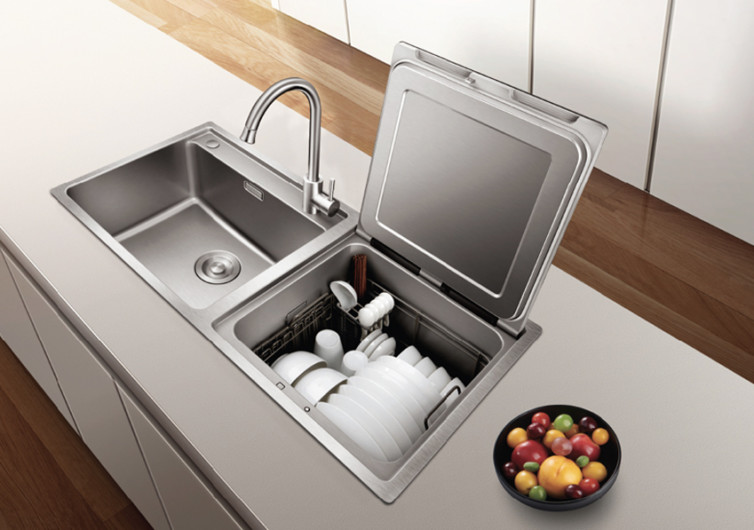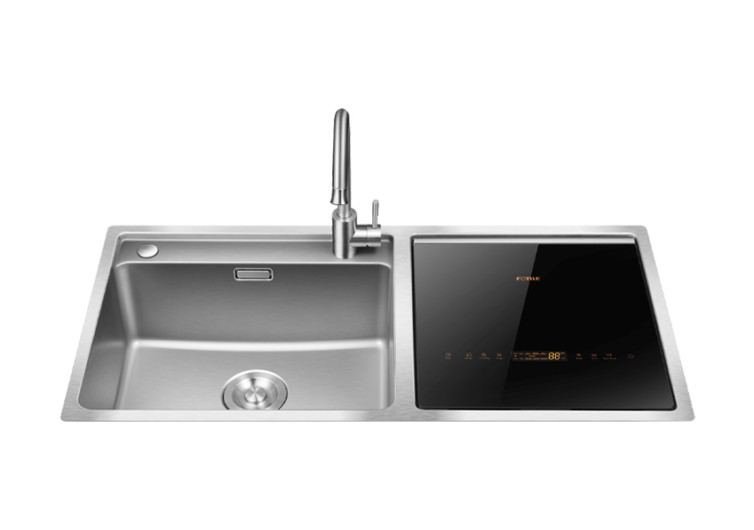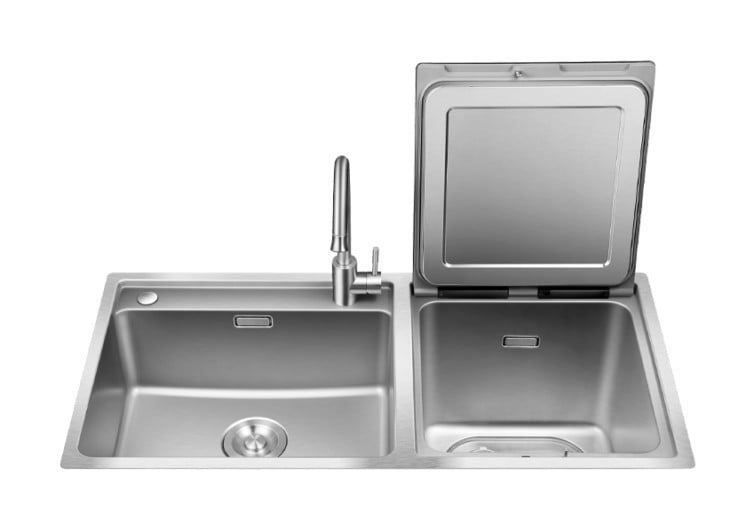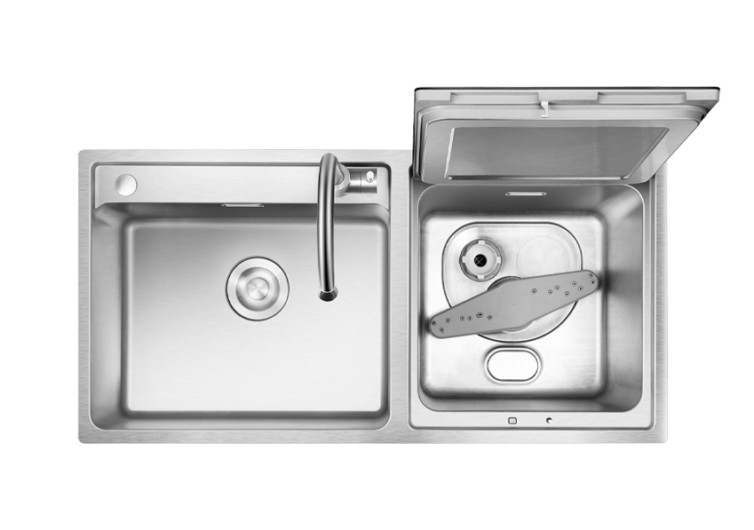 GearHungry may earn a small commission from affiliate links in this article.
Learn more
FOTILE 3-in-1 Minimalist Dishwasher and Purifier – Cleaner, Quicker, Out of Sight
Minimalism – it's a whole late-stage capitalism vibe. The design movement has enveloped floorplans, furniture, electronics, fixtures; very few corners of the modern home remain untouched. But consider the dishwasher. Sure, it comes in all varietals of finishes, maybe the control panel is smarter, but overall, it hasn't changed much since the 70s. And the cuboidal machine isn't exactly minimalist, is it?
FOTILE, Asia's foremost kitchen appliance maker, aims to change that with their 3-in-1 Sink Dishwasher (SD2F-P1X) – the first of its kind. Ever. The P1X includes a top-loading dishwasher, extra-large sink basin, and the real ringer – a fruit and vegetable purifier. This smart kitchen gadget won accolades from several organizations, including the 2020 German iF Design Award.
Now, if using automation to clean your produce sounds like overkill, I get it. Perhaps the P1X isn't for you. And for many, this third function won't justify spending the extra coin. But those of you that spritz your salad greens with Lysol or live in a shoebox apartment (preach) might consider sticking around.
So come on, you, let's take a closer look at this tiny wonder.
Sink and Surface
The stainless-steel sink basin sits adjacent to the dishwasher/purifier, which occupies territory usually claimed by a second basin. The P1X's door measures a slight 19.7 by 19.3 inches, and its glassy, black micro-touch surface responds to the soapiest fingers. When closed, the door lays flush with the countertop. Mmmm, how minimalist.
Just note that you'll have to plumb, wire, and cut out requisite counter space before installation. And it's a BYO-faucet situation. Maybe it's a little too minimal?
Dishwasher
FOTILE calls the design "humanized" for a few reasons: first, the top-loading feature is easier on your old back than the traditional front-loader. Second, this fresh innovation is ideal for tiny kitchens with limited counter space or narrow galleys. Third, its 48-liter capacity suits a family of two to five members or an assortment of 20 to 24 wares.
Then there's the mega cleaning system, consisting of Delicate (20 min), Normal (45 min), and Intensive (80 min) modes. Intensive mode eradicates 99.99% of bacteria, including E. Coli and Staphylococcus Aureus, with 158-degree (F) water, five wash cycles, and convection drying.
Surprisingly, the P1X's minimalism extends to energy and time efficiency, too. Relative to traditional dishwashers, it boasts around 40% energy savings and half the wash time.
Fruit and Vegetable Purifier
Finally, the P1X's piece-de-resistance: its fruit and vegetable (and seafood) purifier. Implemented with FOTILE's patented triple-wash high-frequency technology, the purifier removes dirt, microorganisms, and pesticides. At last, açaí berries that just taste meh instead of like Roundup.
The purifier also offers Delicate (8 min), Normal (13 min), and Intensive (18 min) settings. Each setting includes three wash cycles, all at room temperature, to preserve your bounty.
 Preordering and Price Tag
The 3-in-1 PX1 Sink Dishwasher is being released this month, with free global shipping slated for late October.  You can reserve yours for $1,499 plus $100 in tax. That's not a trivial amount, but it's certainly not the most expensive dishwasher on the market.
Look, it's not lost on me that this is a niche product, at least for now. I'm a millennial, single dog-parent; I handwash about five plates and 12 coffee cups per week. But honestly, you guys? If I could update my tiny, dishwasher-baren rental with a 3-in-1 P1X, I totally would.