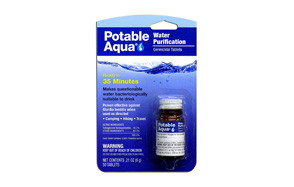 Potable Aqua Water Purification Tablet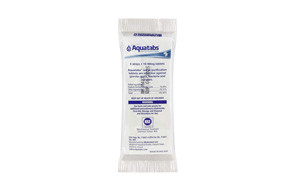 Aquatabs - World's Best Water Purification Tablets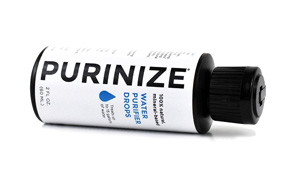 PURINIZE Water Purification Tablets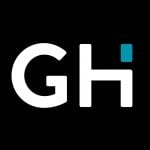 When it comes to survival, the natural resource second to just oxygen is water. No matter where you might be in the world, you need to be able to drink water to survive. Unfortunately, not everywhere in the world has safe to drink water readily available for our consumption. For these kinds of survival situations when you have to find water in the wild, we've taken a look at the best water purification tablets on the market right now so you can head out armed with the best of the bunch. How does the famous saying go? Fail to prepare, prepare to fail! Replenishing your body with fresh, safe to drink water is certainly not something you'll want to fail at.
Unclean water can bring along a number of illnesses. In fact, waterborne illness can actually claim hundreds of lives in places that aren't lucky enough to have proper water treatment facilities. This is particularly common during emergency situations since water gets contaminated very easily. For the times when you're out camping or in a survival situation, it isn't always feasible to carry along hundreds of litres of water or a filter. As at one with nature it may seem to sip H2O from springs and streams, it can actually make you sick. To ensure you remain safe in these kinds of situations, you should carry water purification tablets. We've taken a look at the best accessible, easy to use and affordable water purification tablets so you will never fall victim of a potentially life-threatening situation. Whether you're an outdoor explorer, a survivalist or even in the forces, you really should be carrying a supply of water purification tablets with you at all times.
The Best Water Purification Tablet
Water Purification Tablet Buying Guide & FAQ
If you're looking for a tablet based on brand alone, it's likely you'll steer towards our top choice or one of the options from Potable Aqua. With that said, the aquatabs from Expedition Research comes in a close second for us. In short, you'll likely get the number of tablets you need for under $20. Just be sure to have a read over our guide of key features and our handy Q&A before you make your selection to ensure you're getting the best water purification solution for your needs.
How We Chose Our Selection Of The Best Water Purification Tablets
Considering the purpose of our buying guides is to ultimately save you money and give you access to the best products on the market right now, there are three considerations we looked at. Price, brand and reviews. The price point of the tablets are important, we want to bring you value for money without compromising on quantity, particularly when it comes to your health. In order to find trusted tablets, it was important we also looked at the brands that made it onto our list. Last but definitely not least, we took a look at thousands of reviews so that we give the best overview of the products that made it onto our shortlist. It's extremely important that we considered tried and tested reviews from real-world situations when it came to a product like this. Without sounding too dramatic, it could be the difference between life and death after all.
Features To Look For In Water Purification Tablets
When you're shopping around for water purification tablets, beyond price, brand and reviews there are a number of features you should look for.
Time to Purify/Ease of Preparation - If you're ever in a situation where you desperately require water, you don't really want to be spending too much of your precious time preparing your water, let alone waiting for it to purify. For peace of mind, it's probably worth opting for a tablet that is effective in just 30 minutes and trailing the product a couple of times at home to ensure the process is suited to you.
Weight - Of course, tablets weigh next to nothing, so, they probably won't weigh you down too much unless you're taking large quantities. However, you should consider the weight when it comes to packaging and storage. In the kinds of situations, you'll be needing purifying tablets in, it's likely that the less weight you're carrying, the better!

Taste & Smell - If you're in a life or death situation, taste and smell won't matter too much. However, if you're using your tablets often, particularly those that are good for long-term use, taste and smell are important. Of course, you can use a neutralizer if needed, but it's most definitely best to get a tablet that offers good tasting and smelling water from the offset. It's worth noting that the chlorine flavour some tablets might create can be removed by allowing your treated water to sit uncovered, allowing the chlorine to evaporate.
Microorganisms the Tablets Are Effective Against - It's worth parting with a little extra cash to get a tablet that protects against as many microorganisms as possible. Ideally, you'll want a tablet that purifies your water from viruses, bacteria's, Giardia lamblia and cryptosporidium cysts at a minimum.
Water Purification Tablet FAQ
Q: Are water purification tablets safe?
A: In short, yes. The entire purpose of these tablets is to treat water and kill harmful microorganisms making water safer to drink. Although in general, they are safe, you need to ensure you are following instructions and storing them correctly to ensure they fulfil their intended purpose effectively.
Q: Do water purification tablets kill viruses?
A: All of the water purification tablets featured in our review are effective in killing viruses when used correctly. Ensure you are reading labels properly before purchase and following instructions carefully for the best results.
Q: How long do water purification tablets take to work?
The best water purification tablets on the market are fully effective within 30 minutes of use. Some tablets can take 4 or more hours. So, if you're concerned about time, be sure to opt for a choice that works within 30 minutes.

Q: What are the benefits of using water purification tablets?
A: There are many different benefits of water purification tablets. In fact, they've transformed the lives of millions of people around the world. These potentially life-saving tablets can help in survival or disaster situations when people need water to stay alive. Whether you're an avid outdoor adventurer looking for a clean source of water during a camping trip, or a marine in a life-threatening situation, the benefits can be significantly different. Simply put, they will keep you safe, healthy and quite possibly, alive.
So, there it is, virtually everything and anything you need to know about water purification tablets. If our latest review has just one takeaway, let it be that parting with less than $20 for a revolutionary safe drinking water solution such as this is a small price to pay. No matter the purpose you might need these for, one day you could be seriously thankful that you invested in some of these tablets. Once you do purchase some tablets, be sure to read the labels fully and store your tablets as instructed. Once the time comes to use them, ensure you follow instructions properly for the most effective results.