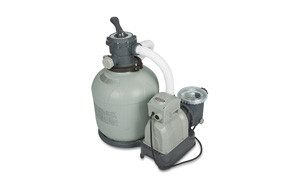 Intex Krystal Clear Sand Filter Pool Pump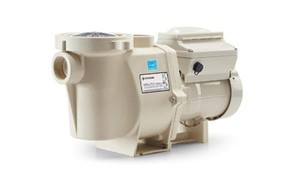 Pentair 011018 Pool Pump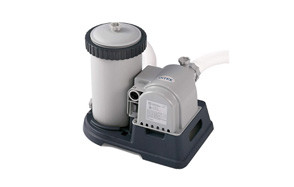 Intex 28633EG Krystal Clear Cartridge Filter Pool Pump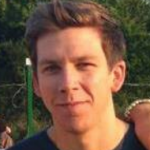 Owning a pool is one of life's great milestones. You've worked hard to get to where you're at, and you want to treat you and your family to the good life. You can while away the hours on your inflatable deck chair, sipping on a beer, and listening to your kids have the time of their lives. Sounds perfect, doesn't it?
Unfortunately, the reality of owning a pool can be quite different if you don't have the right equipment. A high-quality pool pump is probably the most important piece of kit you can invest in to keep the dream alive. Without a high-quality pump, you're going to end up with a green pool that's full of debris. Not only will that make the pool unpleasant, but it can also actually be pretty dangerous. So, you owe it to yourself to invest wisely. Of course, there's a temptation to go with a cheap option, but this can often end up costing you money in the long run when you have to replace filters and get the pump fixed. So, we'd recommend investing a little bit more money and buying a pool pump that can circulate the water in your pool efficiently and consistently.
At the bottom of this article is a Buying Guide section that will explain how we chose the 12 best pool pumps, and also a few of the key phrases that you'll come across in your search.
The Best Pool Pump
Pool Pump Buying Guide
How We Chose Our Selection Of Pool Pumps
Reviews – When you're shopping for something like a pool pump, a lot of the products seem to have the same features and benefits. They all do essentially the same job, which means it can be difficult to find out which one's the best. That's why we focus a lot of our attention on reviews. Amazon reviews are a particularly rich source of information about a product. You can always trust a customer to give their honest and unedited opinion about a product they have spent money on. Of course, we don't believe every word we read, because some customers are just there to complain. We also check out some professional reviews, to see what other experts are saying about a product.
Price – Just because you've got a pool, doesn't mean that you've got unlimited resources to spend on a pool pump. We understand that everyone has different budgets and we try to cater to that. However, we haven't included really cheap pool pumps just because of the price. There is a basic level of quality that you need in a pool pump, otherwise, it won't work properly, and you'll end up spending more money in the long run.

Features To Look For In Pool Pumps
Single Speed – Single speed pool pumps only have one speed. That means that the rate at which they pull water through the pump is fixed. These pumps are often cheaper to buy in the first place and are more suited to smaller pools and hot tubs. The disadvantage of buying a single-speed pump is that you have no control over the circulation. That means you can't choose a higher setting to clean it out quickly and you can't put it on a lower setting to improve efficiency.
Dual Speed – Dual speed pool pumps have two circulation settings. These are usually slightly more expensive and give you the option of a low or high setting. This gives you more control over your pool's circulation so that you're not wasting money when the pool isn't being used.
Variable Speed – Variable speed pumps have an adjustable speed setting so that you have complete control over your pool's circulation. This is the most advanced type of pool pump and comes with the highest price tag. But, over time they could save you money. They are, by far, the most energy efficient way to pumping your pool water, because you can set the pump at a lower circulation setting without any added energy.
Flow Rate – The flow rate is the number of gallons the pump moves every minute. Most manufacturers don't post the minimum and maximum flow rates of their pumps.
Self-Priming – Self-priming means that the pool-pump has the ability to lift water vertically. Most pool-pumps (especially in-ground) are self-priming but will require priming before their first use. Check out the user manual for more information.
Pre-Filter – A pre-filter is an added filter in the pump system that collects debris and cleans the water. The added pool filters make the pump more effective and mean that it requires less maintenance.

Types Of Pool Pumps
Above-Ground – Above-ground pool pumps are cheaper and less powerful. They are designed to have a flow rate of around 30-60 gpm (gallons per minute). They are designed for above ground pools because they don't have the ability to lift water vertically. Instead, they sit at ground level and let gravity do the work for them.
In-Ground – Inground pool pumps are more powerful and more expensive. They are self-priming and are designed to have flow rates of around 75-150 gpm. They are suited to pools that are at ground level and need the water to be lifted.