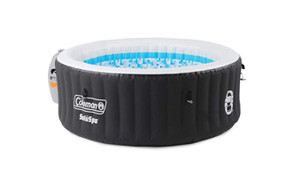 Coleman SaluSpa Portable 4 Person Inflatable Hot Tub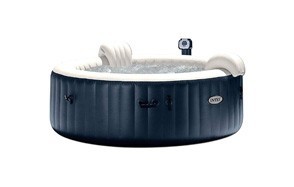 Intex Pure Spa 6-Person Inflatable Hot Tub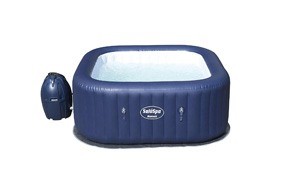 Bestway Hawaii Air Jet Inflatable Outdoor Spa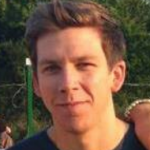 You do not need to be a millionaire with a mansion to enjoy the luxury and comfort of your very own hot tub. Instead, you can invest in an inflatable option that's versatile enough to fit in with small spaces, is easier on the pocket, and still offers a lot of the same features as permanent hot tubs. Some models even come with top-of-the-line lavish features, such as massage jets and comfortable headrests – so in the end, you're not missing out on anything the more expensive options offer! Here's a look at our list of the best inflatable hot tub options that we know will have you unwinding and enjoying life in no time.
The Best Inflatable Hot Tub
Inflatable Hot Tub Buying Guide & FAQ
How We Chose Our Selection Of Inflatable Hot Tubs
Purchasing a hot tub is a personal investment that will help you to keep your sanity in check as you unwind and enjoy the entertainment with family and friends. Choosing the right type, however, can be quite a daunting task as you try to establish which model will best suit your needs and preferences. This is why we decided to do the hard part for you by narrowing down a list of hot tubs to include our top 5 recommendations. These recommendations are based on a combination of the following factors:

Brand - An item's brand name gives us a little insight into what to expect from the product itself. A brand with a good reputation is more likely to deliver an item that is reliable and gives true value for its money's worth. In this instance, we decided to stick to brands who are renowned for making inflatable products that are built to last and also come with an efficient after-sales service - just in case you have purchased a wonky hot tub that you're simply not satisfied with.
Reviews - We take the customer's word very seriously and we pay attention to each personal hot tub review before we weigh the good with the bad and come to our own unbiased conclusions. It all comes down to different strokes for different folks and to draw an accurate opinion on something, we need to gather as much feedback as possible. To do this, we scour the net to find opinions from individuals who offer constructive criticism.
Price - Again, we are not all millionaires living in mansions where each bathroom has a fully installed hot tub. This doesn't mean that we don't deserve some of the creams of the crop, however. This is why we have gathered a list of the finest portable hot tubs that match many of the features of built-in versions, all while keeping within a budget that's not too hard for anyone to swallow.
Features To Look For In Inflatable Hot Tub
Dimensions - The location in which you plan to place the tub should be carefully measured for the dimensions to match with those of the inflatable tub and to ascertain enough space is available. Furthermore, the internal dimensions are also important. These should harmonize with your own body dimensions, so you also have enough space in the tub.
Number of Seats - Knowing the number of seats in your desired tub is vital especially if your motives are to relax with friends and family. It's best to opt for a hot tub with multiple seats and a larger surface area. Alternatively, purchasing a cheaper tub with fewer seats might be a more financially wise decision for a when the tub is required for just a couple of users.
Number of Jets - Knowing the number of jets is also vital as these are responsible for the release of those soothing and relaxing bubbles. A larger number of jets offer a maximum relaxation experience.
Filtration System Used - The efficiency of the filtration system would determine how well the tub is cleaned to prevent debris and harmful chemicals entering.
Cooling Systems - A cooling system would allow you to enjoy the hot tub for a longer period by regulating the temperature to a warm or cool setting - depending on the weather.
Inflatable Hot Tub FAQ
Q: What is the best location for a hot tub?
A: When it comes to the location of a hot tub, there isn't much to ponder on. It really depends on your personal preference, however, what is most is important is that the desired space is suitable in terms of dimensions, as mentioned earlier.
Q: How do I clean and maintain a hot tub?
A: Hot tub maintenance should be of high priority. If used daily or weekly, regular cleaning is a must. Some hot tub manufacturers usually include sanitization and cleaning chemicals; however, these are typically ongoing costs. What's more, it's not only the tubs that require regular maintenance but also the parts such as the nuts and bolts. When cleaning, be sure to read the manufacturers guidelines as each tub is unique in its build and design.

Sources:
Ultimate Guide To Buying An Inflatable Hot Tub - Inflatable Garden
8 Tips For Setting Up Your Inflatable Hot Tub - Inflatable Hot Tub Reviews
How Much Does It Cost To Run A Hot Tub Per Month? - Eagle Leisure