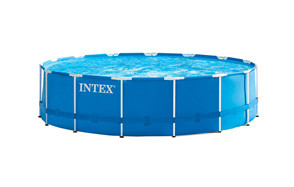 Intex 15ft X 48in Metal Frame Above Ground Swimming Pool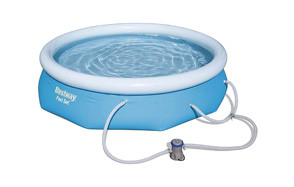 Fast Set Above Ground Swimming Pool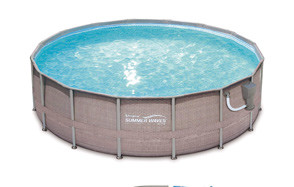 Summer Waves Above Ground Pool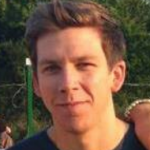 Many households can't afford to have a beautiful in-ground pool as the centerpiece for their home, either because they don't have the resources or adequate space. In such an instance, the only other option is an above ground swimming pool, which offers all the benefits of an in-ground pool. They provide quick exercise to both humans and pets, and they're a joy for kids to splash around in. What's even more beneficial is that an above ground pool is also ideal for people who aren't professional swimmers or those training to compete in the Olympics. However, due to the variety of models in today's market, making the right choice for your home can prove to be extremely tough. This is where we come in. Below is a list of the best above ground swimming pools, along with a buying guide to help you make an excellent choice.
The Best Above Ground Swimming Pool
Above Ground Swimming Pool Buying Guide & FAQ
As there are many above ground swimming pools available on the market, knowing which one to choose can be a little confusing especially as they all come with different features. That's why our buying guide below is here to assist you.

How We Chose Our Selection Of Above Ground Swimming Pools
Brand - When purchasing an above ground swimming pool, it is always a great idea to go with a well-renowned brand, since these companies mostly have product warranties and guaranteed that it will cover your swimming pool. Our list features two major brands that are recognized globally as leading manufacturers of above ground swimming pools, Bestway and Intex. These credible brands have readily available spare parts that result in cheaper and easier maintenance of your swimming pool at all times.
Reviews - Our team pays attention to the comments made by individuals who have used any of our recommended products before. all feedback is essential in knowing the durability and efficiency of every product, which is why comments from various online platforms were read and analyzed.
Price - When making any purchase, price always plays a big part in the decision process. There are several above ground pool manufacturers producing pools with identical features. Sometimes the rates differ because of the brand name or some additional accessories that come with the product. To ensure that our list reaches out to a vast range of users, most of the products enlisted above are extremely budget friendly.
Safety - When it comes to safety, above ground pools are better than regular pools since they feature a higher entry point. We looked out for products with accessories such as ladders, to ensure that no one enters the pool by accident.

Features To Look For In Above Ground Swimming Pools
Filter - Three types of filters are often used in above ground swimming pools, and they're also available in a variety of sizes. When selecting the best swimming pool for your home, it is imperative to go for a filter system that best suits the pool you're going for. The most common filter used is the sand filter, but if you need a filter that delivers clearer pool water, we recommend the Diatomaceous Earth (DE) filter, as it's known to remove even the finest of particles. Many brands also use cartridge filters since their operational concept is simple. Very similar to the water filters under our sinks, these filters feature a larger area for filtration than the sand filter. They are, however, more expensive to maintain as compared to the other two types of filters.
Heater - Swimming pool heaters are a great investment for your pool since they can help extend your swimming season from August to November. Some pool heater models enable you to swim with family and friends all year long, though these types may be costly. Pool heaters come in different sizes.
Size - It is not advisable to rely on your instincts with such a task since there are many requirements to be considered while sizing your backyard for the best swimming pool. Before you decide on the best size of a swimming pool for your home, accurately measure the space in your backyard for a swimming pool. During the measuring process, be sure to leave ample space around for the supporting legs and move around the pool.
Pump - The pump of an above ground pool is a part of the pool that keeps the water circulating within your pool. Water is pulled through and back out of your filter as it circulates and if this process is halted, your swimming pool will become a stagnant body of water, attracting insects such as mosquitoes.
Steps - This accessory is often included in a pool set for the models that are high and require some form of climbing. They are also known as ladders, and they are often made from rust-resistant metal. When selecting your above ground swimming pool, be on the lookout for brands that offer a complete package, including a ladder. These brands are more cost-effective as they provide you all the necessary tools needed to enjoy your pool.
Shape - Consider the type of pool you want to purchase, whether its rectangular, square or oval. This can only be done after you have settled on the ideal location. Oval pools are great to swim in while rectangular pools are more functional and can be used for swimming laps. The shape of your pool isn't as important as the size, but it is a factor that must be considered to ensure that you benefit greatly from it.
Cover - Pool covers are an essential factor included to help keep debris out and water in. there are different kinds of pool covers. Some covers are designed specifically for use during the winter, and others are made from mesh.

Types Of Above Ground Swimming Pools
Blow up - Also known as inflatable above ground pools, this type of swimming pool is commonly recommended for use by children. They require some form of filling, with gas to enable them to stand and accommodate water. They are easy to store and are also cost-effective. They are easy to set up, even though a tear or hole can be drastic.
Frame - The frame above ground pool features a sturdy and tough metal framing system that serves as the structure of your pool. It features metal legs which can be assembled and disassembled for your convenience. The setup for these kinds of pools is extremely straightforward with DVD guides and user manuals available to help you.
Steel - These are the toughest and most common type of above ground swimming pool. They are the most cost-effective option, even though their major problem is the occurrence of rust and corrosion. To create the ideal steel swimming pool, ensure that the frames are galvanized coated to resist rusting and corrosion.
How To Install An Above Ground Swimming Pool
Many models come with an instructional DVD or a user manual. The installation process will differ, depending on the model being considered. These rules make the setup process extremely easy to complete in a short while. Be sure to locate your pool on the level ground and avoid mushy areas as much as possible. After set up, make sure that there are at least three feet of free space for easy movement, keeping it well covered whenever it is not in use.
Above Ground Swimming Pool FAQ
Q: How many years does above ground pool last?
A: On the average, above ground swimming pools are operational for up to 15 years, before their structural system starts to falter. The liners placed in these units stay functional for up to nine years before the need for a replacement. These numbers tend to vary depending on the brand of a pool since manufacturers use different materials and construction methods to produce their swimming pools.
Q: Can an above ground pool be repaired?
A: Some damages are simple to repair in any above ground pool. Some of the repairable damages include gaping holes where the skimmer is. The damages caused by winter, however, cannot be repaired and may require users to purchase a new pool. An example of these damages includes the buckling of your pool wall.

Q: Can you paint the inside of an above ground pool?
A: Yes, it is possible to paint the interior of your above ground swimming pool. There are some paints formulated especially for use on above ground pools. These pool paints can be used to cover the vinyl pool liners in the pool. It is advised that when selecting a pool paint, you must look out for one that adheres well to humid conditions to prevent any leakages.
Q: When is the best time to buy an above ground swimming pool?
A: Generally, cheaper deals for above ground pools come out in October. The prices of these pools tend to vary throughout the year. During the summer and late spring, these rates increase, while the winter season sees a decline in prices. You can purchase your pool in winter, once you have storage space for the unopened box.
Q: Are pool chemicals safe?
A: Pool chemicals often contain oxidizers. These substances can cause any organic material to combust even without an ignition. This makes pool chemical a significant fire risk. Chemicals such as chlorine often react with other compounds to form new mixtures that may result in illnesses such as cancer, asthma and even allergic reactions.  There are new innovative technologies that seek to make pool chemicals safer than ever before, and these substances are made from non-toxic elements that won't pose any harm to the users.