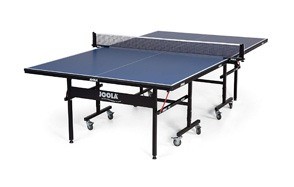 JOOLA Inside 15mm Ping Pong Table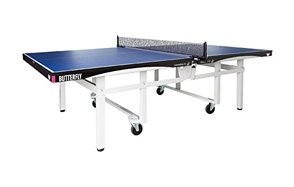 Butterfly Centrefold 25 Rollaway Table Tennis Table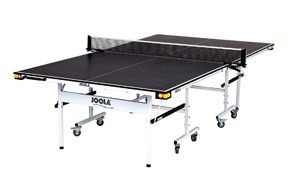 JOOLA Rally TL 300 Ping Pong Table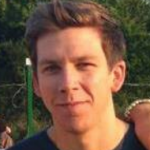 Sturdy, durable, and a lot of fun, the best ping pong tables are a staple of dens, bars, and, most recently, offices all over the country. There are few better ways to unwind after a stressful day grinding away than with a quick game of ping pong. You might have spent much of your college years smashing the ball back and forth between your buddies, and we're sure if it weren't for that carpal tunnel injury you could have gone pro. Your dreams of touring the world as the next Ma Long, Timo Boll, or Jorgen Persson didn't come to fruition, but that's no reason to decline the opportunity to treat yourself, and live the ping pong life you've always dreamt of, even if it's just in the comfort of your own garage. Hey, at least you'll save money on airfare and hotels, right?
The Best Ping Pong Table
Ping Pong Table Buying Guide
Size and Dimensions - In choosing table tennis tables, the size is key. Though they all have to meet basic standards in sizes, the best table tennis tables measure in the range of 108x60x30 when fully installed.
Outdoor vs Indoor - Table tennis tables come in two broad categories depending on whether they will be used outdoor or indoor. The outdoor types need to have features that will make them withstand the elements of the weather such as moisture, saltwater, heat, sun and whether it is susceptible to rust. Outdoor table tennis tables usually sport an anti-rust aluminum surface coating and possess more rugged supporting frame than indoor versions.
Portability - The more portable and compact a TTT, the better. This is because many people like sending the tables to other locations for recreational games or even for professional competitions. The more compact and portable it is, the easier it is to transport and move around.
Ease of Assembling - Table tennis enthusiasts like to jump straight into play mode and so do not want to spend too much time hovering around the kit figuring out how to fix it. The best tables are almost always nearly totally pre-assembled. All the player needs to do is pull out the legs of the table and clamp the net over it and the game starts.
Ease of Storage - Table tennis is played in an open space and requires that furniture and other items standing in the way needs to be moved. As a result, most of the time, after playing the game, the players would like to pack the set away and create space. This calls for easy movement of the table because it is quite heavy. The folding mechanism and the locking/unlocking wheels facilitate ease of storage.

Types of Table Tennis Tables
Indoor - Indoor table tennis tables are used for play within the interior of a house or building such as garage, patio or a gym setting. They are not as fortified as the outdoor version.
Outdoor - Outdoor tables are used for play in open-air environments such as in the field, by the poolside, on ship deck or near the seashore. They have a more sturdy frame and anti-rust surface coating made from aluminum, plastic or other anti-rust material.
Tennis Tables FAQ
Q: What are the different sizes of table tennis tables?
A: For play position, you need in the area of 108x60x30 inches but with solo playback mode, you only need 66x60x64 inches dimensions. Storage collapses it into 24x60x64 inches.
Q: How much space do I need for a table tennis table?
A: For an unrestricted movement of two players in a game, an area of 10x12 feet may be required.