Croove Megaphone Bullhorn With Siren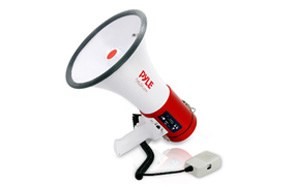 Pyle Megaphone 50-Watt Siren Bullhorn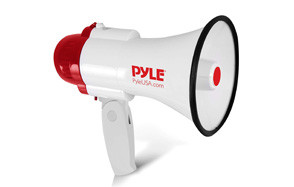 Pyle Megaphone Speaker Lightweight Bullhorn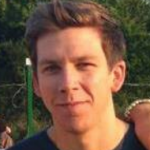 Imagine coordinating a performance, trying to control an unruly crowd or begging a rally crowd not to overstep their borders; the entire process can put a terrible strain on your nerves and vocals. In most cases, most people won't hear you clearly, even if you have the loudest voice. Luckily, this can all be done very swiftly with the help of a megaphone. These are devices built to amplify the volume of your voice such that it travels extensive distances in an audible and clear form. We have chosen ten of the best megaphones for this article.
The Best Megaphone
Megaphone Buying Guide & FAQ
How We Chose Our Selection Of Megaphones
Brand - The brands and companies we mention above are trusted names with prolonged years of expertise. These companies have provided high-quality megaphones that are excellent in performance and extremely durable.
Price - Money is a significant determinant in the types of products customers opt for, and this is the case for megaphones as well. To help readers and potential customers from struggling to make a purchase, we have listed some of the most affordable units you'll ever come across on the market.
Reviews - The customer feedback we discovered online guided this article much. We were provided with a lot of information which helped us select the best megaphones for your perusal.

Features To Look For In Megaphones
Cheerleaders, sports coaches, and police officers all need to use amplifiers for a broad range of information relay. There are several models, and this can make the selection process very complicated. To take the pressure off, we provide all the necessary factors to keep in mind while shopping for the perfect megaphone.
Range - With the varying kinds of amplifiers on the market today, it is straightforward to opt for a model which will not offer you the sound quality you require. Instead of choosing any random megaphone device, it is better to research into the range of the product, which is how far the sound will travel when used outdoors. The louder the megaphone, the farther the sound travels; thus, users are to choose depending on their desired output.
Microphone - There are different kinds of microphones used in the construction of megaphones; therefore, it is imperative that you're aware of all of them. The common types used are the onboard and the detachable microphones. Each model is; thus, the only thing you can do is to compare and choose the more powerful option which will offer you clear and crisp sound at all times.
Ease of Use - Every megaphone you consider purchasing must be user-friendly with its operation. If you won't feel comfortable using the amplifier, it is better no to make that purchase. One way to identify the user-friendliness of a model is to check its weight to find out if it can be handled comfortably. Also, look out for extra components such as a handle. Wrist strap or trigger system which operates smoothly.
Quality - The best megaphone you can purchase is one that is durable. In finding such a device, you must search for models made with high quality, and these are easily identified by the heavy-duty plastic used in their construction. Such megaphones are highly resistant to breakage and with their controls, handles, microphones, and other components, you're assured of receiving nothing but the highest quality of sound at all times.

Megaphone FAQ
Q: What is a megaphone?
A: A megaphone is a commonly used device designed to be held by hand for use. It helps in the amplifying of a person's voice over a long distance and is often made from waterproof material for extreme durability the megaphone is operated with batteries, though some models have cigarette charging plugs which allow them to work without any batteries. Megaphones are great for use in training sessions by sports coaches, by fire and police officers and many other groups or individuals.
Q: What is the difference between a bullhorn and a megaphone?
A: There are different kinds of sound devices that help you amplify your voice over an extensive distance, and some of them are the bullhorn, megaphone, blowhorn, and the loudhailer. All these devices differ in one from the other, be it in construction or sound production. They are also similar in many ways, from their portability to their features. The megaphone is a sound device that usually comes with a conveying strap which allows it to be handheld comfortably. The bullhorn, however, features a cone-shaped acoustic that works to amplify your voice over a vast distance.
Q: How many decibels is a megaphone?
A: The decibels produced by a megaphone varies from model to model and manufacturer to manufacturer. The rule of thumb for these devices is simple; the higher the decibels, the louder the sound. There are megaphones which offer a sound output of up to 100 decibels, and those that also offer 110 decibels. The model with 110 decibels will perform louder than the device which works with 100 decibels. Megaphones are known to double every 10 decibels of natural sound; thus, a natural tone of 50 will produce a 500 sound output.