Best Highball Glasses In 2022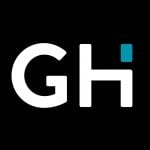 This product guide was written by GearHungry Staff
Last Updated
September 8, 2020
GearHungry Staff
GearHungry Staff posts are a compilation of work by various members of our editorial team. We update old articles regularly to provide you the most current information. You can learn more about our staff
here
.
GearHungry may earn a small commission from affiliate links in this article.
Learn more
Own a home bar and want to create a real sense of class and panache? Then you should invest in highball glasses. Highball glasses happen to be the most common glasses that you'll find in any professional or home bar, and for a good reason. Timeless and versatile, use them for almost any type of popular drink, whether you prefer a cocktail, a mocktail, or just need to camouflage that can of açaí hard seltzer that you hate yourself for loving so much.
Although it is sometimes confused with a Collins glass, highball glasses tend to be broader and shorter than their Collins counterparts. In our review today, we're taking a look at some of the best highball glasses currently available. If you fancy yourself as a bit of a cocktail aficionado, then grab a drink and settle in.
The Best Highball Glasses
Anchor Hocking Highball Glasses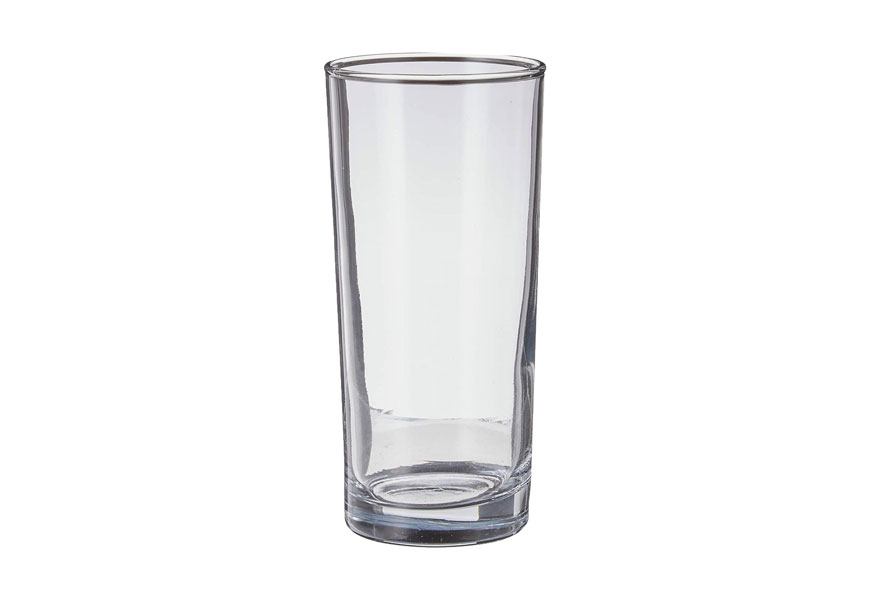 At the top of our list, the Anchor Hocking Highball Drinking Heavy Base Glasses. Their maker, Anchor Hocking Company, is well-respected for the production of high-quality glassware, dinnerware, and pantry products.
The heavy-base glasses add a sense of class to your dinner table or bar. With this durable set, you can focus on enjoying your drink without worrying about a party guest accidentally breaking one.
These glasses feature an exquisite design that looks good and feels great in your hand. With a generous 15-ounce capacity, you can serve up a delightful mojito or make a refreshing glass of iced tea.
The Anchor Hocking set comes with 12 separate 15-ounce tumblers with heavy bases.
Unlike many other drinking glasses, the Anchor Hocking Highball Glasses will not warp, retain smells and stains, or leach chemicals into drinks. And they're safe to use in the dishwasher, which makes cleaning the glasses after use a breeze.
Don't you want your home bar to look sleek and exquisite? The choice of glasses you make contributes a great deal to that, and the Anchor Hocking Highball Drinking glasses look good in any environment, just like some of these cool beer glasses.
Key Features:
Come with a heavy base which prevents spillage
The attractive design looks good and feels great in the hand
Come in a set of 12
Ideal for your kitchen or home bar
Specification:
Brand

Anchor Hocking

Model

10 pounds

Weight

10 Pounds
Paksh Novelty Italian Highball Glasses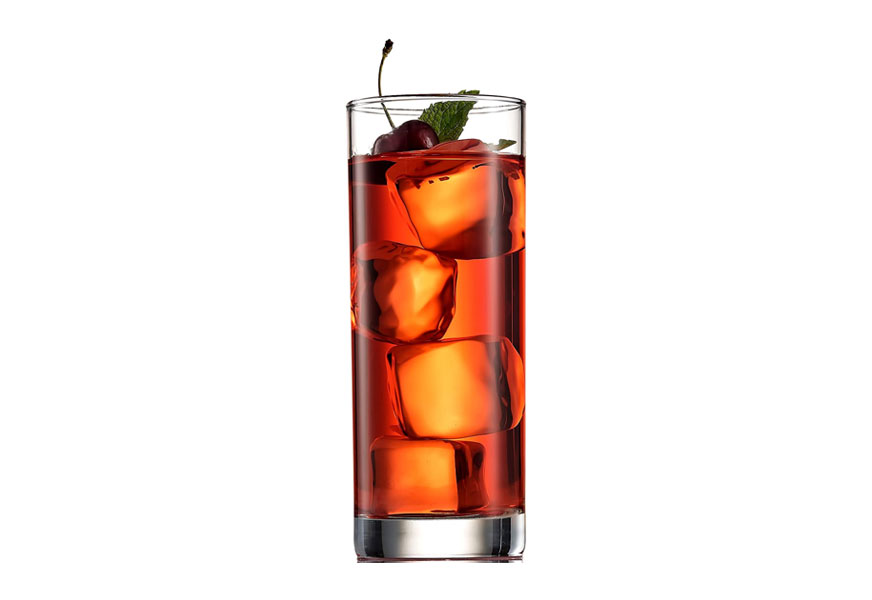 Are you looking to add a sense of class and style to your gatherings? Then you need to add the Paksh Novelty Italian Highball Glasses to your kitchen or bar. This set of six 13-ounce glasses, crafted from Italian glass, are sure to turn heads and make your bar and kitchen look like a scene straight out of a lifestyle magazine.
The Paksh Novelty glasses come in a tall, yet lightweight design that makes them easy to hold and carry for an extended period. The base of each glass is heavy to prevent tipping and spilling so that you can confidently serve any drink to your thirsty guests. Plus, there's no risk of contamination from any harmful substances or chemicals as these glasses are guaranteed lead-free. They're effortless to clean with warm water and mild soap or in the dishwasher if that's more your style.
This Italian highball glass set is the ideal gift for weddings, birthdays, anniversaries, or any other special occasion.
And for some stylish options for cocktail parties, check out these top hurricane glasses from our list.
Key Features:
Made from quality Italian glass
Dishware-safe
Lead and chemical-free
Tall and lightweight for easy handling
Heavy base to avoid spillage
Specification:
Brand

Paksh Novelty

Model

PN-HB1

Weight

4.81 Pounds
Le' Raze Elegant Highball Drinking Glass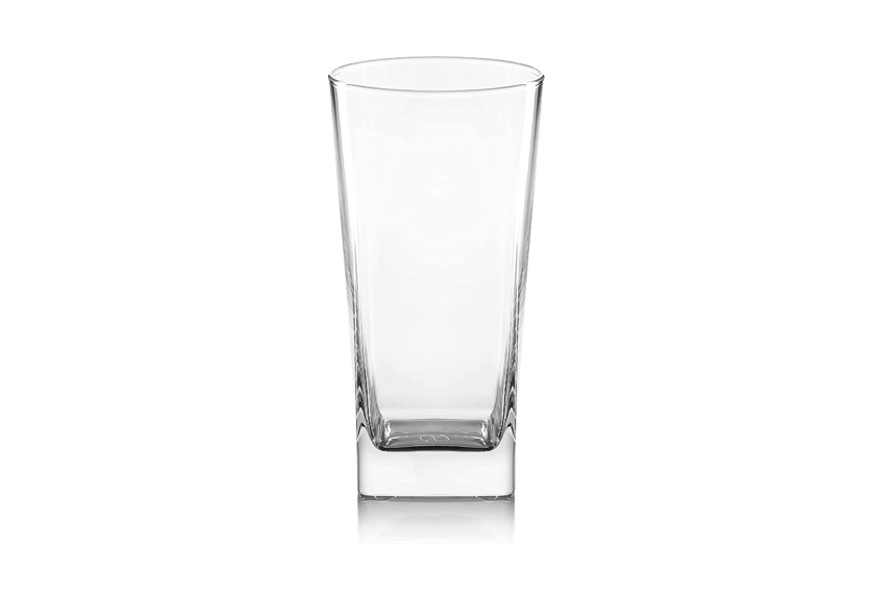 Are you looking to add some sense of elegance to your bar or kitchen? Then why not invest in the Le' raze Highball Elegant Drinking Glasses?
This epic 10-piece glass set is ideal for a variety of occasions, including everyday use. You'll undoubtedly get plenty of bang for your buck.
The elegant highball drinkware set comes in a contemporary and attractive design, whether you want to serve water for dinner or prefer to delight and impress your guests with your latest cocktail creation! This glass set is a worthy dinner table companion.
These 16-ounce glasses are well designed, with a narrower bottom and a wider top, so that they remain upright and secure in any horizontal setting. The glass surfaces, produced by innovative artisanal glassmaking techniques, are clear, smooth, sophisticated, and lead-free. You'll undoubtedly appreciate that these elegant glasses are also easy to hold and carry, especially if you are deep in post-dinner conversation.
These Le' raze elegant highball glasses are easy to maintain and safe to use. You can drink away confidently, knowing that there is no potential contamination likely from the additional presence of lead or any other chemicals, as may be found in some other metal or plastic containers. Cleaning the glasses after use is also straightforward.
And if you are a fan of classic and sophisticated martini, don't miss out on these fantastic martini glasses from our list.
Key Features:
It comes as a ten-piece 16-oz set.
Premium, stylish design
Dishwasher safe
One-year satisfaction guarantee.
Specification:
Brand

Le'raze

Model

8541932071

Weight

10.05 Pounds
Vibrant Splash Highball Glasses
If you want to add some color to your bar or kitchen, then you need to get the Vibrant Splash Highball Glasses. They're everything and more that you need in your kitchen or bar. They come in a set of four, with the base of each glass in a different color, which gives them more personality and makes them look outstanding. They're certainly eye-catching.
Made of high-quality and durable glass, these glasses are also weighted on the bottom to ensure that they don't spill. This feature means that they're also comfortable and secure to hold. No more slipping of glasses because your hand is too small. The design also holds a decent liquid capacity. Good news for thirsty drinkers!
Cleaning the glasses is a breeze. Simply place them into the dishwasher, and they will come out sparkling clean every time. These highball glasses make an ideal housewarming gift to give to friends and family to mark a special celebration or anniversary. The colored bottoms make a unique statement, that everyone will love.
Key Features:
Come in a set of four
Beautiful design and unique colored bottoms
Made of durable, high-quality glass
Glasses come with a heavy base to enhance stability
Specification:
Brand

Red Co.

Model

159746

Weight

2.45 Pounds
Red Rocks Elegant Highball Glasses
Dear mojito and cocktail lovers: this one is for you. These elegant Red Rocks Elegant Highball Glasses will provide your home bar or table setting with a sophisticated and contemporary appeal. With a round top and a square base, your glass is always well balanced, so you don't have to worry about any unnecessary spillage.
As a bonus, a set of four reusable stainless steel straws come with the set, which means that you can reduce waste by avoiding plastic straws.
If you're looking for ideas for a gift to give to your loved ones, this highball glass set is ideal. It works as a wedding, birthday, Christmas, housewarming, or as a "just because" gift.
Key Features:
Come in a set of four 
Made of durable and high-quality glass
Elegant design and heavy base prevents liquids from spilling
Bonus set of four stainless steel straws included
Looks good in your kitchen or at your bar
Specification:
Brand

Red Rocks

Weight

3.55 Pounds
GoodGlassware Highball Glasses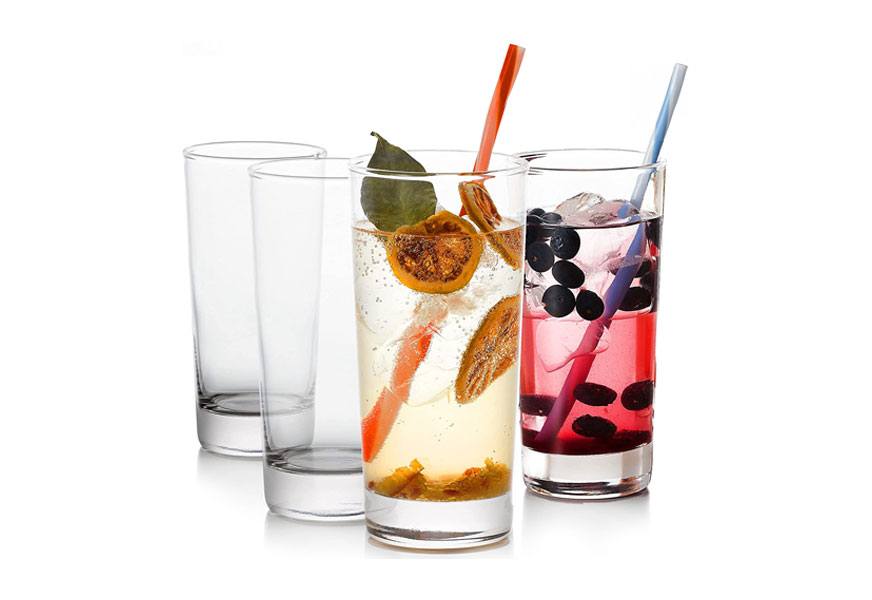 Looking for something modern yet classic? The GoodGlassware brand prides itself on producing "glassware that you can feel good about." The GoodGlassware Highball Glasses feature a tasteful and timeless design.
They're purposefully comfortable and easy to hold, and the weighted bottom keeps your liquid contents where you want them, in your glass, not on the floor.
At a 13.5 ounce capacity, this glass is the perfect size for a 12-ounce drink and a few cubes of ice. You can use these glasses for special occasions or casual nightcaps. More than that, they are dishwasher safe, so that you can clean them easily. The sturdy design means that you don't need to worry about them breaking or cracking in the washer.
For more stylish options to add to your kitchen collection, check out these best Irish coffee glasses in the market.
Key Features:
Set of four 13.5 oz drinking glasses
Ideal for daily use as well as for special occasions
Made of high-quality, durable lead-free glass
Extended 60-day guarantee
Specification:
Brand

Vintorio

Weight

2.75 Pounds
MITBAK Colored Highball Glasses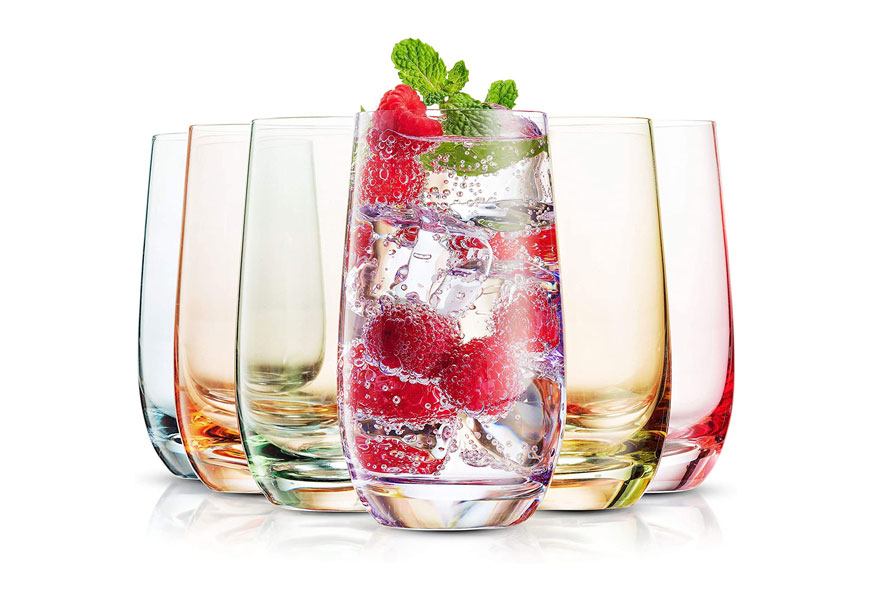 Everything about the MITBAK Coloured Highball Glasses screams unique. The glasses feature an elegant design and come with a colored base to add that extra "wow" factor. Each 13-ounce glass has a different base color. The glass is high-quality, durable, Slovakia silicate. The design gives you a firm grip, and the weighted base keeps it from toppling over.
Key Features:
Comes in a set of six
The sturdy design makes them easy to handle
Ideal for gifts
Can be washed in the dishwasher
Made of lead-free glass
Specification:
Brand

MITBAK

Weight

3.05 Pounds
Eparè Highball Long Glasses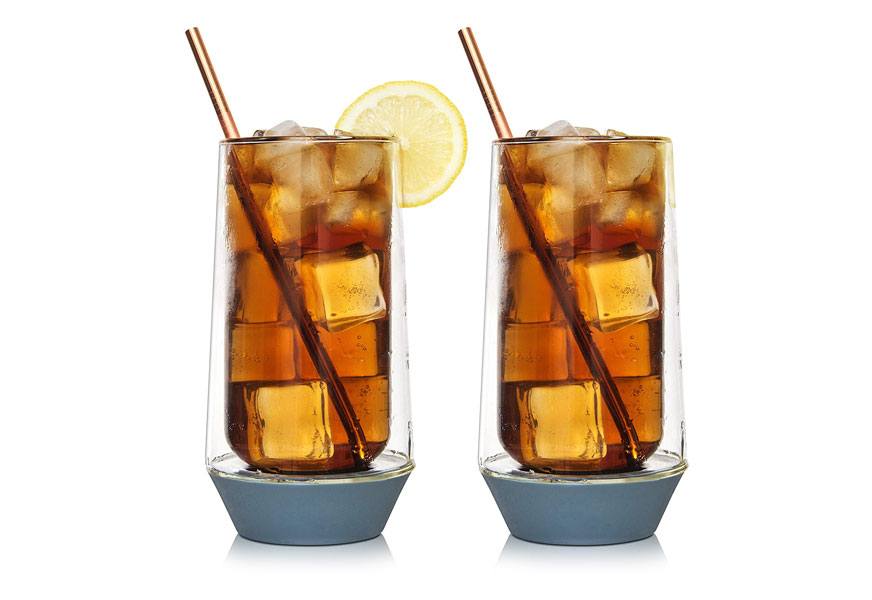 Say goodbye to unnecessary and pesky spills with the Eparè Highball Long Glasses. The glasses come with a unique weighted silicone base that absorbs any shock to keep your glass balanced and chip-free. The Eparè Highball Glasses also have a stunning double-walled design, which creates the optical illusion of floating liquid, delivers another layer of insulation, and resists condensation. Do not be deceived by the fragile appearance of the glasses; they're made from hand-blown borosilicate, making them extra durable.
Be sure to check out our guide to the best shot glasses for more cool products you may like.
Key Features:
Comes in a set of two glasses
Available in a variety of sizes, from 5 oz to 13 oz.
Double layered glass wall for insulation and durability
Specification:
Brand

Eparé

Model

EPDWG21

Weight

9.8 Ounces
Modern Mezcal Tequila Drinking Glasses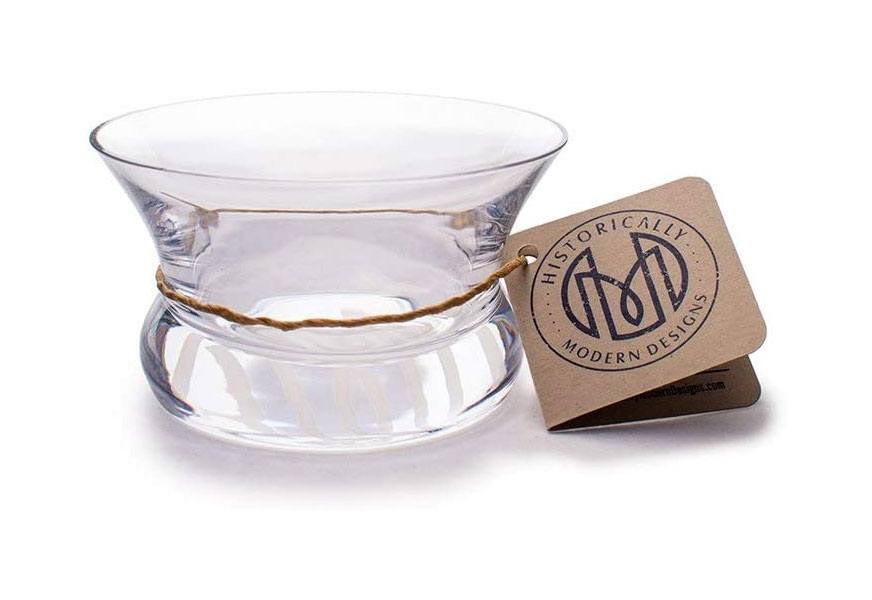 Modern Mezcal Tequila Drinking Glass, designed with a shallow bowl, brings the distinctive aroma of your drink close to your nose so that both your senses of smell and taste are involved in the experience. The design also features a wide rim, which ensures that the alcohol vapor is equally dispersed, and each sip will taste just the same. The glass also benefits from having a heavy base, which prevents it from tipping over.
And for whiskey lovers, we have prepared our selection of the best whiskey glasses. 
Key Features:
Comes in a set of two
Comes in a unique handmade design with a monogram at the bottom
Designed with mescal in mind
Specification:
Brand

Historically Modern Designs

Model

GCUP0101045

Weight

12.8 Ounces
Mikasa Cheers Highball Glasses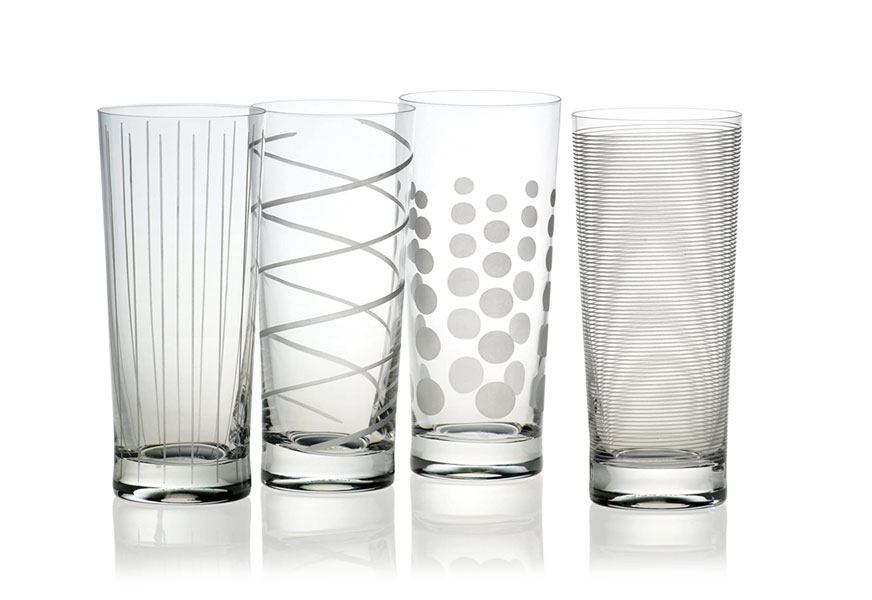 In the mood to celebrate something? Mark that special occasion with the Mikasa Cheers Highball Glasses. It comes with a fun design to match the festive spirit of your gathering. So, whether you're celebrating a marriage, birthday, engagement, or just plain enjoying life, this glass is perfect for raising a toast and saying, "cheers."
Each glass comes with one of two unique precision-etched designs. The weighted base keeps them from falling over. These glasses are 19.75 ounces, which is more than enough to get your buzz on.
The manufacturer recommends that you hand-wash them with soap and warm water, but are also safe on the top shelf of your dishwasher.
Be sure to check out these unique coffee mugs and pick your favorite.
Key Features:
Unique precision-etched design
Comes in a set of four 19.75 oz glasses
Handwash recommended
Perfect for any celebration
Specification:
Brand

Mikasa

Model

SW910-412

Weight

4.5 Pounds
Stella Crystal Highball Glasses
The Stella Crystal Highball Drinking Glasses are perfect for everyday use and special occasions. They feature a classic yet beautiful design that will make your table setting look extraordinary. More than that, they offer a comfortable, secure grip. They're also lightweight and crystal clear.
They would also make a cool birthday gift for your friends or family.
Key Features:
Comes in a set of four 14.2 oz glasses.
Ideal gift
Easy to clean and dishwasher safe
Comfortable to hold
Specification:
Brand

JoyJolt

Model

JC102103

Weight

2.3 Pounds
Tossware Tumbler Jr. Plastic Cup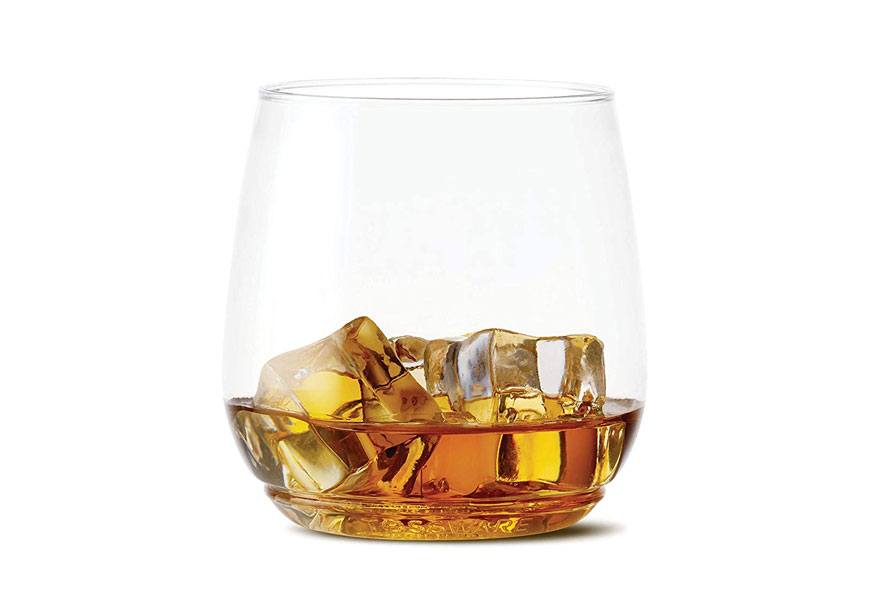 Looking for a cup that is reusable and immune to shattering? The Tossware Tumbler Jr. Plastic Cup is your answer. The plastic construction is ideal for pool parties, picnics, and raucous gatherings. 
The cups are crystal clear, so you get that classic glass look without the fragility. What's more, the glass is 100% BPA free and is made from the highest quality recycled PET polymer, which can be recycled again after you move on to a new set of drinkware.
Are you looking to store your cups without taking too much space? The Tossware plastic cups are stackable so that you can easily store them and still maximize space. It's the perfect party glass!
Key Features:
Set of 12, 12 oz recyclable plastic cups
Stemless and shatterproof
Easily cleaned
Environmentally friendly. Made from BPA-free material and is 100% recyclable
Hand-wash only.
Specification:
Brand

TOSSWARE

Model

TJ0113

Weight

1 Pound
QAPPDA Clear Highball Drinking Glasses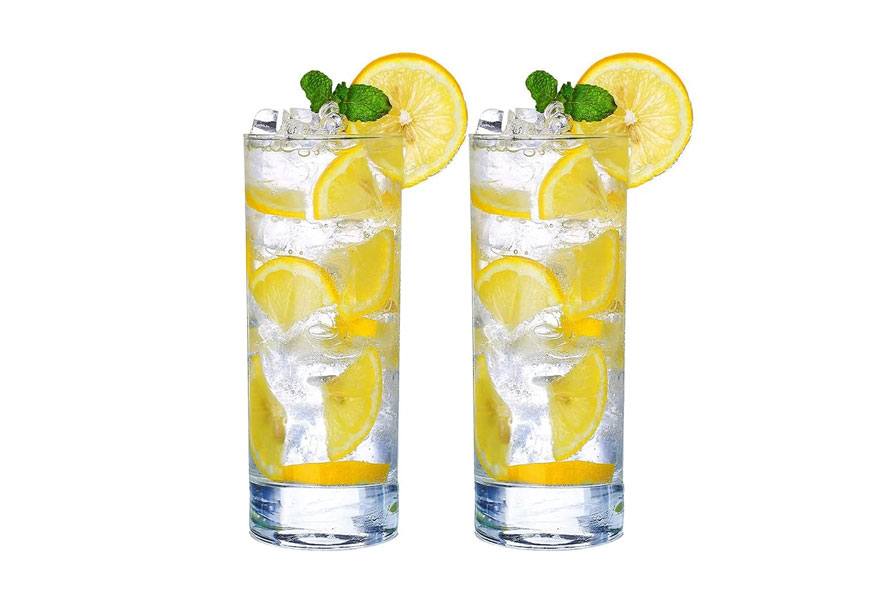 Last but not least on our list, the QAPPDA Clear Highball Drinking Glasses. This set of 12 is on the smaller side; each glass holds 10 ounces, which we think adds to their timeless, weighted base look. 
The glasses are great for both indoor and outdoor use and are dishwasher safe, so you can sit back, relax, and enjoy the company of your guests!
Key Features:
Set of 12 10 oz highball glasses
Weighted bottom design to prevent spilling
Made from high-quality and durable glass
Dishwasher safe and easy to clean
Specification:
Brand

QAPPDA

Weight

9.9 Pounds
Sign Up Now
GET THE VERY BEST OF GEARHUNGRY STRAIGHT TO YOUR INBOX