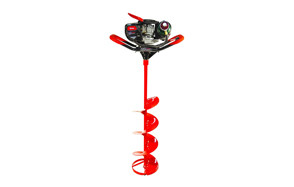 Eskimo Propane Auger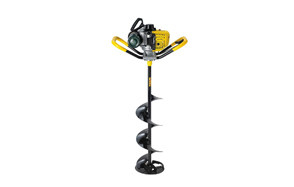 Jiffy XT Propane Auger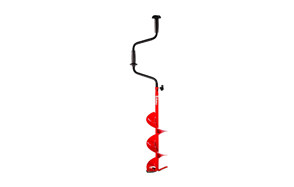 Eskimo Dual-Flat Blade Hand Ice Fishing Auger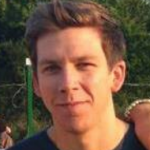 For those times when you need to tackle thick, stubborn ice for fishing, you need the proper tools, and no tool is more capable of drilling through the ice than the best ice fishing augers. These useful, screw-shaped drills make it possible to penetrate ice in even the most extreme, sub-zero conditions and makes it easy for you to catch your breakfast, lunch, and dinner, while also making sure you keep warm.
From electric to gas-powered to hand-operated augers, we've selected a wide range of cool products for you to use on your next fishing expedition. They are tough, powerful, and reliable, and no one serious about ice fishing should venture out into the white without one.
If you use them correctly, which is easy enough when you understand the dos and the don'ts of ice augers, you're guaranteed an easy and successful time on the ice so you can retreat home (or into your igloo) and rest peacefully, and totally chilled.
The Best Ice Fishing Auger
Ice Fishing Auger Buying Guide & FAQ
How We Chose Our Selection Of Ice Fishing Augers
Brand - Those of you who know ice auger brands really know them, and so we searched hard to find only the very best brands to keep you company out on the ice. These brands develop their products with excellent and careful quality, which means you can rely on them every single time.
Price - You probably noticed ice fishing augers aren't the cheapest products out there, but with this price, you get the utmost quality, which when working in such harsh conditions is the only thing you need. Still, we searched for as wide of a price range as we could to ensure that both inexperienced and veteran ice fishermen found something they'd love
Reviews - Unfortunately, we didn't get the chance to get out onto the ice to test these out for ourselves. Instead, we used reviews from those who did have the chance to get out there to get an idea of what we need to look for in the best ice augers. These reviews taught us about the wonders of reversibility, environmental aspects, and ease of drilling, among many other necessary factors.

Features To Look For In Ice Fishing Augers
Blade size - The blade size determines the diameter of the hole you need, which is dictated by the size of the fish you're hoping to catch. The most versatile size is 8 inches, but you may not need one this large, in which case 4 - 6 inches is fine for smaller fish. For large fish like trout, you'll need a 10-inch diameter blade.
Blade extensions - You need to make sure your auger is long enough to drill through the thickness of the ice, otherwise, you'll end up wasting a lot of energy, battery power or fuel for nothing, and we don't recommend trying to stamp the hole through. Some ice augers come designed with blade extensions, which gives you an extra 12 inches (on average) of length to tackle the remaining layer of ice.
Weight - Your ice auger's weight will determine how easy it is to transport and control. If you need to trek to your destination, a lightweight auger is a must, and hand augers are the most lightweight, with gas-powered ones being the heaviest. However, in seeking a lightweight solution, you are sacrificing power, so if you require power more than you do weight, it may be smart to go with heavier models.
Blade Type  - There is a variety of blades you're likely to encounter when searching for your new ice fishing auger. To find the best, you need to focus on sharpness and durability to withstand the demands of repeatedly cutting through ice.
Shaving blade - A shaving blade has smooth edges that work quickly and accurately to melt through the ice. They are easy to control and often feel you're not doing any work at all.
Chipper blade - Chipper blades feature sharp, jagged teeth which instead of moving gracefully and smoothly cut and chop into the ice.
Remember, the more blades your ice auger has, the faster you will drill through the ice, so if you want speed and efficiency, we recommend looking for a product that has multiple blades to make your life easier.

Types Of Ice Fishing Augers
Picking the right ice fishing auger will depend on the environment you're using it in. those of you who need power should consider options with more oomph, like a motor or engine powered auger, but if you need an easy, casual option (and what to work on your muscles), then manual augers are an excellent, easy option.
Manual - A manual ice fishing auger is one you operate purely by hand. They are smaller than other augers and more lightweight, but they take more effort to use. Still, they are the most common auger you're likely to find and are ideal for thinner ice.
Gas - Loud and proud, gas augers offer fast and effective drilling that is guaranteed to work through the ice no matter how thick it is. However, the fuel could freeze in low temperatures and the engine may not handle such conditions. They are also not great for the environment.
Electric - These are ice fishing augers you're likely to see more and more of in the coming years. They are quieter than gas operated models while still providing excellent performance. The only issue is if the battery runs down and you're nowhere near a power source.
Ice Fishing Auger FAQ
Q: What is an ice auger?
A: Ice augers are tools used by ice fishermen (and women) to drill into the ice without getting tired. It works much like a regular drill would, with blades that spiral around a central pole and twist into the ice's surface to create a hole.
Q: Can you sharpen ice auger blades?
A: You can! It's important you keep your ice auger blades sharp, as dull blades make it more challenging to drill through the ice. It's possible to sharpen these blades yourself, but only if you know what you're doing. If you're new to ice fishing and need your blades sharpened, we suggest seeking a professional to do it for you.
Q: Which way do ice auger blades go?
A: It's imperative you assemble your ice auger the correct way as it won't otherwise drill into the ice. When putting it together, make sure the flat edge of the blade is facing you and not the beveled edge. If you're unsure of how to tell when assembling them, look for the company name and blade size, which indicates the top of the blade.
Sources:
Ice fishing auger dos and don'ts - Outdoor Canada
Choosing an Ice Fishing Auger Plus 10 Tips for Improved Performance - Bass Pro Shops
How to Install Ice Auger Blades - Trails