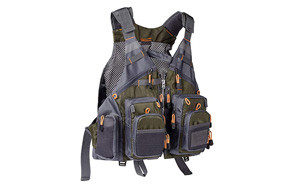 Bassdash Strap Fishing Vest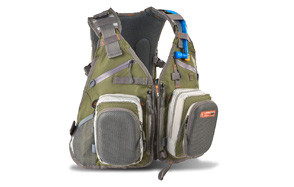 Anglatech Fly Fishing Backpack Vest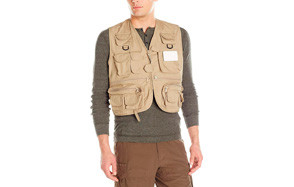 Master Sportsman Adult Fishing Vest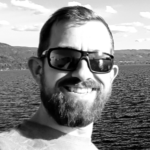 It's about more than just looking the part. Your fishing vest gives you access to numerous bait types with a varied number of pockets, maintains your body temperature on those cold mornings, and keeps everything within arm's reach, so you never miss your opportunity when there's a tug on the line. In short, the best fishing vests are your companion when you're out on the boat or parked by the shore. We've not only taken a look at an excellent assortment of fishing vests, but we've tested them, and devised exactly what you need to be on the lookout for. It's time to upgrade your fishing game, and it starts now.
The Best Fishing Vest
Fishing Vest Buying Guide and FAQs
How We Chose Our Selection of Fishing Vests
Brand - There are some brands who have been in the business longer, and their adjustments over time show in their work. We avoided knock-off brands with shoddy manufacturing standards, and instead, focused on brands and companies that have been traditionally used by professional fishermen for decades. In this space, brand tells you a lot about what you can expect.
Reviews - Dwelling on user reviews will always be a factor that goes into your purchase, no matter how hard you may try to look past them. You get firsthand experiences from users that have nothing to gain other than telling the truth. You can always pick out those few stragglers, but for the most part, user reviews help us determine our shortlist of products before we order them and head to testing.
Design - Design and style are two different things entirely. You're not looking to be suave or stylish here, you want function (and something that doesn't look hideous at the same time). The design dictates function and mobility, which we've addressed with some bulkier fishing vests in the reviews above.
Types of Fishing Vests
Mesh - Mesh is usually used in the construction of back panels and other breathable sections of the vest. There's nothing wrong with a mesh component, but the entire vest can't be made out of mesh, otherwise your pockets would completely fail.
Fabric - Polyester, cotton and a few other choice materials are very common in fishing vest construction. Find a blend that has predominant polyester, as it has a great natural waterproof feature, and doesn't stain or retain odors as easily as cotton.

Fishing Vest FAQs
Q: What is a Fishing Vest?
A: They're that cliche item you always see fishermen in movies wearing. It's not just a style, though: it's all about function, and making the right move at the right time. When you feel a tug on that line, you need to jump to attention and bring your A-game. How can you expect to do that when you're not prepared?
Fishing vests help keep everything you could ever need right on-hand. That means linecutters, bait and tackle, additional hooks, just about anything you can think of that you might need in a pinch while you're out on the boat or sitting by the shore. They also serve another function, which brings us into our next topic.
Q: Can Fishing Vests be Used as Flotation Devices?
A: Only if it's clearly stated. You'll find that most fishing vests are made of simple, thin materials that aren't naturally buoyant. If a fishing vest also doubles as a floatation device, that will be a major selling point, and you'll see it displayed clearly.
Flotation devices are usually foam padding that's interwoven throughout various areas of the fishing vest. Keep in mind that these dual vests won't have as much pocket storage, but will be suitable to use in other events, like kayaking or white water rafting. If you're a bit of a daredevil when it comes to watersports, getting a hybrid vest will be your best bet.