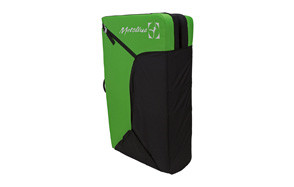 Metolius Session II Crash Pad
Metolius Short Stop Bouldering Pad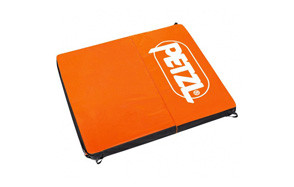 Petzl Alto Bouldering Crash Pad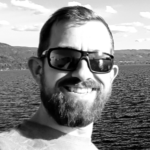 Safety is everything when climbing and investing in the best bouldering crash pad is as crucial as your climbing helmet and climbing shoes to ensure you get up and back down the rock in one piece. While you're probably not ready to attempt the same feats as seen in the anxiety-inducing, sweaty palm-causing, acrophobia-awakening Free Solo, that's not to say you can't get in on the action.
Finding the right crash pad for you is a great way for both beginner and experienced to stay safe especially if you want to check out the best climbing spots in the USA. they're also great for increasing your confidence, allowing you to climb and conquer crags you never thought you would, and as for a total free climb ascent, maybe next year, yeah?
The Best Bouldering Crash Pad
Bouldering Crash Pad Buying Guide
How We Chose Our Selection Of Bouldering Crash Pad
As much as we'd love to have tested these bouldering crash pads out ourselves we realized upon arriving at the rock we're terrified of heights. Luckily, we had other options to help us determine which 8 products are the best ones to choose from.
Reviews - Considering we've read reviews by those who have used their crash mats and lived to tell the tale, we can assume the options we've selected are pretty good. But it's about more than this, and these reviews give us information about softness, durability, ease of carrying, and storage, and how they feel when you fall from a little too high up.
Price - A rock climbing crash pad isn't the cheapest thing you'll ever buy, but when it comes to a decision between breaking your ankles or paying money to ensure you land softly, we're sure you'd take spending the money every time. We looked for a range of prices affordable for beginners looking for a reliable crash mat to help build their confidence and experienced climbers who want a safe and reliable option for those higher climbs.

Features To Look For In A Bouldering Crash Pad
Before making your final decision on which is the best bouldering crash pad for you, think about your needs as a climber including your skill level and climbing style to ensure you find one that properly suits your needs.
Thickness - A thick crash pad is great for those who engage in a lot of traverse climbing, but this can affect how easy it is to fold and store. Hinge and burrito mats are easier to fold, especially when the mat is thick.
Foam Density - The foam density of crash pads helps protect you when you fall. While a soft pad is more comfortable to sit and relax on, it won't be as beneficial when dropping onto it, but one that's too hard can cause injury, especially if you like to land on your feet. Finding the right density balance is essential, as it can mean the difference between falling in love with bouldering and never doing it again.
Size  - Your crash pad for climbing should be large enough to give you adequate protection following your drop. But the size isn't just relevant for when you land. A mat that's too large will be more difficult to store and carry, so ensure you find the proper size to fit in your car. If possible, you can invest in a mat that allows you to connect to other mats to increase your surface area.
Durability - Dragging your crash mat between crags and over uneven, often jagged terrain has the potential to destroy the mat cover. Ideally, you want to find a cover material that's 900 denier or above so it can withstand hazardous terrains.
Ease Of Use - You may not think crash mats are too difficult to use, but features such as weight and the closing mechanism can cause unnecessary stress. If it's too heavy to carry on your own, you can forget about climbing for the day when by yourself.
There are also aspects such as gear pockets, shoulder, waist, and chest straps, and shoe mats to wipe away dirt and rock debris. Anything that makes your mat easier to use from start to finish is always preferred.

Folding Style Of Bouldering Crash Pads
There are several styles of folding bouldering crash pads to give you a suitable solution to fit in your car and make it easy to carry once you get to the bouldering site.
Hinge - A hinge-style bouldering pad has a piece of foam cut in half and connected from a thin piece of material. It folds flat and requires little effort to ensure it remains closed. Some hinge-style mats also come with a zipper to keep it secure and easier to both store and carry.
Because it folds flat, you can also use it as a sofa or even somewhere to sleep, which delivers greater value for money, especially if you're a traveling climber who doesn't want to splash out on a hotel room. Unfortunately, the hinged style creates weak points (or dead zones) which could cause injury on jagged terrains.
Taco - With a taco-style are single pieces of foam which you fold in half when not using them. Because there are no hinges, they aren't as easy to fold and may require you to use your own weight to attach the ends to one another to reduce the size.
However, there are no dead zones, which makes the whole pad safe to land on wherever including terrains with jagged rocks. This style offers you the best protection against injury, but if you store it for a long time, it takes a while to return to its natural state after unfolding it.
Burrito - The burrito-style bouldering pad folds much like the hinge but has more folds (like a burrito does). It boasts the same advantages of a hinge pad but also the same disadvantages. They are often larger, which can make them more difficult to store and carry, but this also provides a greater surface area to land on.
Sources:
How to Store Your Boulder Mat - Alpkit
High Performance - Alpkit
How to Choose a Bouldering Mat - Alpkit