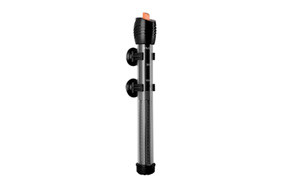 Orlushy Submersible Aquarium Heater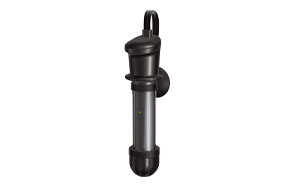 Tetra Submersible Aquarium Heater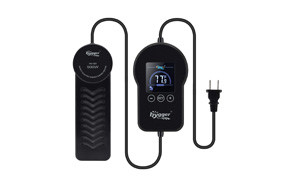 Hygger Fast Heating PTC Aquarium Heater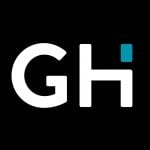 Anyone who has ever owned an aquarium will tell you that it is a beautiful addition to your home. There is nothing more relaxing than sitting back while you watch your fish swimming around in their little aquatic environment. An aquarium can be a focal point in your home and a great conversation starter when guests drop in. They are also a great way to keep the kids entertained and teach them a little bit about the responsibility of caring for their pets.
An aquarium's beauty is that you control the conditions to recreate almost any sort of aquatic environment. With an aquarium heater, you can safely manage a tank full of tropical fish no matter how cold your own climate is.  The best aquarium heaters will give your collection of fish a happy home, and we've found great options. So, dive in! It's time to create that relaxing, aquatic oasis in a tank.
The Best Aquarium Heater
Aquarium Heater Buying Guide & FAQ
Features to Look for in Aquarium Heaters
Power - Choosing an aquarium heater largely depends on your tank's size, and from this, you will find what wattage your aquarium heater needs to be. If the wattage is too high, you may overheat your tank, and vice-versa. Check the dimensions and volume of your aquarium before you choose a heater. Then check the specifications to ensure the aquarium heater is suitable for a tank of that size.
Adjustable Temperature - The environment in your aquarium changes in much the same way as it does in your home. There will be days when you need to adjust your home's thermostat, and the same applies to your aquarium. The temperature setting will mainly depend on the type of fish you have. Adjustable temperature is crucial to ensure your fish's health, so keep this in mind and adjust the temperature as needed.
Controls – Pay attention to where the temperature controls are. Are they above the surface of the water or outside of the tank? Or are they submerged in the tank with the actual heater? If your controls are submerged, you really want to make sure the buttons or dials are a decent size that makes it easy to adjust in water.
Temperature Readability - Some fish species are more sensitive to temperature fluctuations than others, so they will rely on you to keep an eye on the temperature in the tank to ensure their health and well-being. To do so means checking the temperature gauges at least a few times a day. Some aquarium heaters have a thermometer built into the actual heater, while others have a separate temperature display. The only important factor here is that you can easily read the temperature, and therefore act quickly if the temperature has changed drastically.
The temperature gauge on aquarium heaters may not always be accurate, which could spell disaster. Always keep a backup thermometer close to your tank, and check the water temperature manually at least once a day.
Safety Features - Whenever you are dealing with a device or appliance with an electrical supply and will be submerged in water, you need to ensure that this item is safe to use. In the case of an aquarium heater, you want it to be safe for you and your pets. Some of the more important safety features of an aquarium heater include:
Fish/Heater guard - There should be a guard similar to a cage surrounding the heating core. The holes should allow for water to flow through but small enough to prevent your fish from coming into contact with the core.
Automatic On/Off Switch - Over time, you may experience issues with your aquarium heater, which could involve overheating. Look for a heater with an automatic on/off switch that will prevent the heater from overheating and bringing the water to an excessively high temperature. You also want this switch to turn off if the tank water evaporates and exposes the heater.
Light Indicator - The light indicator on aquarium heaters let you know when the heater is on and when it switches off. The best aquarium heaters will have this light indicator. The thermostat will allow the heater to bring the water to a set temperature then turn off automatically until the temperature drops.
Aquarium Heater FAQ
Q: How do aquarium heaters work?
A: Aquarium heaters work using electricity to power the heating core. The heating core heats the water around it quickly as water can absorb heat with extreme efficiency. This is not enough, though. If the only water being heated is around the aquarium heater, your tank will end up with a hotspot; the water circulation is essential to maintain a stable temperature in all areas of the aquarium. This stability is achieved via the tank's filtration system.
Q: Where should I place my aquarium heater?
A: The first rule of thumb with an aquarium heater is the need for it to be completely submerged. Some heaters will mount inside the tank vertically, others horizontally, or both. Place the aquarium heater in an uncluttered corner of the tank away from greenery or decorations so that nothing will interfere with the heating core or prevent heated water from properly circulating the tank. Check the instruction manual for the best position for your aquarium heater.
Q: Why do aquarium heaters have to be submerged?
A: Ironically, if an aquarium heater is not adequately submerged in the tank water, it may overheat and short circuit. Choosing the right sized aquarium heater is so vital for this reason. Your heater is fully waterproof and needs to be submerged to work efficiently, but you need to make sure the heater's bottom is not making contact with the rocks on the bottom of the tank. If the rocks get hot, they can cause a crack in the glass, ending in an aquatic disaster.

Q: Can you have the cord of the submersible heater in the water?
A: Yes, and no. First, check your aquarium heater's manual and care instructions to determine if your model (including the cord) is fully waterproof. The spot where the cord joins with the heater unit join will be waterproof, so parts of the cord are submersible on every model listed in this guide.
Q: How safe are aquarium heaters?
A: Aquarium heaters are electrical appliances that are constantly submerged in water, so the risk of something going wrong is genuine. However, if you ensure the heater has been properly installed and take adequate precautions, aquarium heaters are perfectly safe.
Conclusion
Before you rush out and buy those beautifully colored fish you've always wanted, make sure you understand the type of environment and water temperature they are accustomed to living in. Then choose any one of the best aquarium heaters we've featured in this guide and give your aquatic creatures a safe and comfortable home.