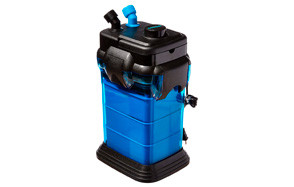 Penn Plax Cascade Canister Aquarium Filter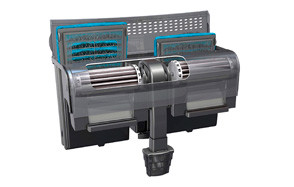 Marineland Penguin Power Aquarium Filter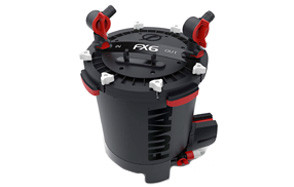 Fluval FX6 Canister Aquarium Filter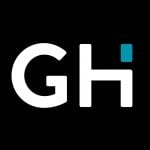 Aquarium filters come in many shapes and sizes and are the lifeblood of an aquarium. Get the right filter and your fish will be happy and healthy. Get the wrong one and you're likely to wake up one day and find them floating at the surface. There are more aquarium filters than ever on the market today and finding one that will do the job and last more than a month can be a challenge. So we've done the legwork for you and brought together the 10 best aquarium filters out there.
The Best Aquarium Filter
Aquarium Filter Buying Guide & FAQs
How We Chose Our Selection of Aquarium Filters
Brand - Recent years have seen a slew of aquarium filters flooding the market from manufacturers you never heard of before. We look at everything. If it's among the best we've seen it makes our list.
Reviews - Reviews are a good way to get a feel for the consensus regarding a product but individual customer reviews always need to be taken with a grain of salt. While we'll look to see what others are saying we ultimately decide for ourselves.
Price - If a person has spent several thousand dollars on exotic fish and houses them in a 200 gallon tank they need to be prepared to pay more for their aquarium air pump than they would if they had a few goldfish in a 10 gallon tank.

Features To Look For In Aquarium Filters
Filter Type - If you have a standard 20 gallon fish tank your choices are an internal aquarium filter or HOB. As you ramp up in size your choices narrow in the opposite direction. The small internal or HOB filters will be out of play and wet/dry, sumps and canisters will be what you want.
Aquarium Size - Do your research and balance the needs of fish you want with the practical limitations imposed by your space, your budget and your willingness to invest time in maintaining a fish tank pump.
Water-Flow Rate - Some fish love rough water while others want a placid tank. That said you still need to make sure your tank water turns over at the proper rate. So you need to balance the needs of the tank with the preferences of the fish.
Ease of Installation - HOB (hang on back) filters and Internal Filters are the easiest to install. Undergravel Filters are a little more labor intensive and must be installed before the tank is filled. Canister filters and Wet Dry filters are usually reserved for large tanks of 100+ gallons and are more complex.
Noise - Filters are driven by motors and as such there is no getting around the fact that they're going to produce some noise. Still, technology has advanced to such a degree that the best aquarium filters today are fairly quiet.
Durability - You can have something as simple as an internal filter that should last for years but if it's just slapped together with dirt cheap parts it's going to break down in short order. For this reason a lot of people default to known quantities like Fluval, AquaClear and Penn Plax.

Types of Aquarium Filters
Internal Filter - The internal filter is what most people think of when they think of fish tank filters. They're smallish units that occupy a corner inside the tank and have various nautical themed designs.
Canister Filter - Made for tanks 40 gallons and larger canister filters are serious business. They're large and fairly heavy and either hang off the side of the tank or sit on the floor next to the tank. They have flexible intake and return pipes and the filtration material varies.
HOB Filter - The Hang on Back filter is another small unit that clips onto the back of the aquarium. It doesn't take up valuable real estate inside the aquarium. But having the filter outside the tank can make for a noisier experience.
Sump Filters - A sump filter is not really a filter at all. It's a receptacle that contains all your various filtrations media. They can be made from just about anything and are usually very simple in design. Historically, they've been used for saltwater aquariums.
Wet Dry Filters - Also known as Trickle Filters this type of filter is extremely versatile and can be used for freshwater or reef tanks. Wet Dry Filters are often used in tanks with large, diverse populations.
Undergravel Filter - The most discrete type of filter for an aquarium the Undergravel Filter is just that; a filter that is under the gravel at the bottom of the tank. Water is sucked down through the gravel into the filtration layer where it is cleaned before being pumped back to the surface
3 Main Functions Of The Fish Aquarium Filter System
To clean any debris from the water.
To neutralize the buildup of nitrates and ammonia.
To aerate the water so your fish have oxygen to breath.

Aquarium Filter FAQs
Q: What size filter do I need for my Fish Tank?
A: As a general rule of thumb all the water in the tank should make at least 4 passes through the filter every hour. Therefore, a 20 gallon tank will require a fish tank filter pump with a flow rate of at least 80 gallons per hour. A 200 gallon tank a filter with a flow rate of 800 gallons per hour etc.
Q: What type of filter should I choose?
A: It will depend on the fish, the type of water and the size of the tank. The best advice is to talk to the people at the pet center who know their stuff. It's not worth it to try and guess. Fish are living things after all.
Q: Can I keep my small/nano aquarium without filter?
A: You can but it's not recommended for those who tend to be away a lot. That's because you'll typically want to change up to 20% of the water in such a tank every week in order to keep the environment healthy. Also, a nano aquarium should have eco-complete gravel and live plants, not artificial ones.
Q: How often should I clean a fish tank filter?
A: You should clean the filter whenever it's dirty. That might seem like an obvious answer but you'd be surprised how many people think they can squeeze a couple of more weeks out of a dirty filter. Doing so is playing with the lives of the fish.

Q: How do I properly clean my fish tank filter?
A: The proper cleaning of a fish tank filter is pretty straightforward but it will lead to disruptions to the routine of your fish. And believe it or not they have routines. That said the basic process goes like this:
Remove the water.
Make sure to unplug the filter.
If the pad or sponge is really dirty, replace it. Otherwise clean it.
Clean all the tubes as well as the casing.
Reassemble, refill and return to duty.
Q: Do all fish produce the same amount of waste?
A: Not by a long shot. Goldfish, Guppies Platys and Mollys are known to be heavy waste producers. On the other hand Bettas, Harlequins, Neons and other small, thin fish are known for not producing much by way of waste.