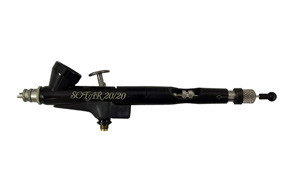 Badger Airbrush Model 2020-2F Kit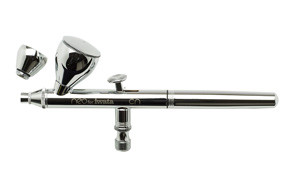 NEO CN Gravity Feed Dual Action Airbrush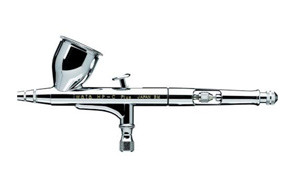 Iwata-Medea Dual Action Feed Cup Airbrush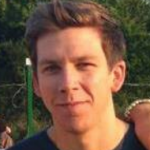 Artists who deal in the design and creation of detailed miniature and scaled models often need help from airbrush tools. However, with the full range of models in the market today, making a choice becomes very difficult. There are very authentic brands as well as some copycat models all sold within the same space; thus, you might never be too sure of which version you're purchasing. To do away with all feelings of doubt and also to provide readers with a wide range of options, we have created this guiding article which recommends ten of the best airbrush models available for sale from leading manufacturers such as Badger, Iwata and many more.
The Best Airbrush
Airbrush Buying Guide & FAQ
How We Chose Our Selection Of Airbrushes
Brand - We took a look at the famous brands in the industry, including Badger, and Iwata. These are trustworthy brands known to produce only quality products.
Price - Every airbrush model we have mentioned above comes at an affordable price for a wide range of budget types; thus, no matter your budget, you're sure to find the perfect airbrush.
Reviews - The feedback we received from some existing users helped us firmly streamline our list of recommendations, including only the models that were spoken highly off.

Features To Look For In Airbrushes
A lot of factors determine the performance of airbrush, and without knowledge of these factors, one might invest in the wrong model and spend a lifetime in regret. To do away with second-guessing, we have outlined the most important considerations one needs to make before they select an airbrush.
Airbrush Needles - The airbrush needle is one of the keys and fragile elements which are used in paint atomization. Needles help the artist is creating a spray pattern, and they are also responsible for the mixing of paint. Needles can be damaged when they're hit or dropped with the worst case scenarios being breaking. They come in different sizes to deliver different outputs, thus depending on the look and pattern you hope to achieve, the needle size you opt for may differ.
Airbrush Nozzles - Airbrush nozzles are also extremely vital to the operation of an airbrush. Their job is to focus a low-pressure zone in front of the nozzle's tip and also to funnel the speeding air around the nozzle. The reduced pressure applied is what makes paint atomization possible immediately the color hits the air stream.
Airbrush Compressor - Though airbrush compressors are usually costly, they are considered by many as the least important factor one has to consider during the selection process. To pick the best compressor for your brush you need to know the amount of noise you and your clients can tolerate, the capacity you will lack as well as the need of electrical power; if it's essential or not.
Other Accessories - An airbrush is a tool that is used with many different attachments which determine the quality of output you produce. Manufacturers may provide all these various accessories in a kit, or you may have to purchase them yourself.
Types Of Airbrushes
Single Action VS Dual Action Airbrush - Single-action airbrushes make use of a button or trigger to control airflow to the device. This system of operations involves the adjustment of the needle depth with the nozzle, and it doesn't give way for a real-time change of the paint flow. It is the best option for those who are new to airbrushes as its very easy to learn with and maintain. Once your skills have been improved, you may see the device as a little cumbersome, since it requires a little pause if there's a need to make any adjustments.
The dual-action airbrush, however, is one that makes the control of paint and airflow effortless and swift thanks to the inclusion of a button or trigger feature. This airbrush model requires a little more practice to perfect its operations, unlike the former airbrush model, which is very easy to operate. The dual-action method is, however, more versatile than the single-action way, which is why may professional artists like to use it.
Gravity Vs Siphon Airbrush - The gravity feed airbrush involves the use of a paint cup which is located at the top of the airbrush, to deliver paint more efficiently. It uses gravity as a driving force to pull all color into the atomizing chamber of your airbrush for use. The advantage of the gravity fed airbrushes over other models is the fact that it allows for a lower working air pressure when painting fine lines and it also avoids over-spray, which saves your paint.
The siphon feed brush is different in operation from the gravity feed models. This is a model where instead of the paint bottle being found on top, it is found attached below the unit; thus, all the paint is fed into the mixing chamber via a tube. The color is then siphoned in when air passes across the tube into the mixing chamber.

Airbrush FAQ
Q: What is an airbrush?
A: Any air-operated brush tool which allows applying various media via spraying such as dyes, inks, and the foundation is referred to as an airbrush. There are multiple types of airbrushes, and they are categorized according to their method of operation.
Q: Which is better gravity or siphon airbrush?
A: The choice between a gravity and siphon airbrush is mainly dependent on the kind of output you're looking for. Gravity airbrushes will be the perfect option for you if you want to have outstanding lines with your work, or if you need an airbrush which can spray with low air pressure. Siphon brushes are known to be suitable for fine lines and detailing as well, but many artists prefer the gravity brush because it doesn't waste a lot of paint during the application process, unlike the siphon brush.
Q: What airbrush is best for miniatures?
A: Every brush on the market can be used for miniatures; it depends on the skill level of the artist. Many of the models listed above can be used miniatures to provide excellent results; thus, you can choose from the options above, and you won't be disappointed.
Q: What is the best airbrush paint?
A: Per research and from several artists, the best paint anyone can use with an airbrush is acrylic paint. This is because acrylics are incredibly versatile in operation, and they also come in different forms,' the transparent and opaque types. They have no off-putting odor and don't give off any fumes, which makes them very safe to use.