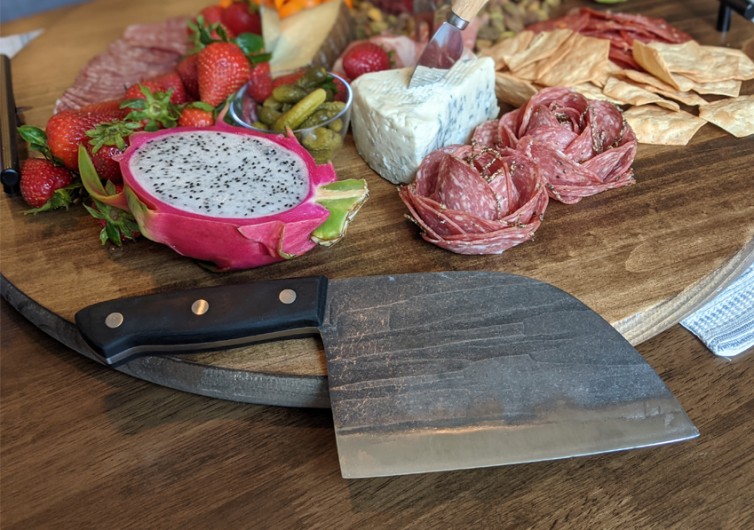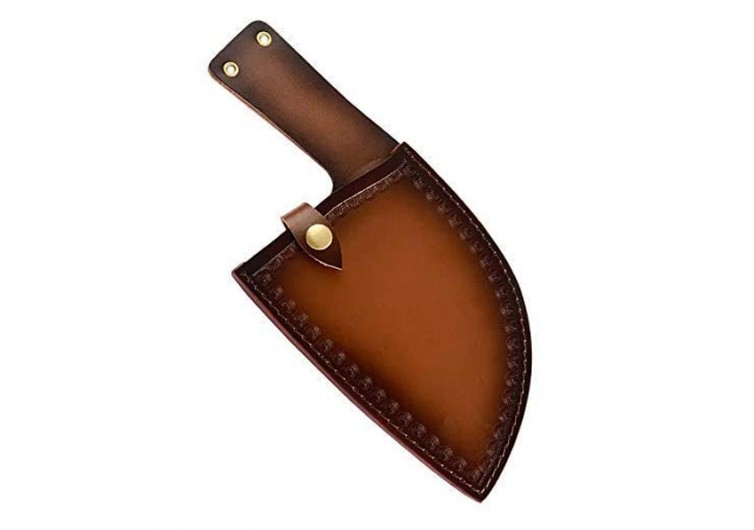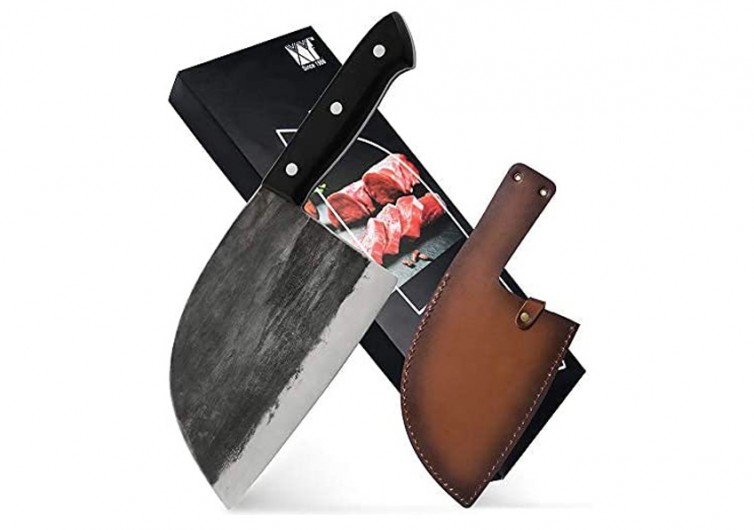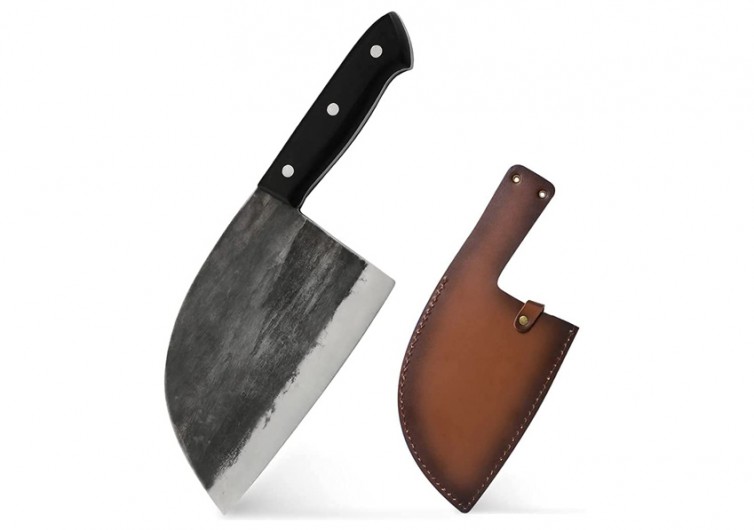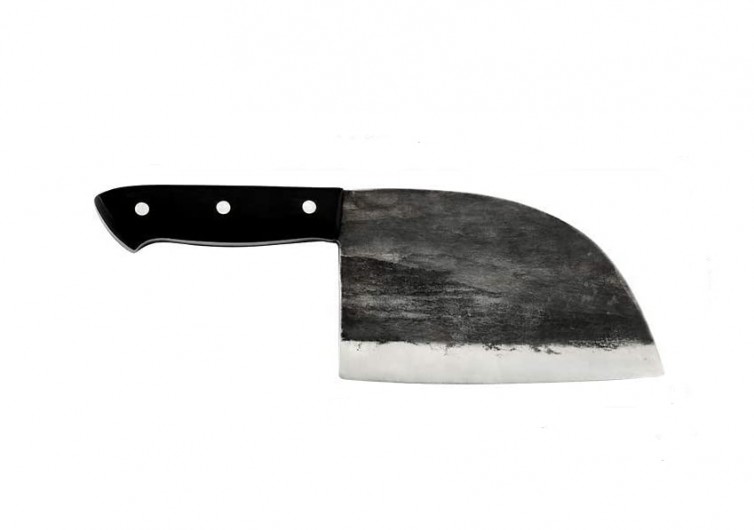 GearHungry may earn a small commission from affiliate links in this article.
Learn more
Deep Cuts: Serbian Chef Knife by XYJ Forging
If you're looking for a knife that can handle just about every job you throw at it and beg for more, you're going to want something tough, no-nonsense, and sharp as hell — something like the Serbian Chef Knife from XYJ Forging. This butcher knife rides the line between knife and meat cleaver thanks to its unique half-moon shape, and the high-carbon manganese steel is hard and durable, which means it's going to keep a sharp edge over time.
Serbian Chef Knife Make & Material
A full tang gives the Serbian chef knife excellent balance between the handle and the blade, and the weight is heavy enough to cleave anything (except bone) yet light enough to use for long days in the kitchen. The rough face gives it a unique look, while the polished edge is sharp enough for fine chopping as well as hacking through a rack of ribs.
The knife's full tang blade and riveted Pakkawood handle scales give the knife excellent balance and a sturdy build.
Testing & Review
During testing, I used the XYJ Serbian Chef Knife exclusively for everything. Smashing garlic and ginger was no problem thanks to the wide face, and the edge was sharp enough to turn a tomato into a pile of translucent slices in minutes.
Thanks to the full tang, the weight distribution was perfect for chopping tougher material like potatoes. Usually, dicing potatoes or cutting them lengthwise into fries was one of my least favorite parts of cooking, but with this knife, it was an absolute snap.
Sharpness played a part in this as well — the blade cut through everything with ease, and thanks to the hardness of the material, it stayed as sharp as it was when I first used it. In fact, I washed it yesterday, and even after 3 months of use, it still shaved pieces off of my sponge. Luckily, my fingers are still intact.
The chef knife's weight, combined with the excellent sharpness, made it an excellent knife for barbecues. I was able to slice a rack of ribs into individual ribs with no problem. It was great for tri-tip as well — the blade sank right through the meat as I cut it into (admittedly huge) individual servings. It also helped overcome my lack of skill as a barbecue chef: when I misplaced my meat thermometer, a quick slice from the knife let me open up a steak and see how rare the interior was (I know, sue me).
Further giving it street cred as a barbecue or camping knife is the handy leather sheath that came with the Serbian Chef Knife. The rivet-reinforced sheath came with a belt loop, so I was able to hang it on my belt to keep my hands free while I cooked. And when I needed the knife again, it was readily at hand.
Conclusion & Availability
XYJ Forging's Serbian Chef Knife ($45 MSRP; $25 on Amazon at time of writing) is a quiver-killer of a knife. It is as effective at breaking down large chunks of meat as it is at finely chopping herbs. This versatility makes it ideal for smaller kitchens with limited space or chefs who don't want a different damn knife for every facet of cooking.
That versatility, combined with the durability that Serbian chef knives are known for, makes this one blade that's going to be cutting in our kitchen for the foreseeable future.