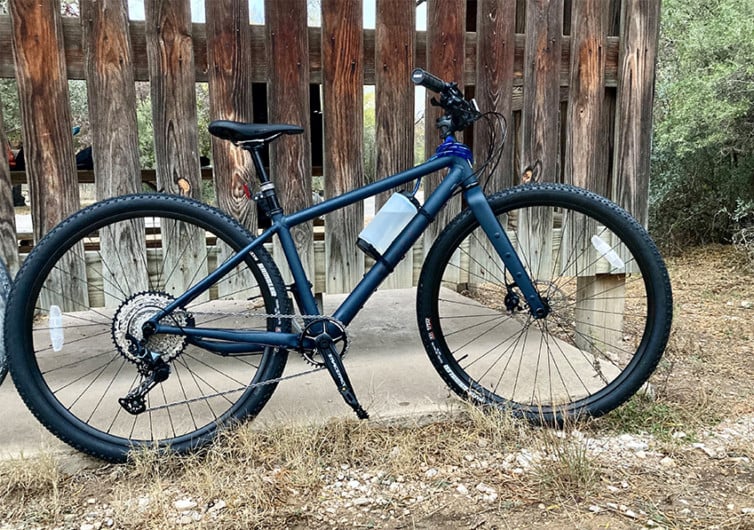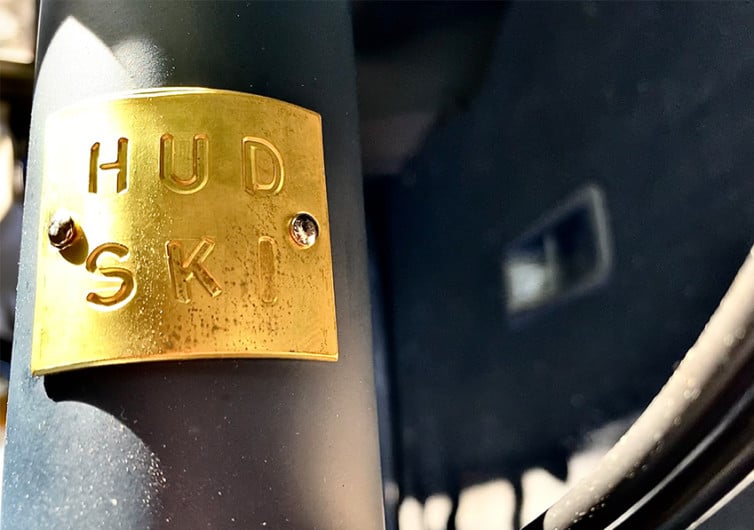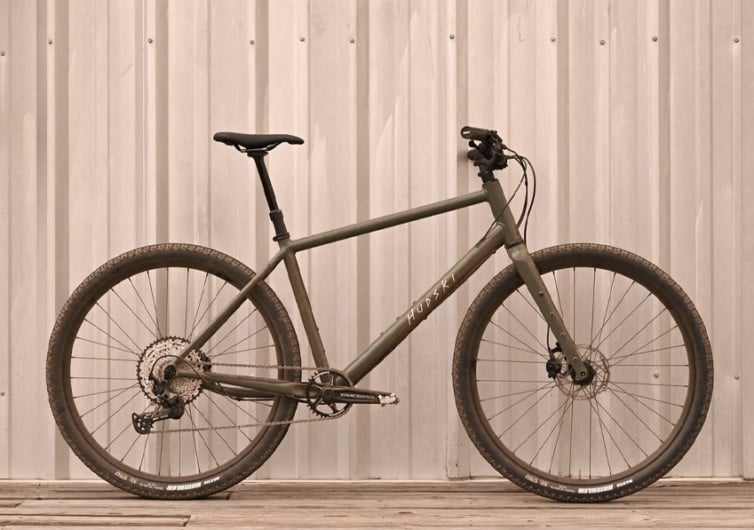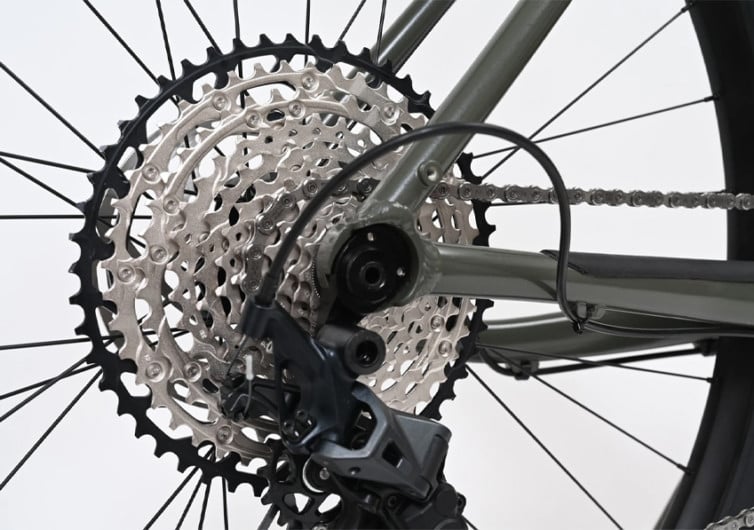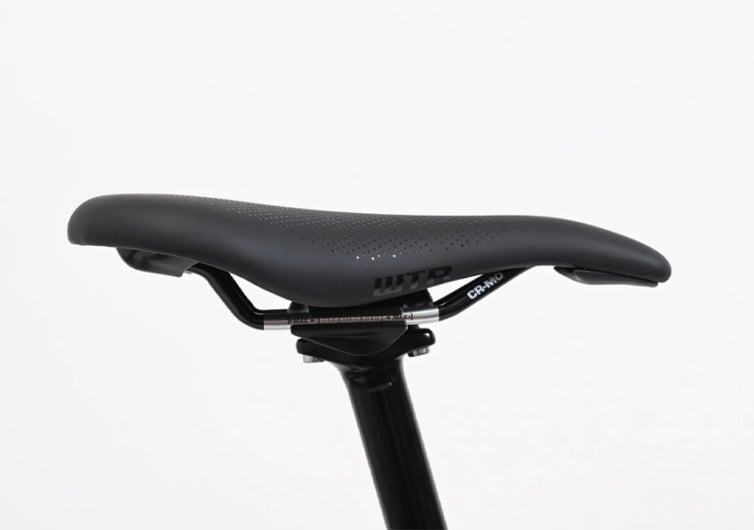 GearHungry may earn a small commission from affiliate links in this article.
Learn more
The Hudski Doggler Gravel Bike – Stoke on Spokes (Review)
The Hudksi Doggler bike is a 12-speed, lightweight, all-arounder that dropped this fall and goes for $2000 MSRP. The frame is rigid aluminum alloy, the fork is a full carbon, and the bike's genius rests on its one-of-a-kind geometry. Hudski offers the Doggler in three builds: City, Gravel, and Mountain, which tells you that this puppy packs some serious cross-disciplinary potential.
Bikepacking and gravel bikes are fiercely vogue right now, so I tested out the Gravel configuration.
Hudski Doggler: Quick and Dirty
Hudski souped-up the Doggler Gravel bike with 50c gravel-specific Maxxis Rambler EXO tires, proprietary Longhorn flat bars, Shimano SLX drivetrain, and 10-51t cassette. The build also brandishes a PNW dropper seat post and RaceFace Ride Crankset — surprising features at this price point.  Five mounts pepper the seat stays and fork legs for extra gear, fenders, or water.
The frame architecture comes in sizes small to extra large and three colorways: Almost Black (aka Most Definitely Navy), Atomic Haystack, and Olive Rose. The full assembly weighs a feathery 24.25 lbs., give or take a couple of ounces.
The 'All Black' gravel stud arrived at my local bike shop looking approximately 5000% cooler than my khaki-colored Subaru and I ever could. I was delighted.
Unleashing the Hudski Doggler
"What in the f–k am I doing?" As a new-to-the-scene gear tester, it's the question I find myself asking all the time. In this instance, I'd just rookied the hell out of my first ride aboard the freshly minted Doggler.
The answer to my question was a three-parter: One, I was testing out a severely industrious gravel bike in a remote part of Central Texas with zero cycling qualifications and a mountain bike helmet on my dome. Two, I was confusing the dropper seat post lever on my left with the gear lever on my right (brilliant). And three, I was getting bitten by the gravel riding bug — like, big time.
The first trail we hit was bumpy as hell but more than beginner-friendly. It offered a short, low-angle incline or two so I could get a grip on shifting gears. Previously, I'd only ever ridden city and hybrid bikes, so I was apprehensive about hard pedaling across sharp, baseball-sized rocks. That apprehension vanished 30 seconds in; the Doggler's massive clearance and fatty tires translated the terrain into a buoyant and extremely comfortable ride, and the trail-centric geometry gave me confidence. Thirty minutes in, I was bunnyhopping and boldly attempting wheelies. As it turns out, gravel biking is my kind of metal.
The next trail we jumped on ranged from low-grade dirt roads to steep, boulder-strewn inclines. But the ol' Hudski crushed it with incredible dexterity and flex. The flat bars offered acute feedback and gave me nuanced control without jarring my wrists.
A very lowkey, sincere thank you to my gear testing sensei, Seiji. The man's a walking cycling wiki with street cred, too (annoying, right?). Not only did he attempt to hide his horror at how I "handled" the Doggler, but he fielded each of my questions with clarity and patience. His responses confirmed that the Doggler was, in fact, a fine specimen. Ah, validation. It was okay that in just under 2 days, my vague interest in adventure biking had bloomed into an obsession; the Hudski was just that good.
Honestly, the only thing I'd change is the handlebar width, which was a little wide for my shoulder girth. But that's a simple fix and one that you can manage via Hudski's bike order form. Nip that awkward fit right in the bud.
Who Let the Doggler Out?
Hudski is a young, direct-to-consumer, two-man show that's run out of some warehouse in Cali by Will Hudson and Brian Szykowny. The two childhood friends à la founders have ample expertise in mechanical design and custom fabrication; Szykowny even designed touring bikes and components for Specialized prior to Hudksi's formation. The Doggler is their firstborn, a boulder-brapping baby that was 5 years in the making.
For a startup whose rep is all but gossamer, entering an established market with a $2000 mountain/commuter frankencycle seems like a bold move. But, if bouncing down the gravel backroads of rural Texas taught me anything, it's that fortune (or fun, at least) favors the bold.