GearHungry may earn a small commission from affiliate links in this article.
Learn more
How To Fly A Drone
Drones have become the "must have" gadget over the last couple of years. It's not difficult to understand why. Not so long ago RC planes  (Radio controlled planes) were the ultimate man toy but today, drones have outdone them in the popularity department partly thanks to the addition of a camera and they look really cool. You can use your drone to take aerial pictures or videos of your home and neighborhood or get a bird's eye view of a local football match. While drones are definitely lots of fun, their use in professional situations is also on the increase, particularly for surveyors. But maneuvering a drone isn't as easy as it looks in the movies. It takes a whole lot of practice and even more patience. There are a number of things you can do to fly your drone with the best fliers and get the most out of your new toy.
Get To Know Your Drone
The first thing you should always do when you get a new gadget is familiarize yourself with the various components. In the case of a drone, it's a good idea to read the instruction manual from cover to cover so that you completely understand how it works. Even if you've operated a drone before, you shouldn't over look this step when you try out a different model. Also check that none of the parts are loose, the battery power is adequate and check to make sure your drone's camera is working. After all, half the fun of playing with your drone is watching the video footage afterwards.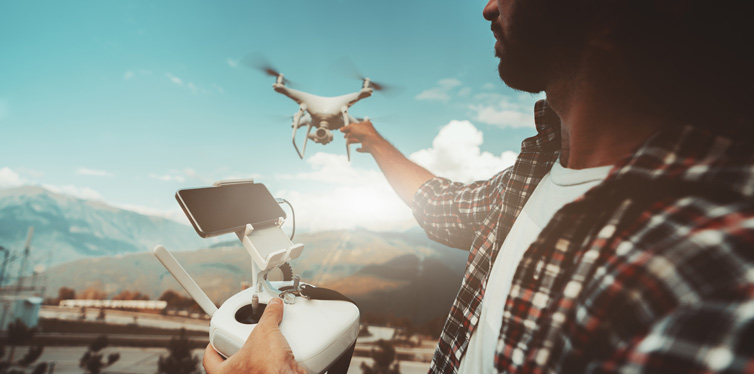 Learn The Basic Skills First
Tinker with your controls for a bit before taking your drone for a test flight. Try using one control stick first, then the other one before using them both simultaneously. You need to know the basics first like up and down, left or right. Your drone, however, has a few more maneuvers to master, such as how to make your drone hover and adjusting the throttle for operating speed and height. Many instruction manuals will also show you how to move the controls for particular flying formations so experiment with these as well.
Practice At Lower Altitudes
While you may be tempted to send your drone flying to its maximum height on the very first try, it's a lot wiser to get used to the controls at a lower height. Just go through the basics of the controls like left to right, up and down. Then move on to using the throttle and gradually start to combine the various elements such as speed and height. In the beginning you will most likely find it a little difficult to maneuver your drone and crashing from a lower height will cause little or no damage to your drone.
Choose The Right Location
If you're a beginner, you may like to consider taking your first few test flights away from large obstacles. Learning how to fly a drone takes time and practice so you don't want to start your flight training in a crowded neighborhood where you are surrounded by buildings, trees and cars. Choose a nice open area like a sporting field or if you're in a country area find a field with very few trees and lots of grass. That way if you do lose control it won't be such a problem.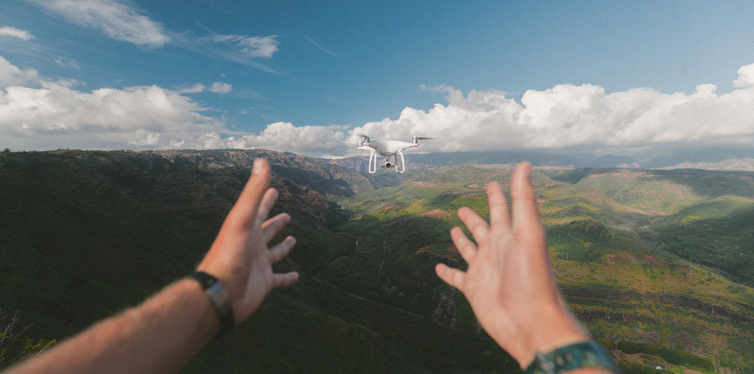 Start With A Cheaper Drone If You're A Newbie
A good quality drone can cost quite a bit but it can still break just as easily as a cheaper version, particularly if you are a first time flier with little or no experience. That shouldn't deter you from having fun with a drone. There are plenty of not so expensive drones available on the market these days, so before you fork out the big bucks for a drone with a range of bells and whistles, consider getting a cheaper one to practice with. Once you master the art of flying a drone, you'll be more skilled and confident to take the controls of a better quality, more expensive one.
Learn How To Cut The Throttle In A Flash
Even a seasoned drone flier can crash from time to time and keeping the drone running in a crash situation can cause irreparable damage. Practice turning your drone off at a moment's notice so that you're prepared in the event of your drone crashing. That split second can make all the difference and minimize the amount of devastation.
Don't Let Your Drone Fly Off Out Of Sight
Maintaining control of your drone is only possible if you can see it. This is probably the most important aspect of drone flying. If you lose visual contact with your drone you could be flying it straight into a tree or the side of a building. Possibly the most important reason for making sure your drone is within sight is to prevent it from crashing into a person or an animal. Considering the heights a drone can reach, it can gain a whole lot of momentum on the way down and cause serious injury for which you can and would be held legally and financially liable for.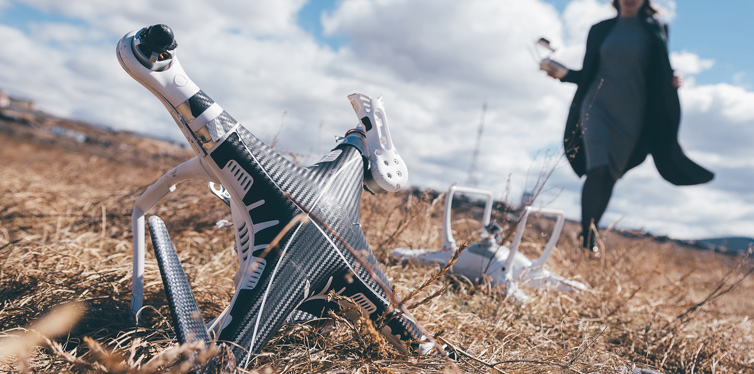 Check With Your Local Authorities Regarding Flying A Drone
Drones can be a lot of fun to play around with but as with anything with a camera they can also be misused to film a lot of private or security sensitive areas. As an example, if you live near any type of military training facility, they won't take too kindly to seeing a drone flying in the vicinity of their perimeter. Check with your local authorities to see where and when you can fly your drone. The last thing you want is to be arrested for breaching a secure government facility. Also keep in mind that your neighbors are entitled to privacy in their own yards and may not appreciate seeing your drone flying overhead. Be considerate and let them know when you intend on flying your drone.  Or better yet, fly your drone in less populated areas.
Consider Joining A Drone Racing Club
We've seen it happen with miniature race cars, then the remote control cars and even pets and insects. Our competitive nature means we love to race things and it was only a matter of time before drone racing became a popular activity. Drone racing groups are popping up all over the place and they are just as competitive as any type of racing competition. What better way to hone your drone flying skills than in a real competition? Don't rush into the racing circuit though. You really want to make sure you know how to control your drone properly before releasing it to the mercy of drone fliers with more experience.
Get Together With Other Drone Fliers
You don't have to race your drone if you don't want to but it may still be fun to join a group of other drone fliers. For one, every seasoned drone flier has his own little tips and secrets he may be willing to share but you will also be in the company of people who actually share your interest in drones. This is also the best place to see the latest in drone accessories like a professional looking case or a portable power bank you can use on extended trips. It could also be fun to put together a choreographed routine with your fellow drone fliers. This would naturally take quite a lot of hours of practice which will go a long way in getting a little more accomplished at drone flying.
Think Twice Before Flying In High Wind Conditions
Most drones are made of lightweight materials which contribute to the aerodynamics of the entire unit. This also means your drone can get tossed around quite brutally in high winds turning it into a projectile which can cause damage to property or injury to humans. Not to mention the fact that enough wind can slam your drone into a wall and smash it to pieces. If you've decided to take your drone out and the wind feels fierce, reconsider flying that day. It's simply not worth the drama if things go wrong and even if you are a great drone flier, wind is unpredictable and often stronger than you think.
Whatever your reason for owning a drone, the key to using it successfully is practice. When operating your drone, pay attention to your surroundings, particularly the weather conditions. Also, keep in mind that drones can be intrusive and are not to everyone's liking so try to limit flying to not so densely populated areas. Take the time to understand the key features of your drone and how best to take care of it. Particularly in crash situations. With the right attitude and plenty of practice you'll be flying your super cool toy like a pro and you'll get plenty of enjoyment out of your drone and even use it as part of your job. With time you'll discover a whole lot of uses and tips when it comes to drone flying.