GearHungry may earn a small commission from affiliate links in this article.
Learn more
White Sneakers Maintenance
Fashion styles change all the time, but white sneakers seem to be always trendy. The problem with white sneakers, however, is how to keep them clean. Because they're white, they can get dirty easily. But, worry not, as there are many ways you can clean your white sneakers thoroughly, bringing their good-old look back.
We're now going to show you some of the most effective methods for cleaning white sneakers. But, not only will these cleaning techniques make your sneakers look as they were brand-new, you won't have to spend too much of your time to do it.
Nor will you have to spend too much cash in order to clean them, as all the things you need are probably already there in your home. So, let's start with the method number 1, which is using vinegar to make your white sneakers sparkling clean!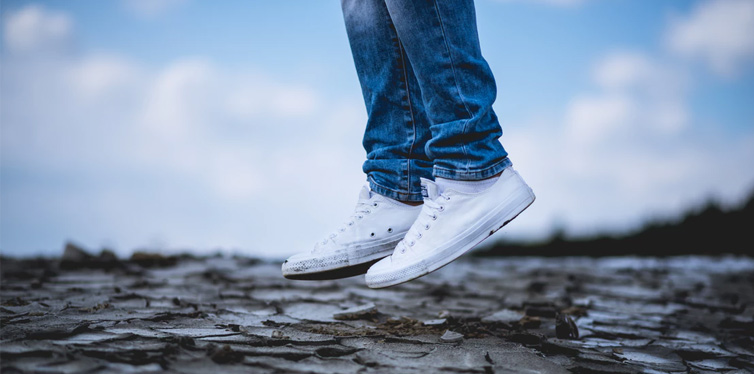 Method No.1: Vinegar & Water
Sure, you can go to the nearest shop and buy the most expensive shoe cleaner, but why would you wanna do that if you can make one on your own, spending zero cash? All you need is regular vinegar that every household has.
Basically, what you got to do is mix equal parts of water and vinegar and damp a cloth in the solution. Just scrub gently and you will be able to remove dirt off your white sneakers without risking scratching them. So, if you're worried that your new sneakers might get damaged, this is the way to clan them. It's completely risk-free!
On the downside, using only vinegar and water means that you won't do a very good cleaning job when faced with more stubborn stains. If it's not regular dirt we're talking about but grease or some kind of paint, you need something else.
Method No.2: Baking Soda
The thing about baking soda is that this is an alkaline substance, meaning that it reacts when in touch with acidic matter. This means that if you can't remove the stains using vinegar, the chances are that you will be able to get rid of them using baking soda.
Another great thing about baking soda is that it's a mild abrasive. What this basically means is that it will help you scrub off stubborn dirt. You just need to make sure not to use too much water, otherwise, the baking soda will dissolve.
So, how are you supposed to clean your white sneakers using baking soda? Just pour the powder onto a damp cloth and start rubbing!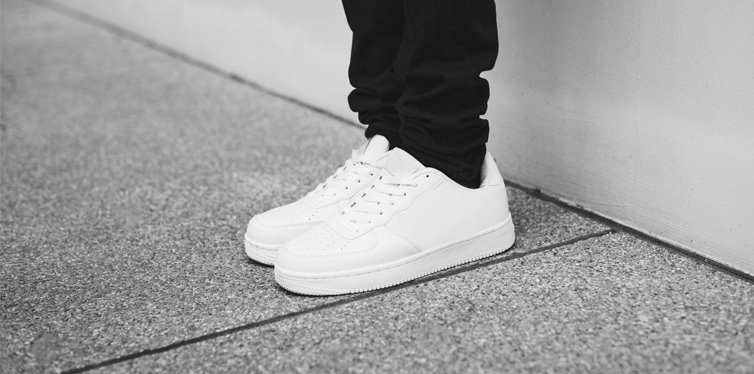 Method No.3: Toothbrush
If the dirt is extremely stubborn, the solution to dealing with it may lie in using mechanical action, not chemical. Take an old toothbrush and start scrubbing the dirty area. Just make sure to do it gently in order to ensure you won't damage the shoe.
You can also pour some baking soda on top of the toothbrush or dip the toothbrush into the water & vinegar solution. You can even use a shoe cleaning product for this. That way, you will get the most of both the chemical and mechanical cleaning action.
Apart from using a toothbrush, you can also use many other types of brushes. The trick is to make sure they're not too harsh, yet also not too soft. For example, a regular shoe brush might be too soft to scrub away the hardened dirt. But, a wire brush could damage the sneakers.
Method No. 4: Razor
Sometimes hardened mud or some other kind of dirt cannot be removed even with a brush. You can scrub and scrub, but it won't go away. If that's the scenario you recognize, the solution is to use a sharp razor!
This might sound strange, but a razor will enable you to remove even the most stubborn dirt. Just be careful how you handle it, as it can damage your shoe, but also injure your hand. Actually, for that reason, we highly recommend using a razor holder or wearing gloves while doing it.
Unfortunately, even if you're super-careful, one wrong move and you might end up damaging your shoe. The good news is that the scratches made accidentally with a razor as so tiny that they're very difficult to spot. But, we're sure you don't want to wear sneakers with razor marks all over them. Luckily for you we have a solution! Using the nail polish to do a cover-up job!
White nail polish can do wonders for scratches and stains on your white sneakers. Just go with the brush over the spot in question and you'll make it disappear. Only make sure not to put too much of it, as it will stand out in that case.
Method No. 5: Washing Machine
You can't just chuck them in the washing machine – your precious white sneakers might get damaged. Instead, our advice is to put them in a pillowcase. This way, they won't get in contact with other laundry, nor will they hit the walls of the washing machine drum. At the same time, the washing solution will easily pass through the pillowcase, no matter which material it's made of.
Speaking of washing powder, you can use your regular, that is, the one you're using for your white laundry. You can even add bleach to make the sneakers shining white. But be careful with it, as some materials don't respond too well to bleach. The rule of thumb is to use two times less bleach than you would with regular white laundry.
A few more tips on how to ensure your white sneakers don't get damaged from washing them in a machine:
Choose a low-temperature program
Put less detergent than you do in normal circumstances
Put more laundry in as well, making sure it's full (otherwise, the sneakers would be smashing against the walls of the drum)
And once the washing machine is finished, you need to act quickly and take the sneaker out right away. If you leave them in, they may become stinky. The same goes if you don't dry them properly. In the best-case scenario, you would dry them in the laundry dryer, but if you don't own one, our advice is to use a fan or a hairdryer to speed up the process. Just make sure not to use a too hot temperature setting, as the high temperature isn't good for your sneakers. In some cases, it can make them change their color.
You would think that putting the sneakers in a sunny spot would make them dry quickly, but that's something you mustn't do under any circumstances. Sun's UV rays can ruin your sneakers, especially if they're made of leather.
To make them dry faster, you can put some paper clothes inside the shoes, which would soak up the moisture. Depending on the time of the year, sneakers need a day or two to get dry properly. So, our advice is not to wear them at least 48 hours after washing them in a washing machine.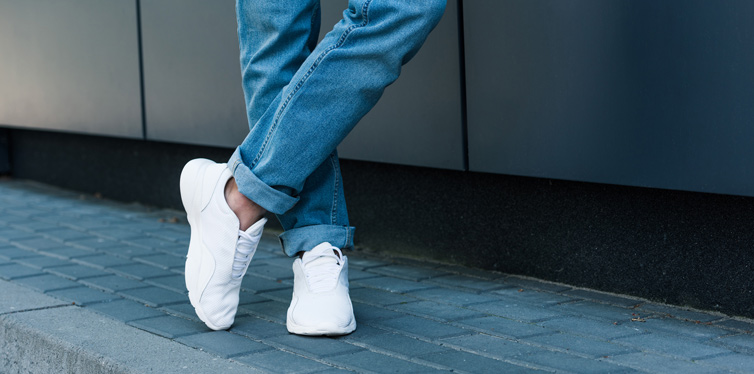 How to Properly Maintain Your White Sneakers?
Now that you know how to wash them, it's time to learn how to maintain them. There's one rule you need to remember about shoes – the less you wash them, the longer they will last!
So, rather than cleaning and washing the sneakers each time they get dirty, you need to ensure they remain nice and clean. This is actually something you can do pretty easily. And here are a few ways to do it!
Use wet wipes– The reason why some stains are difficult to remove is that you didn't deal with them on time.  That's why our advice is to always have some wet wipes in your home, which you would use to wipe your sneakers clean. You can make a habit out of this and wipe the sneakers every night before going to bed.
Use cat litter– Put some cat litter in a small bowl and place it inside the shoe. Leave it there overnight and it will soak up all the moisture and the bad smells that come with it.
Use a shoe protecor spray– Before going out in your white sneakers, you can spray them with a shoe protecor that will keep them free of mud, grease, and whatnot. And even if they get dirty, the fact that they were treated with a shoe protector spray means that you will have no problems cleaning them later.
But, even if you do your job in maintaining your white sneakers nice and clean, it's inevitable that they're gonna get dirty and/or damaged eventually. You need to realize that they have their own lifetime, which is usually shorter than shoes of other colors. So be prepared that you're gonna have to part ways with your favorite white sneakers at some point.
On the bright side, these days you can find all kinds of amazing shoes at very affordable prices. So, rather than trying desperately to make your old sneakers look nice, why not just get yourself a pair of new ones?