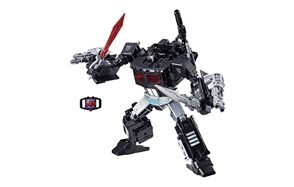 Transformers Generations Power of the Primes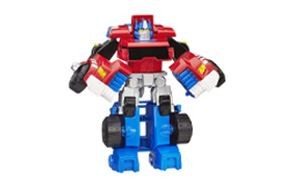 Playskool Heroes Transformer Rescue Bots Optimus Prime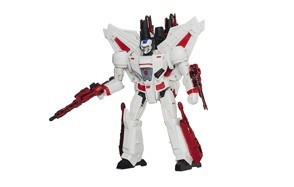 Transformers Generations Leader Class Jetfire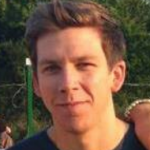 You may have memories of playing with the original Transformers toys as a kid, watching the TV show, and re-enacting the most memorable scenes with friends as you made Autobots and Decepticons collide. With the continuation of the franchise that has been going on for over a decade, Transformers are as popular as ever. There is something about them that keeps generation after generation interested, whether it be battling robots or cool cars or a mixture of both. If you are or have someone in your life who is a massive Transformers fan, why not roll out, and take a look at our list of the best Transformers toys.
The Best Transformer Toy
Transformer Toy Buying Guide
How We Chose Our Selection of Transformer Toys
It's not easy picking out the best Transformer toys, there are so many cool action figures with sweet features and awesome designs that we struggled to select just 15. So, we chose our top selections based on these four factors.
Entertainment Value - What are toys if not fun? We've made sure our selection provides hours of enjoyment. Whether your kid is just getting into Transformers or already a lifelong fan, these toys allow kids to recreate their favorite scenes or get imaginative with their own stories for endless hours of fun.
Educational Value - Toys can help teach kids about movement, how to put things together, and even help fine-tune their motor skills. We've ensured that all of these toys carry at least a little bit of educational value.
Quality - We don't want you to waste your money on poorly constructed toys, so we've identified authentic, legitimate toys that are created by the licensed manufacturer. This ensures that each toy we have chosen is up to standard and ready for years worth of enjoyment.
Reviews - While the reviews may not have been written by the kids who are getting the most out of the toys, those who bought it for them can still tell us how much the kids liked them.
Features To Look For In Transformer Toys
When selecting your favored Transformers figures, be sure to consider these features to get the most out of it, whether it is for you or your kid.
Recommended Age - The recommended age is merely a guideline, but take note of why these guidelines are there. You don't want to purchase some Transformers for kids that are not suitable for their age, either being too simplistic, too complicated, or with too many small parts that a younger kid could swallow.
Material - The new Transformer toys are built with much more sturdy material than in the past. This ensures they can withstand rough play that is based on the most action-packed movie scenes and keeps the toys from breaking.
Child Preferences - If you are buying for a child, then consider what they might prefer. Check what their favorite installation of the franchise is and see if you can't find a toy from this range. They'll probably still love any kind of Transformers Toy you get them, but they will really love the chance to play with characters from their favorite movie.
Extras - If you're still not sure which is the best toy to buy, then look at the additional features that come with the toys. Do they come with awesome accessories that make one toy much cooler than another? Are they compatible with other products? Is the price worth it?

Transformer Toy FAQ
 Q: What is a Transformer Toy?
A: A Transformer toy is an action figure that is based on the Transformers franchise. They have been around for over 30 years and have been played with by generations of all ages. They include all your favorite heroes and villains, from Optimus Prime to Megatron, Bumblebee to Starscream.
Q: How many steps does it take to transform a robot into a vehicle?
A: This depends on the type of toy. Some will transform in just 2 or 3 steps, while other, more complicated toys can transform in as many as 30!
Q: What skills will my kid develop playing with a toy Transformer?
A: Apart from developing a love for love the franchise and being able to name every character on cue, your kid will learn and cultivate skills that will stay with them throughout life. For younger kids, they will learn how to manipulate objects to get the desired result, and test their brain power by trying to figure out how to transform the toy from vehicle to robot.
Older kids will learn about creativity and how to develop their own stories. This is great for inspiring the directors and writers of tomorrow, and it will help them visualize their ideas through the toys.

Q: How old my child should be in order to play with Transformer Toys?
A: Playskool Transformer toys are suitable for ages 3 - 7 years old, although because there are no small parts, kids even younger could play with them if they show interest. They just may not be able to master the transformations.
The more advanced Hasbro line is recommended for ages 6 years and up and with the generation spanning appeal of Transformers, there is really no upper age limit, whether you want to play or collect.
Sources
Transformers Franchise Box Office History - The Numbers
Educational Benefits of Providing Toys to Children - Child Development Institute
Rise of the Kidults - The Independent