Best Solar Eclipse Glasses In 2022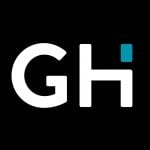 This product guide was written by GearHungry Staff
Last Updated
August 31, 2020
GearHungry Staff
GearHungry Staff posts are a compilation of work by various members of our editorial team. We update old articles regularly to provide you the most current information. You can learn more about our staff
here
.
GearHungry may earn a small commission from affiliate links in this article.
Learn more
With a solar eclipse predicted to happen this year, it's only wise to start shopping for suitable solar eclipse glasses, so you're not left out of the rare experience. Some people take the risk of making their glasses at home, guided by YouTubers and the like. However, when it comes to protecting delicate organs like the eyes, we'd rather trust reliable brands to ensure our retinas don't get roasted. The question shouldn't be whether or not to invest in a pair of solar eclipse glasses; rather, the question should be which pair. Well, we have you covered with this list of some of the best protective solar eclipse glasses on the market.
The Best Solar Eclipse Glasses
5-Pack Premium ISO and CE Certified Lunt Solar Eclipse Glasses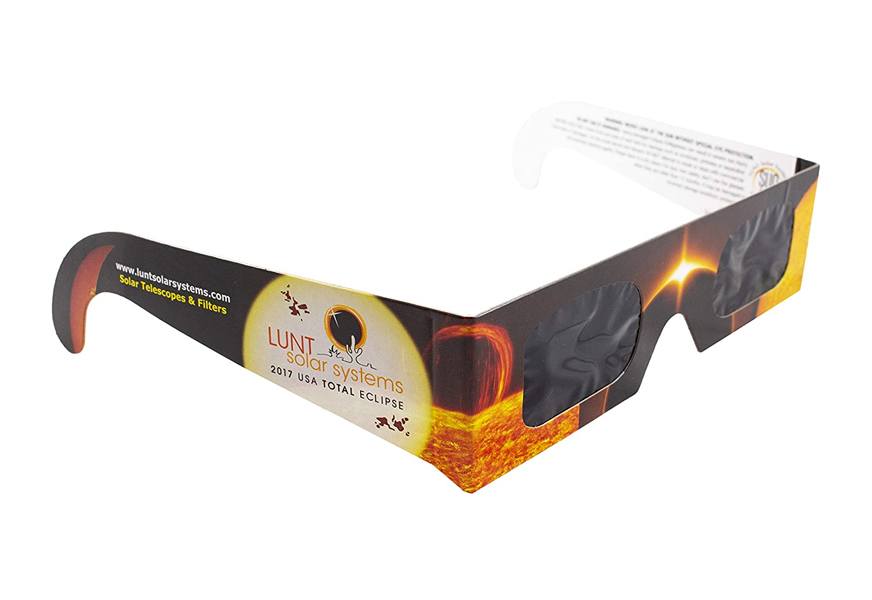 These German-made solar sunglasses caught our eye. They're an extra-durable pair you want in your arsenal when going to view the sun in its most natural state. Viewing with friends? Then take this five-pack along for the crew; there's no need to spend money on five different solar sunglasses when the Lunt offers five for a thief's price.
These glasses filter out 100% of harmful ultraviolet light and prevent any damage to the eyes. These will also filter out infra-red rays and extremely bright light with certifications to back their safety guarantee. With certifications from ISO 12312-2 (2015) international standards for solar viewers and  CE certifications, Lunt ensured their design ticked all the safety boxes. If that doesn't convince you, then maybe their proof of approval by NASA and the American Astronomical Society will.
There are no worries with the Lunt Solar Eclipse Glasses; these sturdy glasses will have you looking at the sun unperturbed and are durable enough to last till the next solar eclipse as well.
Key Features:
Heavy card stock frame
Weighs 0.16 ounces
ISO and CE Certified
NASA and the American Astronomical Society approved
Specification:
Brand

Lunt Solar Systems

Model

FBA_Unknown

Weight

0.16 Ounces
Soluna Solar Eclipse Glasses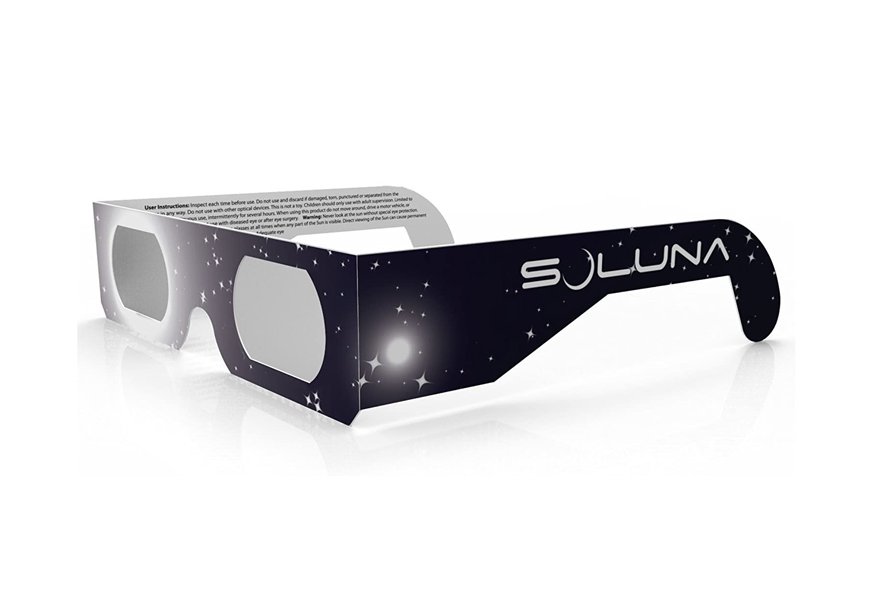 The Soluna Solar Eclipse Glasses are an excellent choice for the whole family, colleagues, or friends. The value pack comes with ten pairs of solar glasses that will protect the eyes from exposure to the sun. These glasses are manufactured in the USA by the American Paper Optics Company, a brand that delivers confidence. They protect the eyes from 100% of harmful ultraviolet rays as well as harmful infra-red and intense visible light. And to ensure the most enjoyable viewing experience, the lenses are made with a scratch-resistant polymer material. They provide you with extra-dark viewers with an optical density of five or greater.
You will be able to enjoy viewing the sun in totality without concerns about the safety of your eyes when doing so. Whether at a viewing party, a large gathering, or high elevation, these viewers provide a clean look at the sun before and after totality. And as a bonus, these glasses are adjustable to fit kids from six years to 99! No one should miss out on such a fantastic experience, no matter how fleeting it is.
You may also be interested in the best polarized sunglasses.
Key Features:
CE and ISO certified for direct sun viewing
Black polymer material for lenses
Manufactured by American Paper Optics
Made in America
Specification:
Brand

Soluna

Model

656578

Weight

1.6 Ounces
Rainbow Symphony Plastic Solar Eclipse Glasses
Plastic glasses are relatively more durable than their paper counterparts; anything from water to haphazard storage could impact the longevity of paper or cardboard eclipse glasses. Rainbow Symphony and American Paper Optics are two of the few companies listed on the ISO site. That means these companies have undergone the necessary paperwork and testing to qualify them for certifications to sell.
While the American Paper Optics Company manufactures reinforced paper Eclipse glasses, the Rainbow Symphony has delivered an excellent plastic contender that offers quite the view. It provides an optical density of five or greater, ensuring that viewers can see the sun and all that's happening around them during the eclipse. These glasses deliver the most realistic view of the sun in it's glorious, orange form. And without compromising the viewers' safety, the Rainbow Symphony Plastic Eclipse Glasses filter out 100% of harmful rays and intense visible light for a safe viewing experience.
Furthermore, the plastic ensures a comfortable fit, sitting on the face without feeling awkward or strange compared to regular glasses. These glasses boast a universal fit, comfortably fitting both kids and adults. Get a pair of these extra durable solar glasses and enjoy safe viewing of the sun in all its glory.
For more regular stylish options, check out our guide to the best flip-up sunglasses.
Key Features:
CE and ISO certified certified
Comes with glasses lanyard and microfiber pouch
Money-back guarantee
Made in the USA
Specification:
Brand

Rainbow Symphony

Weight

3.2 Ounces
Rainbow Symphony Wrap Around Solar Eclipse Glasses
The Rainbow Symphony Wrap Around Eclipse Goggles have proven to be quite popular, and we can tell why. This pair is straightforward and sports a secure fit around the face.
Also, the curved design ensures that the sides of the eyes are appropriately covered; there's no room for harmful rays or light to penetrate. The lenses promise the same Rainbow Symphony quality – an optical density of five or greater for more enjoyable viewing. Look straight at the sun during the eclipse with these glasses and enjoy viewing the orange orb in safety.
These lenses filter out all harmful light rays, so you gain a safe viewing experience of the eclipse. What's even better is the fact that these glasses can be kept and used throughout the years.
If you also need to protect your eyes while on the slopes, check out our guide to the best ski goggles and pick your favorite pair.
Key Features:
Ce and ISO Certified
Filters out 100% of harmful light rays
Includes glasses lanyard and microfiber pouch
Made in the USA
Specification:
Brand

Rainbow Symphony

Weight

2.4 Ounces
Rainbow Symphony Plastic Eclipse Glasses – Clip-on Frame
If you are tired of hearing about the eclipse viewing experience because you wear prescription glasses, this is your year. Don't just hear about it; enjoy watching the rare experience with optical frames that have you covered. These Rainbow Symphony Plastic Eclipse Glasses clip-ons attach to the frame of your prescription glasses and provide the same quality Rainbow Symphony is known for – clear images of the sun in its orange majesty.
And just like every other pair made by Rainbow Symphony, these clip-on eclipse glasses are ISO and CE certified. Each pair undergoes testing to ensure quality, durability, and absolute safety.  As a bonus, purchasing these clip-on frames will get you two extra paper eclipse glasses free!
If you like skiing, be sure to check out our guide to the top sunglasses for skiing.
Key Features:
ISO and CE certified safe
Plastic make
Made in the USA
Comes with 2 extra paper eclipse glasses
Rainbow Symphony Eclipse Glasses
For those of us that thought Rainbow Symphony only specialized in plastic glasses, here are ten pairs of quality paper sunglasses! Put the Rainbow Symphony Eclipse 10-pack Paper Glasses on, and view an eclipse event with friends, without breaking the bank.
These glasses employ sturdy reinforced paper, and with ten pieces to go around, they are great for eclipse viewing parties or get-togethers. They may not be the most stylish glasses to have on, but they do their job of protecting the eyes from damage.
Fishing enthusiasts will also be interested in the best sunglasses for fishing from our list. Check them out.
Key Features:
Pack of 10
Very affordable value
Meets ISO standards
The optical density of 5 or greater
Specification:
Brand

Rainbow Symphony

Model

7110

Weight

1.6 Ounces
Solar Eclipse Glasses Buying Guide
People have previously used faulty or DIY solar eclipse glasses with disastrous results.
These glasses come in different styles and designs that make it convenient to sit out with friends, family, or colleagues and watch the yearly event. We will be exploring below how we selected our stellar list of eclipse glasses, as well as some important features to consider when picking one out.
How We Chose Our Selection of Solar Eclipse Glasses
Brand – The manufacturers of a product go a long way to determine whether the products are credible or not. Some brands have built quite the resume of producing quality, durable, and certified glasses that are sure to keep the eyes safe from the direct sunlight. Such brands have been long-standing with the right certifications and testing to ensure their products are safe to use. We only perused products from top brands who have years of expertise and trustworthy models, as well as the necessary certifications to manufacture suitable eclipse glasses.
Price – An eclipse happens about once every year, but it's not guaranteed that its viewable in your region. So, since wearing the glasses is a rarity, we only considered models with modest prices. Eclipse glasses are too dark to be worn on a regular day, so you don't want to have a pair sitting around that costs over $100.
Reviews – What formed the pillars of our decision were the reviews from verified buyers. Every product excels or fails depending on what the users have to say about it, and we take that very seriously. We culled the reviews of each product to see what the buyers had to say about each product and how viable they are off the shelf.
Features to Look for in Solar Eclipse Glasses
Safety – The International Organization for Standardization is working extra hard to ensure people don't end up with counterfeit glasses. They have provided a standard code that certifies if products are tested and authentic or not. It is incumbent upon companies to prepare the necessary paperwork that proves their lenses can block the right amount of sunlight from being transmitted.
Watch for the ISO certifications on the glasses to ensure they have passed through the necessary procedures. Pay equal attention to any defects, scratches, or dents on the filters, as this may indicate damaged or poorly crafted glasses that won't do enough to protect the eyes. Other professional certifications to look out for are ones from CE and sometimes even NASA.
Size – When it comes to the size of glasses, people have different preferences. Eclipse glasses aren't for fashion; they are protective glasses that shield the eyes from temporary or permanent damage. The viewers should be large enough to cover the entirety of the eyes, ensuring no UV radiation or harmful rays make any contact with the eyes.
Most eclipse glasses have large viewers that cover from the eyelids to well below the eyes. The gaps in between the lens and face shouldn't be too broad. Also, when buying glasses for kids, ensure you buy models specifically made for them. Adult glasses would be too large for their smaller faces.
Material – Eclipse glasses are supposed to block the brightness of the sun up to 100,000 more times than regular sunglasses. They should make the sun's bright light almost seem like viewing the moon and night. Some even come with extra-magnification to ensure you don't miss out on anything.
Eclipse glasses are usually either paper or plastic. Paper glasses are the cheapest out of the two options, yet significantly less durable than plastic. In contrast, plastic glasses provide more protection and will last longer. Unlike regular sunglasses composed of glass, plastic, or polycarbonate materials, solar eclipse glasses make use of black polymer or polyester film-coated aluminum. This construction gives them the capacity to viably reduce visible light from the sun to the safest level for the eyes.
Comfort – Staying comfortable when wearing eclipse glasses depends on the material and design; paper is more lightweight with equally thin lenses. Plastic sunglasses are sturdier, and probably what the average individual is used to if they wear regular sunglasses.
Sign Up Now
GET THE VERY BEST OF GEARHUNGRY STRAIGHT TO YOUR INBOX