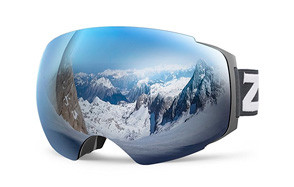 Zionor Lagopus X4 Ski Goggles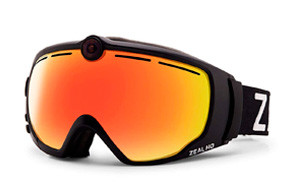 Zeal Optics HD Camera Ski Goggles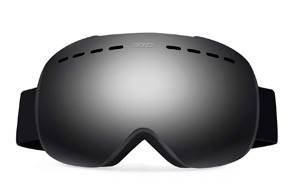 Gonex OTG Ski Goggles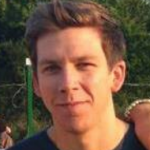 Whether you are a pro skier or if you are heading out to the slopes for the very first time, being properly equipped with the essential gear is what will make the sport an enjoyable one. After your boots and a ski helmet, a reliable set of snow goggles is arguably your most important item of ski and snowboarding apparel. It's hard to accurately see your way ahead when a flimsy pair of goggles are fogged up or are making your eyes water because of a bad seal. Fortunately, new innovative brands and designs are now available, giving you the option to choose from a variety of the best ski goggles on the market! We did our research on the more popular choices and ended with a list of 8 best ski goggles that we thought performed exceptionally well in a selection of different areas.
The Best Ski Goggle
Ski Goggles Buying Guide And FAQs
How We Chose Our Selection Of Ski Goggles
When we rounded up our selection of the best snow goggles, we did so by taking three very important factors into consideration. These were quality, reviews and of course, pricing. By keeping these key details in mind, we narrowed down our selection based on what the people out there like and what offers the best value for money.
Quality – There's no denying that the quality of a product is what will make it both reliable and enjoyable. This is why we broadened our search to make sure that we included a selection of the finest quality snow goggles that meet the utmost standards of durability and performance.
Reviews – While a product might deem itself worthy, it's the consumer's words that hold the most value. This is why we scoured the net to see what the most dedicated skiers, snowboarders and mountaineers have to say about the snow gear currently available. We considered the good, the bad and the ugly!

Price – Ah, price. While we wish budgets didn't have to be a consideration, for the most part, we are limited to how much we can spend. Not to worry, however, as we have gathered a selection of the best snow goggles that will give you value for money, no matter their price tag.
Features To Look For In Ski Goggles
There is a myriad of key features that you need to consider when purchasing a pair of ski goggles. While the number one requirement is that your eyes are protected while keeping the view crystal clear, there are a few other factors that will ensure your chosen pair of goggles will be enjoyable to wear.
Lens Shape - The biggest differentiator between goggles is the shape and size of the lenses. The shape will not only affect one's outlook on the scenery, but they will also determine the safety and comfort of one's eyes in the bright light and icy weather. There are two popular lens shapes to look out for, namely, Cylindrical (flat) lenses and Spherical lenses.
Cylindrical lenses generally offer good performance at a more affordable cost. They curve horizontally while remaining flat vertically. Spherical lenses, on the other hand, curve both horizontally and vertically and give a "bubble" effect. While they are a little pricier than the flatter makes, these sphere-shaped lenses do tend to offer more advantages.

Optical Quality – Optical quality refers to the standards to which the lenses and frame of a pair of goggles work together to ensure that you are given the purest of visions. When choosing the ideal pair of goggles, you will need to take a few factors into consideration. Some of these factors include weather, terrain and the activity you wish to embark upon.
From polarized ski goggles to lenses with Photochromic properties and Mirrored types, make sure you choose an optical quality lens that will be compatible with your chosen light conditions as well as the sport you wish to partake in.
Interchangeable Lenses – If you plan on spending a good amount of time out on the snowy slopes, you will need to be prepared for all sorts of weather and light conditions. This is where goggles that allow you to quickly and easily change the lenses will come in handy.
Having a variety of lens colors available can help to maximize visibility and performance throughout each stage of the day, this is because there is just no way that one type of lens can provide optimal visibility across the full spectrum of lighting and weather conditions. If this feature appeals to you, you will have to make sure that the set of goggles you have your eye on can accommodate the easy installation of the different lens varieties and colors.
FOV – FOV is short for the phrase "Field of Vision". Ideally, the best snowboard goggles should enable you to see 180 degrees from side to side. Lenses with an anti-scratch coating are also a more suitable option as this will help to keep your FOV clear and free from scratches and scuff marks that could otherwise appear on the lenses.
Another feature to look out for to make sure your FOV remains crisp and clear is anti-fogging technology. Anti-fog coating, air vents and goggles with a double-lens installation will prevent your view from fogging up and from collecting moisture as you whirr over the snowy mountain slopes.

Size – Most snow and ski goggle models come in different sizes, the most common of which are medium and large. If the goggles are too loose, they are likely to let the cold wind and snow in. If they are too tight, on the other hand, this could be uncomfortable and somewhat impractical. Ideally, you will want to try a pair of snow goggles on before purchasing them.
Apart from the frame size, you will also need to take the length of the straps into consideration. Straps that can easily be adjusted to fit over a helmet are the ideal option.
OTG – If you wear prescribed glasses then you will want to settle on a pair of over-the-glasses goggles which, you guessed it, fit perfectly over other eyewear so that your vision isn't compromised. Most of the larger sized goggles accommodate this function while still retaining a comfortable fit.
Alternatively, you could also look for a pair of snow goggles which accepts interchangeable lenses. This way you can get prescription lenses made specifically for your eye vision and then the lenses can be fitted to your goggles accordingly.
Ski Goggles FAQs
Q: What Is The Best Ski Goggle Brand?
A: This question comes with no definite answer because what one person might consider an excellent fit and an excellent brand, another might have had a different experience. However, if we look at which goggles are currently popular and are being spoken about with the most enthusiasm, then we can honestly say that our list above covers some of the best brands as well as the most popular models chosen by both amateur and professional snow athletes.
In essence, a good brand should meet the following basic standards; a comfortable fit, anti-fog technology, adjustable straps, 180 degrees peripheral vision and 100% protection from UV rays.

Q: What Colour Lens Is Best For Ski Goggles?
A: One attribute that determines a fitting lens type is a color. While colorful lenses look snazzy, they have more of an important purpose too. Depending on the type of light that you mostly ski in, the color lens you should use will vary accordingly. Since most skiers find themselves on snowy slopes during clear and bright days, the more popular lenses are dark in color, namely jet black.
If, however, you are an avid snow sportsman then you would want a pair of goggles with interchangeable lenses. Then you can change the color of your lenses depending on the lighting conditions. As a rule of thumb, darker tints are used for sunny and clear days while lighter tints are used when it is overcast or for night-time galivanting.
Q: What Is VLT For Ski Goggles?
A: VLT is an acronym for Visible Light Transmission. While most goggles offer 100% UV protection, they can vary considerably in terms of their VLT. A pair of ski goggles VLT will indicate the percentage of light allowed through the lens and can range anywhere between 0% and 100%. This number will influence whether you can see clearly no matter what the weather and lighting conditions are.
If you expect blues skies and sunshine, a lower number of VLT will ensure that you are perfectly protected from the sun glare and the UV rays. If the day is about to take a turn for the worse with an influx of clouds and fog, however, you should grab a pair of lenses with a rather high Visible Light Transmission. If you are looking for a lens that can accommodate all conditions, then we have bad news for you, unfortunately. There is no fall-back which can guarantee clear vision under any conditions. If you are strapped for cash however and really need to settle on a lens with one VLT, then your best option would be lenses with a VLT range of around 30%. While this would be a compromise and won't offer you the ideal support in all weather conditions, it will still keep you safely satisfied.