Sunglasses or Sunglassesn't: The Best Flip-Up Sunglasses for 2022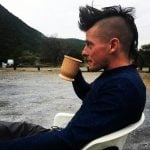 This product guide was written by Sam Anderson
Last Updated
July 27, 2021
Sam Anderson
Sam Anderson has followed a passion for well-told stories and nature's beauty from university classrooms to mountain adventures. After earning a bachelor's degree in literature, he leaned into a life fueled by road tripping, rock climbing, coffee and beer, and renegade camping. He has worked as a chainsaw operator, house carpenter, and window cleaner, at one point running his own window cleaning business. He has finally settled with his girlfriend and small zoo in the western American desert, trading his tool belt for a keyboard.
GearHungry may earn a small commission from affiliate links in this article.
Learn more
Do you dream of mastering the transition from bright light to dark shadows, even while wearing sunglasses? Does the idea of controlling the transfer without even removing your shades, striding confidently across the light/dark border, large and in charge, give you butterflies? Do you want to be prepared for literally any situation and are you ready for the first day of the rest of your life? Get that way, chief: it's time to enter the sunny (or shady) world of the best flip-up sunglasses.
If you're not completely comfortable with concepts like "transition" and "choice," well, you better get that way, too. Sunglasses with flip-up lenses epitomize the concept of personal freedom, putting the ability to change the world with decisive power on the bridge of your nose.
It's up to you to choose which side of the line of demarcation you stand on: will you choose altered vision or unadulterated reality? If you can handle the truth, you can handle the best flip-up sunglasses.
The Best Flip Up Sunglasses Review
Franklin MLB Deluxe Flip Up Sunglasses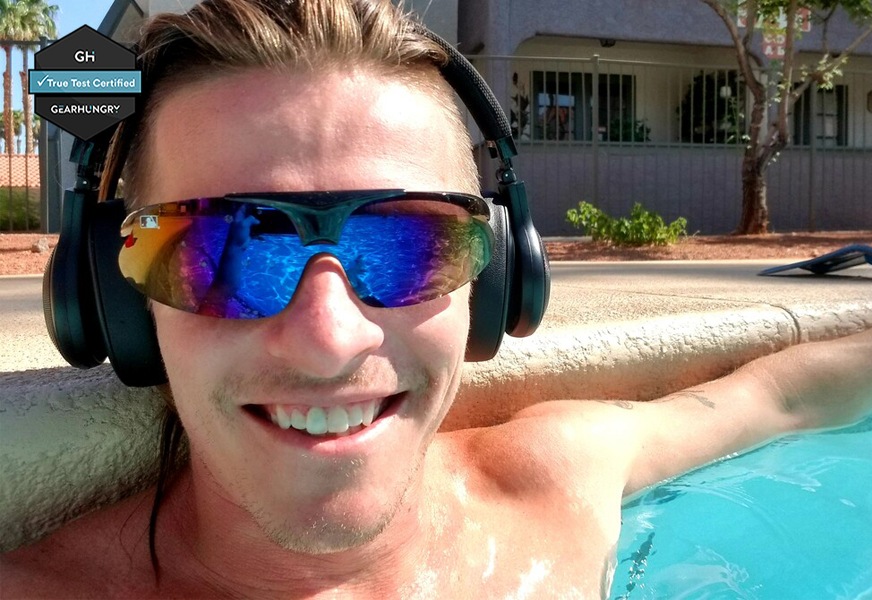 Franklin's flip ups don't frick around (figure it out, friend — say that four times fast). The lightweight plastic pair features an impact-resistant polycarbonate frame and a blue mirrored lens, which fades to royal purple and gold. For those high pop flies in summer, it also protects against UVA and UVB rays.
During the testing period, I was pretty happy with Franklin's MLB Deluxe flip up sunglasses. Obviously, they made me look like such a badass that nobody wanted to fight me at all while I was wearing them, and most guys 6'0" tall and up simply offered me their girlfriends instead. I also managed to shoot a pretty good round of golf while I was wearing them.
Testing to determine whether those events were connected remains unclear. However, I did introduce a control group by drinking the same number of beers (16) that I normally would during 18 holes of golf. I also tested the tint against my usual shades and found that I could see a lot better through the Franklins. After making that realization around the 17th hole, I made a mental note to check whether or not I had the shades flipped down. Despite studying my notes carefully after the fact, I can only conclude that I forgot to do it. What I do know about the flipping action is that it was snappy and confidence-inspiring.
If you want to look rad and get girls (or guys, or folks of any gender), drive a golf cart off an embankment and then shotgun a beer, or simply protect your eyes from the sun's harmful rays with UV protection, Franklin MLB Deluxe shades are here to help. The slick little MLB logo in the corner gives you serious street cred, and — seriously on this one — the tint did effectively cut the glare of a blinding Las Vegas summer afternoon. Stuffing the glasses into a pocket didn't scratch the impact-resistant lenses, and they always sprung back to shape when I whipped them out. The MLB Deluxe even comes stock with a soft case and a set of chums. Recommend. Read the in-depth review here.
Key Features:
Impact-resistant construction
Blue/purple/gold-tinted lenses
MLB branding
Specification:
Brand

Franklin Sports

Weight

1.0 oz.

Colors/styles

1
Durable
Comfortable tint
Babe magnet
Can introduce problematic sexual tension (recommend beer in this eventuality)
J&L Retro Steampunk Flip Up Sunglasses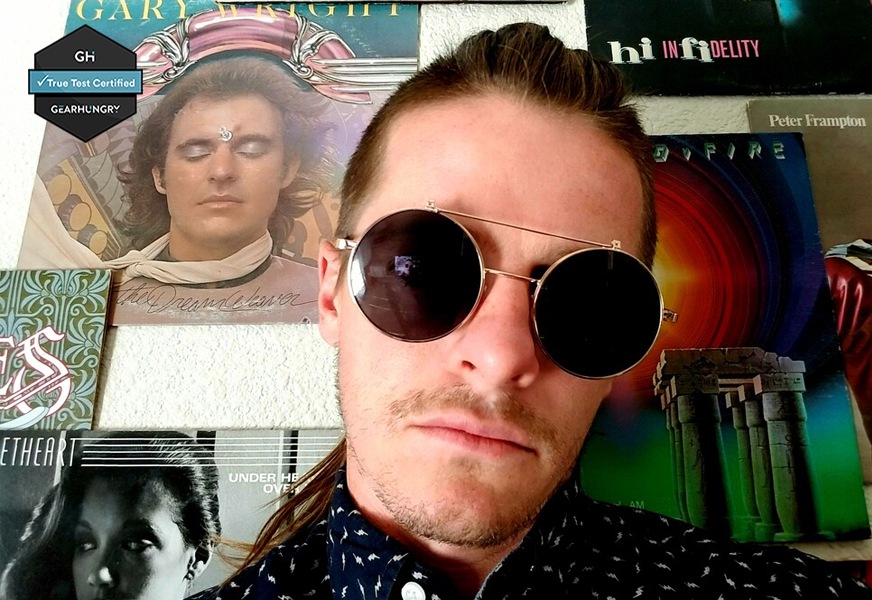 Usually, with flip up sunglasses, there are two ways about it. (Think about it.) But J&L's retro steampunk flip up glasses only have it one way: bad. The glasses look cool enough, especially with the lenses flipped down. But my review showed that the balance was all messed up, the hinges were way too sticky, and the tint was trash.
I was encouraged when I got the J&L glasses out of the box. It's always fun to have some round glasses for situations when you feel like showing off a little PoMo cultivation. I tested the gold design with the straight top bar. I figured they'd work just as well with a black suit as they would with hippie rags.
Either of those things may be true, but I'll never find out. Why? Because wearing them sucks. The tint might as well not exist. I won't go so far as to say it magnified the Las Vegas sun's merciless intensity, but it legitimately didn't do anything to cut it down. That had the effect of making me take them off and not put them back on.
Elsewhere during testing, I found that the hinges were far too tight — so that the leverage of flipping the lenses was uncomfortable. Flipping them down made the earpieces walk up the sides of my head. Flipping them up made the earpieces dig into my ears. Finally, there was the awkward scenario that the glasses were weighted noticeably toward the lenses, so they constantly felt like they were about to fall off my face.
I'll give the J&L Retro Steampunk Glasses a D+, which is the grade you deserve when you think being cool is the only thing you need if you want to be successful. Do not recommend. Check out these awesome blue lens sunglasses for men instead.
Key Features:
Round lenses
Clear lenses under tinted lenses
Multiple colors and styles
Specification:
Brand

J&L

Weight

1.3 oz.

Colors/styles

9
Unbalanced
Unnecessarily tight hinge
Bad tint (doesn't help block light)
Wangly Polarized Unisex Clip On Flip Up Sunglasses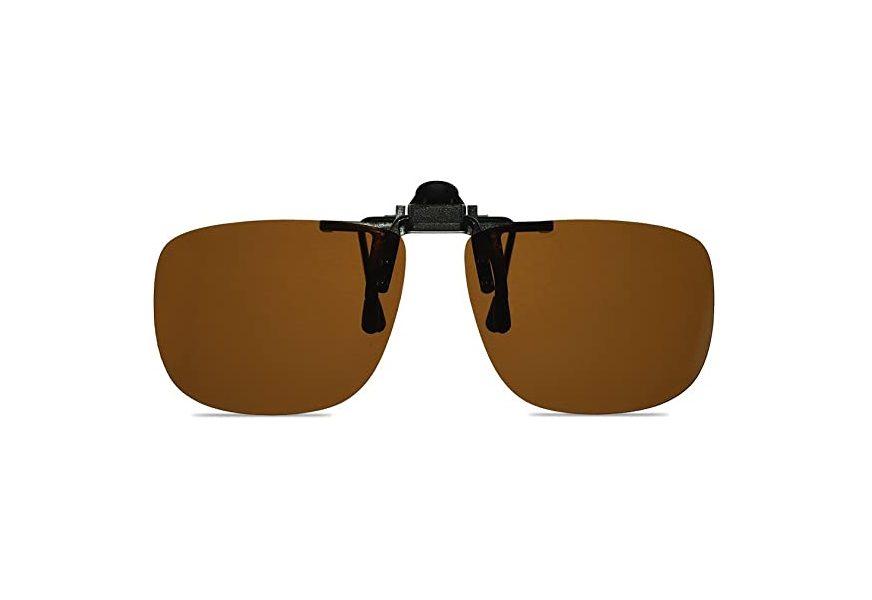 Awkwardly named Wangly makes clip-on flip up sunglasses designed for all glasses wearers. The shades boast a stout 400-UV rating, meaning they block 100% of UVA and UVB rays. They're also polarized to minimize glare. Before you write them off anyway because they appear to be carefully shaped for total squares, look again — some of the folks in the marketing materials look pretty cool.
The glasses clip on with rubber-coated tips to protect your Rx lenses. The hinge unit looks beefy, but it doesn't add too much profile to the frame to be offensive (in our opinion). We'll admit, the sizing looks better on the male model's bigger, more rectangular face. But the female does look pretty killer in the mirrored Wanglys (Wanglies? Wangers?).
Overall, they've got a good reputation. It's pretty hard to argue with 400-UV polarized sunglasses at Wangly's price bracket. Some users complain that they're too big and too flat, but we found all those comments and replied, "so is your mom." Problem solved.
Wangly's clip-on flip-up sunglasses for men and women work with a wide variety of glasses frame shapes and come in four colors, including a yellow tint for night driving. They're a versatile option with a solid performance guarantee that doesn't cost an arm and a leg.
Key Features:
Rubber-tipped clips work with a wide range of frames
400UV
Polarized
Specification:
Brand

Wangly

Colors/styles

4
Inexpensive
Versatile
High tint performance
Some users find them big or awkward (see above)
COASION Vintage Round Flip Up Sunglasses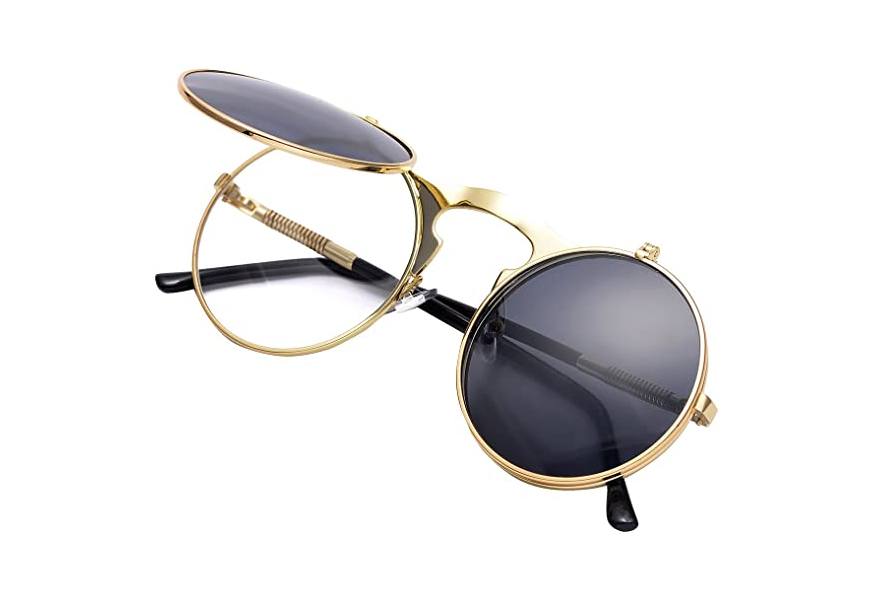 Are you a hipster? Wait, this is journalism, I should ask a qualifying question: are you interested in wearing a pair of sunglasses (search criteria "John Lennon") while also wearing a beret that matches your ribbed crop top, and holding an umbrella you've decorated with battery-powered LED lights? If so, you've found the right sunglasses. As a bonus, they also happen to be UV400 rated.
COASION's vintage round flip up glasses epitomize hipster posturing. From the spring styling on the stems to the contoured bridge, they can complete your look whether you're dressing like a sexually frustrated magician (See "A5 Silver Frame/Blue Mirror Lens") or pretending to be at Coachella (See "A4 Silver Frame/Black Lens"). Another cool bonus is that the lenses flip up individually, giving you the option to make yourself look even more cavalier.
The glasses themselves look to be a bit big. The lenses are 2" circles. The female Coachella pretender in the Hollister shirt and fedora looks borderline outsized by her COASIONs. But the theatrically intense, apparently shirtless male hunk with the undercut? Looks just right.
But the COASION sunglasses aren't just talk: a 400UV rating does promise a modicum of performance. And the hinges are sprung, which can be a positive, tactile detail. As well, the kit comes with microfiber cleaning cloths and a screwdriver (useful for adjusting hinges).
All things considered, it appears you can do worse than COASION's hipster vintage round flip up steampunk John Lennon sunglasses. Somewhat unbelievably, some customers have bought into the company's ploy that the clear lenses are "replaceable" with Rx lenses. Don't believe everything you hear — capitalism's just a game, man. That's why I only drink kombucha and listen to bands no one's ever heard of.
Key Features:
400UV rating
2" circular tinted and clear lens
Spring stems and hinges
Specification:
Brand

Coasion

Colors/styles

11
Good UV rating
Look cool/achieve indifference
Perhaps big for some wearers
TINHAO Men's Polarized Flip Up Sunglasses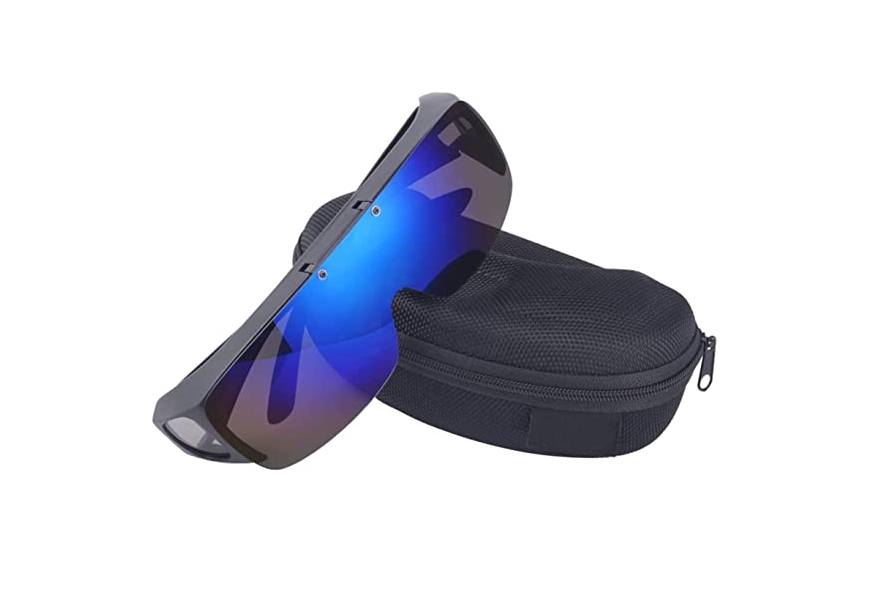 You're in the big league, now: no longer will you tolerate swapping prescription sunglasses for your regular glasses. No longer will you tolerate transition lenses. No longer will you tolerate the indignity of taking off your readers to drive, swapping them out for the Blu-Blockers. Instead, you will wear TINHAO men's UV400 polarized flip-up sunglasses over your eyeglasses, bringing your total count of eyewear worn at the same time to 2 and immortalizing your place among the galactic board of IDGAF old crotchety men who no longer have time for any of this bullsh.
Why swap out glasses? You have to take them off your face, not drop them in the toilet, find a place to store them. Then remember where they are when you go to switch back. Hell, you might drop them down a rain gutter and lose them.
Instead, equip TINHAO polarized fit-over glasses to wear both pairs at once and conquer all doubt. They're polarized so pesky glares from things like kids' phones or disconcerting body jewelry will go away. And so much for not being able to read the menu or being confused about why this restaurant is so dark. As you make your way inside, simply flip up your TINHAOs and find yourself peering only somewhat confusedly through your familiar Rx lenses, fully primed to read the entire list of all 8 appetizers, including the descriptions, before deciding on the same one as always. 
If you get the Wine Red frames with the Green&Yellow lens, you are our hero. Please tag us on social media to show us your drip. Submissions featuring the blue-on-blue combo will also be accepted. For more amazing eyewear, check out our list of the best Gucci sunglasses for men.
Key Features:
UV400 polarized
Fits over Rx glasses
Specification:
Brand

Tinhao

Colors/styles

Multiple (recommend Wine Red with G&Y lens)
Never take off your regular glasses again
Full modular capability
Pretty big
A little pricey
Pretty big
Best Flip Up Sunglasses Buying Guide
Why Trust Us
Here at GearHungry, we have a saying: "never trust a jabroney wearing non-flip up sunglasses." (At least, now we have that saying.) There's really not a whole lot else to it; when you agree to join the brother- and sisterhood of convertible shades, you leave deceit behind. That and any situation in which you're not automatically in command.
Who This is For
Bosses, lady bosses, chiefs, kings, queens, bad b*tches, all and all my hard-workin' homies out there who don't have time for temporary sunglass-induced blindness. Even the humble jabroneys among us are welcome to hop aboard the Flip Sunglasses Express, final destination: Optimized Multi-Situational Convertible Sun Resistant Indoor/Outdoor Eyewear For Bosses City. We all gotta start somewhere.
How We Picked
Turns out it ain't easy to identify the best flip up sunglasses. See, you start with a slice of Wonder bread. Then you spread a dollop of mayo over it evenly. That's when things really get interesting — bust out the bologna and Kraft singles and use the butter knife to cut a circular hole in — ...ah wait, wrong article.
We selected the best flip up sunglasses using a carefully prepared matrix of popularity, utility, coolness, and a proprietary system we call Action Mode™ Extreme Scenario Rating1.
1Exists.
How We Tested
Took these bad boys to the field. I shot a 93 over 18 holes on America's birthday while testing a pair. Only took me 11 beers and 36 mulligans. Tough job but somebody's gotta do it.
Features to Look for in Flip-Up Sunglasses
Style — Unequivocal. Iconic. The coveted love child of form and function. These are some of the phrases that leap to mind when a common man such as myself regards flip up sunglasses. How can you go wrong?
Design — Generally, you've got options that range between cosmopolitan and athletic. Most of the more athletic flip shades tend to imbue the sunglass operator with a certain that's-diesel/hell-yeah-brother flair. The other kinds are generally great for wearing in more cultivated environments. These units carry the overall effect of making you look even more like you're drunk or on drugs.
Value — It's Gucci, baby. Or it can be or can't. Gucci doesn't make Conor McGregor's flip ups anymore, but their glasses average about $500 MSRP. On the other hand, some of the humble workin' man's glasses that we tested only cost about $15.
Polarization — Polarization cuts glare from shiny surfaces like water, snow, or glass, but it doesn't have a UV effect. For ultimate protection under all circumstances, use polarized shades with a 400-UV rating.
Lens — Flip up, lens stows safely away from eyes, limiting visual obstruction for a full-blast facial sensory experience. Flip down, eyes shielded from harmful rays, debris, and any oncoming coagulants.
Some variants have a clear lens under the tinted lens — or even a slightly tinted lens under the more heavily tinted lens. Be aware when you're choosing parameters for your facial satisfaction.
Material — Plastic, glass, metal. Gold? 3D printed? Sure. In feudal China, some judges wore smoky quartz glasses. They said it was to "seem more impartial." We think they meant to intimidate their enemies, the more easily to subjugate and command them. (See "FAQ").
Quality — See "lens."
Also consider that no matter what the quality of your flip up sunglasses, they automatically have double the value of a pair of non-flip ups. Why? Because they deliver the unity of sunglasses and not-sunglasses. Regular sunglasses can't be not-sunglasses because you can't wear them and have them be not-sunglasses. For regular sunglasses to be not-sunglasses, you have to not wear the sunglasses. But you can wear flip up sunglasses and they can be not-sunglasses while you're wearing them. It's also clear that both types of sunglasses can also be sunglasses when worn as sunglasses.
Weight — "One thousand two...one thousand three…" Bicep curl your flip up sunglasses (especially men's flip up sunglasses) to get a deep burn and sculpt your guns. If you do over a thousand, you'll barely be able to lift your right arm because you did so many. Trust me. I don't know if you heard me counting, I did over a thousand. Tuesday's arms and back. Oh, it's a deep burn. So deep!
Fit — Make sure your flip up sunglasses fit your mug properly. That way, you'll be comfortable wearing them in any situation, outside or inside, on a Sea-Doo (obviously), but also at the office, into the bathroom stall, while eating a bologna sandwich right after that, down to Oklahoma to visit the in-laws, while firing a handgun into the air and doing donuts in your '86 Monte Carlo, while watching ABC's The Bachelorette with rapt attention and teary eyes, while picking up your dog's warm, soft shit with your hand covered only by a thin plastic bag, and 100% all day and all night, from the moment you wake up until the moment you go to bed.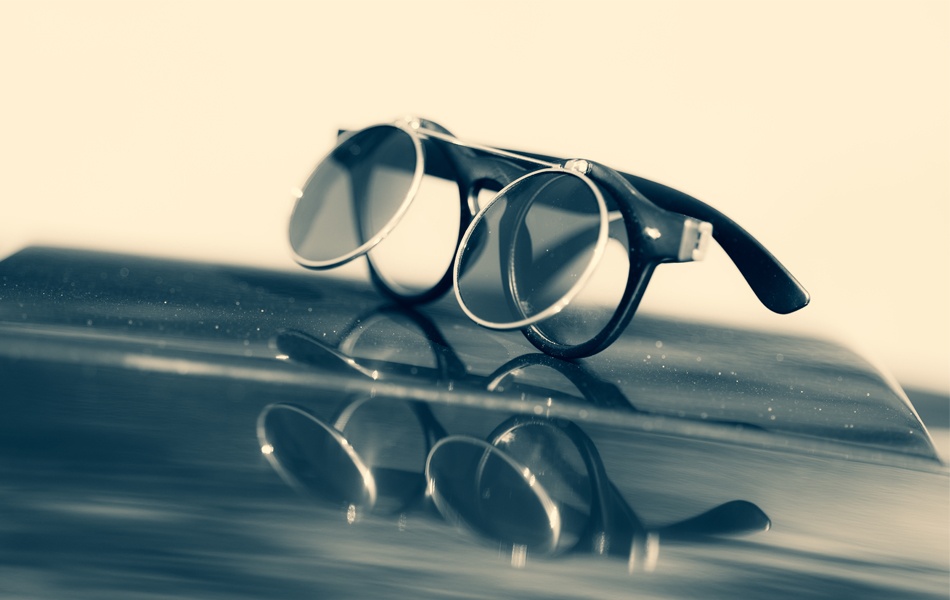 Flip Up Sunglasses FAQ
Q: What is the point of flip up sunglasses?
A: To look rad and be in charge, duh. First of all, glasses with flip shades add serious cool points to any sunglass wearer's profile. Studies have shown the effect of flip up sunglasses on sexual arousal among potential partners to be similar to that of Crocs, and in some cases exceed it. Can I source that? No.
The second scientific fact relevant to the "what is the point of flip up sunglasses question" is  that the transition between bright sunlight and dark shadows is a hazardous liminal space in which anything can happen. The period of blindness caused by transitioning out of a sunlit area without immediately de-sunglassing makes you vulnerable to all kinds of anomalous phenomena. You might also just not have time to drop the shades before you encounter a critical situation. Of course, the same rules apply when you're transitioning from shade to sunlight.
Want to spend your life stumbling over trash cans, A-frame signage, and stacks of firewood in and around gas station entryways, due to sunglass-induced temporary blindness? What about staggering blindly back out into the sunlight in front of an unwitting segue-riding security guard, who then crashes into you and falls (hilariously) to the ground? (Ok, maybe that one's ok. In fact, I might go try that right now. But you get the point).
Q: When were flip up sunglasses popular?
A: The pinnacle of flip up sunglass popularity was probably during the '90s, when high-octane baseball superstars like Sammy Sosa, Jose Canseco, Ken Caminiti and Jeff Bagwell rocked flip ups while blasting scuds into bleachers jammed with legions of frenzied fans. The scene was so cool it was untrue. Uniform top bulging at the buttons, stretched over lathered, grapefruit-sized biceps pulsating with gummi worm veins? Check. Aggressive trailer park goatee? Check. Babes and bombs? Check and check. Hotties and homers? Dime pieces and dingers? Rockets and round-trippers? Strumpets and steroids? Strumpets and steroids, check. All systems go.
"Got arrested again last night in the Outback Steakhouse parking lot, this time for setting off fireworks, doing donuts in the Z71, and getting into a fight with the security guards. Smoked a joint with them after we got done. The front office denied the allegations. Showed up at the park 10 minutes late, chugged a Surge to get the blood flowin', went 2-5 with a bomb. Flip-up sunglasses FTW. Hey, you wanna go catch happy hour at Outback?"
Q: When were flip up sunglasses invented?
A: Whenever it was, it was too late. King Midas would have been a hell of a lot cooler if everything he touched turned to gold while he was wearing flip ups. And, if he had them, William Shakespeare might have been able to see that what he was writing was completely incomprehensible. (God bless Bill the Bard but can't we all agree that Romeo and his gang would have looked cooler duking it out with the Capulets in the Verona streets if they were all rocking sick flip ups?)
Internet mining generates these results, "betcha didn't know…" style:
12th-century Chinese court judges wore smoky quartz glasses because they wanted to appear "more impartial" (read: even cooler).
In the 19th century, doctors often prescribed sunglasses for sensitivity to light. But wearing them was seen as a stigma. Why? Light sensitivity is a common symptom of syphilis.
In 1915, player-manager Fred Clarke of the Pittsburgh Pirates filed for the first patent on flip-up sunglasses. Clarke was a bad dude who managed competitive teams and filed multiple patents for various baseball-related inventions.
Q: Are flip up sunglasses in style?
A: Questionable, at least according to the celeb circuit. Conor McGregor, the runner-up for World's Angriest and Most Arrogant Man (behind a guy who also happens to hold the record for Orangest President), rocked a pair of Gucci flip ups in 2019. Elsewhere, Russ Westbrook and Kristen Stewart were photographed in flip ups a few years before that.
But the bucket seems to be filling gradually. Brands continue to offer more fashionable flip up designs, including McGregor's Guccis and various styles of retro flip up sunglasses like these sick quasi-Elton Johns. Round flip up sunglasses like this steampunk-y pair may be the most meteorically popular — at least that's what my research at coworking spaces, oxygen bars, and poetry slams has indicated. (Are poetry slams cool anymore? Somebody please help.)
Sources:
Do Polarized Sunglasses Protect Your Eyes? - Consumer Reports
The Evolution Of Sunglasses - Southwestern Eye Center
Sign Up Now
GET THE VERY BEST OF GEARHUNGRY STRAIGHT TO YOUR INBOX