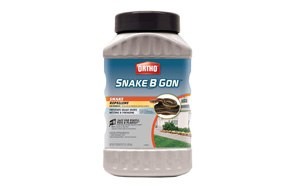 Ortho Snake B Gon Granules (Snake Repellent)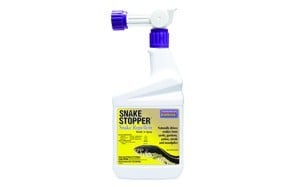 Bonide Products Ready to Spray Snake Repellent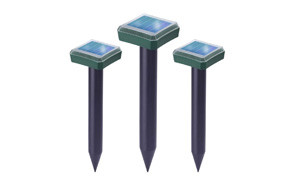 Sealuxe Solar Powered Snake Repellent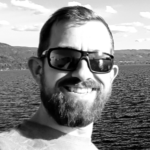 Ever since we were double crossed by that slithery little jackass way back in the Garden of Eden which brought about Original Sin, it's safe to say snakes haven't had the best reputation, and can you blame us? The relationship has been repaired somewhat, and we'd say that humans mostly tolerate them, mainly because they can't use their wicked tongue to rat on us to the Divine anymore but that doesn't mean we want to hang out on them all the time, and that's where the best snake repellent comes in.
Just like Naga of ancient Buddhist and Hindu mythology, Cobra Commander of GI Joe fame, and even hypnotic and weirdly sultry (no? Just us, okay) Kaa that terrorized the little jungle boy Mowgli, snake deterrent solutions feel ingrained within us. Even if they aren't harmless, if we had to choose between a lawn full of snakes and a lawn completely snake free, we'd pick snake-free every time.
Indiana Jones lamented Why did it have to be snakes? Well, we're here today to prove that is doesn't, not all the time, anyway.
The Best Snake Repellent
Snake Repellent Buying Guide & FAQ
How We Chose Our Selection Of Snake Repellents
You may be able to tell we're not crazy about snakes, so this our selection process a little more challenging than usual. Thankfully, we have our tried and tested method to ensure our selection is our best one yet.
Brand - Your first reference for any product, picking top quality brands is crucial, and without this, we risk making our selections obsolete. Through our research, we discovered a range of excellent and reliable brands that we couldn't  help but include to ensure you find the perfect product for you.
Price - We're sure most of you will be willing to pay whatever the price for keeping snakes off your property. However, we know different readers have different needs, and many of you may not need a lifetime's supply of snake repellent. To ensure we don't price anyone out, we looked for a sensible selection of prices that work for areas with a little snake activity to a lot of snake activity.
Reviews - Finally, our favorite and most important resource. Reviews from those who have had the chance to use snake repellent for months and years now give us more information than we could know what to do with. They give us all the details we need regarding effectiveness, scent, and easy of use, and without them, we wouldn't be able to bring you the quality recommendations you deserve.

Features To Look For In Snake Repellents
While we're sure you're excited to get your hands on the finest of snake repellers, check out these essential key features to think about before buying.
Ingredients - Natural snake repellent is all the rage nowadays as it's a more reliable and cruelty-free way to prevent snakes invading your yard. These ingredients include oils and spices, and while they may give your yard a slightly unusual smell, they also cause no harm to snakes or anyone else who comes into contact with them.
Not all repellents contain 100% natural ingredients, so we'd still recommend caution when using them.
Usage - Different types of repellent offer different ways to use it, and it will depend on your situation and how to prefer to distribute the repellent. Take your pick from sprays, spreading granules, or sound and vibration types and decide which one is the best for you.
Those with pets, kids, or homegrown vegetables may want to minimize potential hazards, whereas those with smaller yards might not want to invest in sound repellents as they often cost more.
Reliability - There's no use in buying a repellent that isn't reliable, but you never know how reliable something is until you buy it. This gives you quite the conundrum, but there are ways around it. Check reviews discussing effectiveness and also discuss with friends and family who may have used repellent before. From their recommendations, you should get an idea of which repellents you can trust.
Quality - Along the same lines as reliability, quality is always something to think about, but it's such a broad term that it's often difficult to pin down and define. For us, a quality snake repellent does what it says on the tin (or bottle) while also not causing you, your kids, your pets, and your yard or property any harm. If you find the repellent has burned a conspicuous pattern into your grass, you should invest in a new product.

Types Of Snake Repellents
While it'd be great if all snake repellents worked on all snakes, that's just not how life works. With this is mind, you should know about the types of snake repellents available.
Chemicals  - Aside from snake traps, chemical repellents have been used for the longest time. These repellents come in both spray and granule styles and contain naphthalene and sulfur to disperse snakes elsewhere.
With a greater focus on dealing with snakes humanely and to stop causing them harm should they ingest the repellent, you'll also find variations of chemical repellents which use natural ingredients such as cinnamon, caster oil, and peppermint.
Sound - Yes, yes, we know. Snakes don't have ears so they won't hear sounds. We understand this, you're not smarter than us, just hear us out. The ultrasonic repellent works on vibrations, which snakes will feel, and to ensure potential legless intruders don't get used to the vibration pattern, it will vary between different operation lengths.
Sound-based types are useful as there's no risk of pets and kids accidentally eating them, and also not covering your yard in unsightly pellets.
Snake Repellent FAQ
Q: What is snake repellent?
A: As always (or at least most of the time) with this kind of thing, snake repellent is a granule, spray, or even noise which interferes with the snake's Jacobson's organ. This organ is what snakes (and other reptiles) rely on to find fresh air. By blocking the receptors, snake repellent - you guessed it - repels the snakes away from where you've spread the repellent and forces them to find somewhere more inviting.
Q: What is in it?
A: The ingredients of snake repellents varies between brands and types. But all repellents will contain a variation of:
Mothball flakes
Sulfur
Predator urine
Blend of natural ingredients
Ultrasonic sound
Of course, you won't find ultrasonic emitters in the granules. However, you may get a combination of flakes urine, and ultrasonic in snake repellent pegs or similar products. As we mentioned, the ingredients depend on the brand and type of repellent.
Also remember the effectiveness of these ingredients is disputed within the industry, so don't rely on them 100% just because the label tells you to; do some critical thinking, man.
Q: What are the risks of snake repellent?
A: While manufacturers do their best to make snake repellents are safe as they can, it isn't always possible to ensure 100% safety. If you're planning on using snake repellent, it's important to know the risks and potential dangers.
Accidental consumption of chemical repellents
Spreading on homegrown food
Bad smells
Pets and small children ingesting it through curiosity
In particular, naphthalene, an active ingredient in mothballs, may make you ill, and could have even worse effects on your children. If you're concerned about keeping everyone and everything as safe as possible, we advise you to avoid using products with such ingredients.
Q: Do snake repellents work?
A: Yes, but also no. high-quality products will keep snakes away, but as you've seen above, you cannot wholly rely on snake repellent to keep them at bay. Instead, you need to work on making your home as unappealing to snakes as you can. To do this, you can:
Keep the grass short
Avoid watering the lawn and plants
Move bird feeders
Relocate woodpiles
Seal cracks and crevices
Install fencing
Invest in a perch pole
Taking these steps to fully snake-proof your home will make the snake repellent much more effective. Results will vary depending on where you live, but all these measures combined should be enough to eliminate the presence of snakes, so you can enjoy your garden like you've always wanted to.
Sources:
Snake Repellent - Reviews, Ingredients - Snake Removal
Keeping Snakes Away: Advice from a Wildlife Biologist - Field Ecology
Does Snake Repellent Work - AA Animal Control