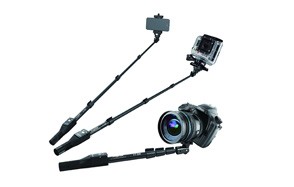 Fugetek FT-568 Professional High End Alloy Selfie Stick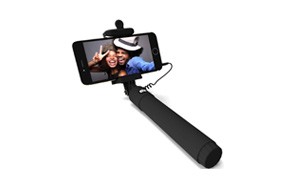 PerfectDay Self-Portrait Monopod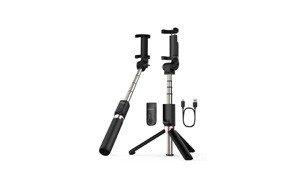 Yoozon Extendable Bluetooth Selfie Stick
We all know that taking photos of a moment is the best way to treasure it and the generation we're currently living in proves that photography, professional or non-professional, has been part of our daily lives. Different types of cameras have been manufactured and introduced in the industry, accommodating people's photography needs. One of the most common picture-taking devices we have is the smartphone.
Like the camera units we all know, smartphones also need some equipment to let you capture the shot you've been wanting. Lenses and stands are available to take your photo-taking to the next level, and since people nowadays love taking photos of themselves, or what's known as "taking selfies", selfie sticks are out in the market.
Selfie sticks are just like monopods, but less expensive. These sticks are specifically designed to be like an extension of the human arm, being used by holding it in arm length to fit the user in the camera's frame. The purpose of this equipment is to help people take shots in different angles and in a farther viewing, allowing them to take not only selfies but also group shots.
Selfie Sticks To Capture Amazing Moments
Having a bunch of the same unit but with a variety of features surely does make the shopping quite hard. So if you're looking to purchase a selfie stick, then you should definitely check this list out. Listed below is a choice list of 9 selfie stick products from different manufacturers, with each having a short summary on what features it offers.
Anker Extendable Wired Handheld Monopod Selfie Stick
See More Reviews

Taking selfies and group shots has never been this easy as this battery-free selfie stick allows you to capture the best moments by just plugging its cable to your phone's headphones jack and pressing the button on the stick's handle. Strike a pose and get on with the photo-taking as this stick doesn't have to be paired with a Bluetooth device nor does it have to be charged.
This selfie stick is 32 inches in length, providing you a variety of angle choices when shooting. It also observes a compact design such that the stick fits right in your pocket, with it measuring about 7 inches when retracted. The unit is compatible with any iPhone and Android devices and comes with a wrist strap, a welcome guide, and an 18-month warranty.
Specification:
Brand

Anker

Model

AK-A71600J1

Weight

5.6 ounces
MPOW Bluetooth Selfie Stick
See More Reviews

This selfie stick brings you convenience as it can be operated through Bluetooth. It comes with a battery-powered remote control, which you pair with your phone. You can capture photos in different angles from a farther view (great when you're in a crowded place) as its maximum length extends up to 31.5 inches, plus the selfie stick's phone holder is adjustable for up to 270 degrees.
Despite of its maximum length, travelling with this is not a problem as this stick can be retracted into 7.1 inches. It's foldable and highly portable that you can fit it in your pocket or in your bag without getting bulky. MPOW backs this unit with an 18-month warranty and a money back guarantee of 45 days.
Specification:
Brand

Mpow

Model

MBT8L-PS-3

Weight

5.6 ounces
Fugetek FT-568 Professional High End Alloy Selfie Stick
See More Reviews

See More Reviews



This selfie stick unit consists of 2 phone mounts: the screw mount and the spring mount. The screw phone mount can extend its length up to 4.2 inches and highly prevents your phone from slipping or dropping. The spring phone mount has an additional mirror attachment for your rear camera and fits a large phone, even one that has a thick case. The stick can be extended to a steady 49 inch long that easily makes your selfie look like it's been taken by a professional from a far view. The unit is made of durable material, ending with a strong-grip handle that's made of rubber material.
The selfie stick operates via Bluetooth and comes with a small remote control. The remote has a full battery life of 300 hours standby. It's strongly recommended that you use the provided cable for charging the Bluetooth remote.
An important note: this stick may be incompatible with camera other than iOS and new version of Android from 4.3 and beyond.
Specification:
Brand

Fugetek

Model

FT-568

Weight

9 ounces
PerfectDay Self-Portrait Monopod
See More Reviews

Aside from its incredibly low price, this selfie stick is up in the market and is compatible with most Android and Apple devices. It can be extended for up to 3.5 feet and makes taking photos feel like a breeze. You just have to plug the stick's cable on your phone, clamp it in its mount, extend it to your desired angle and press the built-in button on the stick's handle to capture.
This unit is also designed to be very portable that it can easily fit right in your pocket or in your bag without making a bulky mess inside.
Specification:
Brand

PerfectDay

Model

2D-G5ES-KXSN

Weight

4 ounces
Kungfuren Bluetooth Selfie Stick
See More Reviews

This selfie stick will let you enjoy easy capturing the greatest moments with its Bluetooth feature. The stick comes with a 95 mAh battery with Seiko PCB protection, which is more than what most Bluetooth selfie sticks in the market use. The shooting process is very simple as you just have to pair the stick with your device and snap.
The phone mount can be adjusted up to 270 degrees to accommodate you with the best shooting angles for your photo. In addition to this, the selfie stick itself measures up to 31.8 inches when extended to its maximum length. This way, you can either choose to shoot from a short view for more intimate shots while you can shoot from a father view to show more people or scenery behind you.
Despite its maximum length, it's still observes a light and compact design so you can fit the stick in your pocket with less hassle. Its phone holder is also widely compatible with any device just as long as it's up to 3.25 inches wide. The unit comes with an extra wrist strap for a guaranteed safety.
Specification:
Brand

kungfuren

Model

ks36 Black

Weight

4.6 ounces
Wotmic Wireless Bluetooth Selfie Stick
See More Reviews

See More Reviews



To start with, this selfie stick is designed to last longer than competing units. It's constructed with Aluminium Alloy material that strongly guarantees durability and stability. The phone holder is constructed with silicone that prevents your phone from slipping or dropping while in use. Sure enough, the clip is specially designed to secure your phone while being clamped to it.
This Bluetooth selfie stick provides you an easy way to take photos of professional quality even when you're in the middle of a crowd. The stick extends up to 38 inches in length, allowing you to use wide shooting angles for incredible selfie shots with a group or with beautiful scenery. This operate via Bluetooth, therefore, using this is very easy. You just have to pair your device with the stick, strike a pose and then capture. Its pairing system is compatible iOS and most Android devices.
Specification:
Brand

Wotmic

Model

BT-4

Weight

10.6 ounces
USTEK Extension-Type Chargeable Bluetooth Selfie Stick
See More Reviews

See More Reviews


The USTEK Bluetooth selfie stick features a maximum length of 11.9 inches when extended, allowing you to capture photos from a farther view, therefore, letting you capture the most amazing shots. The stick comes with an 80mAh rechargeable battery that's available for use for about 3 hours while taking only 1 hour to be fully charged and is charged via Micro USB cable.
The stick provides a keypad for Shutter, Zoom in, Zoom out and Power Switch. This allows you to easily navigate with you selfie stick. The unit also features an Anti-slipping design to prevent your device from slipping or dropping while you're in the middle of taking a photo. It's operated through Bluetooth so just pair it with your smartphone and you can go straight to capture. No need to worry about incompatibility as it's compatible with most Android and Apple devices.
The package consists of the selfie stick, a portable bag and a product manual. This is backed by a 3-month warranty.
Specification:
Brand

USTEK

Model

UK-00B003071A-BA

Weight

9.6 ounces
Smaart Mini Wired Selfie Stick
See More Reviews

This selfie stick features an incredibly portable size of 5 inches to be your companion during parties, events and travels. It uses a cable to be operated so you don't have to connect it to a Bluetooth device nor do you have to charge it as well as it uses an audio cable for the connection. And because that's how this selfie stick works, capturing selfies has never been this quick and easy as all you have to do is to plug it in and snap.
This unit also features a patented adjustable double notch multi-angular pole made from stainless steel, which guarantees maximum protection to your phone from falling while in use, making this outdoor activity friendly.
For compatibility issues, Apple devices such as iPhone 7, 8 and X need the authentic Lightning to Headphone Adapter. Android phones, on the other hand, need camera setting adjustments or the free app, "Open Camera" to get their phones to recognize the selfie stick.
Specification:
Brand

smaart

Model

100010015

Weight

3.04 ounces
Yoozon Extendable Bluetooth Selfie Stick
See More Reviews

Last but not the least, the Yoozon Extendable Bluetooth Selfie Stick is specifically designed to provide you a selfie stick that's lighter in weight and much portable than other monopod devices. With its rechargeable Bluetooth remote control, you can capture the best shots with this stick. Adding to this feature is the maximum extendable length of up to 28.7 inches to provide you a variety of shooting angles. The phone holder can also do a 360 degree rotation to accommodate your shooting needs.
This unit is backed by an 18-month warranty by the manufacturer.
Specification:
Brand

Yoozon

Model

YZ- selfie001

Weight

15.2 ounces
Buying Guide
Q: How Many Types Of Selfie Sticks Are There?
A: Generally, there are 3 types of selfie sticks available in the market today: the Bluetooth, manual and cabled selfie stick.

Bluetooth Selfie Stick
This type of selfie stick may be considered as the easiest one to use as it operates via Bluetooth. This either comes with a small remote or a built-in button on the handle of the stick; which you have to pair with your device. All you have to do is to clip your phone on the holder, pair the Bluetooth devices, and just press to take the photo.
Manual Selfie Stick
This one is the opposite of the first type as using this stick is a bit harder. The stick works manually, which means, the process of taking photos with this consists of you setting a camera timer and tapping on it every time you're capturing a shot.
So using this, you have to clamp your phone on its phone holder, making sure that camera timer is on, and tap on the button on your phone and strike a pose while you wait for the timer to go off.
Cabled Selfie Stick
This selfie stick comes with a small cable which you plug in your smartphone after you clamp your phone to the holder. You don't have to pair your phone as once you plug the cable in, you're good to go. You just have to press the built-in button on the stick's handle to take a shot.
Q: Do All Selfie Sticks Work With All Types Of Phone?
A: Unfortunately, not all selfie sticks work with all types of phone. There are selfie sticks specifically designed to be compatible with Windows, Apple and Android phones. Some types of this unit can be used with both Android and Apple devices but not with Windows OS ones.
Q: How Do You Use A Selfie Stick?
A: Using a selfie stick is easy to figure out as it only depends on what kind of stick you have. With the Bluetooth selfie stick, you just have to pair your phone with the remote and it's all done; with the manual or standard selfie stick, you have to set a camera timer before you tap your phone to take a photo. Lastly, you just have to plug in the small cable in your phone when you clamp it on the stick's phone holder and then press the built-in button to take your picture.

Conclusion
The article talked about what you need to know about selfie sticks. Different selfie stick units were individually picked and reviewed to give you an idea to of what potential models are worth-checking out for future purchases. Hopefully, this article has been a help to you.