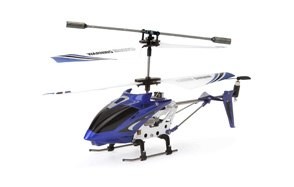 Syma 3 Channel RC Helicopter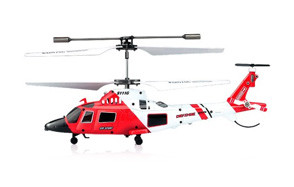 Syma 3.5 Channel RC Helicopter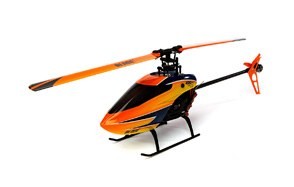 Blade 230 BNF RC Helicopter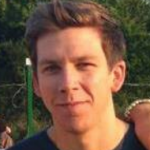 Fun and games are something you and your kids can experience all year round, regardless of the weather. On rainy days, you get to break out the best family board games or take the afternoon (and maybe longer) building challenging but rewarding Marvel Lego sets. You can't spend the whole year cooped up inside, though, and getting out and enjoying the sunshine with the best RC helicopters sounds to us like a sweet way to spend the summer.
Much like their ground-based cousins, a remote control helicopter can be fun for both you and your kids. They're great for some bonding time and also to help you both get into a hobby you otherwise may have bypassed. While sports are cool and exciting, there's more to life than a kick of a ball or swing of a bat.
Modern RC helicopters are not like the remote control vehicles of your youth, either. Now, they boast improved features such as built-in cameras and enhanced craftsmanship to help you get over any fears of flying and instead take to the skies like a pro.
So, as Arnie would say, Get to da Choppa, it's time to take flight.
The Best RC Helicopter
RC Helicopter Buying Guide
How We Chose Our Selection Of RC Helicopters
To ensure we got our selection of the best RC helicopters spot on, we needed to think about these 2 essential factors.
Reviews - RC helicopter reviews were an essential means of helping us figure out which are the top products to pick. While product descriptions and a little practice can give us a decent sign of the quality of a product, we don't have time to test for months on end. Instead, we use reviews to give us an idea of how well (or how not-so-well) these products perform months and even years down the line.
Price - It doesn't matter if you're a newbie or one who's more experienced with RC helicopters. Our mission was to present the best options around, regardless of knowledge, skill, and especially budget. To ensure we made a selection that could appeal to all, we found a wide range of prices so whether you're buying your 1st RC helicopter or your 101st, you will find something that will suit your needs.

Features To Look For In RC Helicopters
Before you make your final decision about which is the best RC helicopter for you and your household or friends, make sure you consider these key features that could sway your choice to something more suitable.
Battery Life and Charge Time - You'll have noticed that the battery life of RC helicopters isn't all that great, and they last somewhere between 6 and 15 minutes. There's little you can do about that, though, so instead of complaining about it, consider where you; 'll fly your helicopter and what you aim to achieve with it.
If you're a novice, you may prefer a longer battery life so you have longer to master your skills, whereas experienced pilots may just want to scratch their flying itch for 6 or 7 minutes before packing it away to charge. This isn't a hard and fast rule, though, and it will be down to your preference.
Some products come with overload protection to increase the battery life and ensure better and more consistent flight for longer.
As for the charge time, you'll find the helicopters charge anywhere between 20 minutes and 40 minutes. For the impatient among us, 40 minutes sounds like a lot, but you also may not trust a 20-minute charge to give you sufficient flight time.
Range - A large transmission range will give you more freedom with your helicopter and allow you to soar higher and travel further. If you fly indoors, the range will be easier to determine as there's less space for it to go, but if flying outside, be careful you don't fly it too far that you'll struggle to get in back.

Weight - It doesn't take an aerospace genius to figure out that a helicopter that's too heavy will struggle to get off the ground, however, more weight isn't always a bad thing, and it can help you maintain a steady hover and stay in place if the wind picks up when using your RC helicopter outside.
Number of Channels - The number of channels affects the directions you can move in. dual channel helicopters can move up and down, whereas 3 channel products will move forward and backward. If you get your hands on a 4 channel helicopter, you'll have complete control over where you go and which way you can move, giving you the most authentic experience possible.
Visibility - Both the color of the helicopter and any LED lights will improve the visibility when flying, especially at night or in areas where your vision could be hindered by surrounding trees. Excellent visibility will help you keep a close eye on your chopper to ensure it stays in range while also preventing it from getting caught against lampshades or stuck in trees.
Quality and Performance - Excellent build quality ensures better durability to provide a more enjoyable and successful flight with little risk of parts damage, and this can also impact the performance. The top-rated RC helicopters will boast lightweight metal construction to provide better reliability should you crash.
As for performance in the air, a decent transmitter is crucial, as is the ability to fly in a variety of conditions. All helicopters will fly indoors, but it's when you get outdoors that problems begin, as if the motor isn't powerful enough (and the helicopter is too light), you'll struggle to battle against the wind and a strong gust can quickly throw you off course.

Parts - While you may have an expert eye and superb control, there's always the chance you'll suffer a crash at some point in your miniature aviation career. This doesn't mean you can't use your RC helicopter any longer, though, and just because you break it doesn't mean it's the end.
Top-quality helicopters have replacement parts easily available online, and some models come with spare parts in the package for the more delicate areas of the helicopter. Before buying, make sure you can find extra parts should your break. We hope you never need to use them, but it's better to be safe and prepared.
Sources: