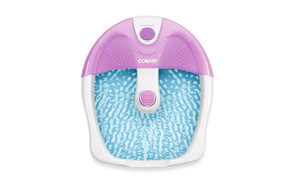 Conair Foot Spa/ Pedicure Spa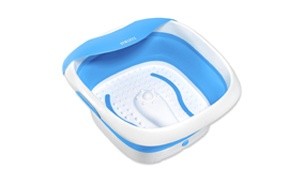 HoMedics Compact Pro Spa Collapsible Foot Bath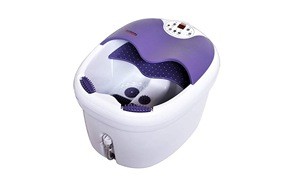 Kendal All-in-One Motorized Foot Spa Bath Massager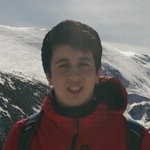 Who says men can't pamper themselves? Well, much fewer than there was a decade ago, but there's still a simmering attitude guys aren't that concerned with self-care. Maybe it's a leftover attitude from the masculinity-compensating mid-nineties to somewhere around 2010, or maybe it's that most dudes don't get yet realize the benefits. The male grooming industry is gaining momentum, with the best anti-aging creams, the best face masks, and the best manicure sets all popular among the modern man. The best foot spa is another option guys are exploring to help give them some much-needed me-time.
A foot soak is perfect for relieving aches, pains, pressure, swelling, and soreness, and the at-home versions mean you need not feel embarrassed visiting somewhere public. Not that you should, anyway. Compact but powerful, relaxing but effective,  a foot spa is what you need after a long day, week, or life on your feet. It's perfect for athletes, construction workers, or just those of you who feel like treating yourself in front of the TV or a night on the Xbox, maybe with one of the manliest cocktails to put you into optimum relaxation mode.
The Best Foot Spa
Foot Spa Buying Guide
Before you decide on the best foot spa for you, check out these important features to make sure you're picking the product you'll get the most from. While some may look better than others at a glance, they may not be ideal for you and your home, so having one last look is essential.
Heating - Nobody enjoys dipping their feet in tepid water, and much of the effect of a foot spa is lost if the water isn't at or around a certain temperature. A heated spa is ideal for the best results, as it warms the water to your desired temperature without you needing to do anything separately.
More advanced foot spas will use Smart Heat Technology, which works to maintain an optimum temperature during your spa session. This prevents you from sitting in water that gradually gets lukewarm and kind of gross, and ensures a successful spa bath to alleviate aches and pains, or simply treat yourself.
Programs - Depending on your experience with foot spas, you may want one with multiple program options to find your favorite mode. While not all spas do this, those that do are popular if you want a variety of options to treat different foot issues.
These programs help you target problem areas through ready-made systems making it easier to get the treatment and results you need. These programs are typically found on the interface hub and can be set with a single push of a button. If you've been advised to purchase a foot spa by a medical professional, they can often give you advice on how long to soak your feet for to fix any problems, too.
Jets - Jets are another popular feature for a water foot massager, but they should be jets which do what's intended. These jets should be powerful enough to provide an additional dimension to your soak, but not too powerful they cause discomfort, which will ruin the whole experience.
That being said, the jets also shouldn't feel like nothing more than two asthmatic worms coughing, and if this is the case with your foot spa, you may as well have just not bothered. Jets won't solve all your foot problems, but when they work, you can't deny how great they can feel, and if you love the jets on your jacuzzi, you'll likely enjoy foot spa jets, too.
Vibration - Vibration massage functions are found across all brands and ranges of foot spas. You can set the intensity of the vibrations to find which one works best for you, but be warned that vibrations that are too strong could cause spillage if the water level is too high.
You can also combine the vibration with other features, such as heat and bubbles to find the perfect treatment for what your feet demand.

Bubbles - A bubble function is perfect for stimulating the reflex zone. Much like full-sized jacuzzis, they also add to the whole relaxation thing you're going for. Bubbles can be combined with a variety of other functions such as heat and vibration to find the optimum treatment for you.
You'll also be able to adapt how intense the bubbles are, which is useful if you're a little more ticklish than the average person. They need not be on all the time either, so if you are ticklish, you won't need to worry about them ruining the whole experience.
Noise level - A foot spa that's too noisy is a fast way to ruin the ambiance you've strived to achieve. While foot spas won't be too noisy by themselves, it's the extra features such as vibrations and other aspects which could affect the noise level.
This may not be a problem for everybody, but if you have wooden floors or live on the second floor, you could cause disruption for both yourself and any neighbors living beneath you. Above all, you want your foot spa to be as relaxing as possible, and too much noise could hinder this.
Cord Length - A power cord is essential for an electric foot spa, but you must find a spa with a cord length that won't make the experience awkward. Longer cord lengths allow for greater portability, allowing you to use your foot spa wherever, although it could cause a trip hazard.
Shorter cords severely limit where you can use your foot spa, and if there's not an outlet close to where you do your relaxing, you may struggle to reach peak treatment. You can always use an extension cord if need be.
The cord should also be protected, as you don't want any splashing water to damage the parts and circuits, which will break the unit and mean you can't get the proper foot spa experience you crave.
Storage - As much as you may want to, you won't use your foot spa every minute of every hour of every day, so it's important to consider where you'll keep it when not in use. Compact foot spas make this easy, and collapsible options are even better for this. If you've got a lot of free space around the house, it should be easy enough to find somewhere to store it, but if not, you risk cluttering the home (something else that could impede your quest for relaxation) and also cause damage to the foot spa if someone trips over it. It would probably harm them, too.
If you have a dedicated 'you-room', it's wise to store it there, but if not, keeping it out of reach of children and anyone who wants to ruin your quest for relaxation and ache-free feet shouldn't be too challenging.
Sources:
How to Choose the Best Home Foot Spa - Relax Those Feet
Top Foot Spa Benefits They Didn't Tell You About - Relax Those Feet