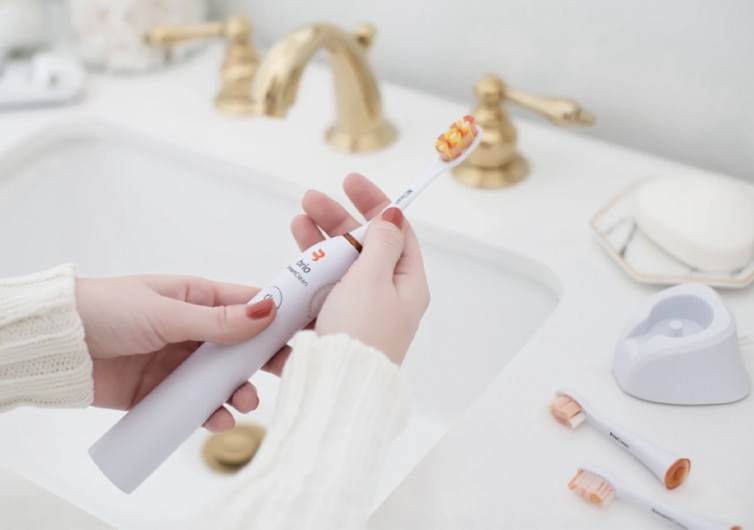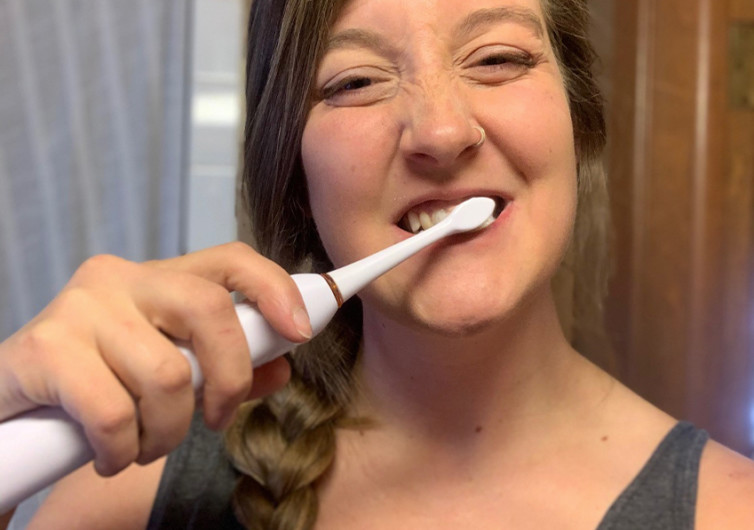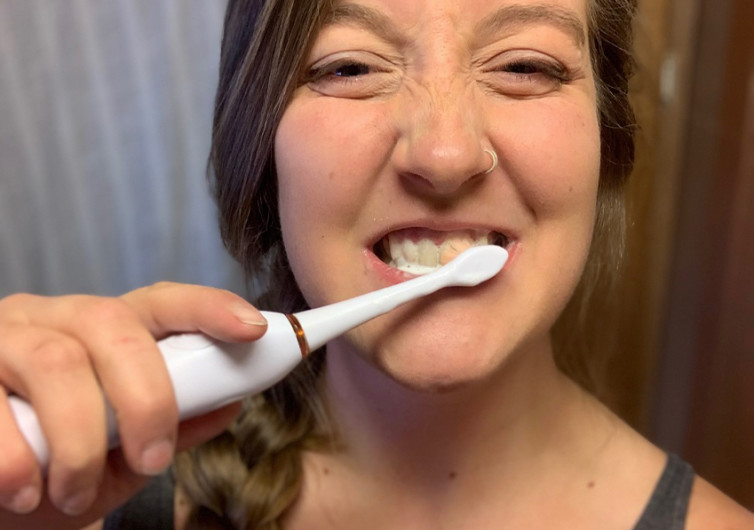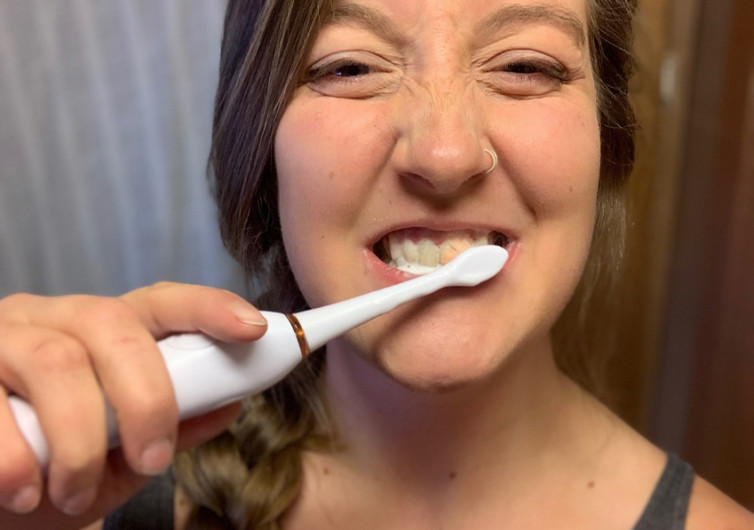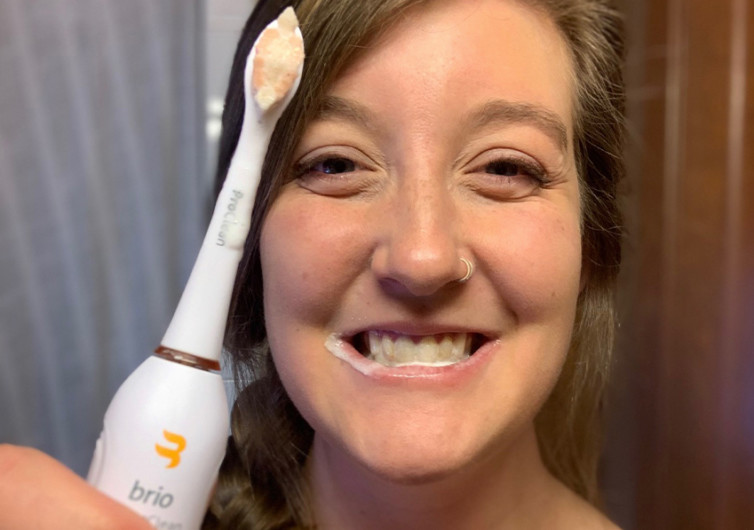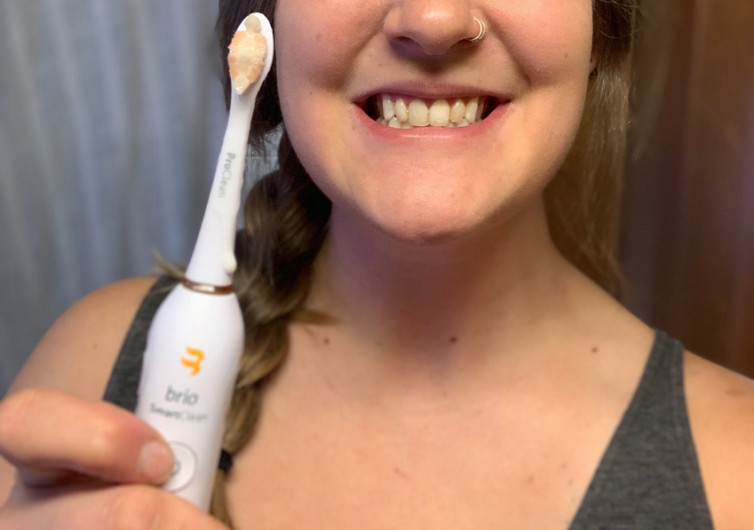 GearHungry may earn a small commission from affiliate links in this article.
Learn more
Brio SmartClean Sonic Toothbrush – Your Personal Dental Hygienist
No one wants to go to the dentist — not even dentists. If you're looking to keep your dental visits to the barest minimum, you need the kind of clean that only a dental hygienist with a Waterpik — or a sonic toothbrush — can provide. Brio solved our dental woes with their ultra-powerful SmartClean Sonic Toothbrush. This electric toothbrush offers 5 different modes, comes with three interchangeable brush heads, and can last for six weeks of brushing without a recharge. (And we're talking three-times-a-day brushing, folks. Dentist-approved kind of tooth care.)
We had an opportunity to test out this mega-brush on a lady who lived in Alaska for three years without a dentist. Needless to say, toothbrushes are important to her. While she has a sensitive mouth and can be picky about her mouth-cleaning machines, she needs a toothbrush that can deep-clean and keep the coffee-stains off her smile without irritating her gums. She found all that with the Brio SmartClean — from the brush head options to the battery life to the easy-to-reference guide included with the toothbrush, Brio brought their A-game for this tester.
The Mechanics
The Brio SmartClean toothbrush uses an optimum 31,000 brush oscillations per minute to get down and get the dirt out. That many oscillations create sonic vibrations that use the fluid in your mouth, creating micro-bubbles. These micro-bubbles, along with the specially-designed bristles, can clean your teeth and gums more effectively than using a manual toothbrush.
Each toothbrush comes with a standard plug and charging stand, which fits easily on your sink. The lithium battery lasts up to six weeks between charging, which we appreciate. (That means you can store the charging stand for a month and a half until you need a recharge again!)
The SmartClean comes with a 2-year warranty if you damage that charging station or the battery needs replacing in your sonic toothbrush. It's available for $69.95 for the whole set!
That Clean Feeling
Each SmartClean toothbrush sports a one-button operation that controls the modes and power. Choose from Clean, White, Polish, Massage, or Sensitive modes to maximize your teeth cleaning time. You'll hear a 30-second zone reminder, as well as a two-minute timer to make sure that you cut short your optimum cleaning time.
It should be noted — if you have a very sensitive mouth or gag reflex, this toothbrush may be too powerful for you. You can certainly feel the sonic vibrations, which can take some getting used to. However, for most people, the vibrations are going to feel pleasantly stimulating rather than overwhelming. The goal of the SmartClean is not to brush aggressively but to powerfully brush with enough gentleness to keep your gums from hurting. The Sensitive feature is the most gentle, while the Massage feature is the most powerful vibration.
The Brush Heads
Three interchangeable brush heads come with the Brio SmartClean electric toothbrush: SmartClean, ProClean, and XClean. You can buy replacements as a one-time option for $12.98 or sign up for a monthly subscription for 15% off. Brio recommends replacing your brush heads every three months, max. You may need to replace them earlier than that if you notice wear on the bristles. If this is the case consistently, you may be brushing too hard, which wears out your bristles faster. Take it easy and let the SmartClean do the job for you—your enamel and your gums will thank you!
SmartClean Brush Head – This is a medium-sized head, which is best for most customers. It's also the original brush head that sports medium-bristles for gentle but strong cleaning.
ProClean Brush Head – This brush head uses DuPont anti-bacterial bristles, which naturally eliminate bacteria from your mouth. The smaller size allows the brush to reach smaller, harder to reach areas, like in between your teeth. Concentrated bristles give you a buzzing clean while still maintaining gentleness on your gums and enamel.
XClean Brush Head – This is the largest brush head of the three. It uses crisscross bristle patterns to clean multiple teeth at once and leaves you with a deep, satisfying clean.