GearHungry may earn a small commission from affiliate links in this article.
Learn more
 Seven Reasons Adult Coloring Books are Good for You
The rise of adult coloring books may inspire some strange looks from people who don't get why an adult would want to color. But as the trend continues to grow and there has been a lot written about the positive benefits it has for your health. It can bring calm to the wave of stress that hits every day. It promotes stillness and mindfulness and can help pull you out of creativity lulls.
Coloring books are not just for kids anymore, so the next time someone gives you a side-eye when they see you with your pencil crayons, remember these seven reasons adult coloring books are great for mental, emotional, and intellectual health. Then tune them out, because that page isn't going to color itself.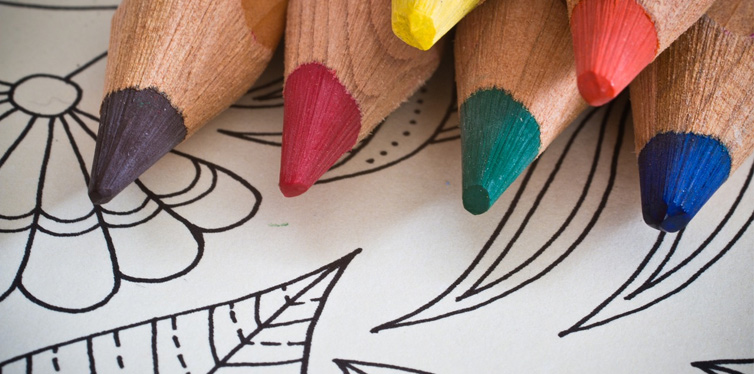 1. Mindfulness
Coloring fires neurotransmitters in both the left and the right sides of the brain. You have probably heard that the left side is responsible for things like science and math, while the right side tends to help us ignite creative sparks. As you use your coloring book, you combine both sides of the brain when deciding on colors, imagining what the final product will look like, and finding a sense of satisfaction in the act of coloring.
Dealing with color choices, palettes, and even selecting which picture you want to fill in is all a process that might seem simple and necessary to the whole process, but it puts you in a position to actually think more about what you are doing. This in itself is a mindfulness tactic that encourages you to consider more about what is happening around you, while at the same time, tuning out whatever is stressing you out.
2. Creativity
If you don't paint, write poetry, or play an instrument, you might consider yourself as being as far from creative and artistic as can possibly be. However, coloring allows you to indulge in the latent creativity that lurks beneath. Selecting colors, imagining the final product, and going against the grain by choosing whacky solutions are all part of the creative process.
You don't have to sketch, paint, compose music, or write poetry to be artistic. Coloring books enable anyone to tap into their artistic side. Even if you think you're completely void of any creative spark, it's still worth trying out.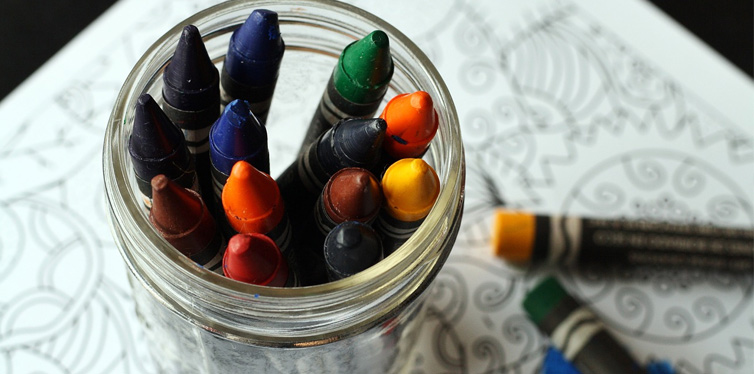 3. Trigger Mitigation
Why did you do that one thing that you probably shouldn't have done and then went on to ruin your day? It was likely because you were bored, stressed, or simply didn't know what to do next. Boredom, along with stress and a total lack of routine or structure, are the top triggers for negative behaviors that interfere with living a successful life.
Adult coloring books can provide a distraction from certain triggers, which allows you to avoid the boredom or ennui that can lead to rash, impulsive decisions. Giving yourself time every day to complete an image in the coloring book, whether it be 10 minutes, 30 minutes, or an hour (hell, even more). Just this small act can give targeted purpose to some of your time and keep those twitching fingers away from negative behavior.
4. Stress Relief
Some coloring books are purely dedicated to relieving stress throughout their pages. There are editions that have worked with art therapists to pick the best and most stress-free illustrations possible. These books are compiled in a way that allows you to pick and choose the subject depending on your mood. The pictures generally consist of peaceful scenes such as mandalas and calming woodland scenes. There are others that include random doodle drawings that allow you to switch your brain off.
Whatever kind of pictures they are, they work towards helping you forget about things that cause stress in your life. Other books feature cartoon characters from our childhood that promote anti-stress as we associate them with a time that we were stress-free (but we'll get to that later). Even though it's a temporary distraction, that distraction can help prevent you from ruminating on stressors and spiraling.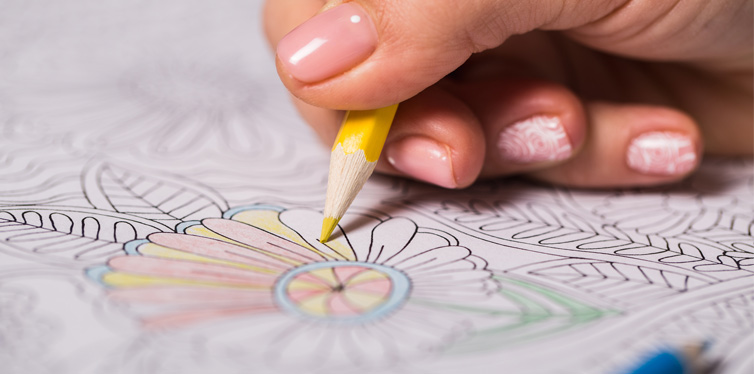 5. Anxiety Reduction
Adult coloring books have proven to be excellent antidotes to helping people battle anxiety and PTSD. The calming act of coloring puts you in a state of contentment and reduces anxiety by calming the amygdala, which controls the fight or flight response that we experience when faced with potential danger.
For those with anxiety, this is something that can occur on a daily basis. By having an outlet to calm and nullify this response, anxiety sufferers will be much more capable of dealing with situations that they perhaps would not be able to in the past.
6. Simplicity
We all remember the simpler times of childhood where we would sit in front of the TV and color to our heart's content. You might not realize when coloring, but your brain associates this all the way back with your childhood, right down to the untied shoelaces, chocolate around the mouth, and embarrassing haircuts you'd rather forget.
If you find yourself often pining for the simplicities of childhood, then simply cracking open your pencil case, opening at a random page, and coloring away may be what you need. Tapping into the "doing something just because you want to" feeling of childhood through coloring gives you that same feeling you did as a kid.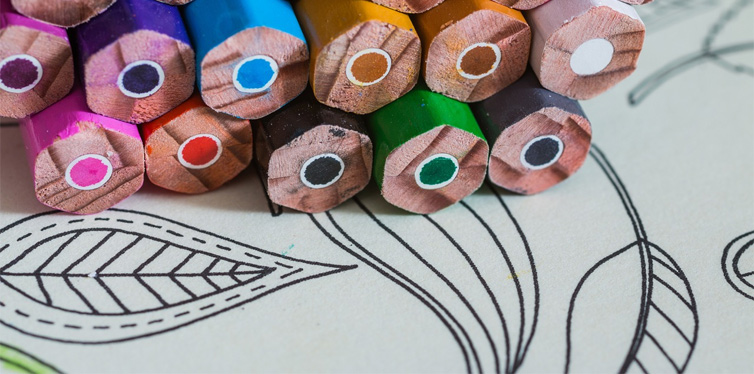 7. Focus and Concentration
Adult coloring books can promote both focus and concentration as you take care to carefully make the picture appealing. Some coloring books contain themes or a storyline that you will only fully understand and get the most out of if see it through to completion. Users seem to find that these types of books provide a further sense of accomplishment.
For some people, this sense of accomplishment through coloring books is the thing they need. Many people suffering from stress and other issues wake up, go to work, and come home, too exhausted to do anything else. The outlet of coloring can improve their mood and, by focusing on the task at hand, makes it difficult for intrusive thoughts to invade your head.
How to Get Into Adult Coloring Books
With all of the options available, it has never been easier to get into adult coloring books. Both Amazon and your local bookstore will no doubt have a wide selection of coloring books for you to choose from. These include mandalas, Nickelodeon characters, horror images, tattoo designs, and cityscapes, to name just a few. There even some hilarious NSFW coloring books for adults, if you need a vulgar laugh or two.
If you are not sure about what you like, then practice with some of the cheaper coloring books available to get an idea of whether or not it is for you. You can buy small books that only feature a few designs for you to try your hand at before graduating to more detailed and in-depth collections.
Everyone has their own interests and needs, so if you find one that catches your eye, pick it up and get to work. Your brain will thank you.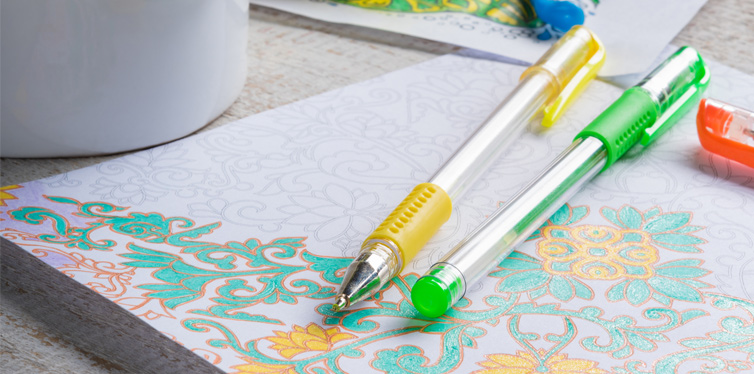 What You Need
As with any artistic venture, you need the right tools to get started. Experienced colorers will have long before invested in special markers, pens, or a mechanical pencil to get the most out of their activity. If you are just starting, however, you can use any colors you have lying around the house. Different books have different qualities of paper, so find out what type of materials work for you.
Other than the materials, you will want a relaxing space to do your coloring. This can be your bedroom, living room, a local cafe, or even the break room at the office. Wherever you choose, it's good to select somewhere that promotes calm and takes you away from the stresses of the day to really get the full effect of the coloring book. So try thinking about your favorite place and use that as a start. It also helps to have a flat surface, too, but resting the book on your knees will do in a pinch.
Sources: