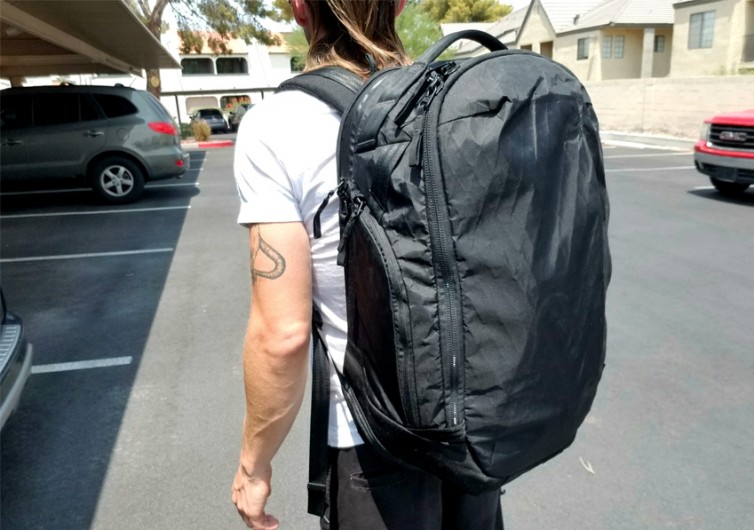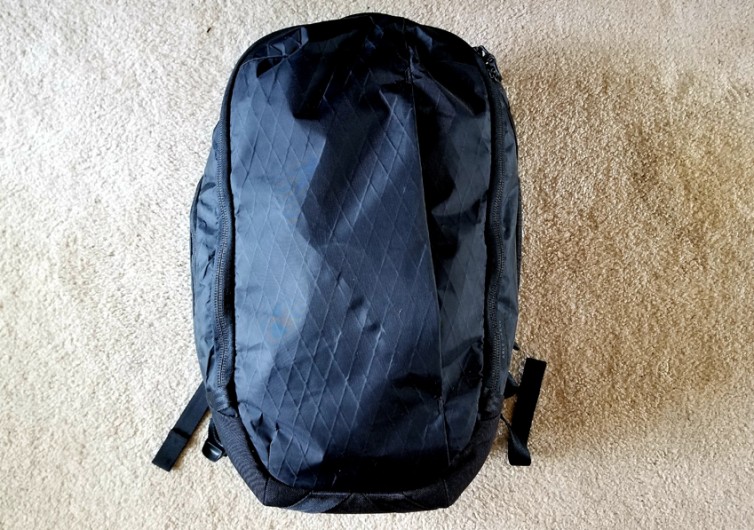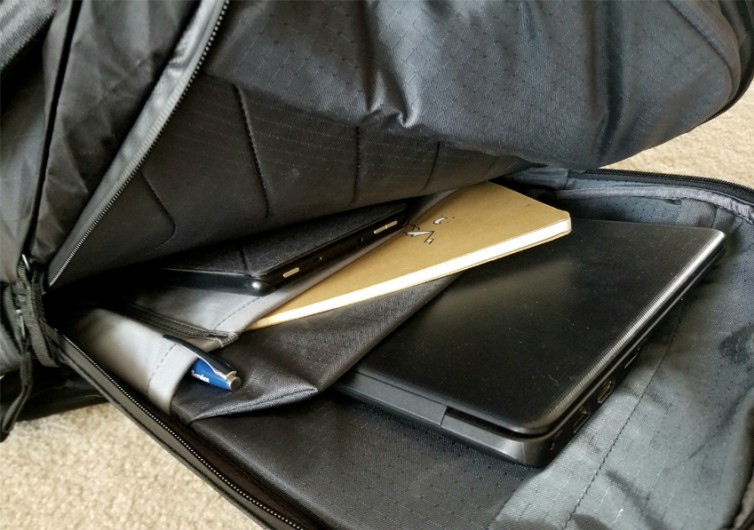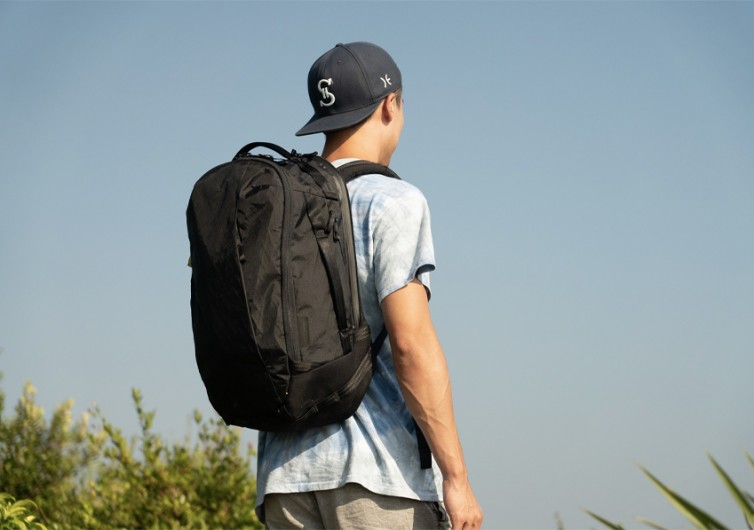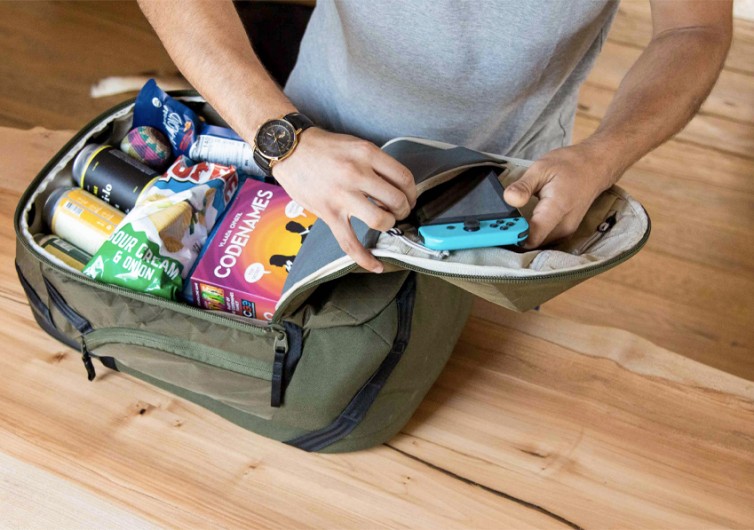 GearHungry may earn a small commission from affiliate links in this article.
Learn more
Disaster Proof: Meet the New Able Carry Max Backpack
The new Able Carry Max Backpack is a powerhouse. The pack builder outfits it for the long haul with 1000D rip-stop construction, heavy-duty zippers, and carry handles everywhere. Inside, 19 pockets help you organize all your essentials, from easy-to-lose EDC paraphernalia to devices up to 17 inches.
(The Max Backpack's full feature list is an article in its own right. For brevity, we focused this article on tested experiences. To see our feature-focused write-up, click here.)
I tested it with remote work, longboard outings, and a week of airport travel that featured an alarming amount of spillage. (Whether or not I habitually drink too much while executing air travel is my business, thank you).
Findings were conclusive: it's in my kit to stay. Its organizational potential was massive, and all elements of its build felt unequivocally solid. The price tag isn't light, but relative newcomer Able Carry looks to have a quality hit with its latest entry. Here's what happened during testing.
Tight Construction: Tested Experiences
The first thing I knew I liked about the Able Carry Max was the low-profile shape. Not only did the materials and construction immediately seem solid, but they also formed a tight clamshell shape — without sharp corners, sagging, or hanging parts. As a keynote, the water bottle pocket does not attach to the exterior; instead, the zipper mounts flush to the pack and the bottle stows inside the main compartment. I thought this would create a storage issue, but instead, it just helped keep the profile tight.
I knew I would appreciate the svelte build while I was doing the airport shuffle, and I did. It never snagged or hung up on anything. Stowing it, according to airline spec, under the seat in front of me was no problem. I could also hang it off chair backs in bars and maintain a low profile, without worrying about it getting in fellow airport imbibers' ways.
Interior Organization: Tested Experiences
The next cool thing was the organization. As a primer, I'm one of those people who organizes everything at the start of a trip and then lets it get trashed right away. But the Able Carry's pocket array kept me on track. With so many specifically-shaped pockets and tight sleeves arranged on constructed surfaces, I was able to assign home spots for most of my stuff and keep it there.
The laptop sleeve was a special bright spot. It's suspended on the rear wall for shock absorption against drops. If I have any complaint at all, it's that the cord/block organizer pocket inside the tech compartment was slightly tight for my purposes. But it was in the right spot — easy to access, just inside the zipper.
Disasters Averted: Gear Testing Gods Trigger the Flood
During the testing period, I took the Able Carry on 2 regional flights. It's my professional opinion that the gods of gear testing caused the massive spills that occurred on each junket. Somehow, I had to put the Max Backpack's liquid resistance to the test; it works in strange ways.
Able Carry coats the pack with a DWR water-resistant coating and adds a water-resistant zipper to the tech compartment. Both were destined to be tested right away. Luxuriating on my outbound flight, headphones on, I suddenly felt my ankles and feet get soaked. What could this be?
Peering ahead, I found that the person in front of me had just dumped what must have been almost a full vodka cranberry into the seat next to her. Most of it had trickled through the seat, onto my shoes, ankles, and backpack.
At first, I was concerned about my electronics. But when I anxiously examined the pack, the coating had in fact shed the liquid. Instead of sulking over a sticky laptop, I offered the woman an understanding smile — no harm, no foul.
On the way back, I happily sipped a bloody Mary between two benign senior citizens reading Christian interest novels. (I have a bad habit of spying on my seat neighbors' literature behavior.) I had just poured up a full glass, when, to my horror, I absent-mindedly dumped the entire thing with the top edge of my own book.
Too ashamed to look at my pious, elderly row companions, I sat there for a baited moment, analyzing the situation. I registered them both shift in their seats; but apparently, my blasphemous spillage had tainted neither them, their crisp chinos nor their orthopedic footwear.
I breathed a sigh of relief and pulled a towel from the Able Carry. It was then that I realized I hadn't thought about it until now. It, like my pants, was covered in bloody Mary — but I never had cause to wonder whether everything inside had survived the flood.
Conclusion: Get the Able Carry Max Backpack If At All Possible
The Able Carry Max Backpack proved to be a potent travel companion. It was comfortable, helped me stay organized, and even protected me from various blunders (committed by myself and others). Cruise to Able Carry's website for more details (MSRP $260).
While you're there, check out the Kickstarter video. It contains a ton of good nuggets I couldn't get to, at risk of keeping us here all night. And I can't be here that long — I've got drinks to make, and they're not gonna spill themselves.