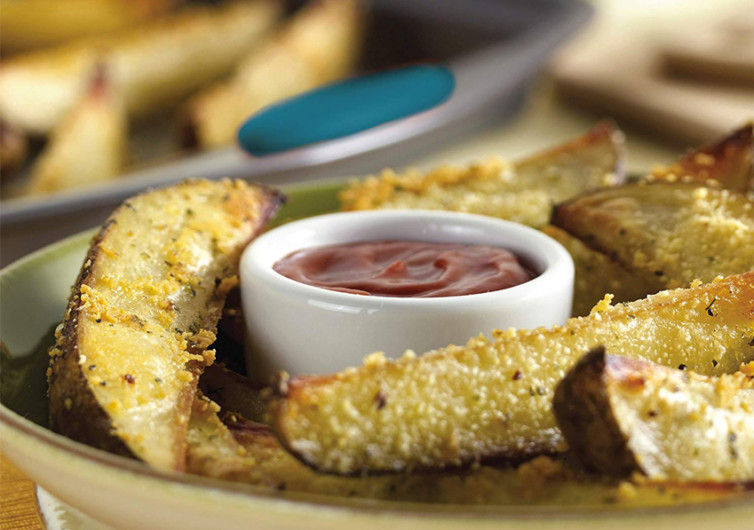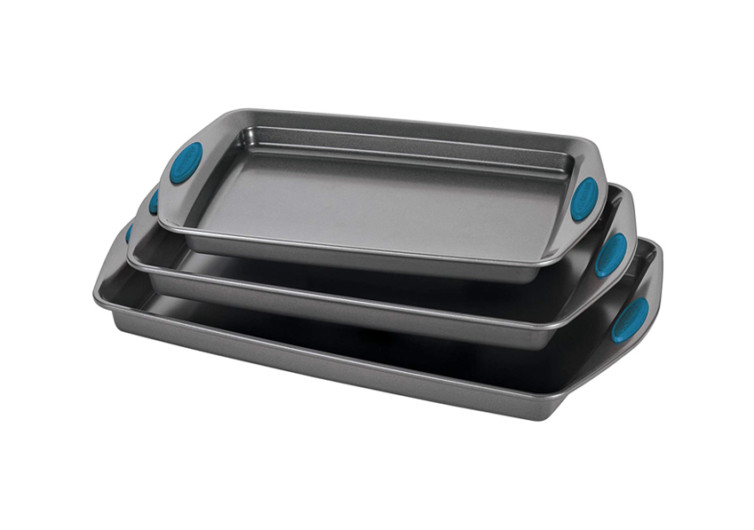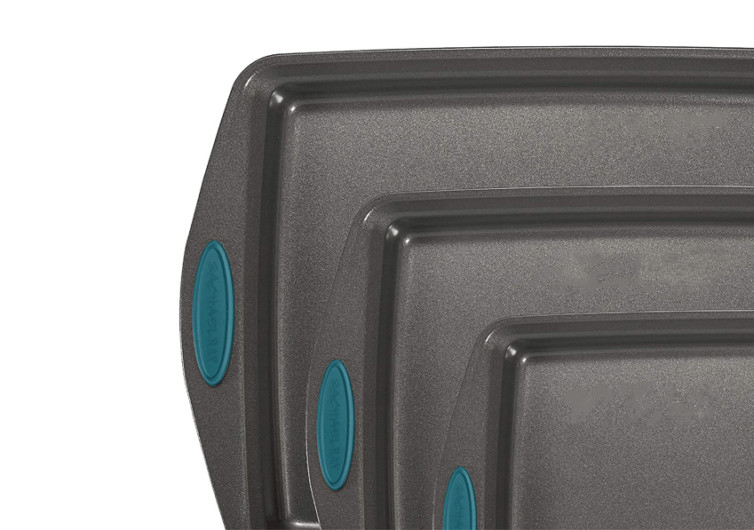 GearHungry may earn a small commission from affiliate links in this article.
Learn more
Rachael Ray 47425 Nonstick Bakeware Set with Grips
The Rachel Ray bakeware set received good ratings for good reasons. The set includes pans that are non-stick, durable, and of various sizes. There is just about one right pan for your baking need in the set. While the greater majority of customers, approximately 80%, is happily satisfied with the product, a few others encountered warping, albeit the pan remains functional.
Baking is a tricky process. You may get the mixture right and perfect the technique, but when the tool, especially the pan, is of substandard quality, your cookies can still turn out disastrous. Having quality non-stick cookie sheets like Rachel Ray's is key to successful baking. The food is easy to take off from the sheets and the sheets themselves are so easy to clean.
For $30, the Rachel Ray bakeware offers customers 3 pans of different sizes, i.e., 9×13, 10×15, and 11×17 inches. These are ideal for both savory and sweet baked goods. You can roast chicken, broil garlic bread, and create cookies all you want.
The pans are made of durable steel that has good resistance to heat. Steel is widely known as poor conductor of heat which makes it ideal cookware material. Unlike aluminum pans, steel pans do not easily warp. But when they do under certain circumstances, the pans, in general, are still functional and usable. There are even easy fixes for slightly warped kitchenware. Also, warping can be due to other factors like overheating, rinsing with cold water while the pans are hot, or the pan size is either too big or too small for the burner. Even expensive pans warp when mishandled.
Lastly, this bakeware has safety design features like the wide, silicon handles that allow firm gripping. Regular bakers often encounter spilling or burning incidents because the manufacturer failed to ergonomically design the handles.
But with Rachel Ray baking pans, these silicon handles are heat safe even up to 500 degrees Fahrenheit. In the rare event that the silicon covers melt, the best solution is to remove them in order to continually use the pans. With thick potholders, wide handle surface area, and steel material, you can still easily pick the pans without burning your skin.