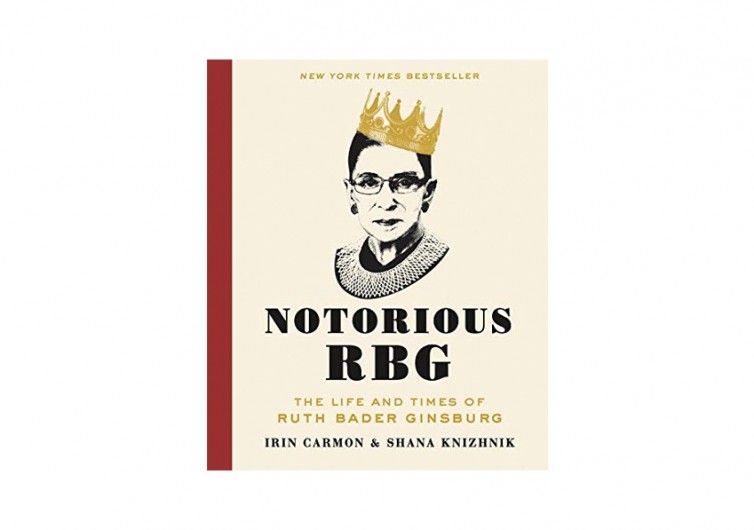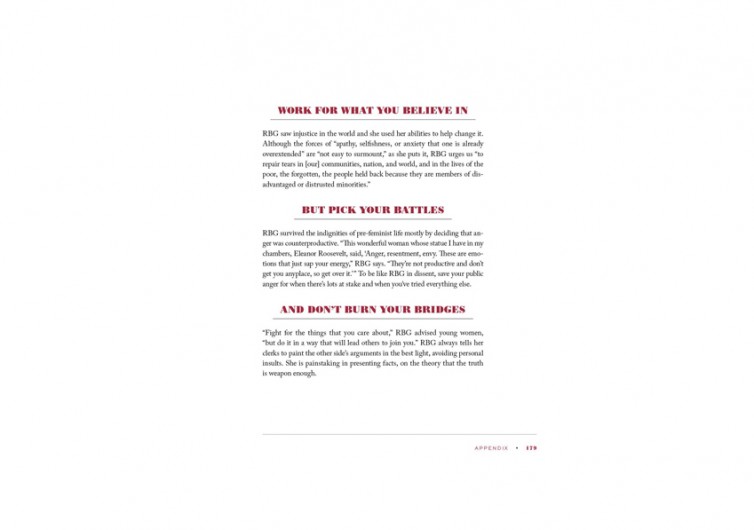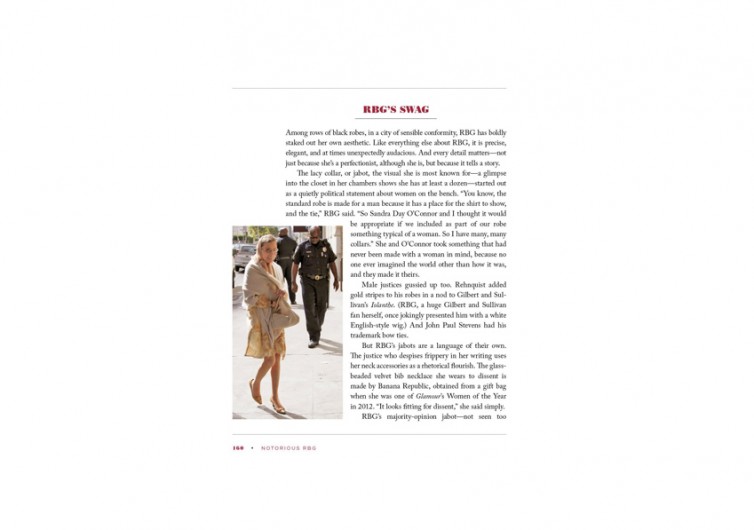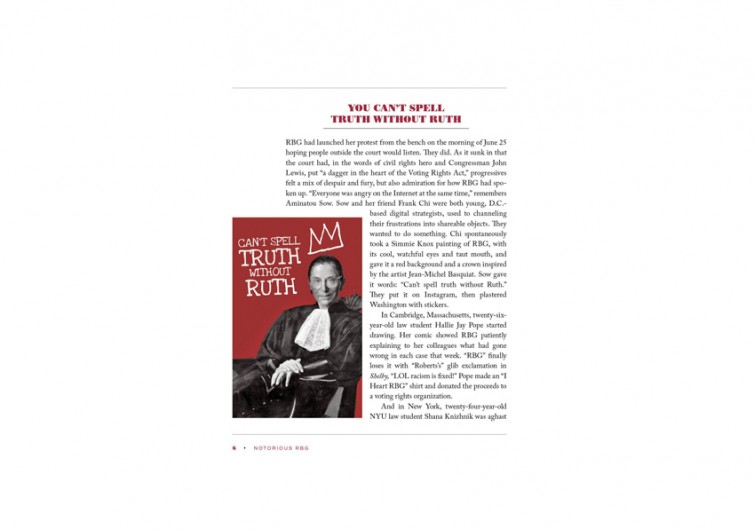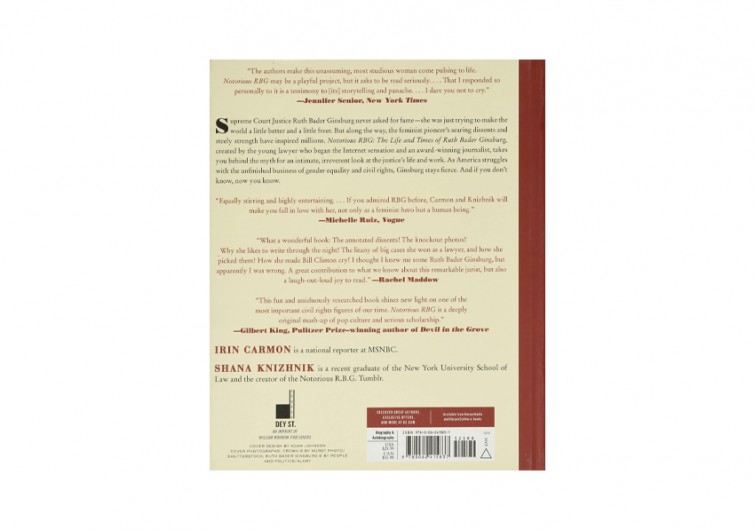 GearHungry may earn a small commission from affiliate links in this article.
Learn more
'Notorious RBG': Biography of a Supreme Court Radical
RBG: freedom fighter, feminist, workhorse. Nerd? Some might say. Legend? Definitely. Former United States Supreme Court Justice Ruth Bader Ginsburg devoted her life to securing constitutional equality. Her landmark legal victories stand testament to her career, which only ended with her recent death at age 87, in September 2020. But you already knew all that. Want to know which of her husband's dinner recipes was her favorite? How about the dirt on her relationships with her colleagues on the bench? Notorious RBG: The Life and Times of Ruth Bader Ginsburg is a solid pickup for RBG geeks and nerds.
Coauthors Irin Carmon and Shana Knizhnik utilize facts to report stories in a method that would have pleased the Justice herself. Along the way, the New York Times Bestseller seethes against injustice and swerves into amusing minutiae. Here's a case-by-case breakdown of Notorious RBG. All rise.
Background: Notorious RBG's Roots
Though Ruth Bader Ginsburg served 27 years on the Supreme Court, starting in 1993, she also lived another 60 before that. A substantial chunk of Notorious RBG chronicles the former Justice's journey to the bench, in which she fights through a legal environment (and, by extension, a world) dominated by men.
The authors stake their editorial claim immediately, bristling against published descriptions of RBG as "'schoolmarmish,'" "the wrong kind of feminist," and "'a dinosaur." They proudly point to her current hero status: "according to the headlines, she no longer talks but 'eviscerates'" injustice wherever she sees it.[1]
Indeed, Notorious RBG backs up the former Justice's feminist roots (and points out that she wasn't always so outspoken).
Carmon and Knizhnik describe a brutally awkward dinner party at Harvard Law School dean Erwin Griswold's house in 1956. It had been 6 years since women had first been admitted to the program, and RBG was a 22-year-old student. Griswold, whose trenchantly regressive behavior efficiently renders him a plot villain, asks his female dinner guests, "how could each of (them) justify taking the place of a man?" Young RBG squirms and ashes her cigarette, visibly wishing it would just end.
The whole text pulsates with toxic patriarchal anecdotes that dotted her life and fight for gender equality — Griswold later worries in a letter to RBG that he's concerned about women and minorities squeezing white men out at Harvard. "The time may come," he frets, "when some consideration will be given to (white males') plight."
Evidence: Nerding Out
We could go on, but you get the gist. Happily, Ginsburg's work speaks for itself, and Notorious RBG makes it readily available. The book includes a profound supply of excerpts from her most significant Judicial dissents — where RBG enjoyed renown for her ideological potency.
The book is also an impressive photo archive. RBG-inspired artwork and political cartoons, childhood portraits, family candids, and even some handwritten and annotated documents (flip to page 214 to see doodles RBG drew while bored at a conference) are generously sprinkled in.
Readers can also utilize a helpful timeline, extensive endnote list, and index.
In the words of the Justice herself: "I would apply the law to the facts of the case to the best of my abilities." Carmon and Knizhnik could have written the book based on that quote alone: in Notorious RBG, the facts do the talking.
For the Court's Consideration: Anecdotal Info
But Notorious RBG isn't all business — that's both good and bad.
Carmon and Knizhnik's chronicle of RBG's family life is sensitive and contextual. From her mother, who drove the value of independence into her at a young age, to her husband, who left his tax law partnership in New York City to support RBG in Washington D.C., the narratives are full of nerd-worthy anecdotes and profound meaning.
The authors' detour into the Justice's workout routine (she could do 20 push-ups at age 82) is both indicative of her tenacity and amusing. Their penetrating exploration of her fashion choices gives her garb radical context.
Notorious RBG can run astray. Because of the book's commitment to factual chronicling, some episodes can feel labored. The graffiti-script Notorious B.I.G. chapter titles are awkward loose ends: nowhere does the narrative seek to draw a parallel between the rapper and the Justice.
The Decision: Buy Notorious RBG: The Life and Times of Ruth Bader Ginsburg
Notorious RBG: The Life and Times of Ruth Bader Ginsburg is a solid purchase for anyone interested in learning more about the iconic Supreme Court Justice. Its fact-driven style pays tribute to RBG's legacy and strives to satisfy the nerdiest scholarly tastes. Buy it on Amazon for $2.99 (Kindle edition) or spend a little more to enjoy the book's eclectic photography in hard copy.
[1] That RBG "eviscerated" opponents actually became a bit of a media frenzy. Links to some results from the first page of Google search "RBG eviscerates":