GearHungry may earn a small commission from affiliate links in this article.
Learn more
Tips For Making An Amazing Brew
For outdoor enthusiasts, it doesn't get better than a cup of freshly brewed, hot coffee. Surrounded by nature, there's really no better way to start the morning. But there's no need to rely on tasteless coffee sachets to kick start the day. These techniques promise to provide a great brew whatever location you find yourself in, from mountain base camps to the middle of the forest. What's more, they won't weight down your pack with heavy coffee machines.
Bring A Hand Grinder
Camping doesn't mean you're reduced to using instant coffee – a fresh brew is still possible simply by bringing whole beans and a camping coffee maker with you. The result? The freshest possible cup of coffee with amazing surroundings. There are a range of different lightweight hand grinders on the market now, meaning you're only a few minutes away from a flavourful beverage.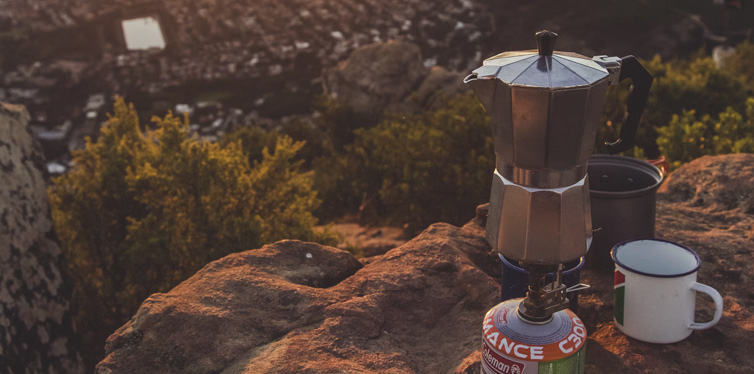 Use An AeroPress
Coffee enthusiasts (gifts for coffee lovers) will love the AeroPress brewing method for an on-the-go cup of coffee. It's incredibly light so it won't weight down your bag and you can make a cup of excellent tasting coffee within minutes, wherever you are. The AeroPress works by pressure-filtering the coffee – you simply add your coffee, top up with hot water, stir and press down for 20 to 30 seconds, and you're done. This amazing piece of kit produces an espresso-like coffee that tastes like it was produced by a professional barista.
Brew It Cowboy-Style
Spending time in the great outdoors will have you wanting to live the cowboy lifestyle full time, and when it comes to making coffee, you can be one step closer to living that dream. Cowboy coffee is made fireside and it doesn't require any additional equipment – all you need is a camp stove, or fire, water, ground coffee and a pot to brew it in. To make cowboy-style coffee, you take a pot and put two tablespoons of coffee in and 8 oz. of water. Bring it to the boil, take it off the heat and add a further couple of tablespoons of water to help the coffee settle to the bottom of the pan. Then you can pour yourself a cup of delicious homemade coffee.
Use A Coffee Filter
If you want a lightweight option, this is as light as it gets. All you need is some ground coffee, string and some coffee filters (ensure it's clean!), and you're good to go. When you're ready to brew your coffee, put your desired amount of coffee in the middle of the filter and draw up the edges to create a pouch that you can tie shut with some string (make sure you secure it tightly to stop the coffee grounds escaping). Bring your water to a boil over a camp stove and either drop the bag into the pot or pour the water over the bag in your cup. Leave it to steep for a few minutes and then it's ready to drink.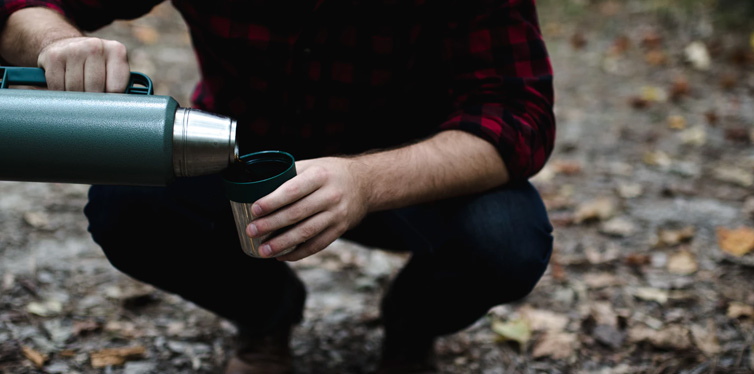 Pour-Over In The Open Air
If you're used to your pour-over coffee in the mornings and simply can't give it up on your camping trip, there is a way. Lightweight and affordable drip coffee makers are easy to find and give you the same effect as if you were brewing it in your own kitchen. If you want to avoid the excess rubbish from reusable coffee filters, you can also purchase a stainless steel filter that you can just rinse and use again for the perfect brew as often as you'd like.