GearHungry may earn a small commission from affiliate links in this article.
Learn more
Different Timepiece Mechanics
Watches are classic timepieces that will never lose their appeal. From wearing them around one's wrist to donning classy front pocket watches, they have told the time for centuries and have been the trusted accessories that most simply cannot live without. If you're a watch novice, however, picking your preferred timepiece from the endless selection of brands and models on the market can be quite the daunting task. While you'll choose a design that pleases your eye and fits your personality, you need to pick a watch that functions to suit your lifestyle, or your niche preferences too.
The first watch was invented way, way, back in the 1700s but the functionality of this timekeeper has certainly evolved over time (no pun intended)! While most watch purchases are based on the exterior design, a man who has an eye for detail will appreciate the mechanism on the inside of a watch.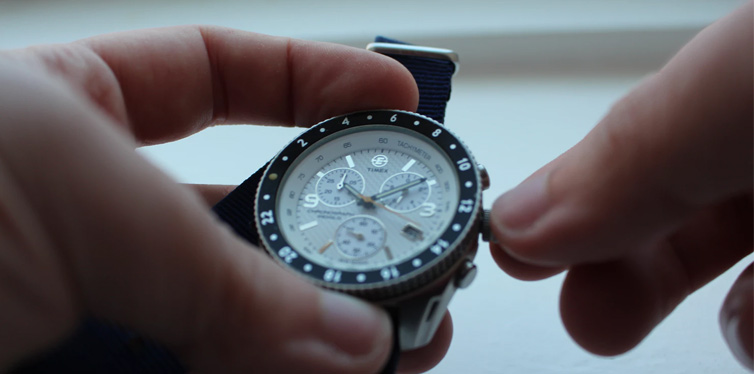 This is when it is important to know a how a watch works "behinds the scenes" and what makes its ticking unique. You get three types of different watch movements or calibres, and each of these calibres depend on mechanisms that drive the hands on a watch face. These mechanisms are what make your watch keep an accurate time and power other features too.
The three types of watch movements to choose from are: Mechanical, Automatic and Quartz
1. Mechanical Watches
Mechanical or manual watches move time through a dynamic construction of springs and rotating gears, which work perfectly together to ensure that the hands of your watch keep ticking. This type of watch is often favoured by more avid watch connoisseurs and is more likely to be kept as a collectors' item than worn for practical daily use.
How Do They Work?
Mechanical watches are driven by a spring, which is called a mainspring. This mainspring needs to be wound periodically to ensure that the watch remains energized.
This is done by turning the stem and crown on the watch (the little knobby usually found on the outer side of the face). When you turn the stem, you trigger the mainspring, which then transfers energy through a number of additional springs and gears, powering the movement of the watch hands and other watch functionalities.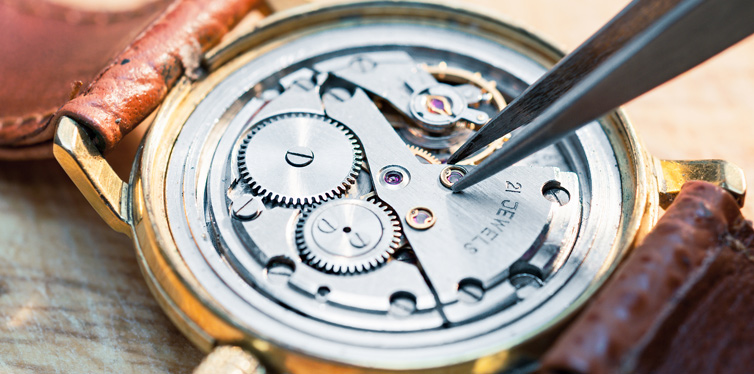 Not all mechanical movements are created the same way and the mechanics are often unique to the engineering of the horologer. The attention to detail and design that goes into the "behind the scenes" of a watch will determine its smoothness and accuracy.
Advantages of Mechanical Movement:
These watches do not need inconvenient battery replacements which usually incur an additional cost.
They are aesthetically pleasing and make beautiful skeleton watches (watches where the mechanical parts are visible).
A mechanical watch that has been well-crafted with the utmost attention to detail has the ability to last a lifetime.
Disadvantages of Mechanical Movement:
A mechanical watch will need to be wound at least once a day, which people often forget to do as "time gets away with them".
They lose their accuracy over time. As the springs are exposed to wear and tear, they don't remain as potent as they used to be and often lose momentum in keeping accurate time. This means that mechanical watches should be sent in for maintenance at least every five years.
Manual watches are quite pricey since they tend to be more custom made and a lot of work goes into the mechanics of the timepiece.
2. Automatic Watches
Often referred to as self-winding watches, automatic timepieces run through the passage of time simply by being worn. Probably the most low-maintenance of the three watch types, they astoundingly keep ticking simply by harnessing kinetic energy from the natural motion of the wearer's wrist. Much like mechanical watches, self-winding watches are usually purchased as an appreciation for history, refinement, and excellent craftsmanship.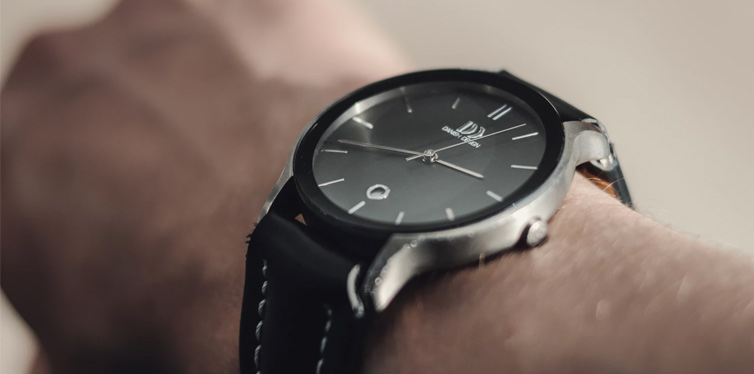 How Do They Work?
The mainspring, which we mentioned under mechanical watches, is automatically wound by way of a rotor. This rotor is a metal weight which rotates within the watch's mechanism freely.
Every time you move your wrist, this motor spins and then transfers this spinning energy to the mainspring, which in turn keeps the timepiece wound.
This means that when you are not wearing the watch, the time stops, which can be a tad inconvenient. A nifty solution to this, however, is watch winders. A watch winder is a device that holds a watch and moves it in a circular pattern, to imitate the movement of a wearer's wrist. This motion activates the self-winding mechanism just like it is activated when worn.
Advantages of Automatic Movement:
There's no manual winding required, you simply carry on with your day.
No need to send the watch in for battery replacements.
They are powerful timepieces and make excellent chronograph watches for men (some even include the different moon phases)!
Disadvantages of Automatic Movement:
You'll need to purchase a watch winder and remember to place your watch onto this device when you are not wearing it.
Like a mechanical watch, it loses accuracy over time unless maintained.
The craftsmanship and engineering of these watches make it a tad more expensive than other calibre watches.
3. Quartz Watches
The more modern make of the lot, Quartz watches are the world's most popular timekeeping technology. The movement of the watch mechanisms relies on the power of one tiny battery, which keeps time on the move without having to wind any mainsprings. Because these watches are more likely to be mass-produced than their more elite counterparts, they are often purchased for their practicality and reliability more than for attention to detailed engineering.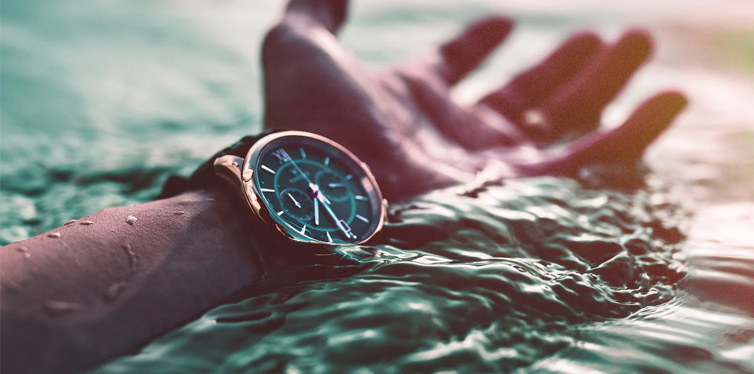 How Do They Work?
The battery of a quartz watch sends electrical signals through a piece of crystal quartz.
This piece of quartz vibrates 32768 times per second. These vibrations create a signal with a meticulous frequency.
The vibrations are measured by a circuit and are converted into a single pulse every second.
The precise and continuous movement of the watch hands is a result of this pulse.
Because quartz watches require electric pulses to ensure that the second-hand moves, they have a distinguished "tick tick tick" movement. This movement is not as smooth as a mechanical or automatic watch, but many find the sound and movement of the hand both soothing and mesmerizing.
Advantages of Quartz Movement:
They keep time more accurately than their mentioned counterparts (if the battery is replaced often, that is).
Quartz watches are generally less expensive and are the most popular watches under $1000.
They are low maintenance as no winding is required, even when the watch is not being worn the hands will continue to tick (that's until the battery depletes, of course).
Disadvantages of Quartz Movement:
The batteries in a Quartz watch will need to be replaced every two years or so and at an additional cost.
The ticking of the watch hands does not move around the face of the timepiece as smoothly as those of the more finely crafted mechanical and automatic makes.
Not as authentic or aesthetically pleasing (a little less romantic) than the more custom calibres.
Choosing The Correct Type Of Watch Movement For You
While most men tend to choose a watch by its design and often it's branding when it comes to practical use having more information about the mechanism and movement of a timepiece will be most helpful. Luxury watch collectors usually have a keen preference for watches with a mechanical or automatic calibre, while quartz watches are preferred by those who depend on their watches to remain accurate and reliable at all times.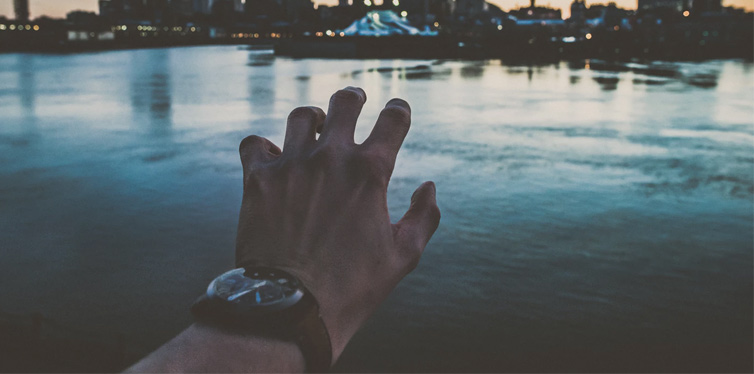 Consider the following key points before determining which type of watch will be your next purchase:
Price – What's your budget like? Mechanical and automatic watches tend to be more expensive than Quartz models, so the if price is of concern, perhaps a battery-operated timepiece is what you should settle on.
Functionality – Do you want your watch to keep more than just time? Some watches feature calendars too, which might come as a helpful reminder for the very forgetful types.
Durability – Quartz watches have fewer bits and bobs that make up the mechanics, so they are less likely to break or need repairs.
Intention – Are you looking for a watch to help you keep track of the time, or are you a time aficionado who collects watches more for a prestige collection than to be worn on an average day?
From leather bands and straps made from silver and gold to faces of all shapes and sizes, deciding on a watch, whether it be for you or as a gift for a loved one, can be a daunting task. There really are so many makes, models, and designs to choose from. But now that you have the mechanics in your back pocket, the decision's going to be just a tad simpler. Don't you think?
Sources:
What Is a Skeleton Watch? – Wikipedia
History Of The Quartz Watch – Wikipedia