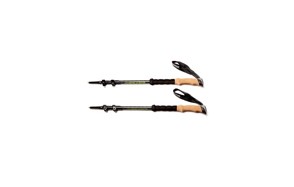 Hiker Hunger Carbon Fiber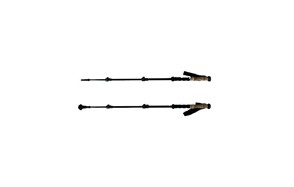 Montem Extra-Durable Tip Protectors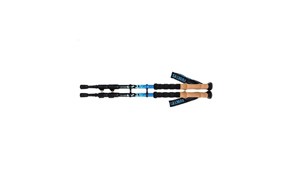 Evocrest Carbon Fiber
The use of trekking poles has dramatically increased over the past 10 -15 years. While some of that can be attributed to the increasing number of older backpackers the majority of it has been driven by young hikers looking for better ways to transport their heavy packs from peak to peak and camp to camp. What they've discovered is that by using hiking poles part of the load can be transferred from their walking shoes to their arms which makes uphill climbing easier, cross country trekking more enjoyable and downhill climbing safer and less punishing on the quads, hips, knees and ankles. Still, there are plenty of outdoor types who are only now coming around to the idea that trekking poles may have something to offer them but they don't know much about the subject. That's what we're here for.
Our Top Picks Of The Best Trekking Poles
Below we're going to review the 10 best trekking poles on the market today as selected by our product review experts. Let's begin.
1. Hiker Hunger Carbon Fiber
See More Reviews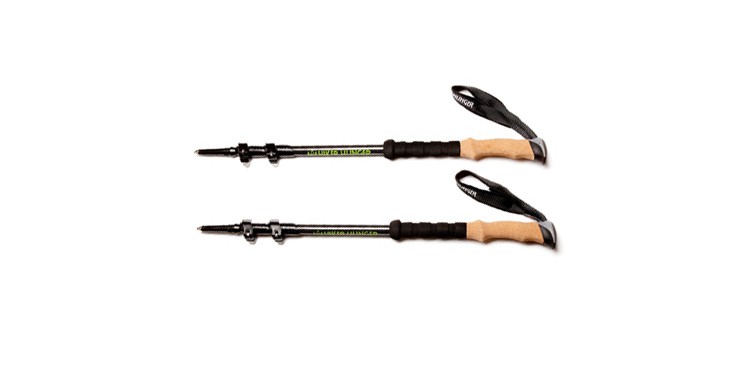 The Hiker Hunger Carbon Fiber Trekking Poles are designed to work on any terrain whether you're snowshoeing, hiking, mountaineering or just going for a nature walk in the local state park. The Hiker Hunger hiking poles take their lead from the legs of camera tripods that are typically sectional with each section sliding out to your preferred distance and then locking in place. It's a great idea and it works here to perfection. These carbon fiber trekking poles feature rugged tungsten carbide tips with tip protectors and durable trekking baskets that promote stability and prevent your poles from being lost in deep, soft ground.
Specification:
Brand

Hiker Hunger

Model

7.6 oz per pole
See More Reviews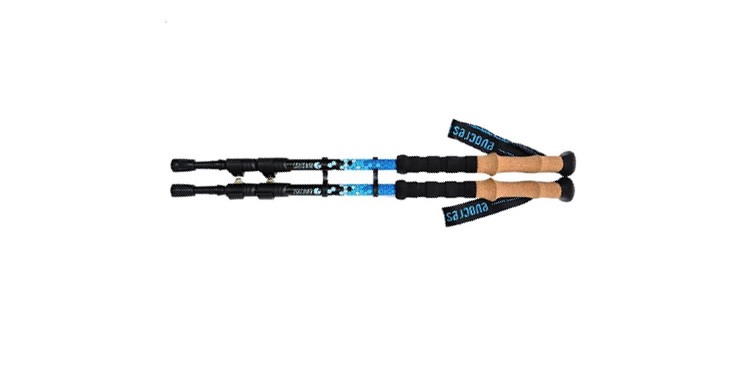 Carbon fiber allows the Evocrest trekking poles to bend when they need to, support you when they have to and adjust to any terrain in a way that relieves pressure on your joints and leg muscles. They feature a cork handle that wicks away rain and perspiration, allows you to maintain a solid grip and conforms to the natural contours of your hand for more ergonomically efficient performance. Like many hiking poles today they feature telescoping shafts that can be quickly and easily expanded or contracted as much as 30". As such they'll work just as good for a full grown adult as they will for a preteen.
Specification:
Brand

Evocrest

Model

B072BLF6Q9

Weight

1.6 p
3. Montem Extra-Durable Tip Protectors
See More Reviews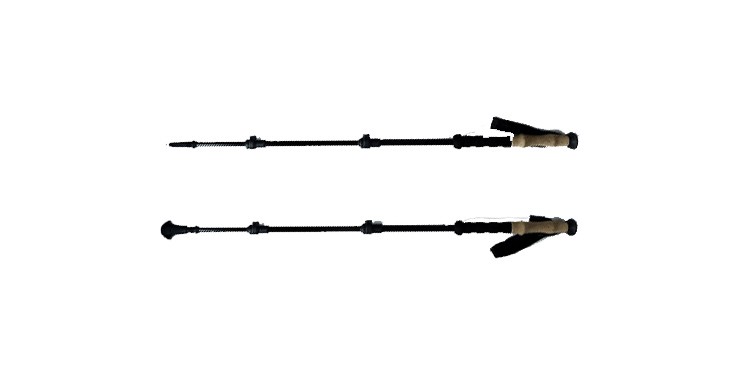 In the normal course of using your trekking poles there's always the danger that you're going to break a tip. To help prevent that unhappy occurrence Montem provides these extremely durable rubber tip protectors. The high quality rubber absorbs the shocks that would otherwise cause tip failure on your hiking poles allowing you to continue with your hike without interruption. They're a great idea that fit most popular brands of trekking poles including but not limited to BAFX, Hiker Hunger, Denali, Trek Pro, Vorosy, Black Diamond and of course their own Montem poles.
Specification:
Brand

Montem

Model

B01IPVRY2C

Weight

2.4 oz
See More Reviews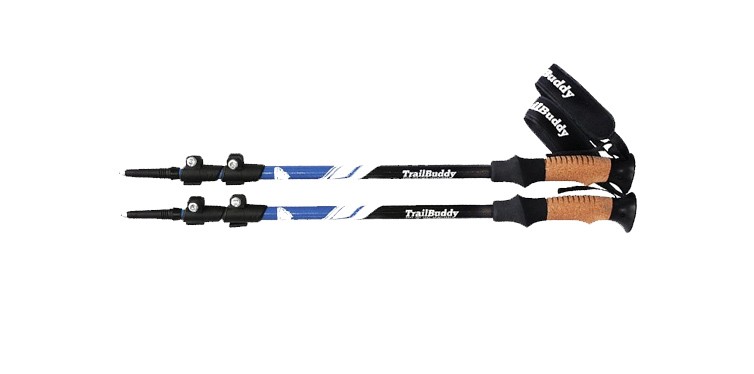 TrailBuddy utilizes the incredible strength to density ratio and light weight of 7075 aluminum in these poles. As a result TrailBuddy trekking poles are uber-reliable. Whereas carbon fiber might fail if you bear down on them too hard in a tough spot the TrailBuddy poles will stand up to the strain no matter how great. The kind of confidence that provides when you're carrying a huge weight over complex terrain can't be overstated. So if you're the type that enjoys long treks into the wild you should give serious consideration to these tough as nails, lightweight walking poles from TrailBuddy.
Specification:
Brand

TrailBuddy

Model

B01N46UYTL

Weight

1.6 p
See More Reviews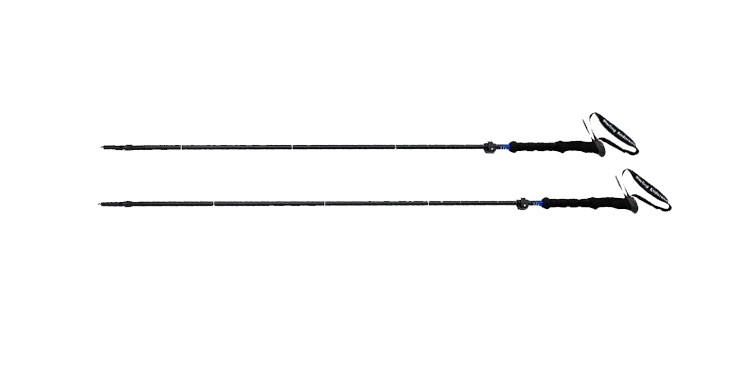 Sterling Endurance Hiking Poles/Walking Sticks are some of the lightest on the market but don't let that fool you. They're made of the same 7075 aluminum as the outstanding TrailBuddy trekking poles reviewed above and as such possess strength far beyond what you might normally expect. They also open in a different manner than the other hiking poles so far reviewed in that they unfold with shock cords inside like those on most modern tents rather than telescoping like tripod legs. The 7075 aluminum is specially treated to prevent corrosion and the contoured handles provide you a sure grip. If ultra-lightweight dependability is your thing you owe it to yourself to consider these hiking poles.
Specification:
Brand

Sterling Endurance

Model

B017QKE8B8

Weight

12.3 oz
6. Sterling Endurance Short Person's
See More Reviews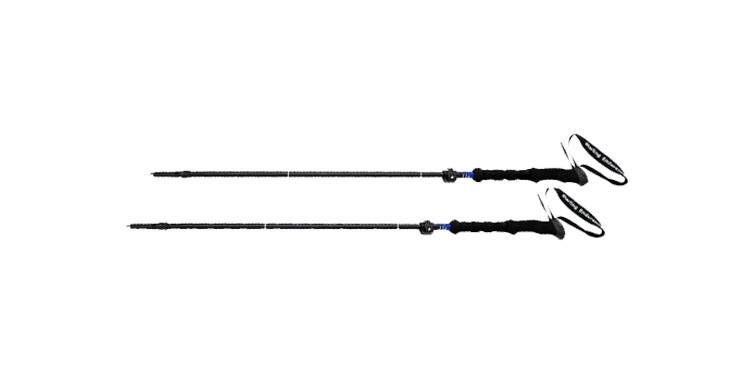 We don't know how much we like the name "Short Person's" trekking poles but we'll put that aside for a minute and just focus on the product. In an overall sense these are excellent hiking poles made from the same 7075 aluminum as the Sterling Endurance Hiking Poles reviewed above and with many of the same design characteristics save for the fact that they're made for, ahem, "short people". The fact is they can handle duress, feature a tough rubber tip protector, have generous baskets to prevent them sinking into snow or mud and sport comfortable, form fitting handles.
Specification:
Brand

Sterling Endurance

Model

B01CGSQZ2A
7. High Trek Premium Ultralight
See More Reviews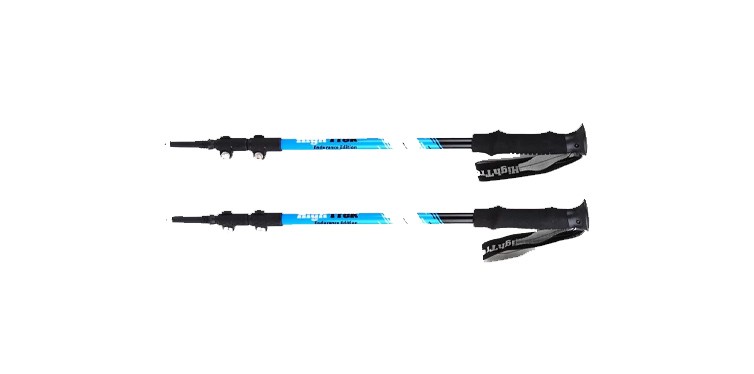 The High Trek Premium Ultralight Trekking Poles are stylish, durable, light, and affordable. They are fabricated using the popular 7075 aircraft grade aluminum which makes them very light and yet extremely tough. If you anticipate leaning into your hiking poles 7075 aluminum is the material you should be seeking. More than one of our experts thought these to be the most attractive trekking poles on our list and we can see where they're coming from. They feature the tripod-like telescoping legs with folding locks and have generous baskets to prevent the tip from sinking too far into mud and snow.
Specification:
Brand

High Trek

Model

B01IAVXTSA

Weight

1.6 p
See More Reviews
The Montem Ultra Strong trekking poles are just as the name implies, ultra-strong pieces of hiking/mountaineering equipment that will provide you that extra margin of safety when you're porting heavy loads through difficult terrain. The aircraft grade aluminum here is employed first and foremost in the service of creating trekking poles that can take a pounding. And that they do. They have a stout profile that leaves no doubt about their mission and yet is still attractive. The telescoping legs quickly adjust to whatever height you need them to be and the extended grips give you a flexibility other poles just can't deliver.
Specification:
Brand

Montem

Model

B01HE513A4

Weight

19.2 oz
See More Reviews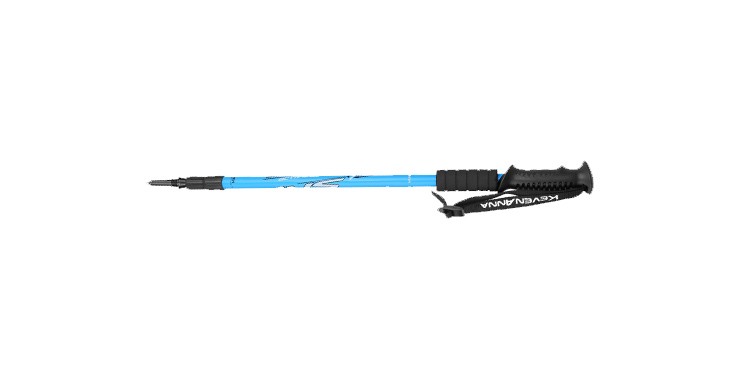 The KevenAnna Trekking Poles are fully adjustable within a 25" range and crafted from tough 7075 aluminum that ensures unyielding performance and long term durability. They have extended handles that provide a wider range of tactical options than most trekking poles and a rubberized tip that gives you a nice firm plant on any surface. They feature an anti-shock spring in their core that absorbs contact energy that would otherwise produce wear and tear on your joints and adjustable nylon wrist straps so you never have to worry about losing a pole down a crevasse or in the hollow of a boulder field. If you're carrying a lot of weight a long distance keep these trekking poles in mind.
Specification:
Brand

KevenAnna

Model

B01ABOZOC8

Weight

12 oz
See More Reviews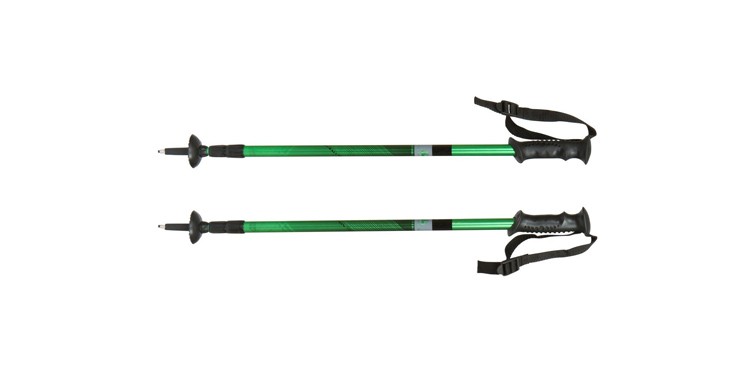 The last set of trekking poles on our list come to us from Denali. These trekking poles bear the closest resemblance to ski poles of any of the walking poles reviewed here but they're much more than that. Each pole telescopes from the bottom enabling you to adjust the height to meet your needs. You can expose the tungsten carbide tip if you're wandering onto ice or cover it with the wide rubber foot for more forgiving surfaces. The poles are made from 7075 aluminum and include the company's own take on the internal dampening spring noted on the KevenAnna trekking poles reviewed above. Beyond all that they're everything you want in a heavy duty trekking pole.
Specification:
Brand

Denali Outdoors Gear

Model

B0156RY2AA

Weight

1.4 p
Buyers Guide
The following are some things you'll want to consider when buying trekking poles.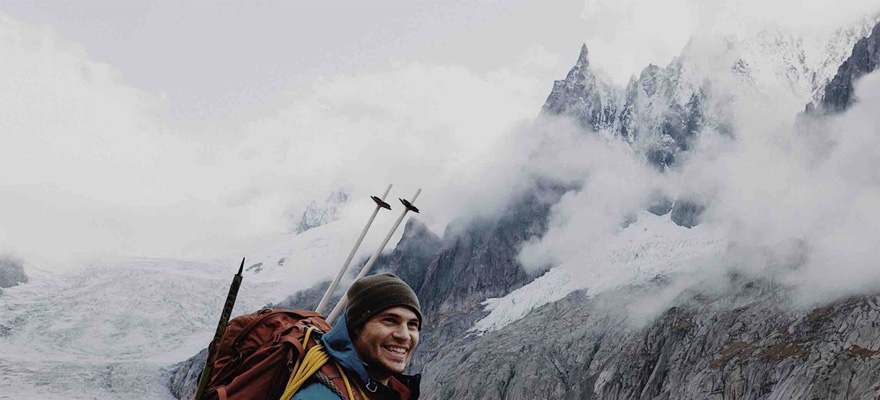 Material - Most trekking poles today are made of either 7075 aircraft grade aluminum or carbon fiber. We should say most good hiking poles are made of these materials because there are certainly enough flimsy poles on the market made of inferior materials that you should avoid like the plague. In general 7075 aluminum is for those who tend to lean into their poles more while carbon fiber is for those who use the pole for minor support and balance.
Weight - The object of trekking poles is to make your hiking experience easier. They can't do that if they weigh a ton. One reason so many walking poles are made from the above materials is that they're both blissfully lightweight, which is what you should be aiming for.
Locking mechanism - As most of the best trekking poles today are length adjustable the way they lock becomes crucial. Most telescoping poles have either a fold-over style lock or a screw lock. Either one will do if they're executed properly. Read what others have to say about the locks on a particular pole before buying it.
Grips - The grips are crucial as they're where the rubber meets the road on walking poles. Both rubber and cork make for excellent grips that allow you to maintain your hold with minimal effort. Cork does perhaps a slightly better job wicking away moisture.
What is the Advantage to Using Trekking Poles? - People who have spent long days hiking with heavy backpacks will attest to the strain this can put on their legs and the joints of the lower body and how that can equate to hiking injuries.  Trekking poles allow you to transfer some of the load to your arms. Spreading the load out this way relieves pressure on your legs and enables you to move faster for longer. It also helps ensure better balance on what would otherwise be tricky terrain.
Conclusion
We hope you found the above reviews of the best hiking poles helpful and that the information assists you in making an informed decision when it comes to selecting trekking poles for your next outdoor adventure. Make sure to stop back regularly for more informative product reviews from the pros at gearhungry.com.