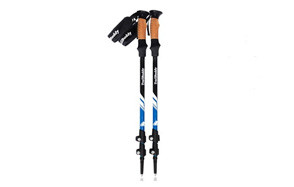 TrailBuddy Trekking Poles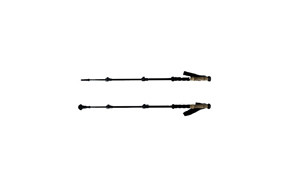 Montem Extra-Durable Tip Protectors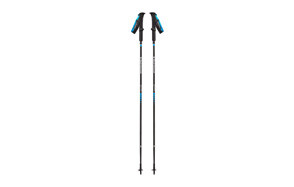 Black Diamond Distance Carbon Z Trekking Poles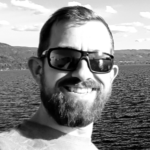 The use of trekking poles has dramatically increased over the past 10 -15 years. While some of that can be attributed to the increasing number of older backpackers the majority of it has been driven by young hikers looking for better ways to transport their heavy packs from peak to peak and camp to camp. What they've discovered is that by using hiking poles part of the load can be transferred from their walking shoes to their arms which makes uphill climbing easier, cross country trekking more enjoyable and downhill climbing safer and less punishing on the quads, hips, knees and ankles. Still, there are plenty of outdoor types who are only now coming around to the idea that trekking poles may have something to offer them but they don't know much about the subject. That's what we're here for.
The Best Trekking Pole
Below we're going to review the 10 best trekking poles on the market today as selected by our product review experts. Let's begin.
Trekking Poles Buyers Guide
The Straps - For every Trekking Pole, the strap is one of the most vital parts of it. The straps reduce the pressure that is channeled to your hands and redirects it to your waist. This makes you have better control and power in your hands to be able to hold onto the poles. This will keep your hand in a relaxed state as it remains on the grip.
Locking Mechanism - Most Trekking Poles have the capacity to adjust its length. By so doing, the locking mechanism holds the pole firmly in your preferred length and further prevents it from sliding. The two common locking mechanisms in use by most trekking poles are twist lock and quick lock mechanisms.
Shock Absorbers - Shock absorbers in trekking Poles reduce the intent of the rigorous feeling across the very unpleasant terrains. Instead of allowing the user to feel and suffer all the unpleasant shocks, the shock absorbers prevent the shocks from getting to the hands of the user. In the most intense shocks, the user may only experience a minimal shock.
Rubber Grips Vs Cork Grips - The stick of a trekking Pole is as important as the grip itself. The grip is what determines whether the pole is a comfortable or unpleasant one. No matter how well designed a trekking Pole is, without a comfortable grip, the user would not be able to conveniently explore and use it to its full potential.

Trekking Poles FAQ
Q: What is a trekking pole?
A: A Trekking Pole is a polelike tool which is used mostly by hikers and climbers to provide assistance and stability in their rhythm across rough and unstable terrain surfaces.
Q: How long should my trekking pole be?
A: Though most of today's trekking poles have an adjustable length feature, the ideal length of a traditional pole should position your elbows at a 90-degree bend. For fixed trekking poles, it should range from 39 inches to 51 inches for height levels of 5 feet to 6 feet on average.
Q: Are trekking poles adjustable?
A: Standard trekking poles came in fixed lengths but most of today's trekking poles have adjustable heights.
Q: How do I use a trekking pole?
A: Trekking poles are used as a pair. You fit your hand and use them as a guide and balancing tool as you move.