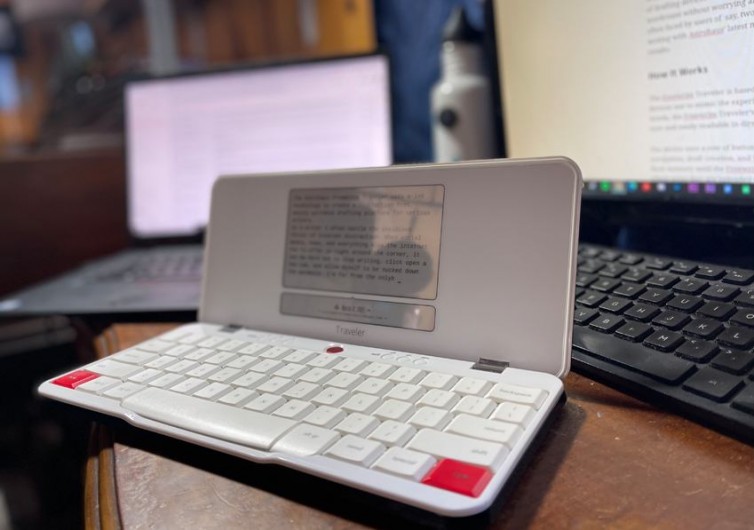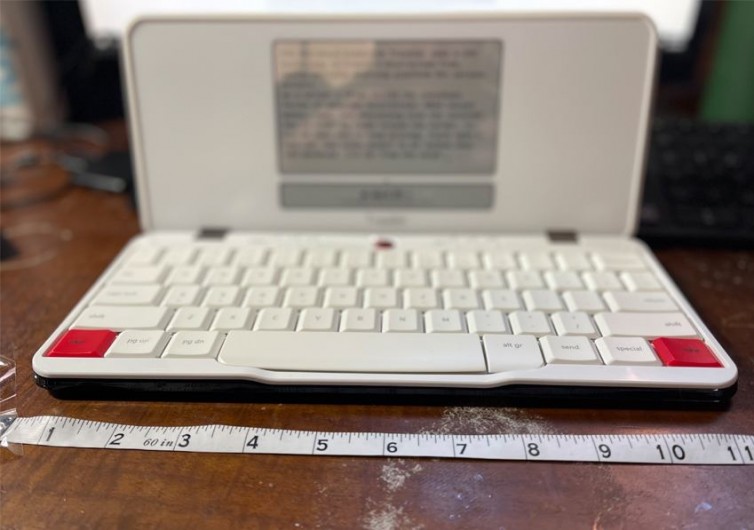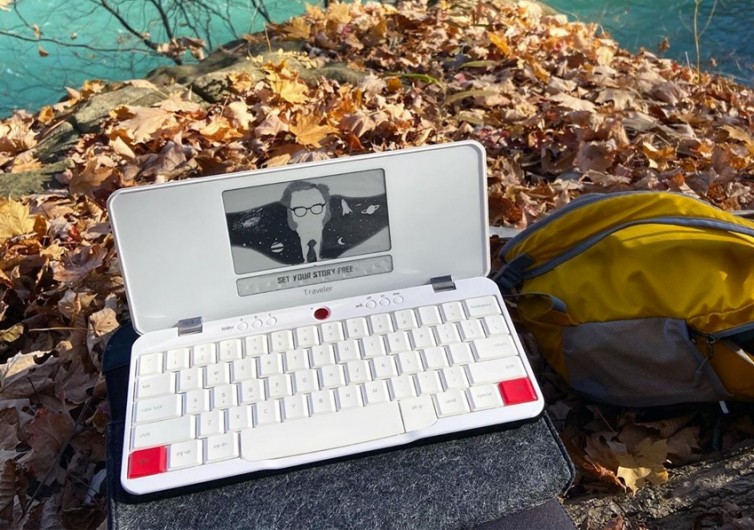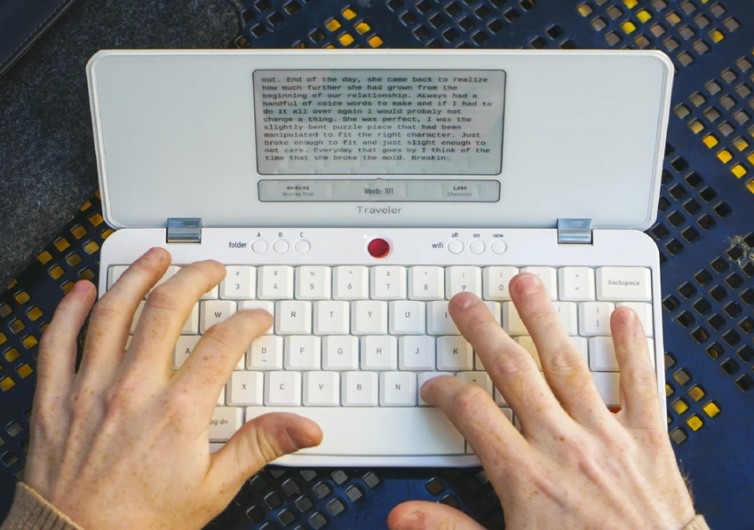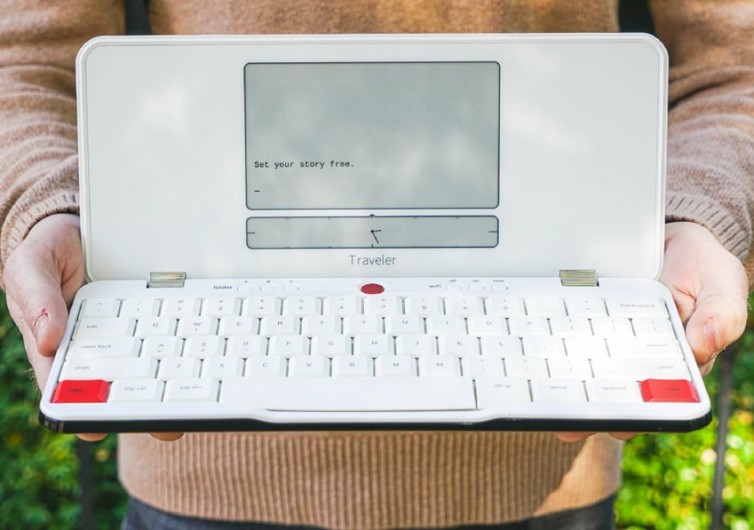 GearHungry may earn a small commission from affiliate links in this article.
Learn more
Astrohaus Freewrite Traveler: Distraction Free Drafts On-the-Go
As a writer, I often battle the insidious forces of internet distraction. When social media, news, and everything else the internet has to offer is right around the corner, it can be hard not to stop writing, click open a new tab, and allow myself to be sucked down the wormhole. I'm far from the only wordsmith to have this problem, which is why Astrohaus has developed a line of drafting devices aimed at professional writers that promise to increase word counts without worrying about distractions and battery life; two problems often faced by users of say, two-in-one convertible laptops. I spent a month writing with Astrohaus's latest model, the Freewrite Traveler. Let's dig into the results.
How It Works
The Freewrite Traveler is based on e-ink technology: the same tech that Kindle devices use to mimic the experience of reading on actual paper. In other words, the Freewrite Traveler's screen isn't backlit, making it both easy on the eyes and easily readable in direct sunlight.
The device uses a row of buttons across the top of the keyboard to facilitate navigation, draft creation, and WiFi connection. Drafts are stored on internal flash memory until the Freewrite Traveler connects to a WiFi network. At this point, they are uploaded via Astrohaus's website to a third-party file storage site of your choice (you can choose from Google Drive, Evernote, and Dropbox).
The Good
The Freewrite Traveler succeeds at what it sets out to do: provide distraction-free drafting. There is simply no way to surf the internet from the device, which is awesome. It's basically a typewriter that uploads your drafts to the web for later editing.  In my testing, I found that it was possible to edit my words once I'd typed them, but only barely. After a frustrating first few hours, I realized I was writing quicker than I normally do because the machine itself was forcing me not to backtrack as I was creating my first draft.
I loved the e-ink display because I could take the Freewrite Traveler with me to parks, into the woods, or just outside on my front porch to write and not have to worry about annoying glare. True to its name, the Traveler folds up into a svelte package slim enough to slip into a small satchel (or even a large purse). Because it doesn't have a backlit screen or spinning hard drive, the battery life is long, and it doesn't create heat in the same way that a laptop does. The mechanical keyboard gives a fair degree of tactile feedback (the keys have 2mm of travel) and will last far longer than the sensor-based keyboards most laptops utilize.
The Bad
Unfortunately, the Freewrite Traveler has some serious downsides. The first and most major problem derives from the same technology that makes the device so handy–the e-ink screen. There's a significant lag between pressing the keys and the characters showing up on the screen. I'm a fast typist and found this lag incredibly frustrating at first, and only slightly less so after I got used to it. I'm not the only one–user reviews expressing similar complaints abound.
To get a more long-term perspective, I interviewed a professional novelist and playwright who's been using the Freewrite Traveler for three months. She echoed my concerns and even pointed out that the lag had gotten worse over time in her experience. But she also pointed out that she'd scorched out 30,000 words in a month using the device, something she couldn't achieve with a more distraction-prone laptop.
Some users might find the clunky screen navigation annoying, but I think those users might be missing the point. This is a drafting device, and you aren't supposed to be going back and fixing your mistakes. That's why the Freewrite Traveler loads drafts to the internet–so you can fix typos and formatting and make revisions in a more easily navigable interface.
That being said, the number of typos and keystroke errors I made while using the Freewrite Traveler was nearly double what I normally make. The problem is then, to make the Freewrite Traveler portable, Astrohaus created a rather cramped keyboard. It's a far cry from the pleasurable writing experience Astrohaus promises. That being said, I think that a serious daily user would adopt the small keyboard in time.
Astrohaus Freewrite Traveler In Review
Making the Astrohous Freewrite Traveler just an inch longer and an inch wider would improve the keyboard considerably. As e-ink technology continues to develop, the lag between typing and screen response will (hopefully) shrink. But the portability, e-ink screen, and distraction-free interface are powerful writing tools.
All-in-all, the Astrohous Freewrite Traveler feels like a device that is four or five years ahead of its time, for better or worse. It will always be a niche product aimed at a niche audience (distraction-prone writers with $600 to throw at an item with only one use). My thought is that serious writers with extra cash will find it useful, while hobbyists on a budget will find the performance not worth the expense.