GearHungry may earn a small commission from affiliate links in this article.
Learn more
10 Best Essential Oil Recipes
When it comes to aromatherapy, it's often hard to know where to begin. Once you have an essential oil diffuser and oils, you can start experimenting with your favorite scents. After you have a feel for individual scents, you can begin to create your own blends to suit your needs. Here are my top 10 Essential Oil Recipes for you to try at home to get you started on the right foot.
To test out these blends. Add some water and a few drops of each oil to your diffuser. I recommend starting with two or three drops of each and experimenting from there to find your preferred ratios. Without any further hesitation, here's ten essential oil recipes to try in your favorite aromatherapy diffuser.
1. Lime + Eucalyptus
This uplifting scent is both refreshing and balancing. The punchy lime helps eliminate odors in your home, while the eucalyptus balances the lime and adds a soothing element to this blend. Lime and Eucalyptus is one of my favorite blends for my essential oil diffuser.
2. Lavender + Rose
When it comes to delightful floral scents, few things beat the combination of lavender and rose. When you need some sultry, calming florals in your life, this blend is the way to go. Who needs a fresh bouquet of flowers when you have this glorious scent filling a room.
3. Orange + Cinnamon (or clove)
For winter days or those days where you want a little spice in your life, try orange and cinnamon or orange and clove. This warming scent will make it feel like fall or warm you up on chilly days. Additionally, this is a wonderful scent for eliminating pet odors or other unpleasant smells.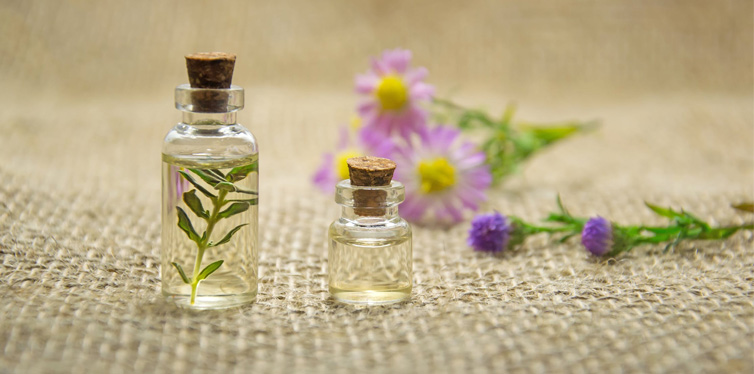 4. Eucalyptus + Wintergreen
Need a blend to keep you focused? Look no further. This combination of eucalyptus and wintergreen is not only uplifting but is a perfect blend for keeping you on task and engaged. These scents can become overwhelming easily, so start with fewer drops until you find your magic number.
5. Lemon + Thyme
If you want a home that smells fresh and clean, look no further than the sweet but earthy combination that is lemon and thyme. If you make your own cleaners at home, these two oils are also an excellent addition for helping your home smell fresher than ever.
6. Rosemary + Eucalyptus
One of my favorite smells is rosemary. It transports me to the south of France, where it grows wild through the hills and cliffsides. When blended with eucalyptus, it creates one of the most grounding and refreshing combinations out there.
7. Peppermint + Eucalyptus
Peppermint and eucalyptus is a classic blend for a reason. This combination helps you stay focused on tough days and is soothing. Peppermint is a strong scent, so start with fewer drops and add more later.
8. Vetiver + Chamomile
For the ultimate blend for bedtime and sleep, vetiver and chamomile provide an earthy but slightly floral concoction for getting settled into bed and drifting off to dreamland. This blend is excellent for those who want an alternative to the classic lavender scent before bed.
9. Cypress (or cedarwood) + Sage + Rosemary
For an earthy blend as refreshing as mountain air, sage and rosemary mixed with cypress or cedarwood will transport you to a relaxing forest scape to clear your mind. When you are stuck inside but craving the outdoors, give this blend a try.
10. Lavender + Sandalwood
We all know lavender is excellent for sleep, but it can be hard to know what to pair it with. To add some grounding to the already floral and relaxing lavender — try a few drops of sandalwood. This earthy aroma balances the sweet florals of lavender for effortless sleep.
Concluding Thoughts
Aromatherapy is an excellent way to wind down, stay alert, or set the mood and intention for your day. We hope this collection of 10 best essential oil recipes gets you started off right. We also encourage you to experiment with intensity and new oils and combinations–your new favorite blend might be just a few drops away.
Sources:
Aromatherapy: What You Need To Know – Medical News Today