GearHungry may earn a small commission from affiliate links in this article.
Learn more
Tips For Maintaining Leather Watch Straps
You've spent a pretty penny on that IWC watch and you want to upkeep maintenance on the band, or you've been watching your old strap falling into disrepair over the years. The case can be magnificent, dashing, and all of the above, but if the leather strap is falling apart, it's not going to impress anybody. Here's what to do:
Avoid Sweat and Buildup
Not to be gross here gents, but have you ever worn your watch for too long, and gotten a whiff of something when you finally take it off? Water only needs four hours to grow bacteria in a warm, dark place. That warm dark place would be underneath your leather strap, and that bacteria eats away at your leather.
Make sure you're taking this off each night and before each shower. When you wash your hands at work, take this off for a moment. It airs it out, and avoids the possibility that any water slipped under the strap, keeping everything dry and protected.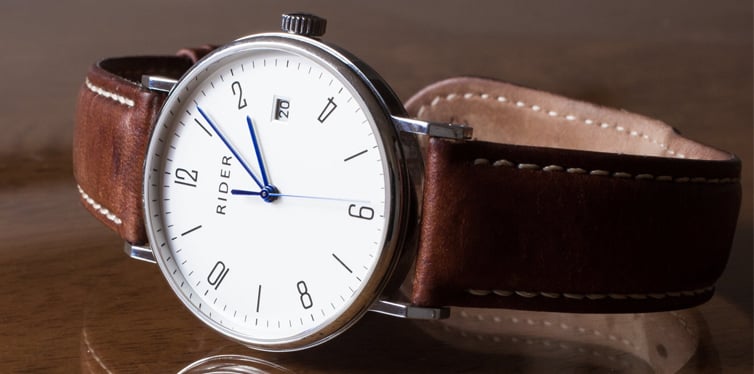 Use Leather Protector Spray
We usually use these for leather jackets or leather shoes, but it applies directly to leather watch straps as well. Even if you've got a minimalist watch with a rather plain-looking band, it can still benefit from a bit of protector.
Leather naturally possesses certain oils that are destroyed over time by direct sunlight, heat, and are no match for standard dish soap. If you've ever washed your leather watch band with a bit of Dawn, you've introduced your watch to its number one enemy. Leather protector spray, or even certain essential oils, are the only way to upkeep the elasticity and smooth finish to your leather watches. This prevents cracking, chipping, and slows the effects of fading.
Keep the Buckle Clean
Grime builds up on that buckle so easily, you'd be shocked. Sweat stick to metal like glue, and if you don't believe that, just look at the underside of your watch case. Don't worry, we'll wait.
Gets pretty grimey, huh? The buckle moves throughout the leather, gathering dust, dirt and debris, and most of all, sweat. You don't have to go crazy and detach the buckle entirely, just give it a bit of a wipe-down with a dry paper towel each time the watch is off.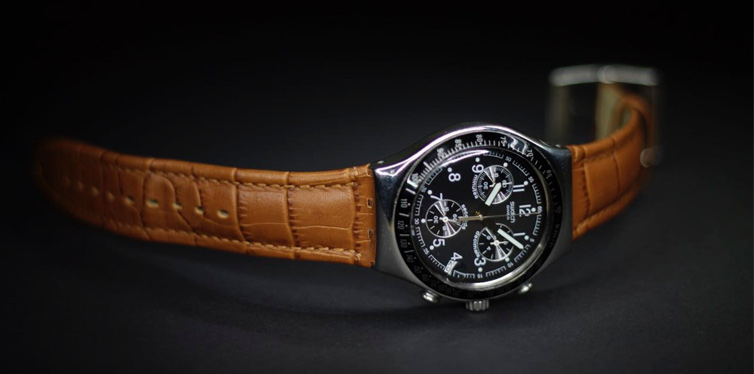 Check the Stitching
If you notice a bit of fray cropping up on the stitches of your leather watch strap, stop what you're doing. When this goes loose, it's like a gateway allowing moisture in, and damaging the oils of the watch. Your local mall watch kiosk, or perhaps even the manufacturer, will be able to handle all of this for you.
Unfortunately, there's not a lot you can do to prevent this from happening. It just happens with time, and is a direct result of the quality of leather, as well as a reflection on the brand who built it.
Understand What Kind of Leather It Is
Leather isn't just leather; just like different cuts of beef, you have varying degrees of quality depending on what type of leather it is. Let's break them down, and the alternate care tips to get you fully prepared. If you're not certain what grade leather watch strap you have, find the sales page where you purchased it, or look it up by brand.
Full Grain Leather – As you might have suspected, it's full grain. It comes from a blend of every type of leather, and while that makes it sound like mutt material, it's actually the most expensive grade of leather. For this, you'll want oil or leather conditioner, and a decent quality leather protector spray.
Top Grain Leather – Only using the top layer of the grain, this is a bit more malleable than full grain leather, and a little more to maintain. You'll need a few added drops of oil when you're lathering this up, and a thicker coating of leather protector when all is said and done.
Genuine or Split Leather – Some manufacturers try to trip you up, but both of these leather types are the exact same. Genuine leather doesn't just mean "Yeah, it's totally leather," it's actually a type of grain. For this, you'll see a lot of treating, so you'll need to keep it oiled and protected. These require a bit more TLC than other leather types.
Bonded Leather – This is like the dollar menu of leather. It's made up of whatever's left over from the hide, after all the good stuff has been taken. These are those leather straps that you most commonly see chipping and cracking. Honestly, after it starts chipping, this type of leather is basically useless. The longer you can keep this from happening, the better.
Many models in our watches under $1000 guide use full and top grain leather. Bonded leather is most often used in those department store shelf watches, the ones that cost you less than thirty dollars. Avoid these at all costs.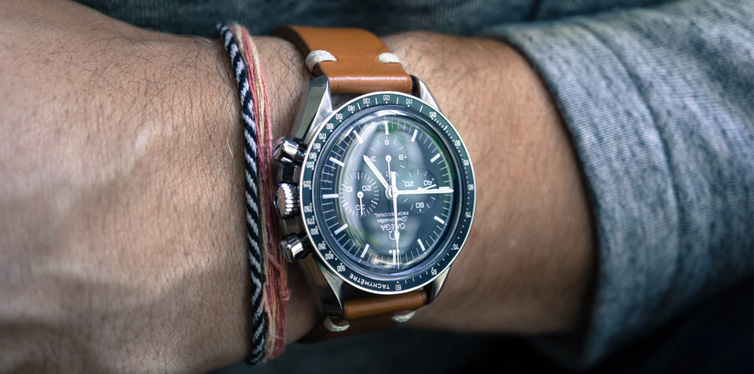 Your Routine, Top to Bottom
In order, this is what your daily maintenance and care should be for your watch strap.
Take it off before your shower, keep it in a separate room so that steam doesn't affect it
Apply cologne and other products, dry your hands, reapply your watch
Remove the watch at work when you have to wash your hands, put it in your pocket
Take it off when you get home, wipe down the case, buckle, and the strap
Hang it up somewhere vertically (a key hook is a good spot)
Following this daily routine keeps the strap looking its best, especially between oiling and protecting your leather. You should do that once every three months, though if you feel your watch strap needs it more often, it's not going to hurt to do it once per month.
Do I Have to do That Every Day?
Some brands have a really high quality leather that's a bit more breathable. For instance, Daniel Wellington watches (the ones that do use leather straps) offer a lot more flexibility – literally. Their unique process makes it harder for moisture to get trapped underneath the strap. They're breathable, but you'll still have to take it off each night just to keep the habit strong.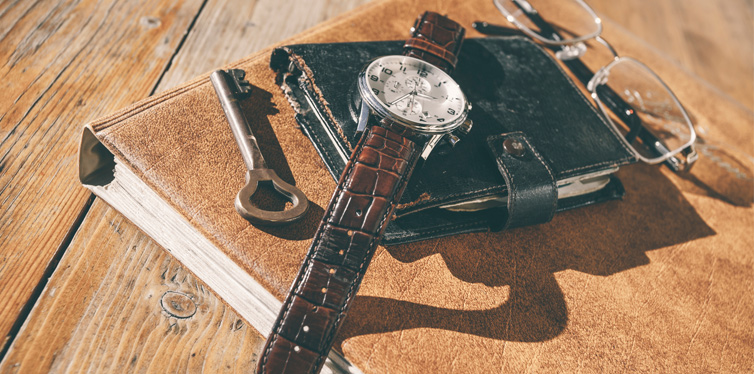 Keep it Clean, Guys
There, that's not so bad, right? Just get in this daily habit, harbor the knowledge, and you won't even realize that you're properly taking care of your watch strap. Once you start doing this, it'll feel weird to have it on when you lay down at night or if your hands are wet after washing them. A week of doing this, and you'll have trained your brain.