GearHungry may earn a small commission from affiliate links in this article.
Learn more
Indoor Grill Recipes
The indoor grill has revolutionized the way people think about cooking. In the past you used your stove/oven most of the time and then went for the outside barbeque when the weather warmed up. The indoor grill however changed all that. You no longer had to wait for the warm weather to enjoy delicious grilled foods. And, because there were no coals involved, you had much more control over the cooking experience and smoke was nearly eliminated. But while the indoor grill pointed the way to a more expansive culinary life for most folks the question has remained regarding how best to use it in order to create delicious and healthy meals for your family. In this article we're going to shine a light on a couple of scrumptious, health conscious recipes that will have you nodding your head "yes". But first, let's tackle one of the major concerns people have about the indoor grill.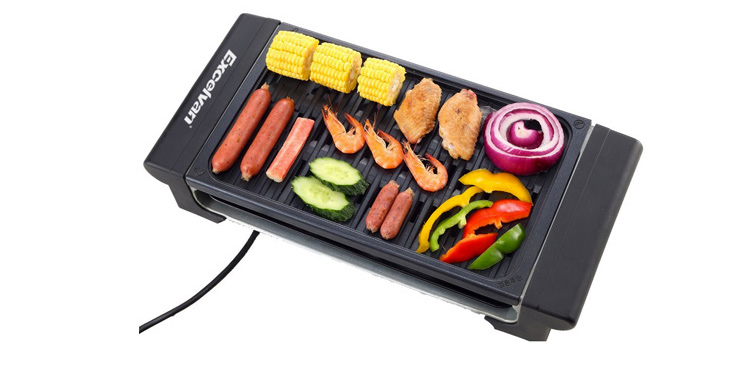 Is it Safe to Grill Indoors?
The principle reason people don't bring their charcoal grilles into the kitchen is because charcoal emits carbon monoxide when it burns. It would be like bringing your car into the kitchen and leaving it running. With the indoor grill there is no charcoal which eliminates this danger completely. In addition, hot coals in the house would represent a significant fire hazard. Again, no burning coals with an indoor grill = no fire hazard.
Indoor Grill Types
There are two basic types of indoor grill: open and contact. Open grilles like the DeLonghi Perfecto Indoor Grill don't have a fixed cover. Instead they have a removable lid which you can leave off or put in place if you're concerned about smoke or spatter. The DeLonghi actually has a glass lid so that, even when it's in place, you can keep an eye on your food as it cooks. Contact grills like the Cuisinart Griddler GR-4 have a hinged cover that is also a second cooking surface. You can use it to cook both sides of a piece of meat or open it up and double your one-sided cooking surface. Many (though not all) indoor grills have angled surfaces that draw fat away from the meat while cooking for a healthier final result.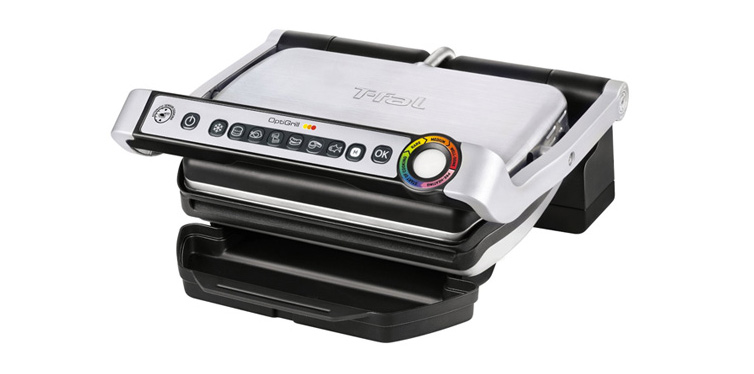 Healthy Indoor Grill Recipes
Now I'm sure many of you will have gone scouring the web for some great recipes. You've either read up instructions online, or maybe even watched some cooking videos on the Android TV box you've got in the lounge. But here are two indoor grill recipes that we believe are delicious, easy to prepare and good for you.
Scallops with Pepper Sauce
This dish features sea scallops bathed in a sauce made from red bell peppers which we'll prepare on the stove and add before serving. Here's what you'll need:
Ingredients
● 2 roasted red bell peppers cleaned and halved
● 2 tablespoons extra-virgin olive oil
● 2 cloves finely minced garlic
● The juice and zest of 1 fresh lime
● Ground white peppercorns
● 16 good sized sea scallops
Directions
● Put the roasted bell peppers in a food processor and set to high speed. Process until peppers have been reduced to a smooth puree.
● Place a small saucepan on the stove over medium heat and add the olive oil. When the olive oil is warm, add the garlic and stir constantly until garlic is lightly browned.
● Add the bell pepper puree from the food processor to the saucepan then add the lime juice along with a dash of salt and pepper, then whisk to blend. Keep warm.
● Heat your indoor grill to high.
● Combine the lime zest with salt and ground white peppercorns in a small bowl.
● Place the scallops on a skewer then coat them with the lime zest/peppercorn mixture.
● Grill the scallops 2 to 4 minutes until cooked through.
● Remove and place on warm platter.
● Drizzle sauce from the saucepan over the scallops and serve. (Serves 4) Of course your indoor grill is such an incredibly versatile cooking appliance we can't just stop at one recipe. So here's one more for the salmon lover in the house.
Grilled Salmon
Salmon is king of the river fish and one of the most succulent and multifaceted types of seafood around. For this recipe though we're going to keep things simple and create a classic grilled salmon dish like you would typically prepare on the backyard grill during that big July 4th celebration. Ready? Great. Here's all you'll need:
Ingredients
● Four 1" thick center cut salmon fillets
● Nonstick cooking spray
● Juice of 1 lemon
● Salt and black pepper
Directions
We're going to assume you've cleaned your salmon steaks already and removed any scales or skin.
● Sprinkle lemon juice on the salmon and add salt and pepper to your preference. Remember if you don't want to use salt and pepper salmon has a very mild taste that responds well to just about any seasoning, so use your imagination.
● Coat the surface of the indoor grill with the cooking spray.
● Turn the indoor grill up to medium heat and let it warm fully.
● Then set the salmon on the grill and cook for approximately 5 minutes per inch of thickness.
● Flip the salmon and cook for another 5 minutes per inch.
● Check to see if your salmon is finished by probing it with a fork. It should also flake apart easily if it is properly cooked through.
● Serve and enjoy! (Serves 4) This type of grilled salmon steak is a great foundation for a healthy meal and is the kind of thing your indoor grill does best. It's fast, it's affordable, it's simple and best of all it's just plain delicious. So next time you're at a loss for what to cook on your indoor grill, think pink!