Best Bike Speedometers In 2022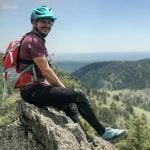 This product guide was written by Mark Wilson
Mark Wilson
Mark is a longtime journalist based in Austin, Texas with a background in breaking news reporting and media relations. Outside of the office he spends nearly every waking moment hunting down an adrenaline rush through mountain bike racing, gravel touring, rock climbing, triathlons and trail running. Mark also is a bassoonist who loves learning to play the latest hits for his friends, and will never back down from a karaoke stage. His rest days are spent lounging with his wife and dog, playing chess and cooking fancy meals, but always planning for the next adventure.
GearHungry may earn a small commission from affiliate links in this article.
Learn more
Cycling is definitely one of those sports that's all about the latest tech and gear. It's rare that you'll see a lycra clad cyclist without an onboard computer of some description. Keeping one eye on the road and the other closely reviewing where they've been and how quickly they managed to get there! Speedometers, odometers, power meters and the like can range from entry-level models at $15 up to an eye-watering $500, but even at the budget end, you'll have access to basic information like speed and cadence. For a little bit more of an investment, you can go from wired to wireless which means no unsightly wires messing up with the aesthetics of your frame! To enjoy Bluetooth connectivity, track heart rate, monitor calories burnt and satellite GPS you'll need to blow the budget. We're focusing today on cost-effective Speedometers. All our recommendations come in at sub $30, so they won't break the bank, but they will help you monitor your progress and how long it's taken you to travel distance. Let's get straight to it with our Best Choice product in our roundup of six of the best Speedometers for your money.
The Best Bike Speedometer
Wahoo RPM Cycling Speed and Cadence Sensor

For our Top Choice product recommendation today we've picked out this discreet and compact cycling speed ad cadence sensor from Wahoo. It tracks, captures and recorded essential cycling information which can then be automatically uploaded to your favourite training platform. It's integrated with Bluetooth as well as ANT+, RPM sensors which can be connected to a smartphone, tablet, Garmin or a Polar device. It also currently works with over 50+ smartphone apps, including the Wahoo Fitness app but also other popular choices such as Peloton.
One of the key benefits of this sleek and lightweight model is that it's a universal fit and simply mounts to your bike's wheel hub. There are no complicated wires, no magnets and no challenging set up to worry about. Weighing just 7 grams, it's totally unobtrusive, so much so, you'll forget it's even there. It's fitted with a replaceable battery, as opposed to a rechargeable one, but it should last you for a full 12 months so all you need to focus on, is improving your performance.
Key Features:
Tracks and captures real-time cycling speed and data
Convenient universal fit simply mounts to your bike wheel hub
100% wireless technology with Bluetooth and ANT+ capabilities
Sleek and streamlined, lightweight design
Fitted with a replaceable coin cell battery with 12 months life
Specification:
Brand

Wahoo Fitness

Model

WFRPMSPD

Weight

0.32 ounces
CAT EYE Velo 7 Bike Computer, Speedometer And Odometer




Today's Best Choice product comes from Cat Eye who is well respected in the category of cycling speedometers, offering an extensive range of relatively cost-effective options across the board. This Velo 7 model is one of their entry-level models but saying that it still has 7 different useful functions. It's been newly designed and as part of that update, now features a larger display screen which is easier than ever before to read. The setup is made super easy. There is none! It even features pre-programmed tire sizes which take all of the guesswork out of everything for you.
When it comes to those all-important measurements, with the Velo 7, you have eyes on your time, speed, distance, pace, clock, and calories. You can view total distance as well as trip distance along with elapsed time. The built-in CatEye computer automatically detects when you've stopped, say for a quick cup of coffee or just at a red light, and will stop counting time and averaging speed your stats don't get skewed.
While it may well be wired which might not be to everyone's liking, it does have an impressive three years battery life so you really can just install your bike speedometer to your mountain bike and forget about it. This is a real bonus and if you do only need basic functions, why would you spend megabucks on anything fancier than this? It's a no-frills, durable and dependable option and if this is your first foray into the world of cycling and you're taking things slow and steady for you, then the Velo 7 Cat Eyes is a reliable and inexpensive option which will still give you all the vital information you need to advance your sport.
Key Features:
The on-board computer displays all key statistics
Track current speed, max speed, average speed as well as overall pace
View total distance, trip distance and also elapsed time
Impressive three-year battery life
Lightweight and durable, weatherproof design
Specification:
Brand

CAT EYE

Model

1603350

Weight

2.2 pounds
SY Bicycle Wireless Speedometer And Odometer
Next in line to get the review treatment is a bike speedometer from SY Bicycles and despite its sub $15 price point, displays plenty of useful information and also happens to be wireless too if that's an important consideration for you. It comes with a range of functions that conveniently tell you everything you should need to know about your cycling performance from speed and distance to time. It also monitors your aver speed as well as trip distance and automatically wakes from sleep mode by detecting vibrations from when the bike is in use.
The unit itself is pretty small and discreet, but the digital display is bright, featuring an LCD display along with night backlight which automatically activates when you are in low light conditions. That means this unit is great for cycling at night too so you can always keep a careful track of your stats. The SY Bicycle Speedometer is waterproof as you'd expect and is also easy to assemble. What you receive is a computer unit as well as a separate wireless sensor. The only thing that you need to be aware of is that the computer and sensor need to be positioned 68 cm away from each other to function effectively.  Once you're all set up and installed, simply customize by recording your tire size and the SY speedometer will do the rest for you.
You may notice that this device does make a bit of a rattling noise which we're assured by the manufacturer is entirely normal. It's simply caused by the wireless function and in no way affects the performance. It also happens to be compatible with pretty much all types and styles of bikes regardless of whether they're mountain, racing, regular or folding. Make sure you also check our guide to the best bicycle chain lubes.
Key Features:
Neat, discreet, small and compact design
Convenience of wireless installation
Features automatic wake up sensors
Bright LCD backlight display panel adjusts to external light conditions
Fully waterproof and durable weather-resistant design
Specification:
Brand

SY

Model

Bicycle Speedometer

Weight

3.2 ounces
XOSS G+ GPS Cycling Computer

The final product that we're reviewing today is this XOSS G+GPS wireless speedometer which also includes a barometer, heart rate tracker as well as monitoring cadence. The generously proportioned 1.8-inch LCD display is easy to read in all weather and lighting conditions thanks to automatic backlight. You can track, record, upload and share up to 15 different types of data plus there's an equally as impressive 25-hour battery life.
It's quick and easy to install and fully waterproof with an IPX7 rating, meaning that you can enjoy your cycling experience and still track all your usual statistics no matter what the weather conditions. It's supplied with a standard mount, so installation is easy. Featuring a quad-satellite system, tracking where you are anywhere around the globe is faster, easier and more accurate than ever before. Even if you really wanted to, it's highly unlikely you'll end up getting lost! If you want to know how high you've climbed and not just the distance and speed, then you'll appreciate the built-in barometer function. With full XOSS app support, you can always record, view and analyze your performance, plus you can also connect to your Strava account. 
Key Features:
Packaged with a standard mount for easy installation
Suitable for use both day and night with automatic backlight
Fast and accurate GPS quad-satellite system
Fitted with a built-in barometer
IPX7 waterproof so ideal for rainy days
Specification:
Brand

XOSS

Weight

2.4 ounces
Dream Sport Wired Bike Speedometer




We're taking a look next at the Dream Sport Wired Cycle Computer. If you're not familiar with Dreamsport, they've been manufacturing cycling speedometers and accessories now for 10 years, and this is an inexpensive but highly practical unit. It measures and displays your current speed, your average speed and also lets you know your maximum speed. You can simultaneously view your current and average speed on your display, so you know how your pace is tracking and whether you are on or off your desired pace.
Besides that all important time function, it also records distance traveled and total accumulated distance traveled including recording trip distance, time and also the current time and temperature. The Dream Sport may be an entry level speedometer, but it also has built-in automation. What that means is that even if you get caught at a red light, held up in a traffic jam or preface stop to grab some liquid refreshments, the computer will know that you've come to a halt and will stop counting so that your average speed stat won't be adversely affected.
It is a wired unit, but it's rain resistant so perfectly safe to keep mounted, and it features nice, large, easy to read digits as well as coming with an 18-month warranty. For a cycling speedometer at this end of the budget, it really does have plenty of features and benefits and is both highly affordable and highly reliable. Our handy guide to the best bike phone mounts features more great products like this. 
Key Features:
Rain resistant bike computer with long battery life
Features include freeze time, temperature and digital clock in 12HR and 24HR
Automation operation detects when you've stopped
Easily scan through all the digital functions to display the ones you want
View maximum speed, average speed, current speed, and speed comparison
Specification:
Brand

Dream Sport

Weight

3.52 ounces
Raniaco Wireless Bike Speedometer




While it's easy to focus on the big name brands, sometimes a hidden gem comes along that's competitively priced and has all the functionality you could ever need. That's what we're here to champion at Gear Hungry, and that's why this lesser-known Bicycle Speedometer from Raniaco has made it onto your best bike speedometer review today. If you're looking for an entry level cyclo-computer that certainly doesn't compromise on quality, then this could be worth considering.
It comes with everything you need to mount your computer and better still, it's wireless too which you probably would never have expected for this price. Aside from that, there are also plenty of other notable features. For a start, it's multi-functional and can be operated as both a Speedometer and an Odometer. What that means is that you can register distance traveled while at the same time recording time taken to travel. The speedometer can also display your maximum as well as average stats in your choice of either m/hr or km/hr.
We mentioned already that the unit is wireless which means no leads to worry about getting your legs tangled up in. Believe us, we've seen it happen! The casing is also waterproof and rain resistant, so you're perfectly fine cycling in all kinds of not so fair weather conditions if that's what floats your boat! Ditto, if you like a late night cycle, the display features a backlit LCD display which can be sent to either green or white and can be safely seen from dusk till dawn or just in natural daylight! The screen itself is a little bit on the small size, but the information is clear and easy to read with large numbers. Small, compact, lightweight and reliable, the Raniaco could give some of the better-known brands a run for their money! Love this product? Check out our review of the best bike lights for our top picks. 
Key Features:
Convenient and easy to install wireless operation
Easy to read large numbers and backlit LCD display
Multi-mode display allows viewing of speed, distance and time
Convenient auto-shut-off mode when not in use
Waterproof design is durable and reliable
Specification:
Brand

Raniaco

Model

Raniaco

Weight

3.2 ounces
CS Force Bike Computer And Speedometer




Where do we even get started with our final entry today in the best bike speedometer review? This fabulous unit from CS Force may well be our Premium Pick, but it still comes in at under $25. It features 20 different powerful functions in one to meet all your cycling needs and is pretty much compatible with all types of bikes including mountain, roads, folding as well as electronic. It's water resistant as you would expect from a computer designed to be used outside and it is literally packed with handy features all of which can be visibly displayed on the large, easy to read screen. We're talking current speed, odometer riding time, calorie counter, cadence to name but a few of the most useful ones. Not to mention that there's also a stopwatch, clock, and date setting.
There's also a highly useful auto standby and wake-up function which is activated by vibration detected from your bike. If you stop for longer than 300 seconds, the screen also turns off and stops recording, instead just displaying the time and date. When it comes to viewing those vital statistics about how far and fast you've traveled, there's a large 2.8 inch LCD display which clearly shows the preset information across 4 lines so that you can even view with just a cursory glance. A green blacklight display even means you can still read all the pertinent information when you're out on your bicycle at night. To operate, you simply touch the screen just like you would a smartphone. Overall the CS Force Bike Computer provides stable and accurate performance thanks to the installation of a high-quality motion chip with anti-interfere technology.
Key Features:
Easy installation and operation
Fully sealed and waterproof design
Auto memory data save function
22 different onboard features
Compatible with most types of bike
Specification:
Brand

CS Force

Weight

8.8 ounces
CHILEAF Bike Speedometer with LED Bike Light

The CHILEAF Bike Speedometer is perfect for cyclists without much space on their handlebars. That's because it doubles up as a speedometer and an LED headlight. You can have tons of functionality on your handlebars, without having to have a couple of extra inches either side. As a bike computer, it provides simple and accurate data. It tracks your total distance, maximum speed, average speed, cycling time, and single trip distance. All of this data allows you to keep track of your cycling progress on the fly. There's no need to stop and open an app on your smartphone to see how far you've traveled. 
As an LED light, it's as powerful as most of the bike lights on the market. With 350 lumens, it can illuminate objects up to 300 feet away. It has a 95º lighting angle and four lighting modes to give you plenty of versatility. We also like the fact that it's powered by a 1500mAh lithium-ion internal battery that can be recharged with a USB port. That means you can take a power bank with you and never be without power. The battery life lasts for around five to eight hours, depending on use. 
Key Features:
Tracks distance, speed, & time 
350 lumen LED light 
95º lighting angle 
Four lighting modes 
Illuminate objects up to 300 feet away 
1500mAh lithium-ion internal battery 
5-8 hour battery life 
Specification:
Brand

Chileaf

Weight

3.53 ounces
Bike Speedometer Buying Guide
How We Chose Our Selection Of The Best Bike Speedometers
Reviews - When it comes to buying the Best Bike Speedometer, you want to be confident that what you are purchasing will live up to your expectations, no matter how little or how much you might be spending. That's where customer reviews and feedback are so vital as they give real life, honest opinion about the truth behind how a product is likely to perform. As a part of our extensive research into the products we select, at Gear Hungry we take seriously the feedback left by online customers and aim to incorporate that into our comprehensive buying guides.
Brand - While it's always worth buying from reputable and well-known brands as they have a better consumer history, we do also like to uncover some hidden gems in each category. If we stumble across a lesser known brand that looks like it's really giving the big guys a run for their money, it will feature on our final list.
Price - Price is generally determined by quality as well as design and the number of features and benefits. When it comes to price points, we try and ensure that we have a cross section of price points that will appeal to all levels of budgets.

Features To Look For In Cycling Speedometers
When it comes to bike tech, sadly you really do get what you pay for so the most important thing is to set out your initial budget then make a list of all the things that are essential to have versus what would be nice to have if you could afford them. When it comes to this hotly contested category, bike computers are not created equally, and there is a tonne of choice from the very basic through to the advanced. Below we've listed out our recommendation of some of the key features to be on the lookout for in your next Cycling Speedometer.
Power Source & Connectivity - This may well be a deal breaker for you. There's no denying that both practically and aesthetically, wireless is preferable to wired and far more convenient. It's unlikely though that by opting to go wireless, you'll open up your access to more functionality. It's just that while a wired speedometer is certainly going to be more secure, it's likely to look a bit on the untidy side. Wired devices are typically less expensive and won't require a separate sensor battery. Wireless enables you just to mount and go, but they will require replacement batteries or recharging.
Wired models can send and receive information only. If you do want to tap into additional apps allowing you to better track and analyze your performance and stats, then you will require WiFi or Bluetooth connectivity. If you are one of those keen cyclists who does want to carefully monitor their progress over time and view the details in more interesting ways, then you are going to need a bicycle speedometer that incorporates more sophisticated modes of communication.
Display panel - Most Speedometers should be capable of tracking and displaying more than one piece of data on the screen at once and will require configuring so they can be set up to your personal needs. Unless they're of course very basic in which case you may be limited in terms of the personalization available. Display screens generally come with two modes of operation - buttons touchscreen. Units with buttons resemble traditional style stopwatches and take a bit of getting used to while you work out the unique functions of the various buttons. The alternative is a touchscreen interface that whether in one-touch or single scroll. These models are more akin to your smartphone device in terms of how they look and perform.
Setup - You're not exactly going to be spoilt for choice when it comes to setup! There are only a couple of practical places where your device can realistically be mounted so that you get a good clear and unobstructed view. Up front in the center of the handlebars is the most obvious position, but if you do prefer to mount it left or right of your field of vision, you will need a bracket that supports a range of positions.
Durability and Weather Resistance - As with any gear that you intend using outside, you need it to be durable and resistant to whatever Mother Natures throws it's way! We're talking wind, rain, snow and if you're lucky, heat! The majority of speedometer devices should be water-resistant which should suffice for most of you.

Types Of Bike Speedometer
Cycling speedometers fall into different categories, and it's true that you get what you pay for.
You can go for an entry level, budget friendly wired version which will measure vital statistics but won't enable you to transfer then that date for sharing and analysis.
Alternatively, you could for a more expensive wireless version with Bluetooth or WiFi connectivity which can be paired with your smartphone so that you can monitor and view your trip details at a later stage.
Beyond this, there are also GPS ready onboard bike computers which combine all the navigational functionality you require with other advanced features which might include mapping, communications as well as a full color, digital touchscreen display.
Sign Up Now
GET THE VERY BEST OF GEARHUNGRY STRAIGHT TO YOUR INBOX