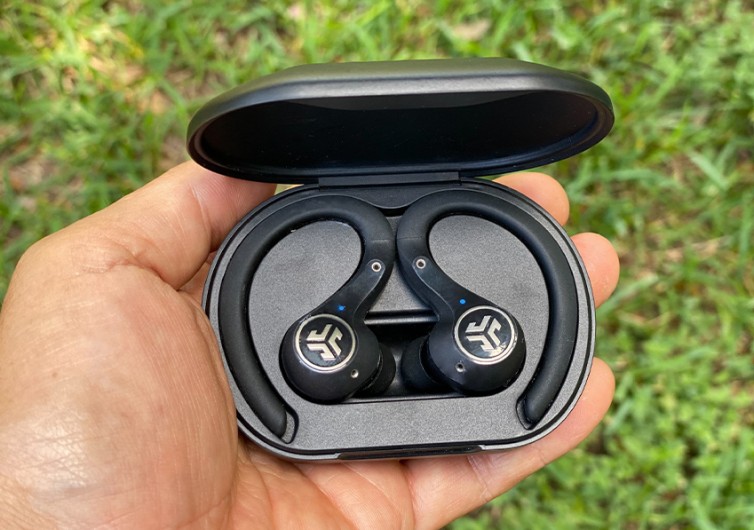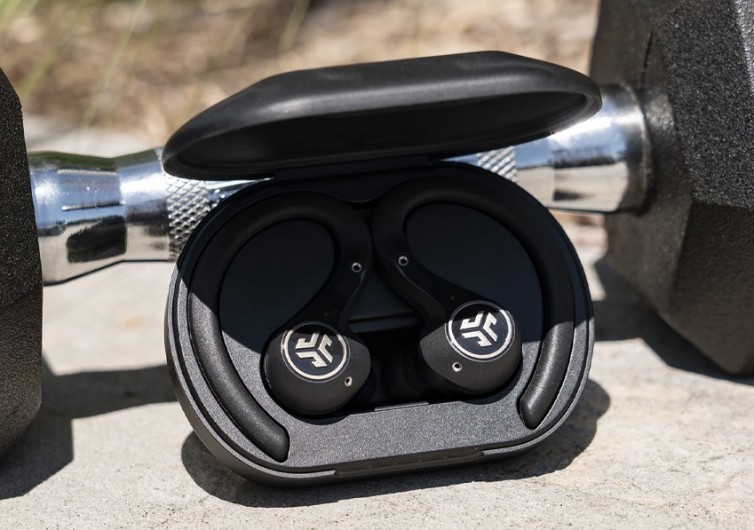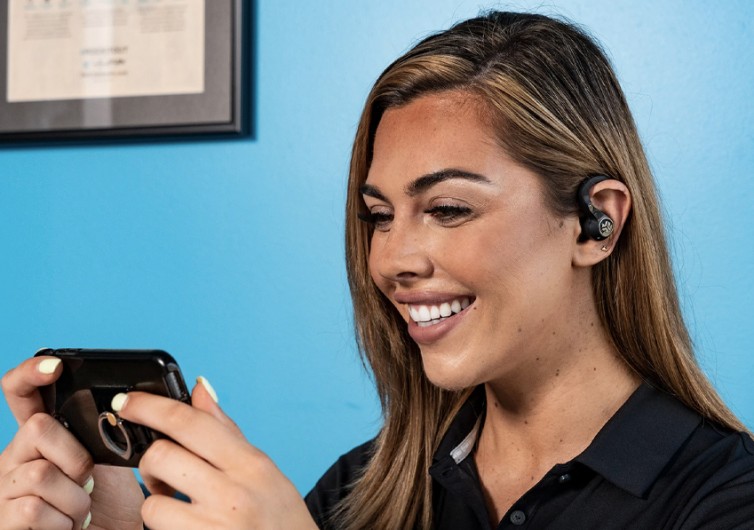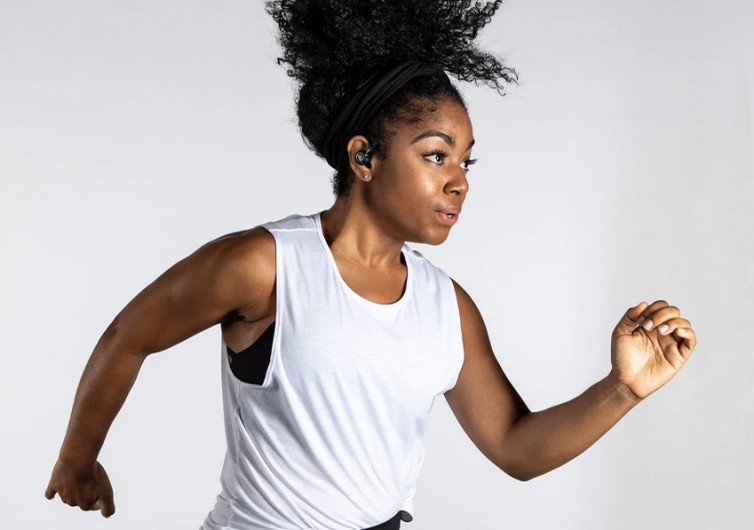 GearHungry may earn a small commission from affiliate links in this article.
Learn more
JLab Epic Air Sport ANC True Wireless Earbuds
True wireless earbuds are everywhere, with too many brands to track. But active noise canceling (ANC) true wireless earbuds with external hooks are uncommon, and for some sports, a requirement.
JLab may have cracked that code with their Epic Air Sport ANC True Wireless Earbuds. They possess many attributes that active types demand but feature a handful of features that make them exceptional for athletes. The battery life is impressive, and they can pipe in external sound to improve safety during activities like cycling.
JLab Epic Air Sport: An Attractive Feature Set
The Epic Air Sport has features common with higher-end sport-oriented earbuds:
8 mm dynamic neodymium magnet drivers with 20-20kHz range
110 +/- dB output capacity
120 mAh lithium-ion earbud battery cell
3-hour earbud charging time
Class 1, Bluetooth 5 with 30+ foot range
IP66 waterproof rating
10 grams each earbud
2-year warranty
The active noise cancellation, which JLab calls Smart Hybrid ANC, uses three microphones: one external feed-forward to process extraneous sound, one-directional for speaking, and one feedback microphone for the sound coming out of the earbud. The feedback microphone hears the sound like the user and makes corrections.
JLab's Be Aware Audio actively pipes in external sound to overcome the passive noise cancellation of the earbuds. This is a unique function that can be a safety feature to those sharing the roads or trails.
Another differentiating feature is the wirelessly charging case. Since earbuds with ear hooks are much larger, JLab stuffed a 1000 mAh battery inside the larger than the average case, allowing the capacity to also charge your phone in addition to a very long total run time for the earbuds.
Finally, Epic Air Sport has a matching phone app.
How's the Sound? How's the ANC?
For my acoustical tastes, the bass was overpowering, at the expense of vocals. This overblown bass could be somewhat attenuated by EQ presets (signature, balanced, and bass boost), and the app allows for a custom EQ preset. I found the bass fine for exercise and working as I was not immersing myself in the music.
I found myself wanting to increase the volume to pull out more vocal intensity and clarity when the music was busy, but during harmonies with fewer competing sounds, vocals were clear for earbuds.
High frequencies sounded clear and bright for earbuds. Like the midrange, during busy parts of songs, I wanted more. But when cymbals were more on their own, they cut through and sounded bright and resonant.
The effectiveness of the noise-canceling was highly dependent on the fit of the earbuds. Luckily, JLab includes six total sets of ear tips that vary in diameter, depth, and material. With properly fitted ear tips, the ANC was on par with any other earbuds I've tested. My "standard" is to sit at my office and run the TV in the living room at mid-volume and a creaky ceiling fan above my head. With the ANC set to maximum on the app, I could hear neither.
The interesting thing about JLab's Hybrid ANC and the feedback microphone is the "feeling" of the ANC is different. I have read about some listeners experiencing "ear suck" with other ANC systems, and maybe this is what I experienced. The only way I can describe it is that I understood the noise canceling was due to sound processing, but it felt more "natural."
The Kickers: Be Aware, Security and Battery Life
I wore the JLab Epic Air Sport ANC True Wireless earbuds while bouldering and lifting in my shop or cycling. During gravel biking, I used the Be Aware setting, which pipes in sound from the external microphone to overcome the passive noise canceling.
And it worked! When gravel riding there isn't much traffic, and I could hear the rare car coming up due to the gravel crunching under the tires. I could also clearly hear my own rear tire knobs engaging with the terrain. But the wind-generated going downhill was also amplified, drowning out all other external sounds. This was with the Be Aware setting on the app set to maximum. So, there is good with bad, but I felt the advance warning of the very rare car was worth it. I don't wear earbuds on the road, so I cannot comment on that use.
On the home climbing boards, which are up to 12 feet tall, even ejecting myself in uncontrollable, violent hilarity never caused an earbud to fall out. My glasses would get launched, I probably cracked a filling, but I never lost an earbud nor even had an inkling that one was loose. Hitting square-edged potholes on the gravel bike with enough force to eject a water bottle from its cage, never budged an Epic Air Sport earbud. I worry about other earbuds without ear hooks during training, but never with these.
And finally, the incredible battery life. The earbuds lasted about nine hours before needing a charge, and the case is said to have another 55+ hours on board, making the JLab Epic Air Sport an excellent choice for off-grid trips. And, as a bonus, the case had enough juice to top off my cell phone. The downside is the case is too big to comfortably fit in a front pocket.
Proven Durability
During my six-month testing period, these earbuds survived atrocious sweat produced from a Texas summer, the deluge of summer storms, and the once-in-a-lifetime week-long February freeze (when I incredibly ski-toured Wimberley, Texas with the earbuds).
They also survived countless bouldering sessions, wafting through clouds of chalk dust and getting mauled by my over-chalked and sweaty mitts.
They are sturdily built, and the IP66 water resistance rating is more stringent than many competing earbuds.
Conclusions on the JLab Epic Air Sport ANC True Wireless Earbuds
These earbuds did what is expected of other true wireless ANC earbuds: they connected effortlessly and reliably to my phone, they reproduced sound well and they survived my six–month testing period. I demand all this from any set of earbuds near the $99 MSRP.
But a few features set the Epic Air Sport apart. Firstly, the Be Aware feature made cycling feel safer, albeit with the drawback of amplified wind noise. The security of the ear hooks was a definite must-have for me and proved comfortable for long workout sessions. And finally, the larger form factor of the charging case and JLab's smart use of it allowed for incredible playback time without plugging in.
I have lots of earbuds marketed towards athletes, but these are the ones I rely on the most.