Chill Out: The Best Coolers of 2022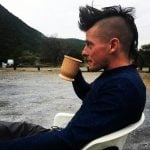 This product guide was written by Sam Anderson
Last Updated
May 26, 2021
Sam Anderson
Sam Anderson has followed a passion for well-told stories and nature's beauty from university classrooms to mountain adventures. After earning a bachelor's degree in literature, he leaned into a life fueled by road tripping, rock climbing, coffee and beer, and renegade camping. He has worked as a chainsaw operator, house carpenter, and window cleaner, at one point running his own window cleaning business. He has finally settled with his girlfriend and small zoo in the western American desert, trading his tool belt for a keyboard.
GearHungry may earn a small commission from affiliate links in this article.
Learn more
A good cooler is a valuable asset. It keeps your beer cold, your food fresh, and your spirits high. That's true whether you're in the backyard or the backcountry. The best coolers do it all, and you can take them with you to any venue (event security notwithstanding). Buying the right cooler is a matter of intent and personal preference: what do you need this thing to do and why?
We collected and tested a wide variety of coolers, evaluating them with road trips, beer drinking, bright sunlight, a deep well of in-house savvy, and even some nostalgia. Because let's face it, coolers are part of our collective imagination. They help us transport ourselves to places we dream of being, and they help us stay there — whether that's a remote wilderness location or a state of inebriation.
The Best Cooler Review
Taiga Terra 27 Quart Cooler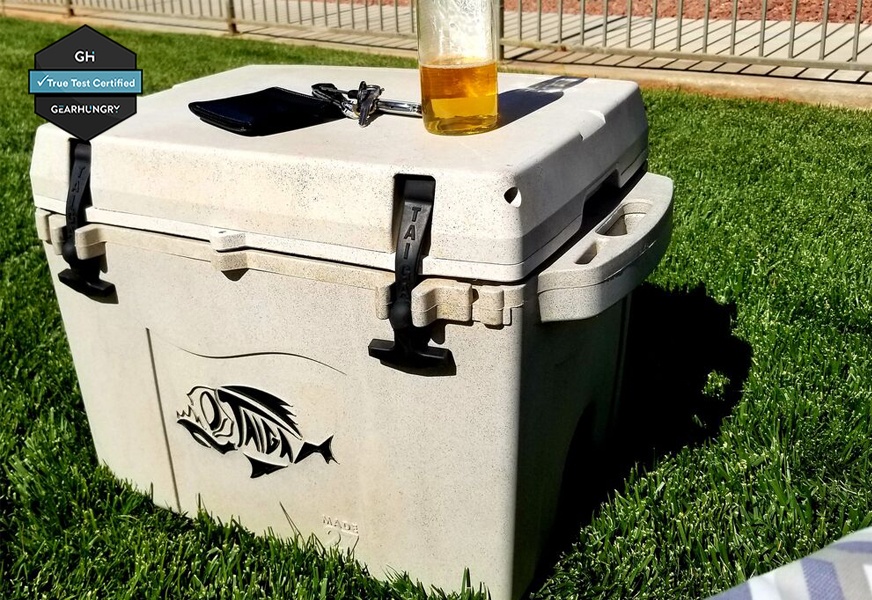 Texas-born Taiga introduces a hemp plastic cooler line with the Terra. 3⁄16-inch-thick hemp plastic walls house 2 inches of polyurethane insulation in the cooler's body. Terra makes the lid extra burly with 3-inch insulation. The Taiga Terra 27 Quart Cooler is highly price-competitive at the size in the category. During my review, it performed as well as any other competitor I've experienced.
Back in 2013, Taiga's founders sought an injection molding process capable of generating coolers that could be uniquely personalized. By 2020, the two outdoorsmen's tested and re-tested process resulted in the innovation of the Terra line. The company sought to reduce its carbon and petroleum footprint by introducing hemp plastic to its product line.
On my first impression, I could tell the Terra was well built. It wasn't heavy for its size, but it felt solid. The thick gasket sits deeply in the lid and the handles were satisfyingly thick. Its rubber latches stretched a long way and secured firmly, which lagged the lid down tight. A slot next to each handle adds a lashing point for boat trips, ATV rides, etc. Taiga secures some plastic parts with beefy Philips head screws, which I found unusual but aesthetically cool and confidence-inspiring.
The Terra also performed very satisfyingly in the field. I tested it on a 5-day work/climbing/drinking trip. I was happy with its ice retention, especially considering how I treated it. At the start of the trip, I filled it up with the full bucket from my ice maker (which amounted to a couple of inches of ice in the bottom of the cooler). With no pre-chilling and only a few refrigerated items inside, the Taiga still had solid ice in it 30 hours later. During that period, I had kept the cooler in full sun in the bed of my truck for as long as the sun was up.
Though I didn't get to test the Taiga's long-term ice retention, my short-term test gave me full confidence that it would perform as well or better than any competitor I've tried, including the YETI 20 Roadie I used for years.
Final notes, in no particular order:
The drain plug secured tightly and easily, but it's positioned so high that I had to tilt the cooler almost past vertical to get all the water out. This was mildly problematic.
I felt great about Terra's sustainability profile. The hemp plastic comes from Colorado, and the entire remainder of Taiga's supply chain and manufacturing takes place in a 200-mile radius in Texas.
The plastic was a little coarse and scuffed fairly easily.
Taiga wisely features its super cool branding prominently. The skeletal fish is unorthodox and edgy, paying no lip service to boring corporate branding.
The sustainable, price-competitive Taiga Terra should be on your radar if you're interested in a locally produced cooler that performs just as well as the big brands.
Key Features:
Hemp plastic shell
Rubber latch closure
Gasketed lid
Specification:
Brand

Taiga

Sizes (in quarts)

27 (tested), 55, 88

Injection/Roto Molding

Injection

Interior Dimensions (27 qt.)

15 L x 12.5 W x 10 H in

Exterior Dimensions (27 qt.)

23 L x 15.5 W x 15 H in

How Many Beers Can It Hold?

24 + ice (as tested)

Colors

Desert Camo, Pink, Tan (tested), White, Woodland Camo
Domestically designed and built
Low emissions footprint
Competes well in performance and price
Plastic can scuff easily (but cleanup is easy)
A drain plug is situated very high on the wall
OtterBox Venture 45 Cooler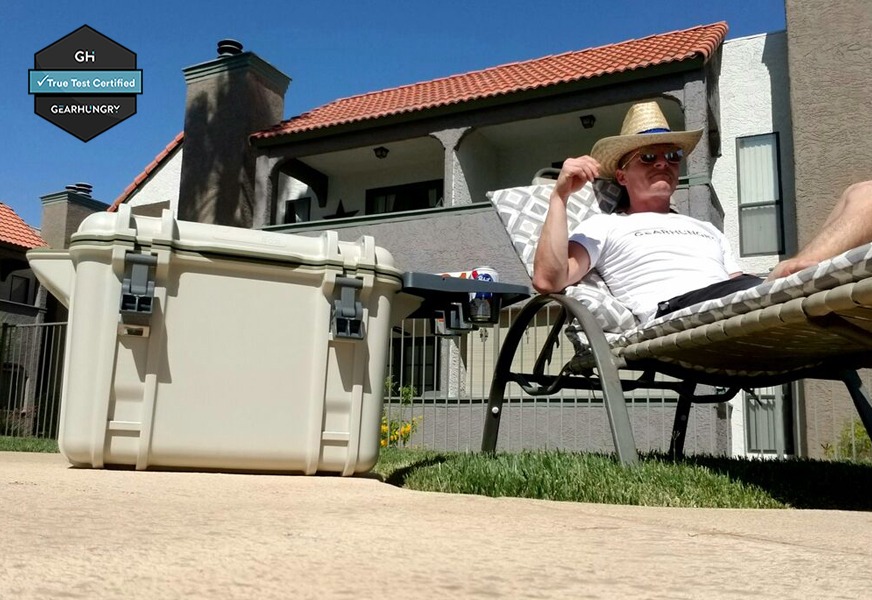 OtterBox designs a formidable cooler with a lot of modular capability in the Venture 45. Reinforced corners, wide handles, and one-handed latches (that tested very well) characterize the build. The OtterBox Venture 45 Cooler also has an ingenious attachment system that accepts a plethora of modular add-ons.
Right out of the (very big) box, the Venture 45 made me confident. It's a few inches bigger in all dimensions than YETI's Tundra 45, packing 2-inch refrigerator insulation all around (including inside the molded handles). The wide handles could accommodate the hands of an extremely large person or a humanoid that was much larger than any human I've ever seen. I say that because for me (at a diminutive 5'6", 125 lbs.), the wide carry was borderline uncomfortable, especially when the Venture 45 was fully loaded.
Fully loaded, the cooler is mega: I put up to 42 beers in it with a bag of ice but estimated its full capacity closer to 72 beers plus ice.
The cooler's modular system can help any backwoods drunkard stay organized — I would know. The cooler comes standard with a bottle opener that attaches to any of four different exterior locations, plus a dry storage tray. Slotted grooves inside and out facilitate interior dividers (up to two), a cutting board, a side table, and wheels.
The side table features three cup holders and comes with a cutting board; that's what we tested. I was impressed by the side table's stability. It's not heavy or obtrusive, but it attaches with a satisfying snap and holds up under pretty heavy pressure. The cutting board seats into it neatly. I wouldn't get into heavy tasks like cleaning fish or separating rib racks on it, but you probably also wouldn't want that funk seeping into your cup holders. The cutting board also fits on the inner rim of the cooler, which makes it a little more substantial. Yet another attachment kit turns the cooler into a bear-proof container, as certified by the Interagency Grizzly Bear Committee (IGBC). That's really cool, both in terms of keeping your loot safe and supporting healthy wildlife!
Ice retention was great. A blindingly sunny day in Las Vegas didn't faze the Venture 45, and ice was still plentiful by nightfall. OtterBox claims up to 14 days of ice — I didn't test that because I have a job. (One of these days, I'll come to my senses and go back to dirtbagging, but for now, I have a refrigerator).
The only problem was with the OtterBox's drain plug; try as I might, I couldn't lag it down tight enough to keep it from dripping. There were few online reviews at the time of writing, but I couldn't find any that mention the same problem, and I was able to fix it in short order by adding garden hose o-rings to the plug.
Overall, the OtterBox Venture 45 is one of the best coolers for camping I've ever come across. Tough, high-capacity, customizable, and bear-proofable, it's ready for any backcountry excursion.
Key Features:
2" refrigerator insulation all around
Modular attachment system
One-handed latches
Specification:
Brand

OtterBox

Sizes (quarts)

25, 45 (tested), 65

Injection/Roto Molding

Injection

Interior Dimensions (45 qt.)

18.10 L x 10.60 W x 13.30 H in

Exterior Dimensions (45 qt.)

31.39 L x 18.76 W x 18.83 H in

How Many Beers Can It Hold?

42 + ice (as tested), 72 + ice (estimated)

Colors

Tan/Green (tested), White
High capacity
One-handed latches operate very easily
The modular system helps an organization
Big in all dimensions
Drain plug leaked (as tested; hardware store repair worked)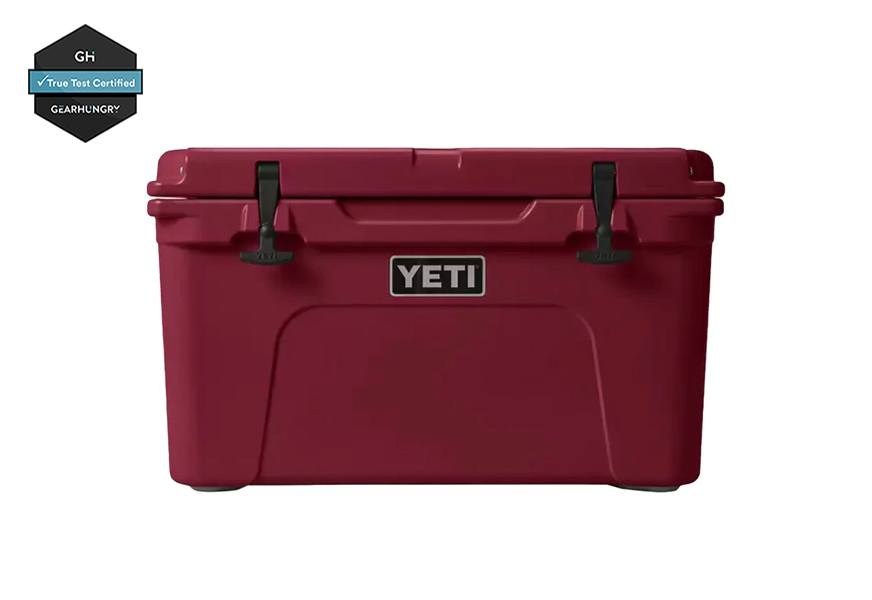 Our tester speaks of the YETI Tundra 45 Cooler with bated breath. The ubiquitous rotomolded cooler has established its reputation far and wide, and her childhood home in the outlying Houston, TX area was no exception. Now an adult, she swears by the Tundra 45.
She recalls YETI coolers carrying the same reputation in her home as their namesake mythical creatures: legendary beasts. In one fascinating moment, an uncle told her a YETI cooler kept ice from melting for four days on a hunting trip.
In her testing experience with the Tundra 45, seeing is believing. On a recent eight-day trip all around Oregon, a YETI cooler kept all her snacks and food cold for three and four days, respectively. She reports the interior to be incredibly roomy despite the FATWALL design, which holds up to three inches of insulation. Her only cold source was four reusable ice packs, and it was all she needed. Smaller, or more delicate, items could hang out in the interior basket.
The tester reports the Tundra 45 as rugged, thanks to the rotomolded construction. In an eight-day trip, it went to the snowy base of Mount Hood for cross country skiing, up and down the Oregon Coast, and to the high desert of Bend, Oregon. The romp failed to give the cooler a dent or a scratch. The unit remained in excellent condition, earning it the status of best road trip cooler in our product stable.
The Tundra series carries the added advantage of being available in a wide variety of enormous sizes. The ample 45 is pony-sized compared to the cavernous 350, which is about as big as my coffin will be. For additional reference, the 350 holds 259 cans of beer at a 2:1 ice: beer ratio. If my calculations are correct, that means 259 beers take up ⅓ of the available space, which means the YETI 350's beer capacity is a liver-pulverizing 777 cans.
Key Features:
Rotomolded construction
Up to 3" insulation
Polyester rope carry handles
Specification:
Brand

YETI

Sizes (quarts)

35, 45 (tested), 65, 75, 105, 110, 125, 160, 210, 250, 350

Injection/Roto Molding

Roto

Interior Dimensions (45 qt.)

9.375 W × 10.625 H × 18.375 L in

Exterior Dimensions (45 qt.)

16.125 W × 15.375 H × 25.75 L in

How Many Beers Can It Hold?

28 + ice claimed (2:1 ice-to-beer ratio)

Colors

Aquifer Blue, Desert Tan, King Crab Orange, Navy, White
Legendary status
Absorbs abuse, as tested
Insulation proved effective during the test
Use YETI proprietary ice packs for coolers for reusable cold
Original design; multiple competitors could be better
YETI Hopper Flip 18 Cooler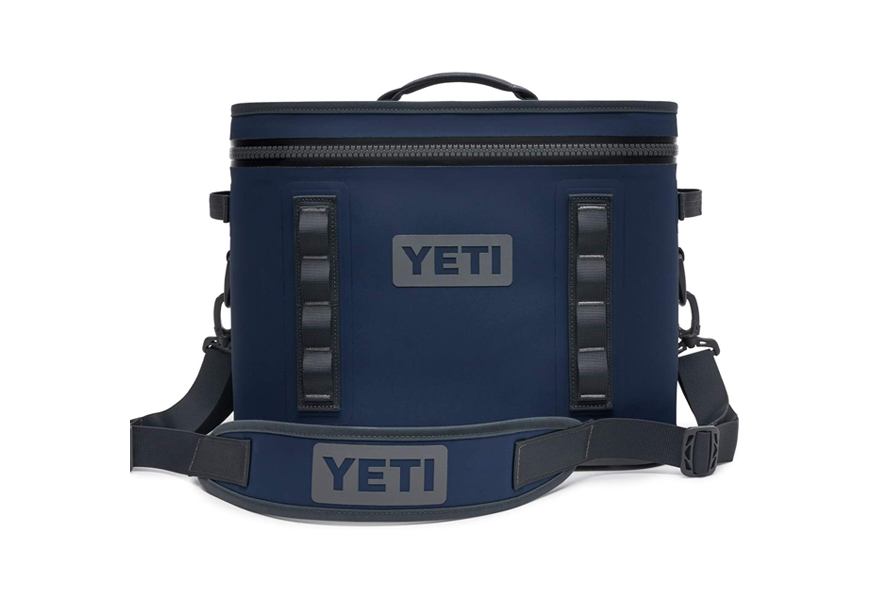 While YETI's hard coolers have become beset by capable competitors since their release, its Hopper series has earned status as the definitive soft cooler. The Hopper's notorious waterproofness and toughness have landed it at the top of the soft cooler pile. For our money, the YETI Hopper Flip 18 Cooler offers the most capability. 
YETI uses closed-cell rubber foam to insulate the Hopper series, which is distinct from the expanded vinyl pellets that most soft coolers use. YETI's formula is obviously more expensive than its less-capable counterparts, but in my experience, most are far less capable. The durable "high-density fabric" shell adds another layer of differentiated superiority.
The Hopper Flip 18 is claimed leakproof and waterproof by YETI, thanks to its waterproof shell and reinforced zipper. Though I didn't test one for this article, my past experiences corroborate these claims. I've taken Hoppers on float trips and emerged with ice remaining and no river water inside the cooler (I know what you're thinking — "not trying hard enough" — but sometimes a float can be just a float). For excursions, the Hopper also has exterior nylon loop ladders for attaching additional gear. These can be handy for bottle openers, keys, headlamps, pipes (what?), etc.
Unfortunately, the loops are the only way to carry anything on the outside of the cooler; it has no auxiliary pockets. As well, the zippers can be pretty hard to operate, especially at first. If you think about it, it's kind of an intense engineering feat to make a zipper waterproof, so the abrasive touch makes sense.
Overall, the YETI Hopper Flip 18 is a clear winner among soft coolers. Waterproof, highly insulated, and durable, it's suitable for a wide variety of uses. According to a bevy of online reviews, it tends not to disappoint those who use it.
As a bonus, the YETI Hopper series also comprises the best backpack cooler. The 24-quart version has all the functions and features of the Hopper series, but carries backpack-style, making it one of the best portable coolers. It holds 20 beers at a 2:1 ice:beer ratio.
Key Features:
Waterproof fabric and zipper
Closed-cell rubber foam insulation
Durable outer shell
Nylon loops for attaching ancillary gear
Specification:
Brand

YETI

Sizes (quarts)

traditional style: 8, 12, 18 (tested), 30; backpack style: 24

Interior Dimensions (18 qt.)

8.5 W × 10.25 H × 14.25 L in

Exterior Dimensions 18 (qt.)

10.75 W × 13 H × 16.25 L in

How Many Beers Can It Hold?

20 + ice claimed (2:1 ice-to-beer ratio)

Colors

Aquifer Blue, Charcoal, Navy
Most proven waterproof soft cooler
Tough
More insulative than most soft coolers
Pricey
Zipper can be hard to use
Coleman 48 qt. Performance Cooler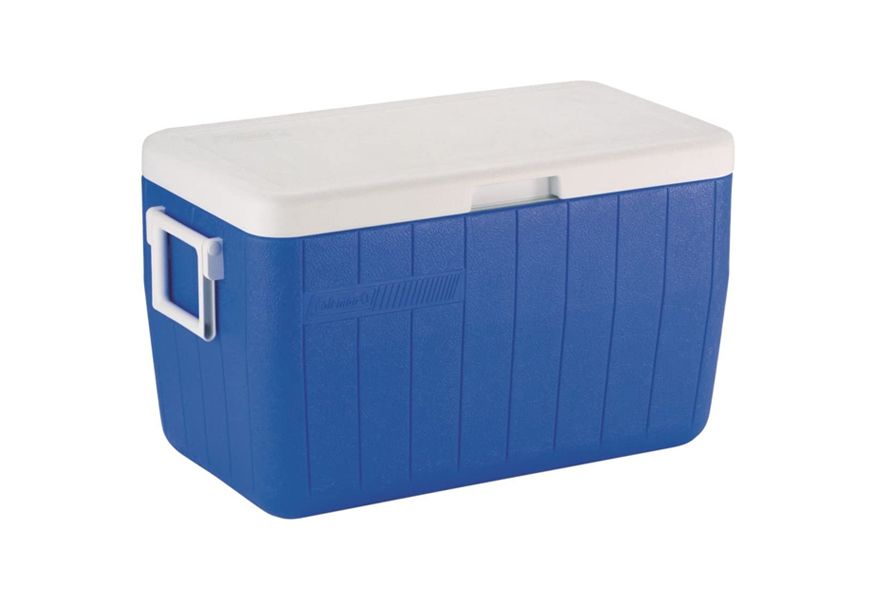 Ahhh, those were the days: I was 11, and the neighborhood kids and I got obliterated on Coca-Cola while the adults around us merrily swilled Busch Light under the cicada serenade of another endless summer night. Our venue? The barbeque on the back porch, duh. Our ice chest? What else: the Coleman 48-Quart Performance Cooler.
Legends are legends for a reason, and the Coleman Performance Cooler is the genuine article. This thing anchored American suburbia in the 1990s, facilitated legal teenage beer drinking in the 1980s, probably got our dads' dads laid in the 1970s, and for all I know might have been conceived in the thermoplastic boom of the 1960s. It's been around that long, and for good reason: you don't mess with a classic.
Over 7,000 Amazon reviews can't all be wrong. If you're wearing jorts with white crew socks and Nike Monarchs, a brown woven leather belt, a tucked-in t-shirt, and you have barbeque tongs in your hand, this is the cooler full of crispy boys sitting dutifully next to you on the back patio, as eager to serve you as an obedient retriever.
Good thing the hinged lid offers easy, one-handed access: you got a tongs hand and a Bud Light hand and that's it, baby. Once you access Coleman's cooled confines, there's ample room: it holds 63 beers, which is just enough for two 30-packs plus the leftovers from when you and the boys passed out in the lawn chairs again last night.
You get two color choices: red or blue. What other colors are there, anyway? Hard to tell when you're wearin' wraparound shades all day every day. Says it keeps ice for three days but that doesn't matter — there's gonna be a lot more ice than beer left when we're done here.
Let's face it, America never got better than the Coleman 48-Quart Performance Cooler. I don't care if it never does.
Key Features:
Easy access hinged lid
Holds 63 beers
Two color choices
Specification:
Brand

Coleman

Sizes (quarts)

48

Injection/Roto Molding

Combined

Exterior Dimensions

13.9 W x 14.6 H x 25.9 L in

How Many Beers Can It Hold?

63 (claimed), or two 30-packs + 3 spares

Colors

Blue/White, Red/White. Got both on my Mustang in the garage, lemme show ya…
High capacity
Easy to use while getting plastered on cheap beer
Cheap
Embodies America
Probably bad for the environment
Too big to strap down to the back of the riding mower
Why Trust Us
Because people with adventurous lifestyles use the hell out of coolers. My first-generation Yeti 20 was my refrigerator for 4 months one time, and I know I'm not the only one in the GearHungry cohort who can make such a claim. Even when we're not fully dirtbagging, we're constantly using coolers for camping trips, hikes, days on the water, etc.
Who This Is For
Everyone wants a top-rated cooler, right? Weekend warriors, glampers, and grizzled backcountry folk all need a quality icebox to keep their provisions fresh. And everyone's cooler needs are valid — from slow-pitch softball players swilling postgame parking lot beers to deep woods bowhunters packing out their precious harvest.
How We Chose
It's a wide world of coolers, and the best one is the most useful entry for the given situation. So, we chose a wide range of cooler brands, price points, and size choices. Hyper-insulated futuristic coolers are here; so are some old standbys.
How We Tested
Mostly by drinking beer. Obviously, this was the best way to evaluate the coolers' ability to keep items cold for a long time. Secondary benefits included making it easier to stare at inanimate objects for long periods of time and increased creative thinking. Along with "how cold for how long?", testing criteria included durability, stability (for sitting, stacking, etc.) weight, and bulk.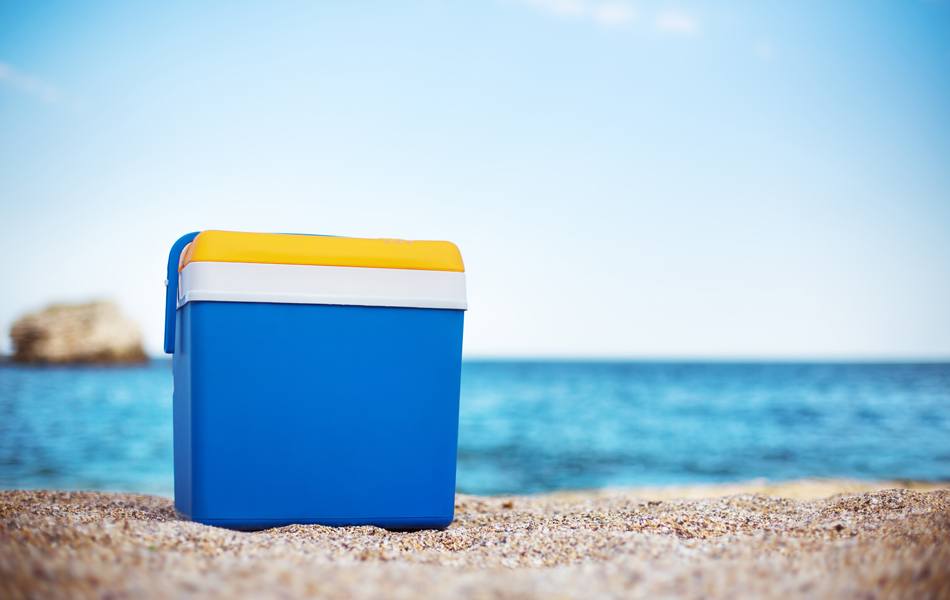 Features To Look For In Coolers
Ice Retention — How long a cooler can keep ice solid. Some camping coolers claim to retain ice for two weeks. For some lighter-duty coolers, that number is closer to two hours.
Durability — What kind of abuse is the cooler meant to absorb? Tossing it around in a trunk or truck bed is one thing, but can it handle a hungry bear? (Some entries can.)
Capacity — Interior space. Also known in the cooler community as "how many beers can it hold?"
Portability — Factors that influence portability include obvious metrics like weight and bulk and secondary influencers like a type of handles and security of closure.
Draining — Many coolers have a drain plug. The best entries can be drained without tilting the unit. 
Price — The not-fun part! Cooler brands clock in all over the place on price, up to several hundred dollars. Know what you're willing to spend and have a firm ceiling — some of the more expensive entries have pretty enticing features.
Insulation — Many coolers are insulated with injected polypropylene foam. 2-3" thickness has become industry standard. Refrigerators are insulated with roughly the same method, and some coolers claim "refrigerator grade" insulation.
Ease Of Use — I tend to triangulate ease of use in a cooler between weight, capacity, closure style, and whether it makes a good seat. Those can all slide pretty far in any direction depending on the situation.
Features — I'd say closure style is a big one to pay attention to (see below). Some coolers also have attachments or extras like food trays, wheels, or even optional side tables.
Latches and lids — When YETI introduced its trademark gasketed lid with the stretchy rubber latches, it changed the game forever. Many innovations on the form, as well as new interpretations, now exist.
Types Of Coolers
Hard-sided coolers — Anything from futuristic rotomolded coolers like YETI to grandpa's old metal-sided fishing cooler. Hard-sided coolers often utilize polyurethane foam insulation, similar to that used in refrigerators and freezers.
Soft-sided coolers — YETI redefined the soft cooler genre with its sealing zippered entries. Most classic soft coolers are polyester or nylon shells with EVA liners.
Backpack coolers — Backpack coolers first hit the scene several years ago and have seen rapid evolution since then — again, most notably performed by YETI.
Electric coolers — Electric coolers run on DC current. For details, check out Gear Hungry's separate guide to the best electric coolers. 
Styrofoam (polystyrene foam) coolers — These babies are classics, but in another way, they deserve to be left in the past. The image of a lake day with a Styrofoam cooler brimming with Stroh's and packages of hot dogs may be nostalgic, but they don't offer impressive ice retention or reusability, and the material is horribly toxic to the environment. Don't expect to find Styrofoam units in our lineup of the best coolers — they don't belong.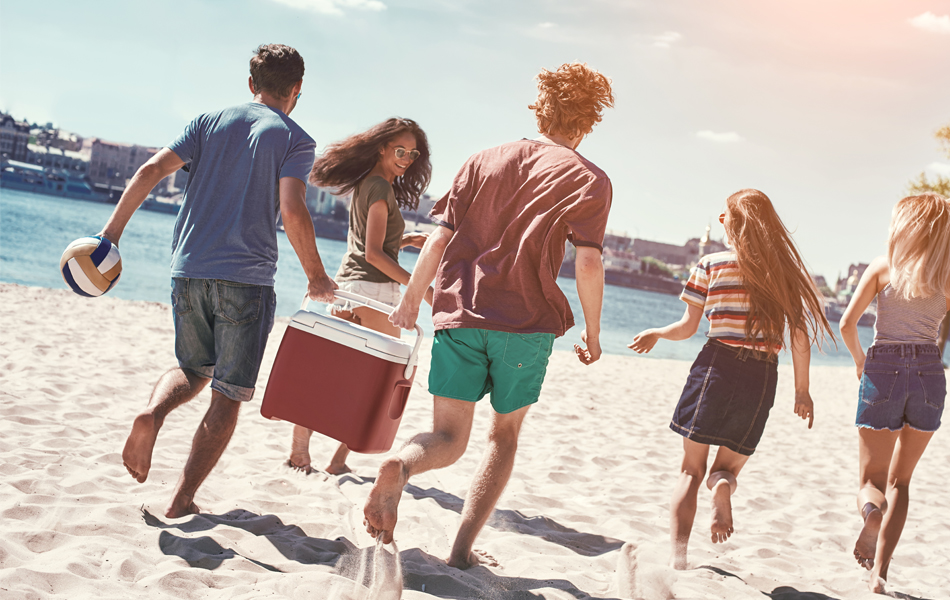 Cooler FAQ
Q: Are expensive coolers worth it?
A: For heavy use or backcountry applications, the answer is yes in my experience. If you're going to consistently use and rely on a cooler for fresh food, a rotomolded cooler with the best ice life can save you a lot of rotten food (cold beer notwithstanding). As well, some expensive coolers can resist animal intrusion — even, in some cases, by bears.
However, if you're just getting a cooler for picnics or tailgate beers, you're more than ok with a less expensive model.
Q: Why are roto-molded coolers better?
A: The main advantage of a rotomolded cooler is that it has no seams from manufacturing. Take a look at a YETI, RTIC or similar cooler. Each rounded corner is completely smooth, without the excess plastic or "flash" from an injection mold. This means there are no gaps in any seals (between the cooler and the lid, or even between permanently joined parts like side panels).
Q: Are hard coolers better than soft coolers?
A: There's a time and a place for soft coolers! Except when I'm camping, I use them more often than hard coolers because they're more convenient for my everyday life: whenever I don't need high ice retention, I go with a soft cooler because it's easier to carry, easier to clean, and easier to stuff or stow when not in use.
Q: Why do Yeti coolers work so well?
A: The hard coolers work wonders because they're rotomolded, manufactured well, and super insulated. Rotomolded coolers have no seams, unlike injection molded entries, so they also have fewer weak points. High manufacturing quality adds to the effect of the rotomolding: the tighter all the parts fit together, the better the seal. Finally, YETI's hard coolers feature up to 3" of pressure-injected polyurethane foam.
YETI soft coolers work well because they're durable and waterproof. The zippers are substantial (sometimes to the point of being difficult to operate, especially when brand new) and reinforced. The material is coarse and resists abrasion. And the lining is durable.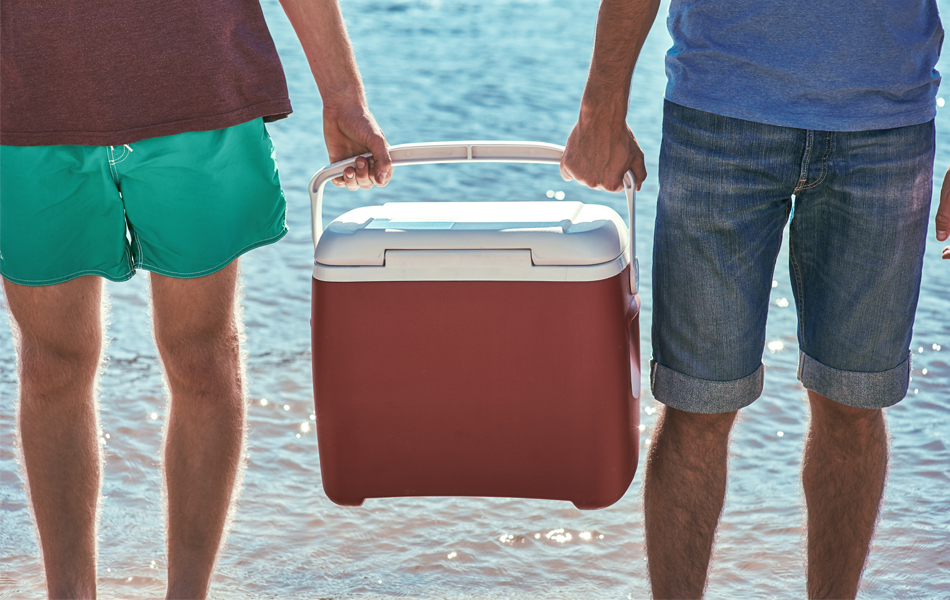 Q: Do white coolers keep ice longer?
A: White, of course, reflects all wavelengths of visible light without absorbing any. Therefore, it absorbs no heat. In theory, white coolers keep ice longer by reflecting heat off their surfaces.
Q: Are soft coolers waterproof?
A: Some yes, some no. YETI's soft coolers are waterproof. But I've used a lot of cheaper polyester coolers with EVA lining that have leaked — if not right off the bat, at least at some point during their life span.
Q: How long do soft coolers stay cold?
A: YETI claims its soft coolers stay "cold for days." I've known most soft coolers to keep ice anywhere between 12 and 24 hours, depending on factors like ice-to-beer (or food) ratio, packing tightness, etc.
Q: Can you put ice in a soft-sided cooler?
A: Usually, it works out fine. Most soft coolers I've used that do leak will condensate on the outside before they actually seep water. Many will hold melting ice without leaking. 
Q: Why are cooler lids hollow?
A: Cooler lids are filled with insulation — generally the same kind as the rest of the cooler.
Sources:
Sign Up Now
GET THE VERY BEST OF GEARHUNGRY STRAIGHT TO YOUR INBOX