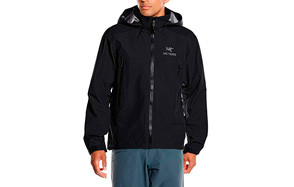 Arc'teryx Beta AR Ski Jacket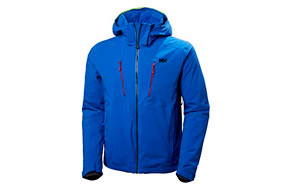 Helly Hansen Alpha 3.0 Ski Jacket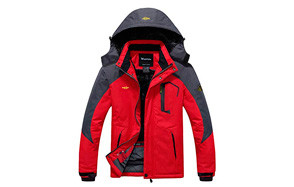 Wantdo Mountain Waterproof Ski Jacket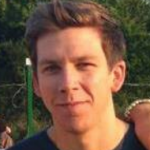 Winter is coming and that means that ski season is nearly here! For those who love the feeling of wind rushing through their hair surrounded by fantastical mountain landscapes, and enjoy the well-deserved beer of an apres-ski, then this is your favorite time of year. But you can't enjoy the crisp winter without a ski jacket, otherwise, you'll end up frozen to the bone before you even make it to the peak, and children will use you as a sledge to hurtle down the mountain. To make sure you're properly prepared for the coming cold, we've compiled this list of the best ski jackets for you to check out, and make those winter activities twice as nice in the ice.
The Best Ski Jacket
Ski Jacket Buying Guide and FAQs
How We Chose Our Selection of Ski Jackets
When deciding on our selection of the best ski jackets, we consider what we believe the customer - you! - will be looking for. This has been organized into 4 different categories to help us pick only the best products for your recommendation.
Brand - Dedicated ski wear brands are the best places to look for excellent products. If you know anything about winter sports, then you'll no doubt recognize some of the brand son this list. They are here because they've proven time after time to deliver excellent products and have developed loyal customers. These brands are at the top of their industry, so you mow you can trust them.
Quality - When it comes to things like winter sports, it does not pay to skimp out on quality. You'll not get the warmest ski jacket if you look for most cheaply made products and this could ruin your vacation. To ensure that doesn't happen, we've identified products that scream great quality and will keep you warm, dry, and ready to fly all throughout your trip.
Reviews - Reviews are the best way of understanding if a product is the real deal or just a load of hot air. The customers who leave reviews will do so honestly and many of them go into great detail to identify the pros and cons that we might not have realized. These reviews help us to help you understand exactly what to expect from our chosen products and keep you informed so there aren't any nasty surprises when it arrives at your door.
Price - Everyone knows how expensive ski clothes can be, so you will always expect to pay a high price for certain types of gear. When it comes to the best accessories, you will be paying a premium, but this will provide you with features that aren't available in cheaper products. When we're selecting our list, we consider what we believe is a reasonable price for what the jacket is offering, and if we believe it's fair, we add it to the list. We wouldn't want to waste your time by including a list of cheap products that could fail as soon as you hit the slopes.

Features To Look For In Ski Jackets
A ski jacket is not any old jacket. It is something that is designed to keep you warm when you're on top of the world and protect you from snow, winds, ice and everything else that can chill you to the bone. If you're thinking of buying a ski jacket, awesome! But before you do, check out the features that you should consider.
Insulation - Without jacket insulation, you'll end up half-resembling an icicle, and no matter how cold you think the highest peak will be, it will be colder. Be sure to buy a jacket that offers excellent protection from the cold and the windchill, and perhaps invest in an underlayer, just to be on the safe side.
Waterproof - All ski jackets are designed to be waterproof, but the level of how waterproof will vary between products. Some are waterproof, while others are merely water resistant, so be sure to check where you are going, what the weather will be like, and how likely you are to spend most of your time on the floor if you want to find a jacket that will keep you bone dry.
Breathability - Layers are essential when skiing, but even high up the mountain in sub-zero temperatures, there is the chance that you'll get a bit warm. The breathability of a ski jacket will help keep you comfortable for longer and prevent you overheating halfway down the slope.
Weight - Some ski jackets are huge, bulky things that will keep you warm, but with this extra size comes extra weight. Luckily, there are some jackets designed for winter sports that have recognized that ski jackets got far too heavy and so have worked to reduce this by using lightweight materials that you can wear all year-round and remain comfortable, without feeling like a skiing marshmallow.

Features - Ski jackets are much more than just a means to keep you warm. They come with an array of cool and useful features that'll help you out both on the slopes and in everyday life. This can be as simple as multiple pockets or special ski pass pockets that will allow you to travel up and down on slopes and ski lifts for as long as you want.
Newer jackets come with innovative warming and cooling technology that recognize which parts of your body require heating up or cooling down, bringing ski jackets hurtling into the 21st century.
Fit  - You know what type of fit you prefer in your clothes, so be sure to identify the right-fitting jacket to suit your style. Just be aware that tighter fit jackets might not be able to accommodate as many under layers as regular fit jackets can, meaning you might feel a bit of a chill if you're not prepared.
Design - The outer design of the jacket doesn't really matter unless you are planning on attending an off-piste fashion shoot, but some features will come in handy such as pocket placement, adjustable cuffs, or removable hoods. If you do you always want a look cool on the slopes, so modern designs might be more desirable than the garish neon colors of the 80s.
Types of Ski Jackets 
Hardshell
Hardshell jackets are typically both water and windproof, as well as having hoods so you'll be allowed maximum protection from the elements which makes them a massively versatile winter jacket option that doesn't just need to be for skiing.
Softshell
Softshell jackets are water-resistant, but not waterproof and offer excellent breathability to make wearing it more comfortable. They can be compared to fleece jackets as they will keep you warm and help to absorb and then evaporate the sweat from your body.

3-in-1 Jackets
These jackets are actually comprised of two jackets that attach together to bring you the best of both worlds. The outer layer is waterproof and (sometimes) windproof to protect you from all kinds of weather, while the underlayer is a fleece material that will help reduce and remove sweat. These jackets are great as they can be worn together and independently, based on the weather conditions.
Layering Under Your Ski Jacket
It is always important to layer under your ski jacket to ensure that you are protected from the cold. The best way of staying warm in cold climates is to wear many layers instead of one thick layer, as it is harder for the cold to penetrate. Furthermore, if you get too warm, you only have to remove one layer at a time until you are comfortable.
Ski Jacket FAQs
Q: What Is A Ski Jacket? 
A: A ski jacket is something that is designed to be worn when skiing, snowboarding, or taking part in other winter sports. They come with insulated fabric to keep you warm in colder climates and often come with a variety of pockets, zippers and other features so you can carry everything you need with you.
They don't just need to be worn on the slopes though. If you live in the colder parts of the country, then ski jackets are ideal for keeping you warm during winter months without you needing to brave the cold to buy another jacket. 
Q: What Type Of Ski Jacket Should I Choose?
A: That is entirely up to you and will depend on your needs. If you go skiing once a year, then you don't need to splash out on the most expensive jacket, but you might still find a decent winter coat for a reasonable price. The best ski jackets are ones that offer versatility all year-round, so keep an eye out for those and make your decision.

Q: Is Gore-Tex Worth My Money? 
A: Gore-Tex is popular and world-renowned for a reason, but is it worth the money? Well everyone who owns a gore-tex jacket will say absolutely, but again it depends on what you need. If you are looking for a reliable, waterproof jacket, then it is worth the money as it is the kind of product that you'll only need to buy once. If you are satisfied with what you already have, then stick with that. It's totally up to you.
Q: Do I Need A Hood On My Jacket? 
A: Hoods are always helpful to have but you don't necessarily need on, just don't come crying to us when the rain starts to pour. Many ski jackets come with a removable or stowable hood, anyway, so if you don't want a hood, but can't a find a jacket without one, at least you can take it off or roll it up to store in the collar until you do need it.
Q: What Are The Best Accessories For A Ski Jacket?
A: The best accessories for ski jackets include a removable or stowable hood, adjustable cuffs, breathability (such as underarm vents), a ski pass pocket (located on either the chest or the wrist), and zip pockets with flap covers. More expensive jackets come with climate control technology for increased comfort, but this is a luxury, not a necessity.
Q: Can I Wash My Ski Jacket In The Washing Machine?
A: Yes you can! It is wise to double check beforehand, but the majority of ski jackets can be washed at 30 degree Celsius in cold water.
Q: How Often Should I Change A Ski Jacket?
A: Ski jackets are made to last for a long time, and so they only really need replacing when they suffer damage such as rips or tears, or do not work as effectively as you remember anymore. If you are someone who gets out to the slopes often, then you will see wear happening a lot quicker than someone who only gets the chance to ski or snowboard once a year. Of course, if you love keeping up with the latest in ski jacket technology, then there's nothing wrong with buying a new ski jacket whenever you feel like it.

Q: What Is The Difference Between Ski And Snowboard Jackets?
A: There are very few differences between ski jacket and snowboard jackets, but you can probably identify that the fit of both jackets will be a difference. Ski jackets are tighter, and stick closer to the body, whereas snowboard jackets tend to be bulkier, as well as being longer. A typical ski jacket will look like any ordinary winter coat that reaches just below your waist, but a snowboard jacket will go further. Depending on your size, these jackets can reach the middle of your thigh.
Other than this primary difference, you can likely get away with wearing one of the other for either activity, it's only the true gatekeepers of winter sports that will have an issue with it, and they're easy enough to ignore, anyway.
Sources
Mountain Resorts Embracing Craft Beer as Key Part of Apres-Ski Scene - The Globe and Mail